Kysre Gondrezick's sister, Kalabrya Gondrezick, is a licensed medical esthetician in Pittsburgh, Pennsylvania. Kalabrya is two years older than Kysre, and the two sisters also have a younger brother.
Coming from a basketball family, it's not a shocker that the two girls pursued basketball during their collegiate years.
Kysre continued her basketball career even after college, while Kalabrya decided to give up on the athletic dream during her first year.
But since then, Kalabrya has found success as an esthetician and gained a sizable following on social media.
The older sister of Kysre was married to NFL player Dwayne Haskins, but their relationship abruptly ended after Dwayne died in a car accident in 2022.
The former Indiana Fever player, Kysre, has been a free agent for over a year. Fever waived her in January 2022 and by Chicago Sky in May. In recent months, she has grabbed the attention for being the girlfriend of Houston Rockets player Kevin Porter Jr.
Kysre Gondrezick Sister, Kalabrya Gondrezick
Kysre Gondrezick's sister, Kalabrya Gondrezick, is a former collegiate basketball player and two years older than her younger sister.
Kalabrya's talent for basketball talent was evident since her high school days.
At Benton Harbor High School, Kalabrya was ranked No. 36 and No. 55 by various reports. She was a four-time all-state selectee and led her team to the 2014-15 district title.
Along with basketball, Kalabrya excelled at volleyball and cross country. After graduating high school, Kalabrya took her basketball talent to Michigan State University.
But at Michigan, she only played in her freshman year, that too six games. In 2019, she graduated with a degree in interdisciplinary studies and has since focused on becoming an esthetician.
Right after graduation, Kalabrya joined National Laser Institute and received her cosmetic laser and micro-needling certificate. That same year, she joined Douglas J Aveda Institute and worked on her Esthetician license.
She has since been doing freelance as a medical aesthetician and previously worked at Sweet Samba Spa in Atlanta, Georgia.
Kalabrya Married Life
The older sister of Kysre Gondrezick was previously married to NFL player Dwayne Haskins. The former couple tied the knot on March 19, 2021. Despite their troubled past, Dwayne and Kalabrya shared several romantic photos on Instagram.
In July 2021, it was reported that the two had been involved in an altercation resulting in an arrest of Kalabrya. The report said Kalabrya knocked out his tooth and cut his lip open.
The former Pittsburgh Steelers quarterback passed away on April 9, 2022, following a car accident. A month later, after his passing, on his 25th birthday, Kalabrya shared a tribute post for him.
She shared a gallery of images and wrote a short poem on her late husband's memory.
Kysre Gondrezick Parents, Grant, And Lisa Harvey-Gondrezick
Kysre Gondrezick's parents, Grant and Lisa Harvey Gondrezick, are former basketball athletes.
The couple first met in 1993 in Benton Harbor, Michigan, and were residents of Houston, Texas, for 12 years.
They raised three kids, with Kalabrya and Kysre being older sisters to Grant Gondrezick II.
Grant Gondrezick Played Two Seasons In The NBA
Grant Gondrezick played collegiate basketball at Pepperdine University before becoming a fourth-round pick in the 1986 draft.
A shooting guard, Grant was signed by Phoenix Suns, with whom he played only one season.
He then went to France to play for the LNB Pro B team Caen before returning to NBA to play for the Los Angles Clippers in 1988.
His time in NBA was once again cut short, as he played only a single season with the Clippers. He continued playing in and around the USA in other divisions and Europe before hanging up his cleats in 1998.
After retirement, Grant provided his services as a Head Varsity Basketball Coach at Covert and Countryside and for the BHHS Freshman Girls team,
Her dad took his last breath on January 8, 2021, at 57, in his home in Stevensville, Michigan. He was one of 12 siblings, with one of his brothers, Glen, also being a former NBA player.
Lisa Harvey Gondrezick Played Basketball For Louisiana Tech
The mother to three kids, Lisa Harvey Gondrezick, played collegiate basketball at Louisiana Tech.
During her time at Louisiana Tech, Lisa was one of the members of the 1988 NCAA championship-winning team. She later went to coach her daughter's high school basketball team, Benton Harbor.
In 2016, when Kysre became Miss Basketball, she fulfilled one of the achievements her mom couldn't get during her playing days. Lisa was also one of the fellow nominees in 1985 but couldn't get her hands on the trophy.
Her Brother Plays For Elon University
Kysre's younger brother, Grant Gondrezick II, committed to play for Elon University earlier this year in April.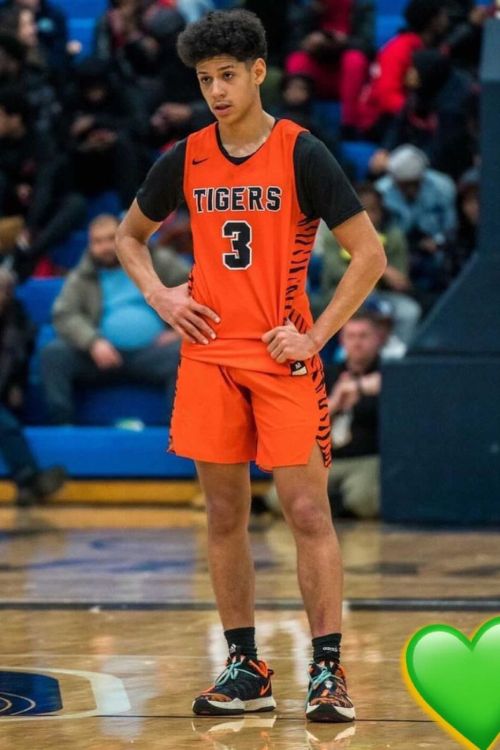 He shared the news on his Instagram handle, receiving several congratulatory messages from family and friends.
News Talk Sports 94.9 shared a video of Grant signing with Elon University in which Grant appears emotional talking about his dad.
But the youngster steadied himself as he ended the speech by thanking those who have been part of his basketball journey. At Benton Harbor, Grant became a 1k scorer, showing glimpses of what we can expect from him in the coming years.