Khloé Alexandra Kardashian is the ex-wife of former American professional basketball player Lamar Odom.
Also, she is a media personality, socialite, and model who has come to fame because of the hit TV series "Keeping Up with the Kardashians."
The two first met in August 2009 and started dating one another.
After just one month of meeting one another, they got married on September 27, 2009, hoping to fight the ups and downs of life together.
However, Khloé filed for divorce on December 13, 2013, and they officially got their divorce in December 2016.
Here are some quick facts about the media sensation:
Quick Facts:
| | |
| --- | --- |
| Full Name | Khloé Alexandra Kardashian |
| Date of Birth | June 27, 1984 |
| Zodiac | Cancer |
| Nicknames | Baby K, Khlo |
| Age | 39 years old |
| Birth Place | Los Angeles, California, United States |
| Nationality | American |
| Religion | Christianity |
| Height | 5 feet 10 inches |
| Weight | 125 pounds |
| Hair Color | Brunette |
| Eye Color | Brown |
| Tattoo | 4 |
| Sexual Orientation | Straight |
| Father's Name | Robert Kardashian |
| Mother's Name | Kris Jenner |
| Children | True Thompson |
| Marital Status | Divorced |
| Relationship | Single |
| Former Husband | Lamar Odom |
| Social Media | Facebook, Instagram, Twitter |
| Profession | Media personality, Socialite, Businesswomen, and Model |
| Net Worth | $50 Million Approx. |
| Merch | Calendar |
| Last Update | November, 2023 |
Lamar Odom Wife | Early Life, Family & Education
Khloé was born on June 27, 1984, in Los Angeles, California.
Her father, Robert, was an attorney, and her mother, Kris, was a homemaker at the time.
She was endowed with three siblings. She grew up with two older sisters, Kourtney and Kim, and Rob, her younger brother.
Her parents got divorced in 1991. Then, her mother married Bruce Jenner.
Through her mother's marriage with Bruce, she gained step-siblings Burton "Burt," Brandon, Brody, and Casey Jenner. Later, Kendall and Kylie Jenner were born and shared their childhood with Khloé.
Kardashian went to different schools during her childhood. She went to Bel Air Prep, Saint Martin of Tours School, and Daniel Webster Middle School. She also studied at A.E. Wright Middle School and Montclair Prep.
Also, she attended Marymount High School, an all-girls Roman Catholic school in Los Angeles for a short period of time. She then dropped out of high school and enrolled in Alexandria Academy, a one-to-one alternative.
Later, at the age of 59, her father died of esophageal cancer in September 2003 in Encino, LA. The family buried his body at Inglewood Park Cemetery in California.
Parents' Divorce
In 1991, when she was 7 years old, she had to see her parents get separated.
Kris had an affair after 12 years of her marriage. Her husband filed for divorce when he found out about it.
Later, Kris got in a relationship with Bruce Jenner and married him.
Eventually, the couple announced their separation after being together for 23 years. Their divorce got finalized in March 2015.
Bruce Jenner, her stepfather, later came out as Caitlyn Marie Jenner, a trans woman, in April 2015.
Lamar Odom Wife | Career
Khloé, along with other family members, appears on the hit TV show Keeping Up with the Kardashians. She has gained a lot of fame and a massive following because of the show.
She has been able to cash in on her and her sisters' popularity through different endorsements.
Moreover, the sisters also have come up with several of their own fashion and skincare brands.
She also endorses different products on her social media profiles.
Her fame has also landed her opportunities to have her own shows. She has had several talk shows of her own to date.
Likewise, she has also appeared on several other popular shows as a host or participant.
In 2010, Khloé, alongside her sisters, released a clothing line for Bebe. She also launched a D-A-S-H boutique in Calabasas, California, in partnership with her sisters.
Kardashian released the unisex fragrance "Unbreakable" in partnership with her husband in February 2011.
Again, in October 2012, they released another unisex fragrance named "Unbreakable Joy," inspired by the holiday season.
She released a book called Strong Looks Better Naked in 2015.
She has dived in into several careers during her lifetime.
Lamar Odom Wife | Marriage with Lamar Odom
On September 27, 2009, Kardashian married Lamar Odom, a professional American basketball player who then played for the Los Angeles Lakers of the NBA.
They met at a celebration for Odom's teammate Metta World Peace and married precisely one month later.
Kardashian then dropped her middle name, adopted her husband's surname, and transformed herself into Khloé Kardashian Odom.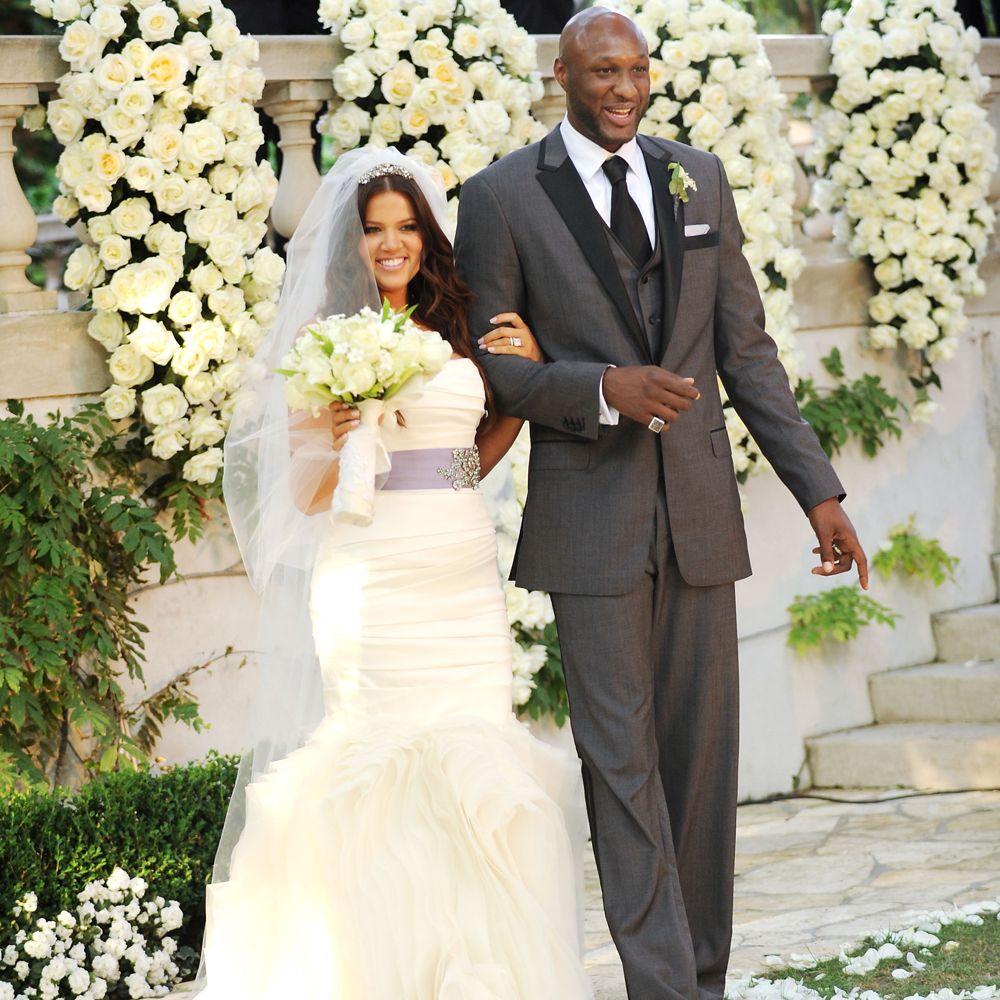 Kardashian filed for divorce from Odom on December 13, 2013. However, a lot of people were already suspicious of their separation.
During her divorce finalization, she also asked for legal restoration of her last name.
The divorce agreement was finalized, and both of them signed the divorce papers in July 2015.
In October 2015, before the divorce received final approval from a judge, Odom was found unconscious in a brothel in Nevada.
He was then hospitalized and was in a coma for four days.
Kardashian then withdrew her pending divorce petition. Later, she verified that she withdrew the divorce to make medical decisions on Odom's behalf.
The divorce between Kardashian and Odom was completed in December 2016.
Short wiki on Lamar Odom
Lamar Joseph Odom is a former professional basketball player who played in the NBA.
Odom was born in Queens, New York, on November 6, 1972.
The Los Angeles Clippers selected Odom as the fourth overall pick in the first draft round of the 1999 NBA draft.
Later, he also played for the Miami Heat, Los Angeles Lakers, and Dallas Mavericks of the NBA. Again, he returned to the Los Angeles Clippers in June 2012.
Lamar won two NBA championships in 2009 and 2010 while in the Los Angeles Lakers.
Odom also played for the US national team in the 2004 Olympics. Furthermore, he helped the team win a bronze medal.
Similarly, he also joined the national team in the 2010 FIBA World Championship. There, he helped the team win a gold medal after a long time.
Click here to know all about Lamar Odom!!
Thus, he became the first player in history to win an NBA championship as well as FIBA gold in the same year.
Odom has also appeared in several TV shows and competitions.
Lamar has two children, Destiny and Lamar Jr, from his relationship with former girlfriend Liza Morales.
Later, in November 2009, he got engaged to Sabrina Parr. Eventually, their engagement was called off.
Lamar Odom Wife | Other Relationships
In 2008, Kardashian dated basketballer Rashad McCants. In late January 2009, the couple called it quits after seven months together.
Also, she was in an on-again, off-again romance with rapper French Montana since January 2014. They ended their relationship in December of that year.
Later, in 2015, Kardashian began dating basketball player James Harden. They met during Kanye West's birthday celebration at the Staples Center. They were together for eight months when they decided that the relationship could not go any further.
James Harden has been with several other girls. Visit this link to know about them all.
In 2016, Khloé started dating NBA player Tristan Thompson. True Thompson, Kardashian's daughter, was born on April 12, 2018.
They were embroiled in scandal at the time after Thompson was discovered to have cheated on Kardashian while she was pregnant.
Kardashian and Thompson split in February 2019 after it was discovered that Tristan had cheated on Kardashian with her younger half-sister Kylie Jenner's then-best friend Jordyn Woods.
Click here to read more about Thompson!!
After quarantining together during the COVID-19 epidemic, they rekindled their romance in August 2020. They split up again in June 2021, according to reports.
Lamar Odom Wife | Health Issues
In a vehicle accident in 2001, Kardashian sustained a catastrophic brain injury. She smashed her head against the windshield and had a severe concussion. Consequently, it left her with long-term memory loss.
Kardashian has struggled with migraines since she was in sixth grade. As an adult, she worked as a spokesperson for the migraine pharmaceutical Nurtec ODT. She claims that it benefited her.
Further, Khloé was diagnosed with COVID-19 on October 28, 2020. She revealed this through a video post on social media.
Moreover, she again suffered from COVID-19 in October 2021. This time, her three-year-old daughter was also diagnosed with the disease.
Lamar Odom Wife | Legal Problems
Kardashian was arrested for driving under the influence on March 4, 2007. She reported to jail on July 18, 2008, to spend time for violating her probation.
The socialite faced a maximum term of 30 days in prison. She also had to engage in an alcohol treatment program within three weeks of her release.
However, due to overcrowding, she was released less than three hours later.
A woman claimed Khloé and ten others attacked her outside a nightclub in December 2009. Later, the woman sued her in December 2011, two years after the incident.
Khloé, along with her sisters Kourtney and Kim, were included in a $5 million class-action lawsuit against QuickTrim, the weight-loss product they endorsed, in March 2012.
Austin Rivers has a beautiful girlfriend who he loves more than anything. Find out about her here!!
Lamar Odom Wife | Physical Features
Khloé was born on June 27, 1984, under the astrological sign of Cancer.
She has a nice-looking body with a height of 5 feet and 10 inches, and her body weight is around 55 Kg.
However, she used to weigh around 74 Kg and received a lot of comments about her body. She then changed her lifestyle and reached her new weight recently.
Similarly, she has beautiful dark brown eyes and long, beautiful, and shiny brunette hair. Also, she usually dyes her hair blonde. Moreover, her shoe size is 10 (US).
Khloé has a total of 4 tattoos on her body. However, she doesn't have any piercings on her body.
Kardashian has a tattoo on her lower back with a cross and "Daddy" written over it. She also has a cross inked on her chest.
Moreover, the words "I love you" are inked on her right wrist. Also, a "K" can be seen on her left hand, which stands for her family name, Kardashian.
She had a "LO" tattoo on her right hand dedicated to her former husband, Lamar Odom. However, she got rid of it after her divorce.
Lamar Odom Wife | Income & Net Worth
Khloé is estimated to have a net worth of around $50 million by Celebrity Networth.
She made her fortune due to the popularity of her family. The Kardashians gained their fame and money primarily due to the show "Keeping Up with the Kardashians."
She has also made a lot of money from her business ventures with her sisters.
Additionally, she has also appeared in many TV shows and has already published some books.
Khloé lives a luxurious lifestyle with all of her income. She is expected to earn even more in the coming days.
Social Media Presence
Frequently Asked Questions (FAQs)
Is Khloé in a relationship currently?
No, the media personality is not currently in a relationship with anyone. She does not plan to mingle with anyone right now. She is entirely focused on her career.
Is Khloé richer than Kim?
No, Khloé's net worth is estimated to be just around $50 million, while Kim Kardashian is valued at $1.8 billion by Forbes magazine.