LaMarcus Aldridge is likely to sign with Brooklyn Nets after the Spurs buy him out so he became a free agent.
The Spurs reached a buy-out agreement, Aldridge, on March 10 and waived Thursday, will join the Brooklyn Nets, according to Adrian Wojnarowski and Shams Charania.
Aldridge averaged 19.5 points and 8.0 rebounds in 5 1/2 seasons for the Spurs before.
Then they removed the 35-year-old from the rotation earlier this month while searching for a potential trade.
At the time of the decision to buy him out, Popovich praised Aldridge.
"He's been a great teammate. No problem there," Popovich said on March 10. "We just think this is a win-win for both LaMarcus and the club.
When an opportunity arises, that'll be up to management, his agent, and that sort of thing, and we'll all move forward."
And when word broke Saturday about Aldridge signing with Brooklyn and his protege, Sean Marks, Pop told reporters. "Wherever LaMarcus goes, we wish him well.
He was a wonderful teammate and he'll do a very good job in Brooklyn. He's familiar with the staff up there, so wish him well…"
If he signs with the Nets then the star power in the Nets will be huge as he joins stars like James Harden, Kevin Durant, Blake Griffin, Kyrie Irving, and DeAndre Jordan.
Nets- Avengers of the NBA?
The Nets are bringing big names to Brooklyn ever since Kevin Durant joined the team back on July 7, 2019.
With the addition of Durant, the Nets also signed All-Star point guard Kyrie Irving.
At the start of the 2020–21 season, the Nets acquired former MVP James Harden in a four-team trade.
In March 2021, the Nets signed a former six-time NBA All-Star Blake Griffin to rest of the season contract following a buyout from the Detroit Pistons.
Now, the Nets are signing LaMarcus Aldridge to a one-year veteran's minimum deal on Saturday.
Kevin Durant has also been selected to nine All-NBA teams and eleven NBA All-Star teams.
Similarly, Kyrie Irving is a six-time NBA All-Star and two-time member of the All-NBA Team.
And James Harden is eight consecutive NBA All-Star and earned All-NBA Team honors seven times.
While Blake Griffin has been a six-time NBA All-Star and a five-time All-NBA selection. And LeMarcus Aldridge has been selected to five All-NBA teams and is a seven-time NBA All-Star.
Jordan is a three-time All-NBA, and in 2017, he was named an NBA All-Star for the first time.
Aldridge joins a Nets team that has current All-Stars Kevin Durant, James Harden and Kyrie Irving, and added former Blake Griffin, DeAndre Jordan.
These above 5 players in total have 41 All-star appearances and 31 All- NBA honors which show they can become the Avengers of the NBA.
Kevin Durant
His playing position is Small Forward or Power Forward and his career averages are 27.0 points, 7.1 rebounds, and 4.1 assists per game.
Durant voted Rookie of the Year in his debut season. He also won an MVP Award and has been named finals MVP 2 times in a row.
Before joining the Nets, Durant played for Golden State Warriors for three seasons and helped the Warriors win back-to-back championships.
Durant made his debut for the Warriors on October 25 against the San Antonio Spurs, scoring a team-high 27 points in a blowout loss.
With the Warriors, he played in the finals against the Cleveland Cavaliers in his team's debut seasons and next season.
For the Finals in 2017, Durant was the Golden State's top scorer in every game, averaging 35.2 points, 8.4 rebounds, and 5.4 assists. He subsequently named the NBA Finals MVP.
He suffered an Achilles tendon injury in the 2019 finals with the Warriors and he then ended the season with the Warriors losing against the Raptors in the finals.
On June 30, 2019, Durant announced that he planned to sign with the Brooklyn Nets. Durant signed with Brooklyn on July 7, in a sign-and-trade deal.
On December 22, 2020, Durant made his Nets debut, putting up 22 points, five rebounds, three assists, and three steals.
Where, the Nets won 125–99 over the Golden State Warriors, Durant's previous team.
Durant established his role as a three-level scorer, playmaker, and switchable defender in the Nets.
And he averaged 29 points, seven rebounds, and five assists per game so far this season even though he has missed lots of games due to injuries.
Kyrie Irving
Irving plays at the point guard position. He was named the Rookie of the Year after being selected by the Cleveland Cavaliers with the first overall pick in the 2011 NBA draft.
On July 7, 2019, Irving signed with the Brooklyn Nets in free agency.
On October 23, 2019, Irving debuted for the Nets with 50 points, 8 rebounds, and 7 assists in a 127–126 overtime loss to the Minnesota Timberwolves.
Hence became the first player in NBA history to score 50 points or more in a team debut.
And he the seventh player in franchise history to score 50 points or more in a single game.
On January 31, Irving scored a season-high 54 points on 19-of-23 shooting in a 133–118 win over the Chicago Bulls.
Even though he is missing lots of games due to injuries and personal matters.
Still, he averages 28.1 points, 4.8 rebounds, and 5.7 assists per game this season.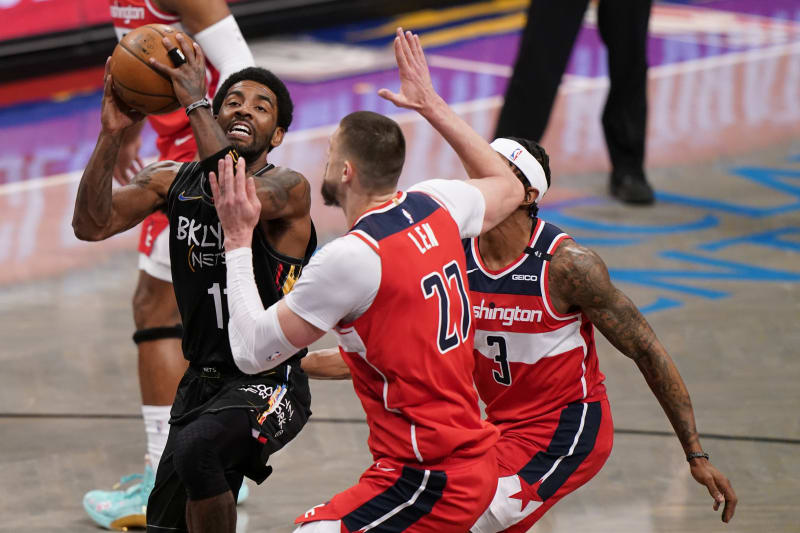 "He's a different breed," Harden said of Irving. "He has that killer mentality in a sense of, no matter who we play or where we're playing.
He is going to go out there and try to destroy the opponent, and that's something that you'd want on your team at all times.
That mentality is what sets him apart from a lot of guys in this league."
James Harden
Harden plays mostly at the shooting guard position, but he is capable of playing the point guard position.
He is the highest all-time left-handed scorer in NBA history.
And one of the most versatile and dangerous scorers in the NBA and was named MVP in 2018.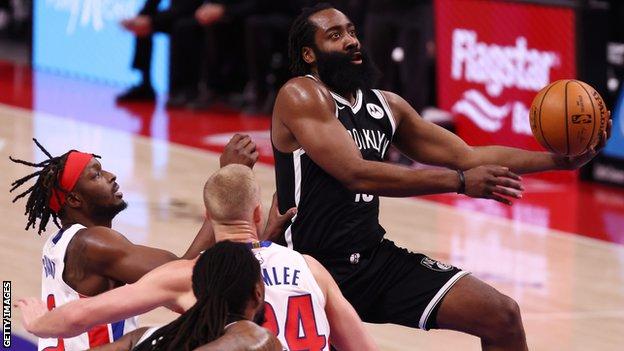 Like-wise possesses a wide variety of offensive moves and is a very strong player on the offensive end.
He is the all-time NBA leader in unassisted three-point makes and known for his playmaking ability.
Before playing for the Nets, he played for the Houston Rockets.
On January 14, 2021, Harden was traded to the Brooklyn Nets in a four-team deal that involved the Cleveland Cavaliers and Indiana Pacers.
On January 16, he recorded 32 points, 12 rebounds, and 14 assists in a 122–115 win over the Orlando Magic.
He became the first player in franchise history and the seventh player in NBA history to make a triple-double in their team debut.
In only his team debut season for the Nets, he already has created lots of records both in NBA history and in the franchise history.
In the 30 games, Harden has played for Brooklyn since it acquired him from the Houston Rockets.
He has averaged 25.4 points, 8.7 rebounds, and 11.5 assists. The Nets have gone 24-7 when Harden is on the floor.
He is doing all these without Kevin Durant, Kyrie Irving, and Blake Griffin on the floor.
"I just go out there every single night and try to give my teammates everything I can bring to the game," Harden said Friday.
Blake Griffin.
Griffin plays mostly as a power forward. In his rookie year, he averaged 22.5 points, 12.1 rebounds, and 3.8 assists per game.
And became just the 20th rookie in NBA history to average at least 20 points and 10 rebounds a game in the shot-clock era.
He is known for his exceptional playmaking abilities and highlight are his dunks.
On March 8, 2021, Griffin signed with the Brooklyn Nets. On March 21, Griffin made his debut for the Nets.
He made two points, two rebounds, and a block in 15 minutes of action coming off the bench, in a 113—106 win over the Washington Wizards.
And he contributed to the solid defensive effort with this block in the match against the Wizards.
He averages 11.8 points, 5.0 rebounds, and 3.4 assists this season, and now as a member of the Brooklyn Nets, Griffin looks like a new, revitalized player.
Griffin played his second game against the Pistons.
And he made 17 points on 5-of-8 shooting in his 20 minutes off the bench.
DeAndre Jordon
He plays in the center position and is a strong defensive player.
Jordan is a strong rebounder, averaging 10.1 rebounds per game in his career and leading the league in two seasons.
He is also an excellent post-defender who averages 1.8 blocks per game for his career. His impressive defensive plays are often compared to the greatest defenders in the NBA.
Jordan is considered one of the more durable players in the NBA as he played in 360 straight games at one point.
On July 6, 2019, the Brooklyn Nets signed Jordan to a reported four-year contract worth $40 million.
He averages 7.5 points, 7.5 rebounds, and 1.8 assists per game this season.
LaMarcus Aldridge
LaMarcus Aldridge plays for power guard or center position, and mostly known for his signature fadeaway jump shot.
Before the Nets, LaMarcus played for San Antonia Spurs.
Aldridge missed eight of San Antonio's final 11 games before the NBA All-Star break due to hip and quadriceps injuries.
They were 6–2 in the games that he missed.
He was averaging 13.7 points and 4.5 rebounds in 25.9 minutes per game for the season for the Spurs.
Star-studded frontcourt for the Nets.
After acquiring James Harden at the start of the season to team up with Kevin Durant, Kyrie Irving, and DeAndre Jordan, the Nets was already a title contender.
They were strong on the offensive end but the concern for the Nets in winning the title was their defensive end and post presence.
After signing Blake Griffin recently, the Nets are filling those weak holes for the team.
And now with LaMarcus added to the team, their defensive end and post presence can also become strong.
The Nets are a strong team standing 2nd in the Eastern Conference even without Kevin Durant, and Kyrie Irving playing much of the games.
Even though these five are yet to play together but looking at their stats and what they can contribute to the team.
If they play together then they will be a tough team to beat. However, with the addition of Aldridge, the Nets are star-studded with talents.
Hence is becoming the avengers of the NBA.