Larry Brown is a well-known assistant coach of the Memphis Tigers and a former American basketball player. He is the only coach to secure NCAA national championship and the NBA title; he is also the only person to coach two NBA franchises in the same season.
On October 2022, Larry took a leave of absence as an assistant coach due to a minor medical issue.
Earlier, he coached Auxilium Torino. The basketball players show excellent coordination and motivate each other for a successful game; however, for such performances, the coaches play a great role behind the scene.
One of the great coaches who has contributed to sharpening the skills of his players is Larry Brown.
Harvey was the first coach to win a National Basketball Association(NBA) and a National Collegiate Athletic Association (NCAA) Division I men's national championship.
Brown was a scholar, and basketball nomad, crisscrossing the sport's landscape to dispense wisdom and push players.
Before diving into his life events, here are some interesting quick facts.
Larry Brown | Quick Facts
Full Name
Lawrence Harvey Brown
Nick Name
Larry Brown
Birthdate
September 14, 1940
Birth Place
Brooklyn, New York City, United States
Nationality
American
Ethnicity
Not Mentioned
Religion
Judaism
Zodiac Sign
Virgo
Age
82 Years Old
Father's Name
Milton Brown
Mother's Name
Ann Brown
Sibling
Brother
Sibling Name
Herb Brown
High School
Long Beach High School
College
North Carolina
Marital Status
Married
Wife's Name
Shelly Galster Brown
Ex-Girlfriends
Not Mentioned
Children
Four (three daughters and one son)
Children's Name
Kristen Brown
Madison Brown
Alli Brown
L.J Brown
Weight
75 kg / 165 lb
Height
1.75 m / 5 ft 9 in / 175 cm
Eye Color
Not Known
Hair Color
Grey
Beard or Mustache
Not Known
Profession
Basketball Player, Basketball Coach, Athlete Coach
Position
Point Guard
Selected By
Baltimore Bullets
Jersey Number
11
Drafted Year
1963 / Round: 7/ Pick: 55th Overall
Playing Career
1967-1972
Current Profession
Basketball Coach
Career Coaching Record
ABA & NBA
Net Worth
$70 Million
Annual Salary
$2 Million
Social Media
N/A
Merch
Oakland Oaks Shirt, University of North Carolina Sweatshirt
Last Update
June, 2023
Larry Brown | Childhood And Early Life
Lawrence Harvey Brown was the second child born on September 14, 1940, to Ann and Milton Brown in Brooklyn, New York, and comes from a Jewish background.
Hittleman, his maternal grandfather, was from Minsk, Belarus, and his mother's family immigrated to the United States in 1910.
Ann Brown, his mother, met his father, Milton Brown, a furniture salesman when she was 26. When Brown was six years old, his father died due to a ruptured aneurysm.
His mother worked in Long Beach, New York, while Brown and his brother, Larry, invested their time playing basketball to support their small family.
Education
Larry Brown did his schooling at Long Beach High School, where he was an outstanding basketball player.
Due to his excellent performance, he won a gold medal with Team USA in basketball at the 1961 Maccabiah Games.
Eventually, he graduated from Long Beach High School under renowned coaches Frank McGuire and Dean Smith.
Then, under his coach's guidance, he spent a year at a military academy to accomplish maturity and discipline.
After completing a year in the academy, he enrolled at the University of North Caroline (UNC).
He spent three seasons playing varsity basketball at UNC, averaging a team-leading 16.2 points per game during his junior year.
Later, Brown's performance earned him an invitation to play for the U.S. basketball team in the 1964 Olympics held in Tokyo, Japan.
The U.S. basketball team won all nine games during the Olympics, taking the gold medals back to their country.
Read About Tyson Alualu Is Back To His Former Team With His Original Contract After Changing His Decision >>
Larry Brown | Basketball Career
Starting Career
Brown began his career with the NABL's Akron Wingfoots after college, where he played for two years.
With his contribution, Wingfoot participated in the 1964 AAU National Championship.
Similarly, Brown was selected for Team USA's 1964 Summer Olympics team, where he brought victory with a gold medal.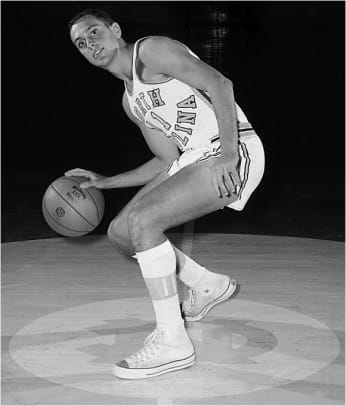 After his brief stint as an assistant coach at North Carolina, he joined the upstart American Basketball Association.
He played with the New Orleans Buccaneers, Oakland Oaks, Washington Caps, Virginia Squires, and Denver Rockets.
Harvey was named MVP of the ABA's first All-Star Game in 1968 and was named the All-ABA Second Team the same year.
Also, Brown led the ABA in assists per game during the league's first three seasons, and when he ended his playing career, the old coach was the ABA's all-time assist leader.
Coaching & Management Career
Larry Brown's head coaching job began at Davidson College in North Carolina in 1969. However, in two months, he resigned, having never fielded a team or coached a game.
From 1983-1988, Brown began his tenure at the University of Kansas, replacing the fired Ted Owens. Right into his term, everyone felt Brown's impact immediately.
The 1985-86 team was Brown's finest team at Kansas. The team had a 35-4 record and the first 30-win in KU history.
For the first time since 1978, the team won the Big 8 regular-season title and proceeded to the 1986 Final Four. However, they later lost to Duke in the semi-finals.
After two months, Brown departed from KU for the San Antonio Spurs and returned to professional coaching. Brown's contribution to the tea led him to the title of "Coach of the Year" for the NCAA in 1988.
Likewise, he was also given the "Coach of the Year" title for the Big Eight Conference in 1986.
San Antonio Spurs And Lost Angeles Clippers
In 1988 Brown signed a five-year, $3.5 million contract to coach the San Antonio Spurs. With Brown's coaching, the squad won the Midwest Division twice.
However, in January 1992, Brown was fired from the Coach's position.
Later in 1992, Larry Brown was hired to coach the Los Angeles Clippers.
He guided the team towards their first winning season since the franchise moved to Los Angeles. In May 1933, he resigned from his position.
Indiana Pacers And Philadelphia 76ers
In 1993, Larry Brown became the Indiana Pacers coach, and the team went to two straight conference finals, which were their first. He left the position in 1997.
After resigning from his last team, he was hired as head coach of the Philadelphia 76ers in the same year.
With his guidance and leadership, the team reached the 2001 NBA Finals.
For Brown's contribution, he was named Coach of the Year for the 2000-2001 season. However, he resigned from his position as head coach in 2003.
Detroit Pistons
In 2004 with the team Detroit Pistons, Brown won his first NBA Championship during the first year.
Through this achievement, Brown became the first and the only person to coach both NCAA and NBA titles.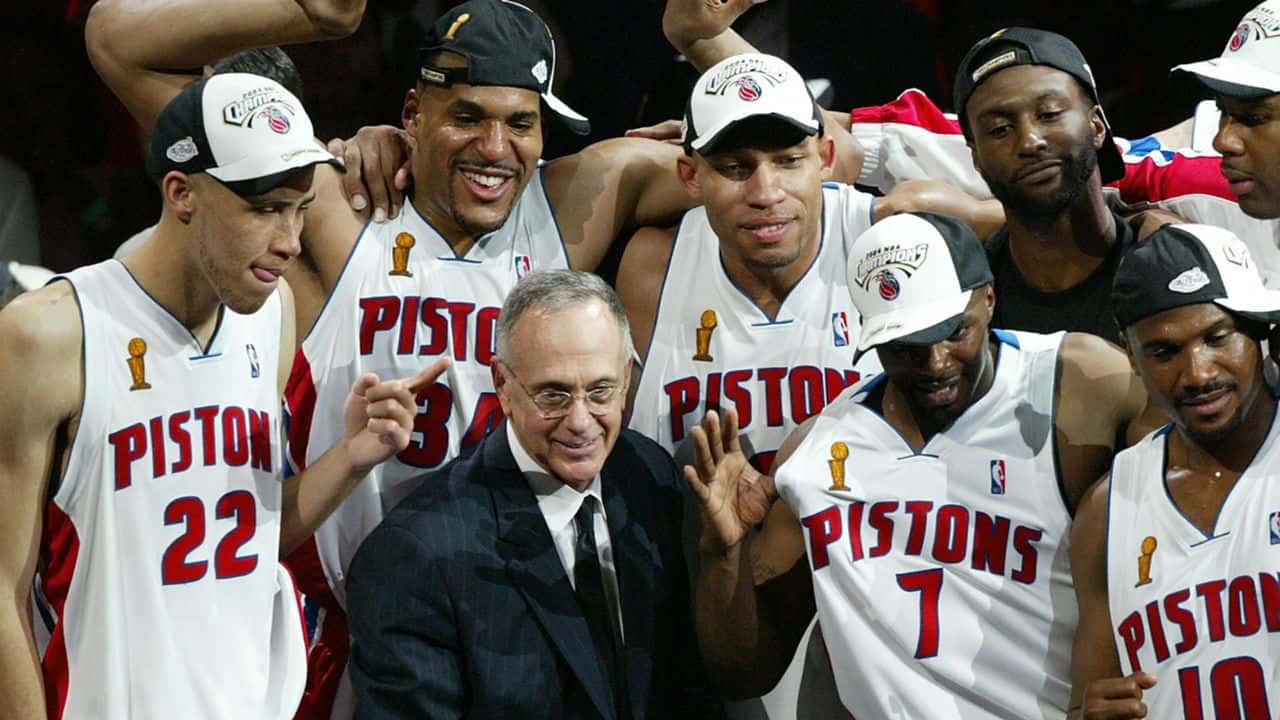 Many rumors surrounded that Brown would be the Cleveland Cavaliers' team president as soon as the former team finished their post-season.
Such rumors displeased the Pistons, and they bought out the remaining years of Brown's contract allowing him to sign with another team.
New York Knicks
In July 2005, Brown signed a 5-year contract worth between US$ 50 million and $60 million with the New York Knicks, becoming the highest-paid coach in the history of the NBA.
With the victory over Atlanta Hawks in 2006, Knicks gave Brown his 1,00th win in the NBA.
This achievement made him the fourth coach to do so. Brown's tenure with the Knicks ended after one season with a 23-59 record.
Charlotte Bobcats And Southern Methodist University
Larry Brown started his ninth coaching job with Charlotte Bobcats in April 2008. With his guidance and support, he guided the former team to the franchise's first-ever playoff appearance.
After a record of 9-19 in 2010, Brown parted his ways with the Charlotte Bobcats.
ESPN reported in April 2012 that Brown was the new head coach of the SMU Mustangs. With Brown's guidance and effort, the SMU went into the following year's national conversation (2012-2013).
The former team coached by Brown went on to be the overall number-one seed in National Invitational Tournament; however, they lost to Minnesota.
In the 2014-2015 season, SMU won the American Athletic Conference tournament and secured their first NCAA Tournament appearance since 1993.
Brown was suspended in September 2015 by the NCAA for 30% of the Mustangs' games in the upcoming 2015–2016 season.
Later, the team was banned from 2016 post-season play, placed on probation for three years, and lost nine scholarships over three years.
Auxilium Torino
After the ban, Larry Brown accepted the proposal to be the Italian basketball club head coach, Auxilium Tornio.
The former team had won the bronze medal at the Olympics but failed to win gold at the Dummer Olympics.
University Of Memphis
Larry joined the coaching staff of the Memphis Tigers men's basketball program in June 2021, as an assistant coach under head coach and former player Penny Hardway.
Earlier, Brown had served as an assistant coach in 1967.
As of October, Larry took leave as an assistant coach due to health issues. He wished to be back at his job as soon as possible but could not give the timeframe of how long will it take for him to recover.
On November 20, 2022, Darvin Ham spoke about the impact of Larry Brown on his coaching career.
He learned about coaching career and style, emphasizing sacrifice and accountability from him; he gave credit to coach Larry Brown, for his career as a coach.
Olympic Career And Tokyo 2020
As an athlete, Brown had an outstanding Olympic career and even won a gold medal for the United States. Even as an assistant coach in the 2000 Olympics, Larry brought home the gold.
Nevertheless, as a head coach, the former athlete could not achieve the same success. He coached the men's national basketball team in the 2004 Summer Olympics in Athens, Greece.
Moreover, for the first time since 1992, when NBA players were first permitted to take part in Olympics, the U.S. men's basketball team had failed to secure the gold medal. Instead, they went home with the bronze medal.
Furthermore, Puerto Rico defeated them in the opening game with a score of 73-92, which is the most significant margin of defeat for the U.S. team in the Olympics to this date.
After that, the team lost to Lithuania before losing to Argentina in the semi-finals. Nonetheless, they managed to secure a bronze medal by defeating Lithuania.
On the other hand, the women's basketball team brought home the gold, as always. The legendary coach said that he and most likely his assistant coach, Gregg Popovich, still haven't gotten over the 2004 Olympics.
Likewise, he is the only head coach not to win the Olympic tournament since 1992. Since then, the Hall of Fame coach hasn't coached the U.S. national team in the Olympics.
Tokyo 2020 Olympics
However, his then-assistant coach and mentee, Popovich, is serving as the head coach of the men's basketball team in the current Tokyo 2020 Olympics.
Gregg is considered one of the greatest coaches in the NBA franchise history and has won the Spurs five NBA championships.
Besides that, the Tokyo 2020 roster has outstanding players like Kevin Durant, Draymond Green, Devin Booker, Khris Middleton, Jrue Holiday, etc. Hence, Popovich hopes to continue the tradition of bringing the gold home.
Larry Brown | Net Worth And Salary
The former American basketball coach is said to have a net worth of 70 million dollars. It is estimated that Brown earned approximately $156 million during his coaching career.
Similarly, with a hefty sum of money, Larry Brown has invested his earnings in various properties over the years, such as a luxury estate in Bryn Mawr, Pennsylvania.
He paid $5.6 million for the mansion and later kept it for sale with a $7.85 million price tag.
Overall, his wealth comes from his primary career as a Basketball player and Basketball Coach.
Also, Know About How A $2.8 Million Bargain Uncovered The NBA's "Flawed" System >>
Larry Brown | Personal Life, Wife, & Kids
Brown married a former realtor, Shelly Galster Brown, in 1993. She used to revamp a house and sell those houses. After marrying Larry Brown, she left the realtor world and became a supportive wife.
The sweet couple has been married for over two decades and is blessed with four talented children; three daughters and one son.
The Browns' were blessed with a beautiful daughter as their first child, Kristen Brown.
Later, their two daughters, Madison Brown and Alli Brown, and their son L.J Brown joined the family between the late 1990s and early 2000s.
Larry Brown's Kids Usually Stay Away From Paparazzi
In the history of the NBA, Larry Brown is the only coach to lead eight teams to the playoffs. However, the coach does not discuss his family life. Harvey prefers to keep his life away from the spotlight.
Brown is rarely seen with his children in front of the camera. Similarly, famous Larry Brown and Shelly Brown's children do not seem active on social networking handles.
Brown and Shelly have made sure to make their children live blissfully away from the paparazzi as much as possible.
Popularity Graph
Larry Brown is famous for being a former NBA player and the coach who has trained two NBA franchises simultaneously.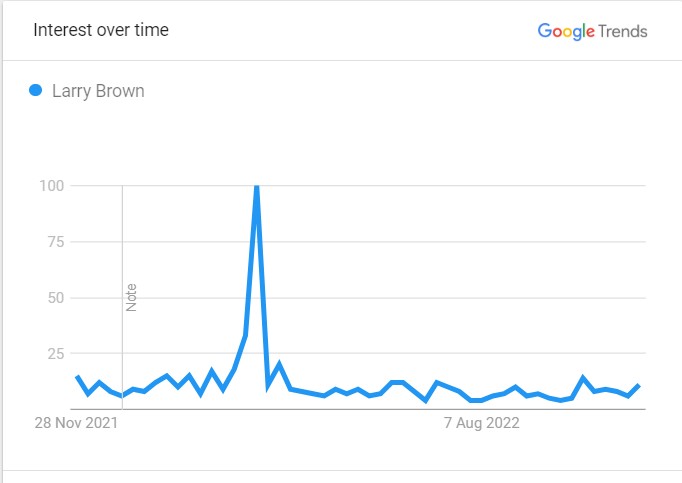 He has coached many huge NBA teams; furthermore, his search rate hiked as he coached Memphis Tigers as an assistant coach.
Frequently Asked Questions (FAQs)
Is Larry Brown still coaching?
The American coach, Larry Brown, still coaches Memphis Tigers as an assistant. Earlier, he had to take a leave due to health issues.
Is Larry Brown still married?
Larry Brown is still married to his wife, Shelly Brown, since 1993. At present, they have three daughters and one son.
Does Larry Brown have any social media accounts?
No, Larry is not available on any of the social platforms. However, you can find his updates on news websites.
Get To Know About The MBL Star, Franchy Cordero >>