Playing for the Colorado Rockies and Boston Red Sox changed Josh Rutledge's life financially and personally. The baseball star married the lovely Laura Rutledge, a team member at ESPN.
If you watch the sports channel, missing the chance to spot Laura is rare. The blonde reporter is a part of ESPN's various segments and is one of the prominent faces in the reporting field.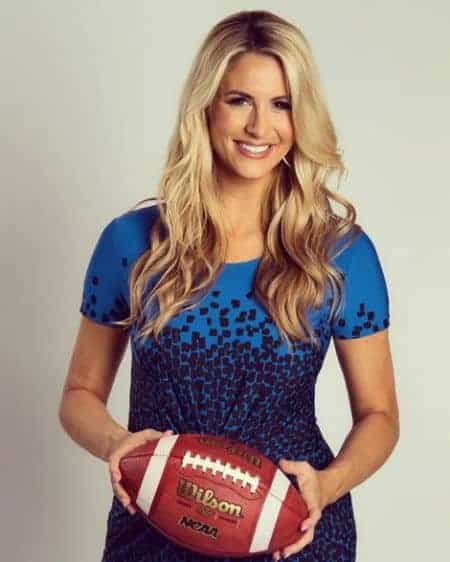 Moreover, the Florida native started her career in 2012 and, surprisingly, was a Beauty Pageant winner before her anchoring career.
Who knew, right? That's precisely the reason to write this article.
Today we will dive a little deeper into Mrs. Rutledge's life, wherein we learn about her early life, career, net worth, and personal life. Firstly, let's begin with some quick facts.
Quick Facts
| | |
| --- | --- |
| Full Name | Laura Rutledge |
| Birth Date | October 2, 1988 |
| Birth Place | St. Petersburg, Florida, U.S. |
| Nick Name | Laura |
| Religion | Undefined |
| Nationality | American |
| Ethnicity | Caucasian |
| Education | University of Florida |
| Horoscope | Libra |
| Father's Name | Robert McKeeman |
| Mother's Name | Deborah McKeeman |
| Siblings | Yes (Names: Unknown) |
| Age | 34 years old |
| Height | 5'10" (1.80 m) |
| Weight | 60 kg (132 lbs) |
| Shoe Size | Updating soon |
| Hair Color | Blonde |
| Eye Color | Hazel |
| Body Measurement | 35-24-36 inches |
| Figure | Hourglass |
| Married | Yes |
| Husband | Josh Alan Rutledge |
| Children | Yes (Reese Katherine Rutledge) |
| Profession | News Reporter and Host |
| Net Worth | $0.7 million |
| Affiliations | FOX Sports, CNN, ESPN, SEC Network |
| Active Since | 2012 |
| Social Media | Instagram, Twitter, Facebook |
| Famous For | Miss Florida (2012) |
| Salary | $400,000 (yearly) |
Laura Rutledge Wiki-Bio | Early Life & Education | Where Did Laura Rutledge Go To College?
On October 2, 1988, Laura Rutledge was born in the McKeeman household in St. Petersburgh, Florida (U.S.). Moreover, Deborah and Robert McKeeman were proud parents who gave their only daughter all their love and affection.
In the same way, the Floridian attended Celebration High School located in Celebration, Florida. From a young age, Laura was fascinated with putting on makeup and fondly caricatured people on television.
Additionally, the American joined ballet classes to pursue her passion for dancing.
In the meantime, Rutledge became quite fixated on the pageant shows, so her parents provided her resources to practice for such competitions.
In like manner, Laura developed an acute taste for sports as her family was highly enthusiastic about college football. Although the Floridian never learned to play any sport, the blonde avidly watched all kinds of sports on television.
Lauren Gardner Bio: Husband, Career, DAZN, Net Worth, Instagram Wiki >>
Hence, Rutledge was dead-set on pursuing sports journalism as her career and enrolled in the University of Florida and took up media studies.
While on campus, Laura volunteered to be part of the college radio, which enhanced her communication skills and became a means to earn a few hundred bucks every month.
Laura Rutledge | Age, Height, & Body Measurements
Born in 1988, Mrs. Rutledge 34 is now years old.
Similarly, at the ripe age of 31, Laura is everywhere. If one googles Laura Rutledge, one can find several videos of the Floridians in various segments created by ESPN.
Laura's name pops up everywhere, from interviewing players to covering epic moments in sports to breaking down games to the thinnest detail.
The sports broadcaster juggles between gigs to gigs, and her day-to-day activity seems rather hectic.
It's incredible how Rutledge became a household name in such a short period. Likewise, we can attribute this level of success to her excellent speaking ability, charming smile, and skill to ask all the relevant questions.
On the other hand, as a host and a sideline reporter, Laura constantly appears in front of the camera.
For this reason, looking presentable is of dire importance because a person's success is measured not only by their inherent qualities but also by physical presence.
Danyelle Sargent Bio: Height, Parents, FOX, Net Worth Instagram Wiki >>
Moreover, it is evident from her social media posts that the blonde reporter spends a fair share of her time at the gym.
Additionally, with a height of 5'10" (1.80 m), an alluring personality, and utter fluency, it's hard to remove one's eyes from the screen when Laura appears.
In the same way, the Floridian has a lean and toned physique, and her body measures 35 inches of the breast, 24 inches of the waist, and 36 inches of the hips.
Most importantly, Rutledge's distinguishing feature is her tall frame, brown eyes, and bright blonde hair.
Laura Rutledge | Career: Host & Reporter | Did Laura Rutledge Leave ESPN?
To begin with, things didn't hit straight off the bat for the Floridians. While she was still a senior in college, many broadcasting companies presented her with the opportunities to work for them after graduation.
Unfortunately, things didn't go as planned, and the lucrative offers passed her. Nonetheless, Laura knew that taking two steps back only meant taking two more in the forward direction.
Eventually, after befriending a worker from FOX Sports, Rutledge landed a chance at an internship. After being doled out of an uneventful work nature, Laura managed to turn the situation on its toes.
For instance, a minor incident led the Floridians to appear on TV for the first time. Due to misunderstandings with the broadcasting unit, one of the presenters bailed at the last minute.
As the saying goes, one man's trash is another man's gold, Laura seized the opportunity, and despite a temporary role, the blonde reporter impressed everyone there was to impress.
Jojo Starbuck Bio: Age, Career, Net Worth, Husband Wiki >>
Subsequently, many doors opened for Rutledge as she began presenting professional baseball games broadcasted by FOX Sports. In no time, Laura rose to popularity amongst regular viewers, and the ratings spiked unprecedentedly.
Conversely, the reporter decided to compete in the Miss Florida pageant to gain necessary PR. Ultimately, she won the title and became famous overnight.
After that, another opportunity came with Miss America, and I finished the competition in 16th place. With a brief deviation from her lifelong ambition to participate in pageantry, the Floridian resumed her broadcasting career.
CNN & ESPN
Firstly, she covered the National Paintball Championship in 2012, organized by National Collegiate Paintball Association. At the same time, Laura worked as a sideline reporter representing Fox College Sports.
Mikaela Mayer Bio: Age, Height, Ethnicity, Career, Trainer, Net Worth Wiki >>
Accordingly, the Floridian hosted a show titled Chargers Insiders for Fox Sports San Diego that covered the San Diego Chargers' hip and happenings. Furthermore, the network provided Laura with her show called SDLive.
The blonde reporter Executive produces the segment while still hosting it from time to time. At the end of 2013, the broadcasting Company assigned her to host the Coors Light Postgame Show airing on Fox College Football.
Likewise, Rutledge appeared as a host for many college halftime games. Her work was highly commendable, and the network rating just grew at a rapid rate.
Eventually, ESPN tracked Laura down and presented her with a concrete plan to work for the SEC Network. Finally, her lifelong goal met its turning point, and she began covering sporting events tirelessly in more than one state.
Since her family keenly watched college-level sports, Rutledge didn't pass up the opportunity to report such events for the ESPN Network. Apart from these, the blonde reporter serves as a co-host for The Paul Finebaum Show, a segment of the SEC Network.
Meanwhile, as of 2019, Laura widely works as a host and reporter for both CNN International and ESPN. Therefore, it seems convincing that she is one of the most sought-after reporters in the present context.
Laura Rutledge Net Worth | Salary & Incomes
In particular, the talented news reporter accrued a stunning net worth of $0.7 million at the time of writing. However, it shouldn't surprise anyone as this amount is reasonable considering how hard Laura works to earn her keep.
Furthermore, sources reported that Rutledge earns a whopping $400k yearly after her new venture with ESPN. Similarly, working for several networks added substantial experience to her resume.
Even though Laura earns relatively less than her counterparts, it is safe to say that the Floridian might be one of the best-paid reporters working in modern times in the coming years. Considerable success awaits an exceptional reporter.
Contrarily, Josh Rutledge, Laura's husband, has a massive net worth of $14 million. We are here just sweating at the incredible figure. Life's smooth as melted butter for the Rutledges, isn't it?
Michelle Akers Bio: Career, Goals, Illness, Net Worth, Husband Wiki >>
Nonetheless, fame and fortune have not taken away the humanity inside them.
In other words, both Josh and Laura actively tackle social issues and openly endorse different non-profit organizations that concur with their philanthropic motives.
Laura Rutledge Relationship Status | Who is Laura Rutledge's Husband?
Laura McKeeman tied the knot to Red Sox infielder Josh Rutledge. Further, there are no words to express the couple's love life. Laura and Josh are characters straight out of a modern-age fairy tale.
For instance, if you look at either of their Instagram handles, you can notice how deeply in love these two are with each other.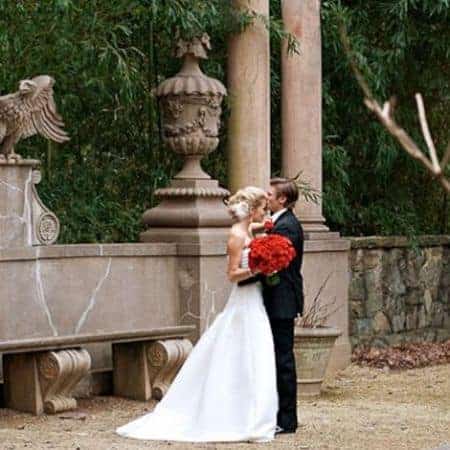 The picture speaks louder than their adorable captions. In like manner, the couple is incredibly supportive of each other's careers.
Additionally, the couple solidified their marriage by sharing a beautiful daughter named Reese Katherine Rutledge, born in October 2019. I think many should draw inspiration for maintaining a happy relationship from these two.
Social Media Presence
Instagram: 115,000 followers
Twitter: 175,000 followers
Facebook: 34,709 followers