Are you familiar with the name Eric Musselman? The highly successful Nevada Wolf Pack's coach currently trains Arkansas Razorbacks.
Well, we are not here to talk about the talented coach but his equally gifted wife, Danyelle Sargent.
Who said women don't know sports? Mrs. Musselman has been at it since early 2000 and retired from the broadcasting job in 2013.
Simultaneously, providing 13 years of service in the world's most reputed organizations like NFL, ESPN, and FOX Sports can be quite taxing.
Deservedly, the American currently enjoys calmer moments with her husband, daughter, and two stepsons, who were thrilled to find a mother in their life.
Today we will talk briefly about this fierce sports reporter; her career, personal growth, and net worth!
Danyelle Sargent: Quick Facts
| | |
| --- | --- |
| Full Name | Danyelle Sargent Musselman |
| Birth Date | May 19, 1978 |
| Birth Place | The United States of America |
| Nick Name | Danyelle |
| Religion | Undefined |
| Nationality | American |
| Ethnicity/Race | African American |
| Education | Florida State University |
| Horoscope | Taurus |
| Father's Name | Not Known |
| Mother's Name | Not Known |
| Siblings | None |
| Age | 43 Years Old |
| Height | Unavailable |
| Weight | Unavailable |
| Shoe Size | Updating soon |
| Hair Color | Black |
| Eye Color | Brown |
| Body Measurement | Updating soon |
| Build | Lean, Muscular frame |
| Married | Yes |
| Husband | Eric Musselman |
| Children | Yes (Mariah Musselman) |
| Profession | Sports television reporter |
| Net Worth | $500k to $1 million |
| Affiliations | ESPN, NFL Network, FOX Sports |
| Active Since | 2000 |
| Social Media | Instagram, Twitter, Facebook |
| TV Shows | Totally Football, Cold Pizza, Onion SportsDome |
| Stepchildren | Matthew and Michael Musselman |
| Last Update | March, 2022 |
Danyelle Sargent Bio | Early Life, & Education
On May 19, 1978, Danyelle Sargent was born in Georgia, USA. However, the exact location of her hometown and the whereabouts of her parents are still under review.
Further, it is questionable whether she is the only child or not. On the other hand, what we do know is that Danyelle attended Florida State University.
While at the university, the American majored in Bachelor's of Science in Communications.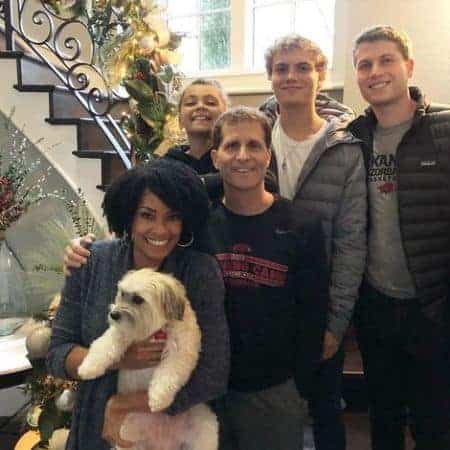 In the same way, upon graduation, Georgia native worked as a production assistant for CNN, in particular, for CNN Sports Illustrated.
Added to that, Danyelle burst into the sportscasting field in less than five years after her first gig, one of which was anchoring.
You might be interested in reading: <<Amanda Busick Bio: Personal life, career & FOX Sports>>
How Tall Is Danyelle Sargent? Age, Height, & Body Measurements
At present, Sargent is 43 years old.
Well, social media pictures suggest; otherwise, she looks nothing like a 40-year-old; still vibrant and beautiful like a 25-year-old.
Although the secret to her beauty might be her workout regime, Mrs. Musselman maintained her youthful glow even after a decade-long hectic job schedule.
Furthermore, the sports reporter shares inspiring videos on Instagram of her fitness routine. Contrarily, we are unaware of her height and body measurements.
In assumptions, the beauty queen stands somewhere around 5'8″ (1.76 m) because she is taller than her husband, evident from some Instagram posts.
Additionally, Mrs. Musselman has a lean yet slightly muscular physique, resulting from her rigorous routine at the gym and other outdoor activities.
The most distinguishing feature about Danyelle is her afro hairdo, her smiling face, and a muscly frame.
Don't forget to check out: <<Lauren Gardner Bio: Husband, Career, DAZN, Net Worth, Instagram Wiki >>
Danyelle Sargent Career | Sports Reporter
To begin with, the Georgi born traveled a few hundred miles to the south, towards the state of Florida, to obtain her educational credentials.
After that, she moved back and immediately started working at WGXA, located in Macon, Georgia.
In all honesty, you need to give props to the people working in media, typically anchors and journalists.
They have to report news in the rawest form without exhibiting any form of biases or emotions.
For instance, keeping a straight face while a camera captures every moment and doing the same thing day and night is overwhelming.
When Danyelle first came into the business, it seemed like she was made for it. In fact, Sargent is one of the few reporters who are so innately gifted in their occupation.
Before joining ESPN, the African-American used to work for Metro Sports, a sports channel produced by Time Warner Cable.
In the same way, the reporter remained in Kansas City-based network company for two years since 2002.
Thereafter, the network assigned Danyelle as a sideline reporter for the Kansas City Chiefs throughout the 2004 preseason.
The following year, Ms. Sargent proudly stood as a co-emcee at the NCAA woman of the year awards. Similarly, the American gladly helmed the role yet again in 2006.
ESPN
Moving on, ESPN was monitoring Danyelle's situation at Metro Sports.
Simultaneously, ESPN was looking for viable candidates for the ESPNEWS channel and identified Sargent as a worthy addition. However, her stay at ESPN wasn't devoid of controversy.
In one instance, a technical difficulty caused Danyelle's voice to be taped over a live broadcast, and the audience heard the American cursing on national tv.
Nonetheless, the situation got shrugged off and became a blooper for the news network to joke about in the future.
Granted that Sargent had an enjoyable ESPN experience, the network decided to part ways with her after the contract expired in 2006.
You might also be interested in reading: Kent Tekulve Bio: Early Life, MLB, Broadcasting & Net Worth
FOX Sports
Eventually, the talented reporter worked at FOX Sports and debuted on FSN Final Score in late 2006.
Also, Danyelle made an appearance for the segment's taped version in July of 2011. It seems that minor controversies follow wherever you go.
To illustrate, on October 26, 2008, when working as a sideline reporter, Sargent interviewed San Francisco 49ers' coach Mike Singletary.
At that moment, the FOX reporter asked what it meant for Mike to be the head coach and what the phone calls with his mentor Bill Walsh entailed.
Unbeknownst to her, Bill Walsh passed a year ago, and hence the interview was cut off suddenly.
Comedy Central, Yahoo, & NFL Network
Notwithstanding only a real-time job, Danyelle portrayed a fictional version of a sportscaster named Melissa Wells that premiered on Comedy Central's Onion SportsDome.
In the dawn of 2012, the former sportscaster covered college football, NFL, NASCAR, Fantasy Football, and high school drafts during her time with Yahoo! Sports.
Similarly, NFL Network recruited Sargent as an anchor until April of 2013.
Danyelle Sargent Net Worth | Salary & Incomes
According to various sources, Ms. Sargent accrued a net worth of around $500k to $1 million.
Nonetheless, it is tough to pinpoint her financial statistics as they are kept confidential.
On the contrary, Eric Musselman, Danyelle's husband, collected a staggering net worth of $2 million from his stints as a former basketball player and currently through coaching.
Despite this, figurative monthly earnings are not available at the moment.
Besides, NevadaSportsNet reported that the Arkansas Razorbacks coach would pocket a hefty $12.5 million from a new contract deal.
Thus, life seems comfortable for Musselman. In like manner, Danyelle's stepsons are almost old enough to have a professional career.
With that being said, Dad Musselman and Mom Mussleman live a quite fulfilled lifestyle, do charitable works on occasions, and also travel to exotic locations every once in a while.
Besides, even after retirement, Mrs. Musselman doesn't live an ideal life. After her TV gig, the beauty queen became a local celebrity of some sort, and one can spot her in Full Pedal Cycling Studio.
In the meantime, the former reporter promotes and endorses several local organizations and actively participates in tackling various social issues.
Moreover, Sargent appears in fundraisers and charity venues actively supporting Nevada Children's Cancer Foundation and has affiliations with Pinocchio's Moms on the Run to tackle breast cancer.
Danyelle Sargent Relationship Status | Who is Danyelle Sargent's Husband?
As mentioned above, Ms. Sargent is a happily married woman.
Accordingly, the FOX Sports reporter tied the knot to the renowned college basketball coach Eric Musselman sometime in September of 2009.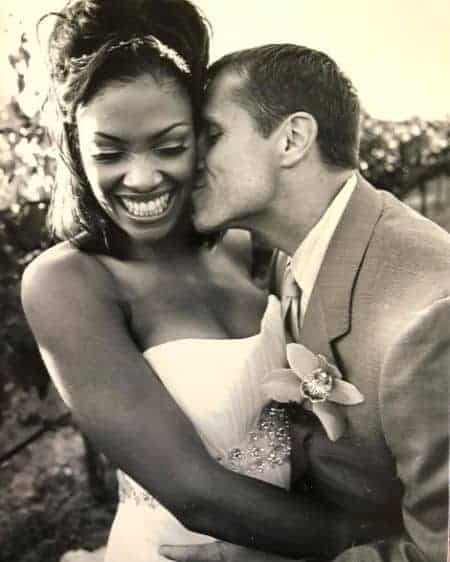 Indeed, the couple found a blessing in their daughter Mariah who was born in 2010.
Notwithstanding that, Danyelle is equally proud to be a stepmom to Michael and Matthew, Eric's sons from a previous marriage.
As Gisele Bundchen once coined the term "Bonus Mom," Sargent adheres to that term and doesn't consider Michael and Matthew as stepchildren but as her own.
Likely so, the boys are glad to receive a motherly figure in their life.
You might be interested in reading: <<Gene Keady Bio: Wife, Hall of Fame, Net Worth, Coaching Career Wiki >>
Mariah Musselman: Also a Sports anchoring Geek
Mariah Musselman is very much interested in sports anchoring like her mother.
She loves the mic and is fond of facing the camera. In fact, she recently interviewed her father, Eric Musselman.
With a father brilliant in basketball coaching and a wonderful sports anchor like her mother, Mariah was born with the genes that drew her towards sports.
Social Media Presence:
Instagram: 13k followers
Twitter: 198,000 followers
Facebook: 33.1k followers
Some FAQs:
What is Danyelle Sergent Nationality?
Danyelle Sergent is American by Nationality and belongs to the Black ethnicity.
Who is Eric Musselman's first wife?
Eric Musselman's first wife was Wendy Bauer. The couple got divorced in 2005.
Has Danyelle Sergent posed naked?
Yes, the reporter posed naked for the Reno-based "Bliss Babe" women's magazine. The purpose of the feature was to teach women of all ages, shapes, and sizes to embrace their bodies and curves. 1
Did Danyelle Sergent lose her job?
Sargent accidentally spoke the f-word on camera during one of her live shows with ESPN.
The company then did not renew her two years contract when it expired in the fall of 2006.
Therefore, she technically lost her job but was not fired from a procedural point of view.
What is Danyelle Sergent doing now?
Danyelle Sergent is a very popular face in the sports anchoring industry. She could be absent from the TV for months and still be remembered for the charm that she possesses.
Apart from sports anchoring, Sergent is all for fitness and good health. She is often seen motivating her social media family to stay fit and healthy.
Moreover, she has been involved in various fundraising for good causes lately. She is also associated with the American Cancer Society, Nevada Children's Cancer Foundation, and Pinocchio's Moms.
Sergent is all for giving back to the community that has been cherishing her for years.