The former soccer player Lauren Holiday is deeply grateful to her parents for her accomplishments.
They played a pivotal role in motivating and guiding her throughout her journey, leaving no stone unturned.
Her parents witnessed Lauren, from surviving heart surgery when she was three to becoming a World Cup Winner.
Today, Lauren herself is a doting mother of two adorable kids and is passing on the same values and knowledge that her parents instilled in her.
Lauren is a two-time Olympic Gold Medal winner and the 2015 FIFA Women's World Cup Champion.
She played professionally for FC Kansas City in the National Women's Soccer League and the Boston Breakers in the Women's Professional Soccer.
Furthermore, she is the first player in the National Women's Soccer League history to have her jersey retired after retiring from the league.
Lauren Holiday Parents: George & Rita Cheney
Lauren Nicole Cheney was born on September 30, 1987, to parents Rita and George Cheney in Indiana, United States. She has one brother, Aaron Cheney.
Growing up in a Christian household, Lauren's mother would take her to church on Sundays, and she was baptized as a baby.
Unfortunately, not much information is available about her parents.
Lauren developed a passion for soccer at a young age after being inspired by her brother's involvement in the sport. She began playing on boys' teams until she turned 12.
Lauren's brother, Aaron Cheney, is a married man who tied the knot with Amanda. They are parents of two lovely kids.
Lauren Holiday Husband, Jrue Holiday
On July 7, 2013, Lauren Cheney married Jrue Holiday, a professional basketball player who also attended UCLA.
The couple first met and began dating in 2008 while they were both students at UCLA.
Their initial encounter occurred at a UCLA women's basketball game during Jrue's only season at the school.
As Jrue approached his seat, a young girl mistook him for Darren Collison and asked for his autograph.
After clarifying that he was not Collison and getting ready to take his seat, Lauren, seated behind him, playfully commented, "Don't worry, you're cuter than Darren is."
Although they were in relationships with other people at the time, they developed a friendship and started dating after the Philadelphia Sixers drafted Jrue.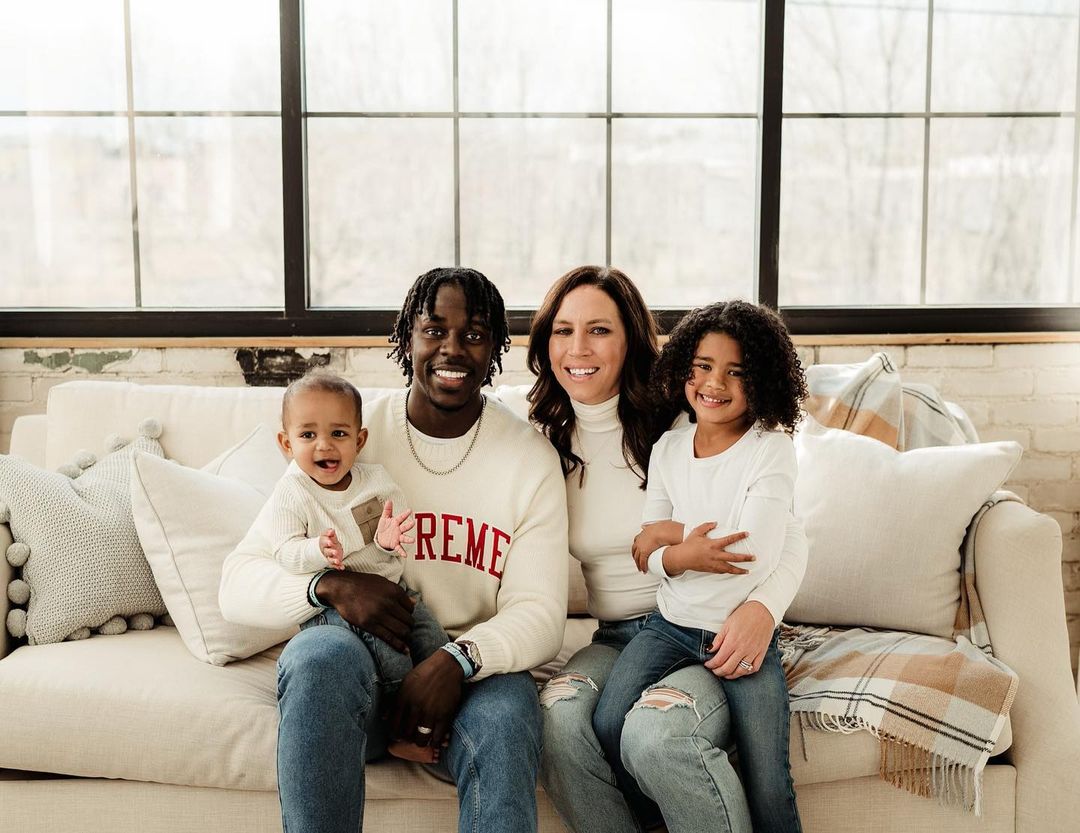 On September 4, 2016, it was revealed that during her pregnancy, Lauren had previously been diagnosed with a benign brain tumor located on the right side of her brain in late June 2016.
Her husband, Jrue Holiday, took a leave from his basketball career to care for her.
In September 2016, Lauren gave birth to their first child, a baby girl named Jrue Tyler Holiday, and in October of the same year, the tumor was successfully removed.
They welcomed their second child, a boy named Hendrix, in late 2020.
Today, the former soccer forward is a joyful and healthy mother of two children, Jrue Tyler Holiday and Hendrix Holiday.
Furthermore, Lauren and Jrue also operate a non-profit organization called the "Jrue and Lauren Holiday Social Impact Fund," where they actively advocate for Racial Equity and Social Justice.