Lebron James partners with FSG (Fenway Sports Group), which means he is now a part-owner of the Boston Red Sox.
Fenway Sports Group is the owner of clubs like the Boston Red Sox and Liverpool Football Club.
It is also the owner of Roush Fenway Racing and the US sports network NESN. Boston Globe reports that LeBron James has joined FSG as a partner.
It says the deal could take time to conclude due to MLB's approval processes of RedBird Capital Partners' bigger buy into FSG.
James, who has won four NBA titles and four MVP awards, will only increase FSG's global reach.
According to the Globe reports, James also received a 750 million dollar investment from RedBird Capital Partners.
FSG with RedBird Capital Partners' investment may be crucial to acquire other sports and strengthen Liverpool and Red Sox.
LeBron James has become a partner in the Fenway Sports Group, making him a part owner of the Boston Red Sox, first reported by the Boston Globe and confirmed by ESPN. pic.twitter.com/Yo0BJTlAYd

— SportsCenter (@SportsCenter) March 16, 2021
James also owns Premier League Club, Liverpool
LeBron James not only loves Basketball, he always had an interest in football. As an underclassman, James played wide receiver for St. Vincent-St. Mary's football.
He was recruited by Some Division I programs, including Notre Dame. He could have played in the National Football league if he hadn't quit due to a wrist injury.
So he loves football and is a fan of the Liverpool club.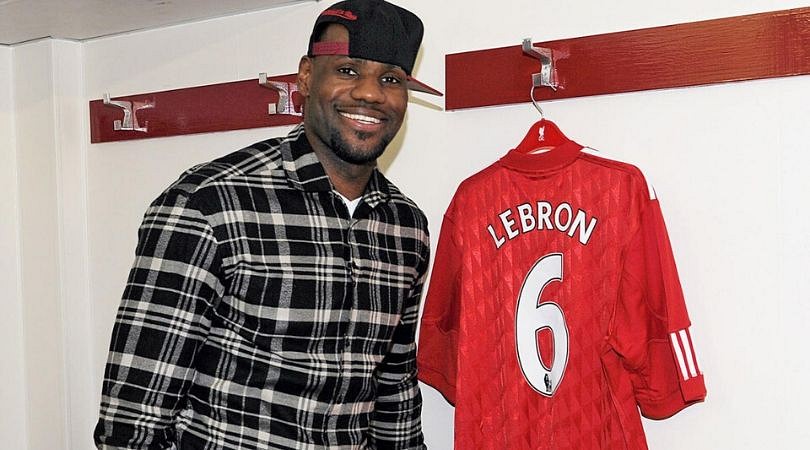 So, he chose to sign a marketing deal in exchange for small ownership, a 2% stake in Liverpool.
The LA Lakers forward has been part-owner of Liverpool since 2011. as he had a relationship with FSG.
The club has won the 2018-19 UEFA Champions League and 2019-20 Premier League.
Michael Silverman of the Boston Globe reported that James owns an "undisclosed amount of FSG shares."
"After previously holding an approximately two percent share of the Liverpool soccer franchise since 2011," added Silverman.
Lebron James' move with Red Sox is interesting to watch in the future
We know LeBron James plays for the Los Angeles Lakers Basketball team. LA Lakers has a long history of rivalry with the Boston Celtics.
The rivalry between the two teams involves the two most storied basketball franchises in NBA history.
It has been called the best and greatest rivalry in the NBA. The rivalry started way back in 1959, where the two meets for their first finals meeting.
These two teams have met a record 12 times in the NBA finals. Not to mention, they have won the highest number of championships.
James playing for the Lakers, Boston Celtics arch-rival, and Boston Red Sox and Boston Celtics come from the same city, make this partnership interesting to watch.
What's even more interesting is that James is known to have crushed Celtics' Championship hopes many times in the Eastern Conference playoffs.
Also, James is a fan of the New York Yankees, arch-rivals of Boston Red Sox, and has been very open about his love for the club.
LeBron owns the Celtics and the Red Sox… I know bill Simmons puked when that news hit

— Boogie Bousins (@bansky) March 16, 2021
New York Yankees and Boston Red Sox rivalry.
New York Yankees and Red Sox rivalry is among the oldest, most famous rivalries. It is also the fiercest rivalries in professional sports. They have been rivals for over 100 years.
And their rivalries are often a heated subject of conversation in the Northeastern US. The teams have fought in American League Championship Series three times.
With the Yankees winning twice and the Sox once. The two teams faced off most recently in the 2018 American League Division Series.
The Red Sox won four games in the series against the Yankees. Their rivalry is often termed "the best and greatest rivalry in all sports."
Games between the two teams often generate a great deal of interest. Also, the games get extensive media coverage.
Any news related to both teams often gets a great deal of attention.
And James being part of the owner of Red Sox with him being a Yankees fan is also gaining people's attention.
Fans' Reaction over James owning Red Sox
After the news broke out, many fans have been tweeting non-stop, giving us meme-worthy materials. Here are a few of them.
Please stop this @KingJames pic.twitter.com/duTa6yaCIH

— Conor Ryan (@ConorRyan_93) March 16, 2021
Cleveland Cavaliers coach J.B. Bickerstaff said James being able to buy into the group is a huge step.
Especially when considering the example, it sets for diversity in business.
LeBron owns the Celtics and the Red Sox… I know bill Simmons puked when that news hit

— Boogie Bousins (@bansky) March 16, 2021
"You knew that he has a great eye and passion for business," Miami Heat coach Erik Spoelstra said.
"And he doesn't set any boundaries on where he can take it. He's a big Yankees fan, so I think that that makes it fun.
#RedSox manager Alex Cora asked by #WBZ Jonny Miller about @MikeSilvermanBB report that @KingJames is about to become part owner of the @redsox

Obviously not expecting that to be the first question right after the Sox 5-3 win over Atlanta.
Loved his quick line at the end.😂@wbz pic.twitter.com/JHoP1v8GXd

— Dan Roche (@RochieWBZ) March 16, 2021
James often speaks about wanting to own an NBA team one day. League rules forbid this for active players. He also wants to play an active role in society out of the court.
His partnership with FSG only enhances James' business empire, and one fulfills a dream to own an NBA team. He also has the media company Uninterrupted and a production company, SpringHill Entertainment.
"I believe if I wanted to, I could own a team or be part of a basketball team," James said in 2019.
"I still know what I do on the floor, and obviously, I give everything to the game," James told AP in December.
"But I can make a greater impact off the floor right now, more than I can on the floor.
And I want to continue to inspire people with the way I play the game of basketball.
But there are so many more things that I can do off the floor to help cultivate people.
"I want to inspire people, bring people together, empower them," said James.