Lewis Hamilton has been following Catholicism as his religion since he was a child. But in recent years, the F1 racer has talked about growing close to spiritualism as well.
The seven-time F1 Champion, Lewis Hamilton, has never shied away from talking about his faith and religious beliefs. He has previously said that God has had a major role in transforming his life.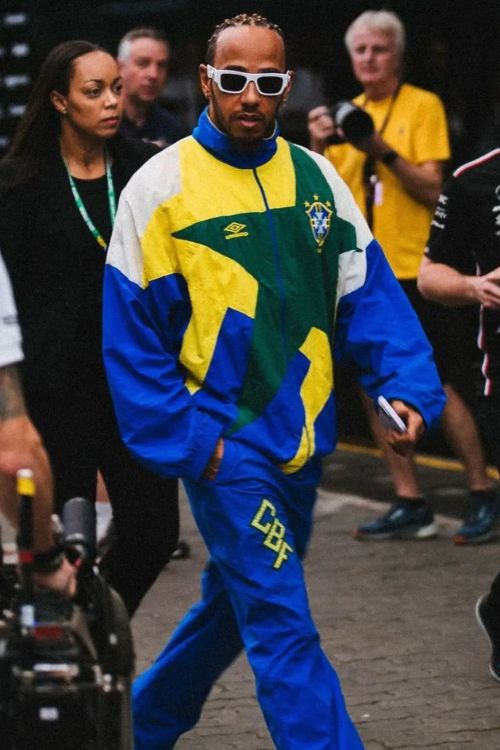 The inkings marking his body are another representation of the religion he practices. His body has several tattoos, with one of them being a huge cross on his back.
Ahead of this weekend's Brazilian Grand Prix, all eyes are on Hamilton on whether he can earn his first win of the season. Known for his fashion taste, Hamilton was seen rocking up to the Grande Premio de Sao Paulo circuit in a 90s Brazil national football team tracksuit.
Lewis Hamilton Religion: Is The F1 Driver Catholic?
The Mercedes driver Lewis Hamilton grew up Catholic. Hamilton has always openly talked about his religion and his faith.
In an interview, Hamilton talked a bit about his religious environment as a kid. Lewis would go to church every weekend with his family until he started racing.
He also said he studied in a Catholic school and was very close to God during his twenties. During a conversation in 2018 in a Formula 1 podcast, Hamilton believed God has had his hand over him throughout his racing career.
During that interview, Hamilton also further stated he goes to church with a couple of his close friends. He said, "We meet, we go for breakfast, and then we go to church together. We leave most often feeling enlightened and empowered. It is like a re-centering."
Hamilton further said people need to make time when it comes to prayers. He believes prayers can result in powerful transformations.
But like many other kids who grew up in a religious household, Hamilton also said he grew up insecure about his religion. It wasn't until he got to Formula One that he embraced his faith and felt comfortable showing it.
Previously, a few F1 fans pointed out that the Mercedes driver usually wrote "Blessed" in his Instagram posts, which we don't see that often nowadays. And some fans have suggested that Lewis has started leaning towards spiritualism.
Lewis' religious stance was a hot topic on a Reddit page three years back, with one fan pointing out that the racer blends religion, spirituality, and naturalism.
Lewis Hamilton Tattoos
The F1 racer Lewis Hamilton has several tattoos covering his body. Most of his body art is inspired by his religious beliefs.
Hamilton has a Michelangelo sculpture of Mary holding Jesus after he came off the cross, a scared heart, a musical note, and a compass on his chest.
He also has a quote from writer Marianne Williamson written on his chest. It reads, "Powerful Beyond Measure." Hamilton had previously explained the passage in an interview.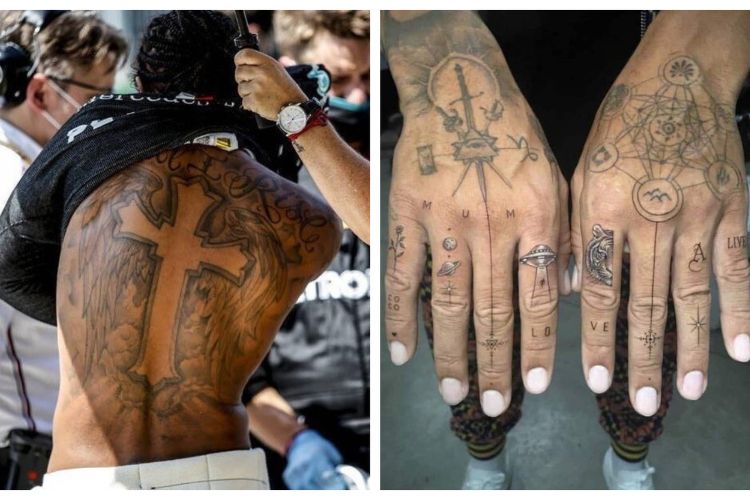 A fuller version reads, "Our deepest fear is not that we are inadequate. Our deepest fear is that we are powerful beyond measure. It is our light, not our darkness that most frightens us."
Lewis also has a cross and angel wings tatted on his back. On top of the angel wings, "Still I Rise" is written. Hamilton has said he got the idea of the cross from the American rapper Tupac Shakur.
Last year, Hamilton added new inkings to his already vast collection. He added a rose, UFO, planet, moon, star, tiger, love heart, and other signs and shapes.
The words "love" and "mum" were also seen in the photo shared on Instagram. Those tattoos came ten months after Hamilton had added new ones before the 2021 season opener in Bahrain.
It was a tattoo of a sword, a burning sun, and a complicated web of symbols on the back of his hands. Hamilton had previously explained his tattoos in an interview with GQ in 2018.