We are all aware of the NFL and its glory, but do you know about the LFL (Lingerie Football League)? Yes, it is a real league. Not just that, but it's very popular. As popular as the sport is, have you wondered what the LFL best players look like?
The NFL boasts its male athletes, whereas the LFL boasts its female athletes and their curves. As the name suggests, the LFL athletes (female) play football in Lingerie and outfits exposing their beautiful bodies.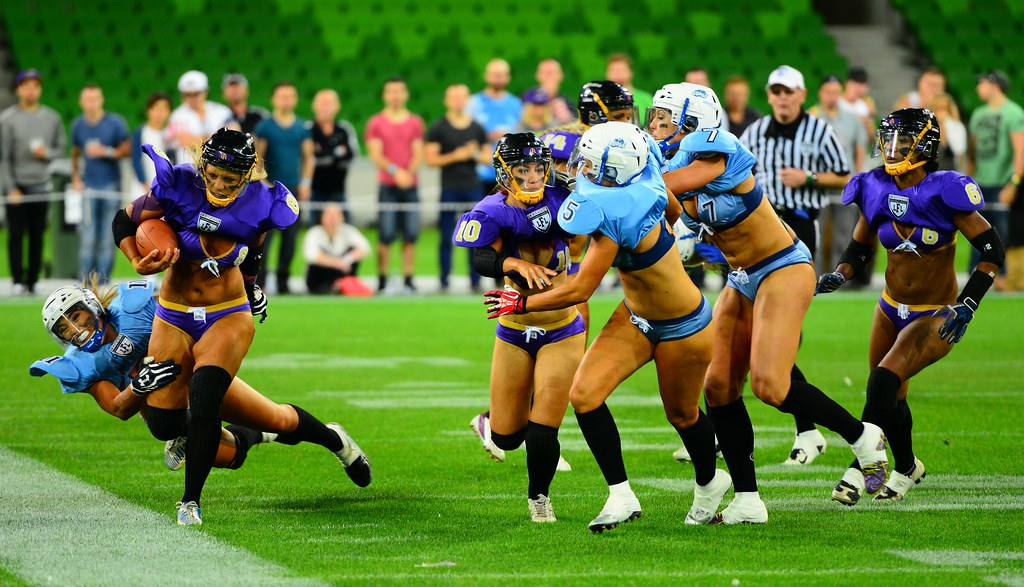 So, we've carefully listed some of the LFL's best players globally. Also, we have added some interesting facts about these talented athletes, so make sure to read it through.
Top 12 LFL Best Players in the World
Before we start with the details, here's a quick snap of the ranking.
| | | |
| --- | --- | --- |
| S.N. | Name | Team |
| 12 | Katie Marshall | BC Angels |
| 11 | Tiffany Russell | Toronto Triumph |
| 10 | Jessica Hopkins | Seattle Mist |
| 9 | Anne Erler | Green Bay Chill |
| 8 | Alicia Bell | Toronto Triumph |
| 7 | Adrian Purnell | Atlanta Steam |
| 6 | Cynthia Schmidt | Las Vegas Sin |
| 5 | Deena Fagiano | Chicago Bliss |
| 4 | Kimm Chase | Seattle Mist |
| 3 | Quincy Hewitt | Los Angeles Temptation |
| 2 | Ogum Chijindu | Angels Temptation |
| 1 | Alex Drake | New England Liberty |
12. Katie Marshall
When it comes to being sexy and athletically gifted simultaneously, Katie Marshall takes the cake. Nonetheless, she deserves the number 12th spot in LFL best players list.
Moreover, this talented Canadian plays as a cornerback and a wide receiver for the BC Angels. Not to underestimate her, for she is considered one of the best defensive players, with nine tackles and three sacks.
Similarly, this hottie is very popular in her hometown. Marshall was featured in the Vancouver Province newspaper during one of her seasons. Without a doubt, she is one big of an accomplished athlete.
Besides, Marshall was the team captain of her high school team for the Provincial Champs. To top up, this wasn't the only sport she played during high school. She competitively played basketball, flag football, volleyball, and soccer too.
11. Tiffany Russell
If you see a skilled 5.8 ft brunet beauty running on the football, then most probably it's Tiffany Russell.
Ranked 11th on the LFL best players list, Russell played for the Toronto Triumph as a tight end. In addition, she was also the Toronto Triumph 2012 leader. Besides, Russell played as a defensive captain during her college for the Powderpuffs.
Not to mention, this baddie played on icy surfaces without wearing any headgear.
Even though she might not have gained global popularity, she did manage to make herself a name in her home state, Ontario.
<12 Best Women's Basketball Coaches of All Time>
10. Jessica Hopkins
Jessica Hopkins is now ranked as the 10th candidate on the best LFL players list. She was sure to make it to today's listing with talent and figures like her.
Moving on, Hopkins currently plays for the Seattle Mists as a safety and wide receiver. Not to mention, she also received the league's Mortaza Award after the 2011 LFL US season and was also the finalist for the LFL's most improved Player award.
Hopkins was extremely athletic during her teenage period, too, since she participated in many sports and also competed in the Women's Figure competition, where she was awarded the Presidential Fitness Award.
However, during a match in 2011, Hopkins had a wardrobe malfunction. She had her bottoms exposed for a couple of seconds. Besides this, she stayed unfazed and continued with her play. As a result of her dedication to the sport, she received a standing ovation.
9. Anne Erler
Ranked 9th in the best LFL players list, Anne Erler is an American LFL quarterback for the Green Bay Chill.
Besides appearance, this 5.9 ft beauty is known for her 279 yards throw and 139 yards run during the 2011 season. Similarly, in 2013 Erler received the LFL's Offensive Player of the Year award.
In addition, during the 2012 LFL Canada season with the Saskatoon Sirens, Erler created a huge impact on her opponent by a 44-22 road victory against the Toronto Triumph. Plus, her defense and touchdown passes were one of the best to witness.
As a result, Erler received the MVP player award.
8. Alicia Bell
Football isn't the only thing our number 8 is good at. With a heart of gold, our beautiful and talented Alicia Bell is one player who gets a lot of attention in the stadium.
To clarify, Bell is also an elite personal trainer. Similarly, in 2011, Bell and her few other teammates stood in the street across the Eaton Centre shopping mall in LFL uniforms as part of a charity program.
Besides, it was during the beginning of the winter season. So, we can see her dedication and kind heart nature for the people. Without a doubt, she and her teammates displayed a heroic feat and set a great example.
< Let's Take A Look at 15 Best NFL Cheerleaders>
7. Adrian Purnell
Another extremely talented LFL beauty and also the number 7th best LFL player on the list, Adrian Purnell, is a force to be reckoned with.
Playing as jersey number 3 for the Atlanta Steam, she is an exception when it comes to skills and playstyle. This is due to her excellent offensive and defensive capabilities. When she enters the field, the tide of the match changes exponentially.
Plus, Purnell is the 2013 LFL Defensive Player of the year, ranking number one in the league. Similarly, she also got ranked second in rushing and receiving yards.
6. Cynthia Schmidt
If not the best, Cynthia Schmidt is definitely among the best LFL players in the league. With one of the best fitness and body, she is a beauty with raw power and talent.
Likewise, Schmidt has a superb figure with abs and big muscular legs. Due to this, she has appeared in multiple ads featuring the league. However, don't get tangled in her beauty because this beauty comes with a punch as she is among the top-tier players.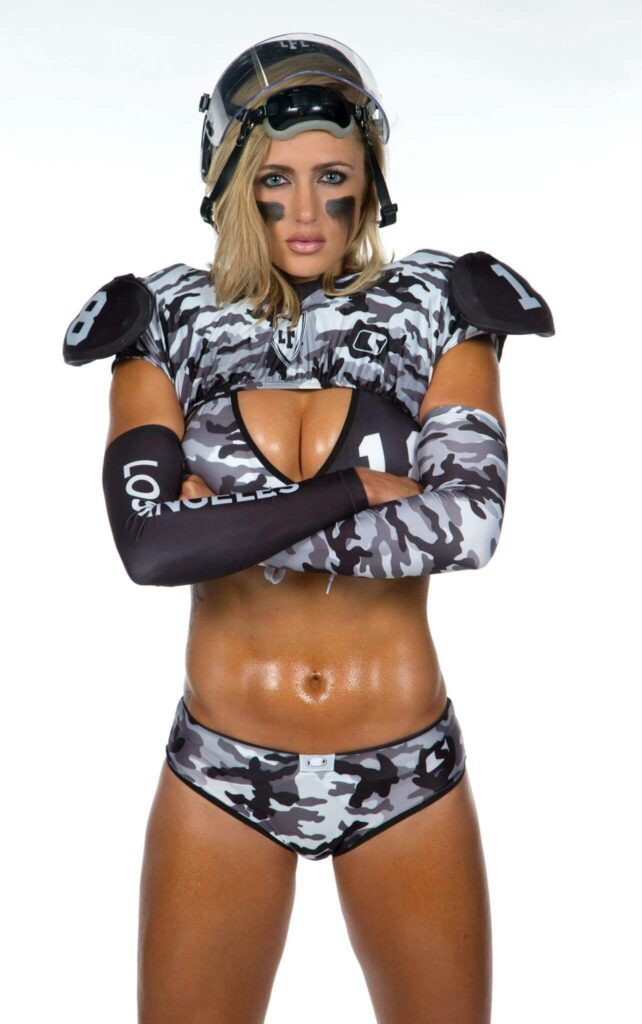 Playing as a wide receiver for the Las Vegas Sins, she has a great competitive spirit in every match she plays. Her competitive spirit doesn't just seem to help her but also her team.
Similarly, Schmidt seems to love the work hard play hard tactic because just as hard she trains, she also seems to enjoy life, as you can see on her Instagram page.
5. Deena Fagiano
Ranked as 5th on today's list of the best LFL players globally, Deena Fagiano is one of the most talented players in the league.
To clarify, this 5.8 ft beauty flexed her number 5 jersey of Chicago Bliss. Fagiano played as a tight end, and she was very good at it. Not to mention, she became the captain of multiple different teams.
Plus, given her height and weight, her position as the tight-end best suited her. Given her charisma and energy, everyone loved her. Of course, she got tons of attention from the audience.
Similarly, thanks to her charisma and energy, Fagiano featured in many ads for the league.
4. Kimm Chase
Given her beauty and talent for the sport, Kimm Chase was sure to make the best LFL players list.
Chase has the best combination fitting for a sports beauty. Not to mention, Chase is extremely athletic and sexy. Not just this, but she was also an extremely fun teammate to be around.
Besides, this 5.10 ft beauty played for the Seattle Mist as a tight-end. Given her perfect physique, she was best suited for her role. In all of her appearances for the Seattle Mist, she performed extremely well and helped her team gain many points.
3. Quincy Hewitt
Ranked number 3 in today's ranking, Quincy Hewitt is one of the best in the league.
Given her physique or her beauty, she falls on the top list. And, not to mention her role as a cornerback for the Los Angeles Temptation, she does have to maintain her body.
Similarly, Hewitt made a two-time appearance in the last season.
Also, she is quite popular among fans, and as of Jan 2022, she is to launch her own fitness app. When it comes to fitness, Hewitt gets quite serious.
2. Ogum Chijindu
The only African athlete to make this list today is a talented Nigerian LFL player Ogum Chijindu. Not just talented, she ranks number 2 in the best LFL players ranking.
One glance at her is enough to get you lost in her beauty. So make sure while admiring her beauty, you do not miss her performance because she has proven her Nigerian DNA by flexing her endurance and athleticism.
In addition, due to her extreme flexibility and athleticism, she can fit perfectly in every role, but the running back role seems to suit her best out of all the roles. Having Ogum in your team would change the flow of the game.
As popular she is in the LFL, she is also very popular in her home country.
1. Alex Drake
Finally, to number one. Ranked as the best LFL player globally, Alex Drake is the player everyone would want in their team.
To clarify, Drake plays as a quarterback for the New England Liberty. She has the perfect body and starts to make a perfect defensive position.
Besides, Drake has proved herself worthy of her number one position by impressive field records. In the last season alone, she attempted 51 passes and completed 155 yards.
Similarly, as active she is for sport and fitness, she is equally active in her social media.
<<<Odell Beckham Jr Youth T-Shirts for Young Male and Female Fans>>>
Conclusion
All of the athletes mentioned above are the best LFT players. But, as a fact, we all know that someone's going to take their spot in the future. It's just how the world functions. But, unfortunately, the best does not always stay as the best.
As a fact, new talents are born every day, and the world is too big for it not to be possible. So, expect some new faces to come.
Keeping these facts aside, which one from the list was your favorite, and why? Also, what type of top list would you want us to write about? Do let us know via the comment section down below.