15 Best NFL Cheerleaders!! Cheerleaders are not the athletes; instead, they are spectators in the back row who boost the level of motivation and add an extra dash of sweetness and spice to the match throughout the match's battlefield.
NFL has not only some of the best players but also some of the most beautiful-looking cheerleaders.
Of 32 NFL teams, 25 have a cheerleading squad in their franchise. These beautiful-looking women are known for their performance combination of music, dance, baton twirling, gymnastics, etc.
The cheerleading squads are so popular among NFL fans that they have become essential to the NFL game broadcast.
The NFL cheerleaders are different from other sports as they get the most airtime and are shown before, between, and after plays.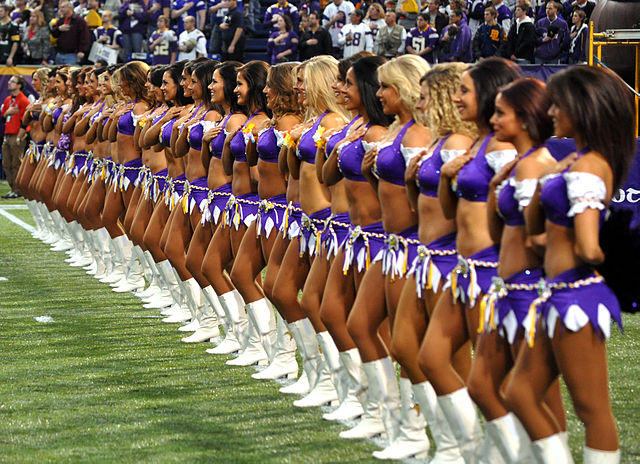 Sometimes, they are even aired during timeouts and intermission. The Dallas Cowboys cheerleaders even had a hit reality show named "Dallas Cowboys Cheerleader: Making the Team."
Since most teams have so beautiful, sexy, talented ladies cheering the teams, we thought of making a list of the best NFL cheerleaders.
We had many candidates to choose from, but we shortened our list and presented the 15 best NFL cheerleaders to you.
Quick Overview
Before getting into the details of the list, let us take a quick look at the table below.
| | |
| --- | --- |
| Name | Team |
| 1. Teri Hatcher | San Francisco 49ers |
| 2. Stacy Keibler | Baltimore Ravens |
| 3. Leah Van Dale | New England Patriots |
| 4. Sara Shahi | Dallas Cowboys |
| 5. Charisma Carpenter | San Diego Chargers |
| 6. Phyllis Smith | St. Louis Cardinals |
| 7. Lisa Guerrero | Los Angeles Ram |
| 8. Kristin Adams | Dallas Cowboys |
| 9. Bonnie-Jill Laflin | Dallas Cowboys |
| 10. Jenilee Harrison | Los Angeles Rams |
| 11. Kiana Tom | Oakland Raiders |
| 12. Tifanny Fallon | Atlanta Falcons |
| 13. Melissa Rycroft | Dallas Cowboys |
| 14. Amber Lancaster | Seattle Seahawks |
| 15. Camille Kostek | New England Patriots |
15 Best NFL Cheerleaders
1. Teri Hatcher
Team: San Francisco 49ers
Teri Hatcher is a 58 year-old American Actress who is best known for her portrayals of Susan Mayer on the television series Desperate Housewives.
This Golden Globe Award-winning Actress worked earlier as an NFL cheerleader with the San Francisco 49ers. She became a member of Gold Rush, the name of the professional cheerleading squad of the San Francisco 49ers, in 1984.
Before becoming a cheerleader, Hatcher studied acting at the American Conservatory Theater. Then in 1985, she focused on her acting career.
Hatcher's acting career took off after a guest appearance on a 1993 episode of Seinfield. And although Hatcher has long left her cheerleading career, this list of best NFL cheerleaders would be incomplete without her.
We can say Teri has been busy doing various gigs in recent times, including her movie "A Kiss Before Christmas," and for the current, she is back to theatres, therefore, in October 2022. She has done a theater show playing Morticia in The Addams Family musicals.
Click Here To Read About The 12 Best Teams In NBA History>>
2. Stacy Keibler
Stacy Keibler is a former cheerleader, retired professional wrestler, actress, dancer, and model. She was born Stacy Ann-Marie Keibler in Rosedale, Maryland, on October 14, 1979.
Keibler is specifically known for being a professional wrestler for World Championship Wrestling (WCW) AND World Wrestling Entertainment (WWE). However, she is also known for being a cheerleader for the Baltimore Ravens.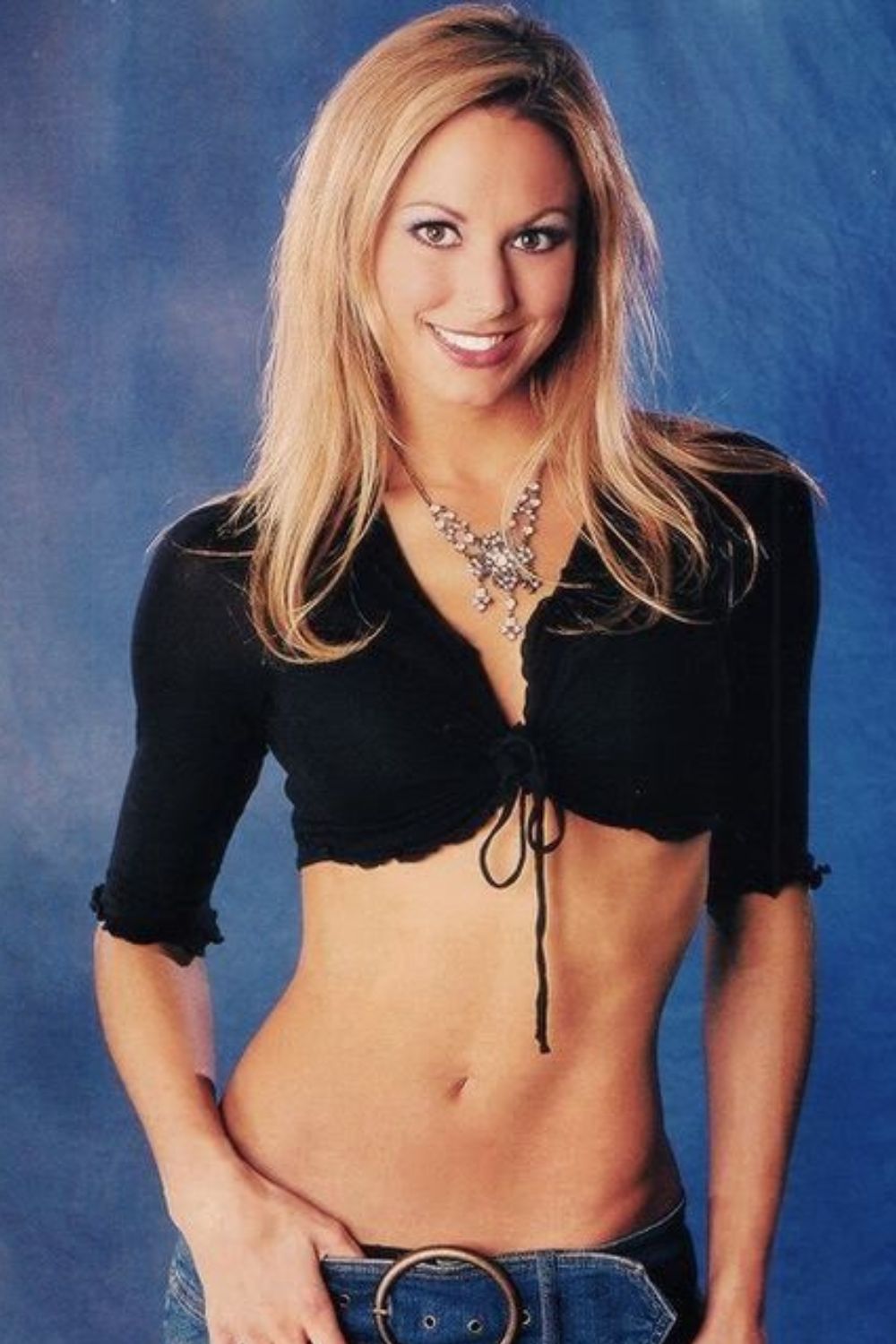 Keibler attended an all-girls school, The Catholic High School of Baltimore. She was 18 years old when she became a cheerleader for the Baltimore Ravens football team.
By 2000, Keibler was attending the school full-time, wrestling on WCW as a Nitro Girl and cheering the Ravens as their cheerleader. After that, she went on to become a professional wrestler in WWE.
When she inducted long-time friend and former roommate Torrie Wilson into the Hall of Fame Class of 2019, Stacy only returned to WWE after her departure.
Keibler has since decided to move out of the spotlight, which permits her to bring up her kids close. In the 2022 update, Keibler stated to Parade that being away from the media allows her to unwind because she views being a mother as a full-time job.
3. Leah Van Dale
Team: New England Patriots
Famously known by her ring name Carmella, Leah Van Dale is another cheerleader who later became a professional wrestler in WWE.
Carmella was born in Spencer, Massachusetts, on October 23, 1987. She was part of the New England Patriots for three seasons. Then she left her cheerleading life after graduating from the University of Massachusetts Dartmouth in 2010.
After leaving cheerleading, Dale auditioned for the Los Angeles Lakers dance team. She was successful, and during the 2010-2011 season, she appeared as a Laker Girl.
Leah signed a contract with the WWE in 2013 and officially made her debut as Carmella on September 4, 2014, in an episode of NXT.
Carmella was drafted to RAW in 2021 and still doing it to the present date, 2022. She made the switch from SmackDown to another brand for the first time in her career.
Carmella and Queen Zelina Vega were allies. She won the RAW Women's Tag Team Championship by defeating Rhea Ripley and Nikki A.S.H.
But they lost the titles to Naomi and Sasha Banks at WrestleMania 38.
4. Sara Shahi
The next charismatic cheerleader on our list is the Dallas Cowboys cheerleader Sara Shahi. She was born Aahoo Jahansouzshahi on January 10, 1980, in Euless, Texas.
Sara changed her name in second grade after hearing a song called "Sarah" because other children tormented her for her birth name. She was captain of volleyball and basketball during her high school period.
Shahi is also a pageant winner. She became the Miss Fort Worth pageant winner in 1997. Then she joined the Dallas Cowboys Cheerleaders from 1999-2000.
She joined the cheerleading team to become an Actress; therefore, Shahi moved to Los Angeles after a year.
She successfully transitioned into an actress career and is known for her notable portrayal of Carmen on The L-word in 2005, Kate Reed in the USA Network legal drama Fairly Legal (2011-2012).
In current 2022, Sarah Shahi is playing Adrianna Tomaz on Black Adam and has talked about how playing her character helped her celebrate her culture.
Shahi, who last appeared in Netflix's Sex/Life, plays a brave archaeologist opposite Dwayne Johnson's titular antagonist in the Black Adams.
5. Charisma Carpenter
Charisma Carpenter is the former NFL cheerleader who, in later life, transitioned into an Actress. She was born on July 23, 1970, in Las Vegas, Nevada.
While in high school, Carpenter attended Bishop Gorman High School, where she was a part of a song-and-dance troupe that performed in the Las Vegas Valley. Later she attended Bonita Vista High School and Chula Vista School of the Creative and Performing Arts.
Carpenter worked as a video store clerk, an aerobics instructor, and even as a property manager. Then in 1991, she became a cheerleader for the San Diego Chargers. However, in 1992 she moved to Los Angeles.
After the move, Carpenter worked in more than twenty commercials before making her first television role in 1994. After that, Charisma appeared in an episode of Baywatch.
Her notable character portrayal is Cordelia Chase's supernatural Drama series Buffy the Vampire Slayer (1997-1999) and Kyra in Charmed (2004).
Carpenter has been relatively quiet in the acting world for the past three years. She did not record a single job in 2020 on the big or small screen.
She was cast in the television movie The Good Father in a recent year: The Martin MacNeill Story, and she also appeared in the podcast series The Burned Photo.
Click Here To Read About The Top 10 Craziest Extreme Sports In The World>>
6. Phyllis Smith
Team: St. Louis Cardinals
On our sixth rank of best NFL cheerleaders is the former cheerleader for the St. Louis Cardinals, Phyllis Smith. The Cardinals cheerleader was born in St. Louis, Missouri, on July 10, 1951.
Smith is a graduate of the University of Missouri-St. Louis in 1972. She worked as a dancer and a cheerleader for the St. Louis Cardinals football team in the 1970s and 1980s. Similarly, she was also a burlesque performer.
Phyllis was forced to quit her dancing career after she suffered a knee injury. Then, she went to work as an actress and in casting in Hollywood, California. Smith made her first paid acting role in the film Caddyshack as an extra.
Smith's notable acting career includes the portrayal of Phyllis Vance in the television series The Office and a critically acclaimed voice role as Sadness in the computer-animated film, Inside Out.
In the month of November 2022, Phyllis's death news was spread via a Facebook page, saying RIP Phyllis, although the fact check was done, and people got to know that the news was fake and she is healthy and alive.
7. Lisa Guerrero
59 year old Lisa Gurrero is an investigative Journalist, model, actress, host, keynote speaker, and a former cheerleader of the Los Angeles Ram.
Born in Chicago, Illinois, Gurrero spent her childhood in San Diego and Huntington Beach, California. In the 1980s, she began her first show business when she became a cheerleader for the Los Angeles Rams.
After that, Gurrero became an Entertainment director for the Atlanta Falcons and the New England Patriots. Then in the 1990s, she stepped into an acting career. She starred as a jewel thief Francesca Vargas in Aaron Spelling's Sunset Beach.
Gurrero also starred in other notable films before moving to Fox Network. She even has an appearance in the January 2006 issue of Playboy magazine, billed on the cover as "The Best Damn Sports Beauty."
Lisa has been an investigative correspondent for the nationally syndicated news magazine "Inside Edition" since 2006.
In the 2022 update about this talented personality, Lisa is ready to publish her upcoming book, Warrior: My Path To Being Brave, and has done a podcast with Dr. Drew about it.
8. Kristin Adams
The next best NFL cheerleader is a former Dallas Cowboys cheerleader, Kristin Adams. She was born Kristin Nicole Adams in Plano, Texas.
Adams graduated from Texas Christian University. While in the University, she became the Cowboys cheerleader. Adam made the 12-person Show Group team which traveled the globe entertaining U.S. military troops on USO Tours.
Aside from being a cheerleader, Adams also auditioned for the first season of American Idol. However, Kristin was eliminated in the first round of viewers. She also worked as the top 40 morning radio co-host in Dallas on KRBV.
She also stepped into an acting career and appeared in two productions, as a reporter on a 2008 episode of Dirty Sexy Money and as a bartender in the 2009 Rock Slyde.
Adams is currently active as a television personality, entertainment news correspondent, and singer. She was a co-host on Real Music Live on N.B.C. in 2012.
In 2022, she hosted the TBN Red Carpet interviews at the GMA / Dove Awards.
Click Here To Read About Sumie Sakai's Bio: MMA, Husband, Finisher & Net>> Worth.
9. Bonnie-Jill Laflin
We have another former Dallas Cowboys cheerleader on our list of best NFL cheerleaders. She is Bonnie-Jill Laflin.
Laflin was born in San Francisco, California, on March 15, 1976. Aside from being a former cheerleader, she is an actress, model, television personality, and sportscaster. She was just two years old when she first started dancing and studied at the San Francisco Ballet.
Laflin first started her cheerleading career when she became a cheerleader for the Golden State Warriors. She is also a former cheerleader of the San Francisco 49ers and Dallas Cowboys, earning a Super Bowl ring with the 49ers.
After a successful cheerleading career, Laflin transitioned into television. She played recurring roles on Baywatch in the 1998-1999 season. She also starred in Ally McBeal in 2000.
After her acting career, Bonnie-Jill became a T.V. personality. She hosted Spike TV's Hotlines and ESPN's United Rockcrawling & Off-Road Challenge Series.
Laflin has also been featured in magazines like FHM, Maxim, Sports Illustrated, ESPN the magazine, Women's Health, etc.
In the recent update, she is releasing her Book: IN A LEAGUE OF HER OWN: CELEBRATING FEMALE FIRSTS IN SPORTS, published in 2024.
She has already announced the news on her Instagram handle.
10. Jenilee Harrison
Jenilee Harrison is an actress and a former cheerleader of the Los Angeles Rams. She was born on June 12, 1958, in Northridge, California.
Harrison started her show business career after becoming a cheerleader for the Los Angeles Rams. From 1978-1980, she worked as Ram's cheerleader.
Then in the 1980s, she graduated from USC with an education degree. It was the same year Harrison won the Sweetheart of Sigma Chi title.
After graduation, Harrison joined the cast of ABC's Three's Company. She played in the sitcom "ditzy blonde" as a replacement for Suzanne Somers. She portrayed the character Cindy Snow as a cousin of Chrissy Snow.
Then, Harrison starred in many roles and movies. Another notable character she played in her acting career was a character of Jamie Ewing Barnes in Dallas from 1984 to 1986.
According to 2022 records, after quitting her playing career in 2002, Jenilee devoted her career to real estate and has had success in business. Even though she still attends signings and fan meets.
11. Kiana Tom
On our eleventh rank, the best NFL cheerleader is Kiana Tom. She is a former cheerleader of the Oakland Raiders and a television host, fitness expert, author, actress, and businesswoman.
Kiana was born on March 14, 1965, in Maui, Hawaii. Her name and fit body are internationally recognized as the Star of Kiana's Flex Appeal.
It was the number one rated fitness show reaching 80 million homes in 100 countries on ESPN for over a decade.
Aside from that, Tom made her acting debut in the 1995 movie Cyber Bandits. Then she also co-starred in her second movie Universal Soldier: The Return with Jean-Claude Vam Damme.
Kiana is also an author. She co-authored a 144-page guide to improving fitness named Kiana's Body Sculpting.
It was published in 1994 and became a recipient of the prestigious United States Sports Academy award for contributions to the health and fitness industry.
At present 2022, Kiana is a fitness expert and is famous on the internet for her fitness inspirations and tips.
She has her own Fitness website, which provides all the fitness services.
12. Tiffany Fallon
Tiffany Fallon is the former NFL cheerleader of the Atlanta Falcons. On May 1, 1974, she was born in Fort Lauderdale, Florida, as Tiffany Nicole Fallon.
Fallon is a model, but before starting her modeling career, she worked as a flight attendant, then as an Atlanta Falcons cheerleader, and worked with Playboy.
During her high school life, Fallon was a Homecoming Queen and a senior Class President. She also played volleyball, soccer, and track.
The gorgeous cheerleader graduated from Florida State University with a degree in sports management. In 2001, Fallon won Miss Georgia's title and became the 2nd-runner Miss USA.
Fallon has made several television appearances, the first appearance being in Toby Keith's country music video "Who's Your Daddy?" In addition, she was named Playmate of the Month in Playboy magazine in 2004 and Playmate of the Year in 2005.
Tiffany in 2022 appeared in Dynasty season 4 and is popular on the internet as we keep seeing her posting about her life mostly it includes her children.
13. Melissa Rycroft
We have yet another Dallas Cowboys former cheerleader on our list of best NFL cheerleaders. Born as Melissa Katherine Rycroft-Strickland, she was part of the Cowboy's cheerleader squad from 2006 to 2008.
Melissa was born on March 11, 1983, in Dallas, Texas. Aside from being a former cheerleader, she is an American television personality, host, and a former dancer.
After graduating from the University of North Texas, she auditioned for the Cowboys cheerleader. Melissa made regular appearances on Country Music Television's reality show Dallas Cowboys Cheerleaders: Making the Team during her cheerleading career.
Rycroft also made appearances in the reality shows like The Bachelor, Dancing with the Stars, Melissa & Tye, Logically Irrational, etc. In addition, she has hosted the reality shows like Bachelor Pad and Redneck Island.
Melissa Rycroft currently resides in Dallas with her three children and husband, Tye.
At DCC, she mentors aspiring cheerleaders: Being a judge and mentor, making the Team.
14. Amber Lancaster
Born on September 19, 1980, Amber Leigh Lancaster is a model, actress, interior designer, and former cheerleader of the Seattle Seahawks. She was born in Tacoma, Washington.
Lancaster attended Franklin Pierce High School, and in 1998, she won the Miss Washington Teen USA title. After that, she joined the Seattle Seahawks football team cheerleading squad, Sea Gals.
For five seasons, Lancaster was part of the Sea Gals, and after that, she moved to Los Angeles to pursue her dancing and modeling career.
During the year 2003, she was a regular dancer in the syndicated dance show Soul Train. Amber also appeared in the music video for Bo Bice's song "The Real Thing."
Lancaster won 61st Primetime Emmy Award in 2009 and appeared in the MTV comedy series Jenny Swanson. She now owns her own interior design business named Lancaster Interiors.
Amber's life is a roller coaster ride every year, as in September 2020, Lancaster announced her divorce from Allodi.
Whereas this year is a great boon as Amber launched a clothing line with VICI Collection in November 2021 and in the early month of 2022.
15. Camille Kostek
Team: New England Patriots
We will be closing off this list of best NFL cheerleaders with former New England Patriots cheerleader Camille Kostek. Born as Camille Veronica Kostek on February 19, 1992, Kostek is a model, television host, and actress.
Kostek started her cheerleading career with the Hartford Colonials of the United Football League at 19. She joined the New England Patriots Cheerleaders in 2013.
In 2014, she was even featured on the annual Swimsuit Calendar of the franchise. Similarly, she was also featured in the advertising campaigns of Patriot Place.
Kotsek even served as a spokesperson for the cheer team in various television shows and interviews.
In addition, Kostek was part of the NFL Tour in China as a Patriots ambassador. There she performed routines and taught youth cheers clinics.
After retiring from cheerleading, Kostek started co-hosting programs on ABC, CBS, etc. She also ventured into modeling and then into acting. She made her first film debut in 2018 cameo appearance in STX Entertainment comedy I Feel Pretty, starring Amy Schumer.
Camille currently is doing makeup collabs and has her swimsuit line thecamillecollection.
In 2021, she was also featured in a supporting role in 20th Century Studios' science fiction film Free Guy.
Conclusion
Cheerleading is more than a sport; they add glam to NFL with their glowing smiles, fantastic choreography, and shimmering pom-poms. These beautiful cheerleaders provide us with entrainment even in difficult weather conditions, with a smile on their faces.
The cheerleaders give the live audience something extraordinary to witness during often long and tedious timeouts and intermission. So who is your best NFL cheerleader?
Click Here To Read About The Ranking 12 Best NBA Coaches of All Time>>