Roman Safiulin and his wife Liudmyla Smolanova haven't shared a single picture from their wedding ceremony. This has left fans confused about the Russian tennis player's relationship status.
Not only Roman but even Liudmyla hasn't shared a single picture of their wedding ceremony. But thankfully, Liudmyla confirmed her relationship status with Roman in one of her posts.
The private Russian tennis star confirmed the engagement with the UX designer in 2020 and even shared a few snaps. But it looks like we have to wait for the wedding pictures.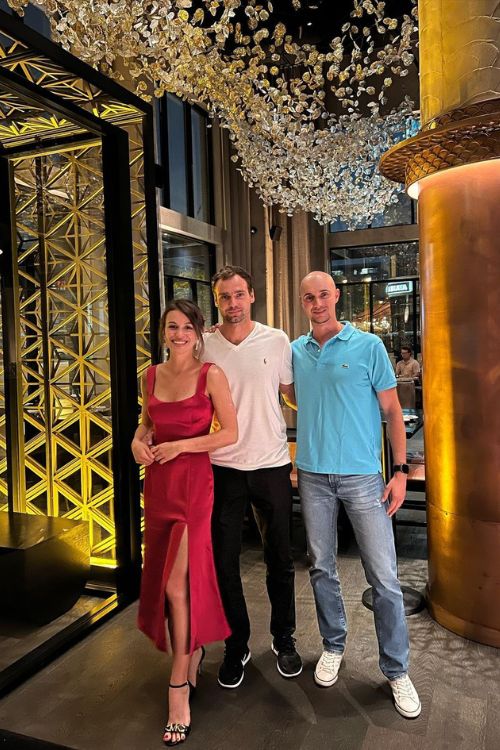 The Russian player made his grand slam debut in the 2021 Australian Open but lost to Cameron Norrie in the second round in the bottom half.
In that Grand Slam tournament, the Serbian-born Novak Djokovic took the top spot defeating Daniil Medvedev in the final.
Moreover, in 2021, Roman also entered the French Open but got evicted in the first round. The 2022 calendar year also went without his name being flagged in the major title.
But fans are hoping this 2023 could bring something different in the air. On May 10, 2023, he defeated American tennis player Marcos Giron to enter the second round of the Italian Open.
The tournament has already seen a few surprises, with the British tennis star Andy Murray being eliminated by Fabio Fognini.
Who Is Liudmyla Smolanova? Roman Safiullin Wife Or Girlfriend
Roman Safiullin's wife, Liudmyla Smolanova, is a UX/UI designer with whom he got engaged in 2020.
Liudmyla might have kept her personal Instagram handle private, but her work handle is available for public display.
In an Instagram post of October 2022, she mentioned a few facts about herself. As Liudmyla stated, she is a graduate with a master's degree in the Economy of The Enterprise and is 25 years old, like her husband.
She has also mentioned that she shares a passion for dancing and has a twin brother and an elder sister. It was because of that post many were alerted about the relationship status of the tennis player.
In the post, Liudmyla wrote, "Married to the best husband in the world." This might have surprised many fans of the Russian tennis player as he hasn't shared a single photo from his wedding ceremony.
Liudmyla has worked with several top clients, including the luxury French fashion brand Celine and Spanish furniture company Andersen Furniture and Interior.
Roman Safiullin And Liudmyla Smolanova Relationship Timeline
Not much is known about the private life of the Russian tennis player Roman Safiullin. But his Instagram handle does give some idea of his relationship with his girlfriend, Liudmyla.
In November 2020, Roman took to his Instagram handle to announce his engagement with Liudmyla. He shared a couple of loved-up pictures with Liudmyla, and in one of them, the couple displayed their engagement rings.
The tennis player captioned the post, "Why I didn't meet you earlier?"
The comment section of the posts was soon flooded with several congratulatory messages for the newly engaged couple, with Liudmyla also commenting on it with a heart emoji.
The couple welcomed 2021 in style as they traveled to UAE. Roman shared a post of him giving Liudmyla a warm hug as the couple posed outside the fountains near Burj Khalifa.
Roman took a break from sharing pictures with his girlfriend on Instagram for a year. Then on Valentine's Day in 2022, he finally shared a snap of him and Liudmyla.
Their recent couple picture was in August 2022, as Roman traveled to New York to prepare for the US Open.
A few weeks before that post, the couple celebrated Roman's 25th birthday in Chicago, Illinois, with his friends. Despite being married, the couple is yet to share a single picture from their wedding ceremony.
But who knows, we might get the snaps of their wedding on their anniversary in the coming years.