Predominantly men's sports, basketball has seen many women basketball players who have made substantial contributions to the sport throughout history. One such female athlete who has achieved the heights of success in basketball is Australian basketball player Liz Cambage. She has not only made a name for herself but also garnered an astounding fortune out of it. Liz Cambage, as of 2023, holds a net worth of $3 million.
One of the highest-earning female basketball players, Liz is also one of the tallest, standing 2.03 meters tall.
Cambage joined the Israeli basketball team, a huge step down for a former WNBA player, after her split from the Los Angeles Sparks amid racism scandal.
While she has earned astonishing success in her field, she also has been the subject of many controversies over the years.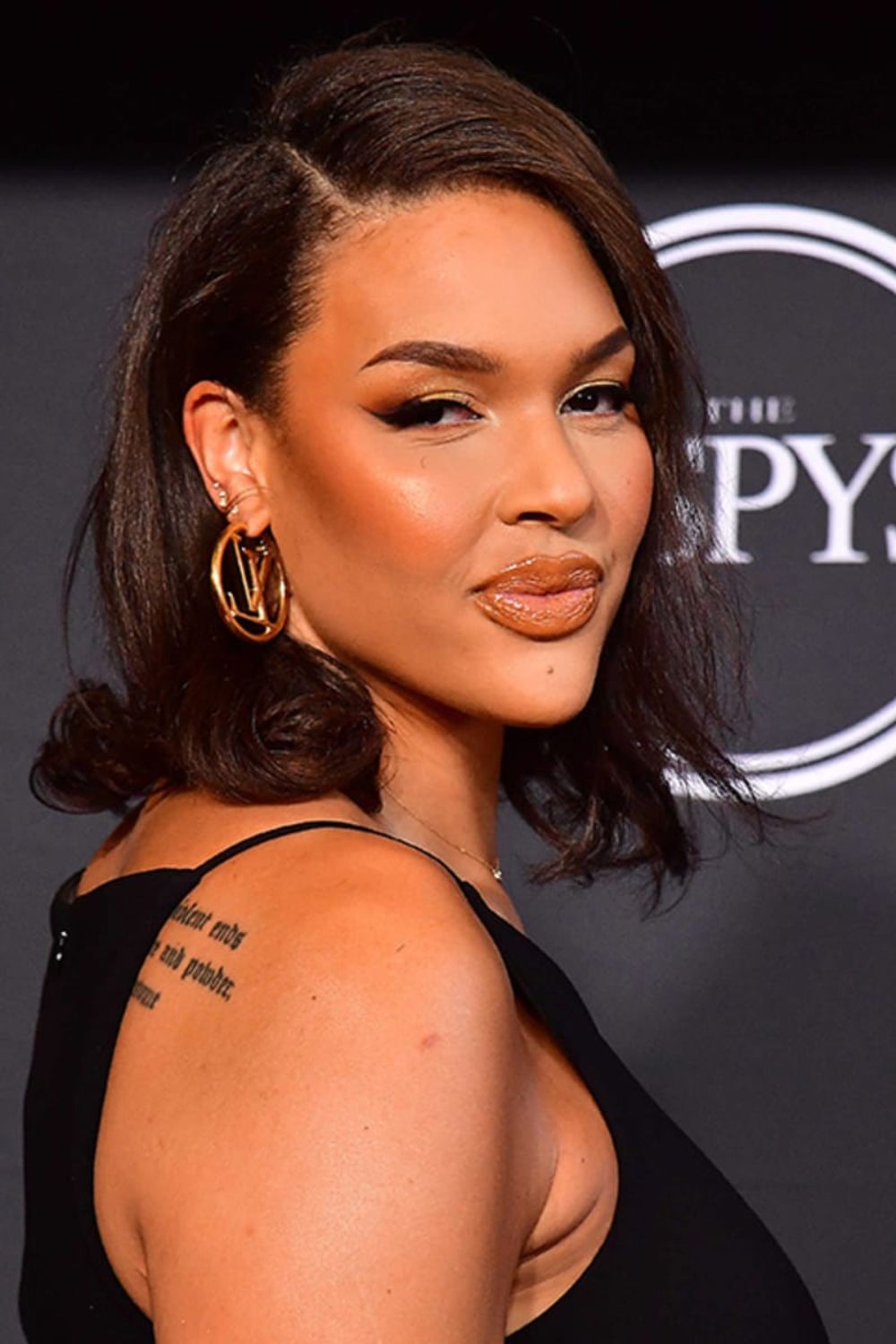 Just in May 2022, it came out that Liz had racially mocked players on the Nigerian team during a pre-Olympics training game, calling them "monkeys."
It indeed has not added goodwill to her name but has deteriorated her image not just as a player but as a human being.
More about this professional basketball player is in the section below. Also, please check out the quick facts about Liz in the table below.
Quick Facts
Full Name
Elizabeth Folake Cambage
Known As
Liz Cambage
Other Name
Liz
Birthdate
18 August 1991
Birthplace
London, England
Current Residence
Las Vegas, Nevada, United States
Religion
Not Known
Nationality
Australian
Horoscope
Leo
Father's Name
Not Known
Mother's Name
Julia Cambage
Siblings
Not Known
Ethnicity
Multiracial (Nigerian & Anglo-Australian)
Education
Padua College in Mornington, Victoria, Australia
Age
32 Years Old
Manager
Untitled Group

Disrupt The Game

IMG Talent (Sydney, New South Wales, Australia)

Height
6'8″/203 cm/2.03 m
Weight
98 kg/216 lb.
Eye Color
Dark Brown
Hair Color
Black
Sexual Orientation
Straight
Build
Large
Distinctive Features
Fuller Lips, Multiple Tattoos, Towering Heights
Eating Habit
Vegetarian
Marital Status
Unmarried
Relationship Status
Single
Past Affairs
Alex Lee
Children
None
Profession
Professional Tennis Player, Model & DJ
Brand Endorsements
Adidas, BONDS, Vitadrop, GirlGaze, Jordan, Glue Store, Kappa Australia, Nike Sportswear
Net worth
$3 Million
WNBA Draft
2011/Round:1/Pick: 2nd Overall
Playing Career
2007-Present
Position
Center
Jersey Number
1
Teams
Tulsa Shock (2013)

Beijing Great Wall (2013-2014)

Shanghai Swordfish (2015-2016)

Southside Flyers (2020)

Los Angeles Sparks (2022)

Career Highlights
4X WNBA All-Star

WNBA Peak Performer (2018)

All-WNBA First Team

All WNBA Second Team

2X WNBL Champion

WNBL MVP (2011)

WNBA Scoring Leader (2018)

Social Media
Instagram, Twitter
Merch
Las Vegas Aces Signed Photo
Last Update
November 2023
Early Life & Education
Born on 10 August 1991, Liz is 32 years old as of 2023. She is of mixed ethnicity since her father is from Nigeria and her mother, Julia Cambage, is an Australian. The Australian former WNBA player was born in London, England.
Her parents divorced when Liz was just three months, and hence her father's identity remains unknown as she does not talk much about him in the media.
After her parent's separation, she moved to Australia with her mother. They moved quite a bit before settling in the Mornington Peninsula. First, they stayed in Eden, New South Wales, and then moved to Melbourne.
Cambage is one of the tallest female basketball players, standing 2.03 meters and sitting just behind Sue Geh, 2.06 meters, and Margo Dydek, 2.18 meters.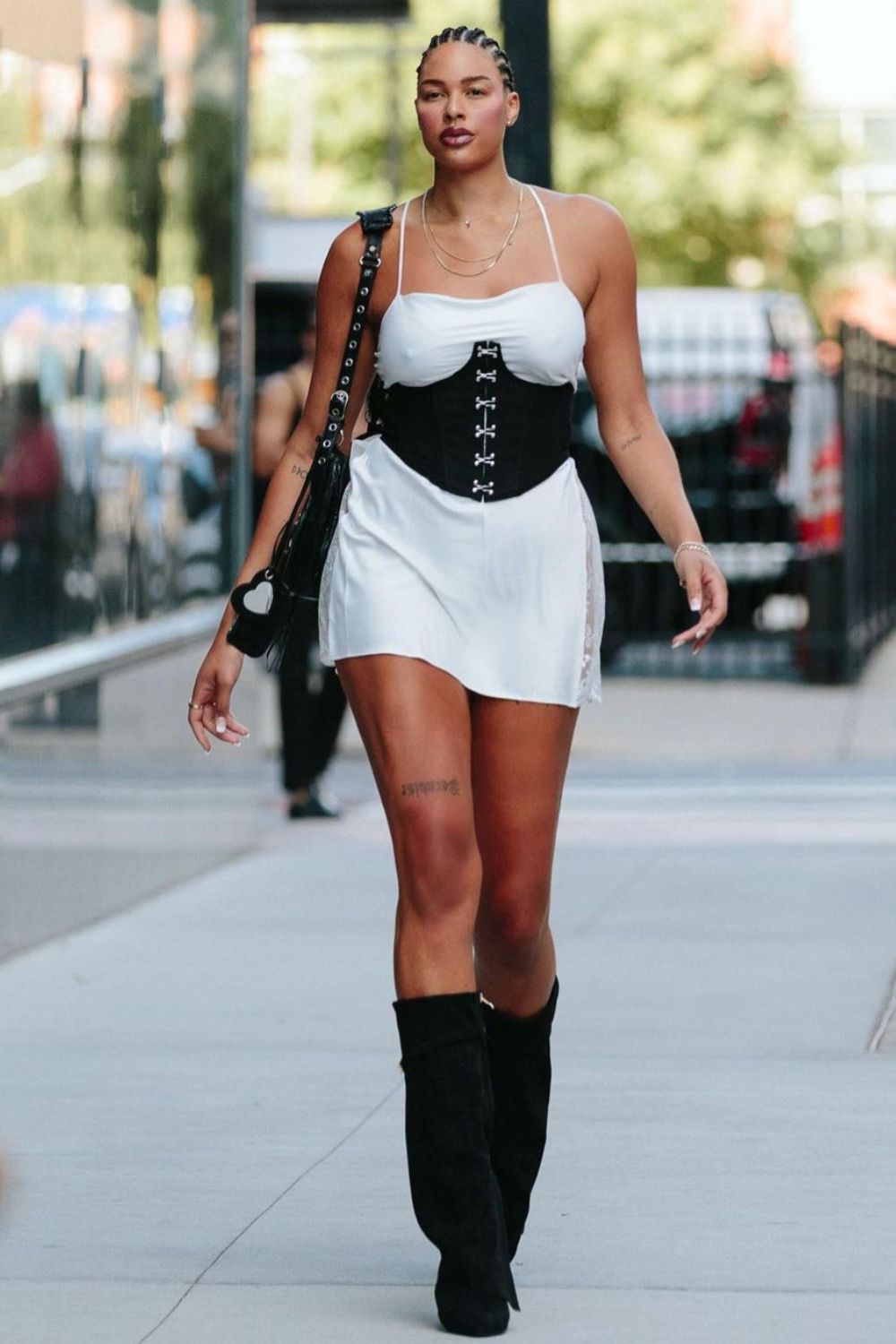 Liz was bullied for her height in school, as she was 1.83 meters at 10 and reached 1.96 meters at 14.
And looking at her height, her mother Julia suggested she play basketball to make friends.
Liz's grandmother used to take her to basketball practice as her mother used to be occupied with her work.
After her high school graduation, Liz went to Padua College in Mornington, Victoria, Australia.
Net Worth & Contracts
Net Worth
Liz Cambage is one of the most successful WNBA players and boasts a net worth of $3 million as of 2023.
The major contributor to her wealth is definitely her basketball contracts, but she also bags handsome money from her brand deals and social media-sponsored posts.
One of the highest-earning female basketball players, Liz, typically earns more than $600,000 per year from her multitude of endeavors.
Contracts
In 2012, she signed with the Chinese basketball team Zheijang Chouzhou club for a $400,000 salary. This deal made her one of the highest-paid female basketball players in the world.
Similarly, on February 5, 2018, Liz signed a two-year/$228,000 deal with Dallas Wings with an average annual salary of $114,000.
Despite earning a six-figure salary from WNBA, on March 8, 2019, an Australian newspaper, The Age, complained about how she was unable to meet her mortgage payments.
The year 2020 was not good for Liz as she had to sit out for health concerns and burgeoning risk factors surrounding the Coronavirus after an evaluation by the team doctor.
The following year Cambage signed 1 year/$221,450 extension with the Las Vegas Aces. As per the contract, she earned $221,450 in annual salary.
In 2022, Liz inked a one-year/$170,000 contract with the Los Angeles Sparks. However, Sparks released Liz in July of the same year on an according "contract divorce."
Since her contract amount was not guaranteed, she probably did not earn her full annual salary.
Earning From Social Media & Djing
Aside from being a fabulous basketball player, Liz is also a model and a DJ, and when she's not on the court hooping, she's probably out walking the ramp or playing a gig at public events or nightclubs.
She's making dollars regardless. In December 2021, she performed a DJ set at Melbourne's Sidney Myer Music Bowl.
Liz has 1 million followers on her Instagram, where she has promoted a bunch of different brands and companies, earning decent money.
Mega-influencers like Liz could make more than $15,000 per month from Instagram sponsorships and shoutouts.
Her Gram bio reads "mother of @vitadrop," which means she has a major sponsorship deal with Vitadrop, an electrolyte drink brand.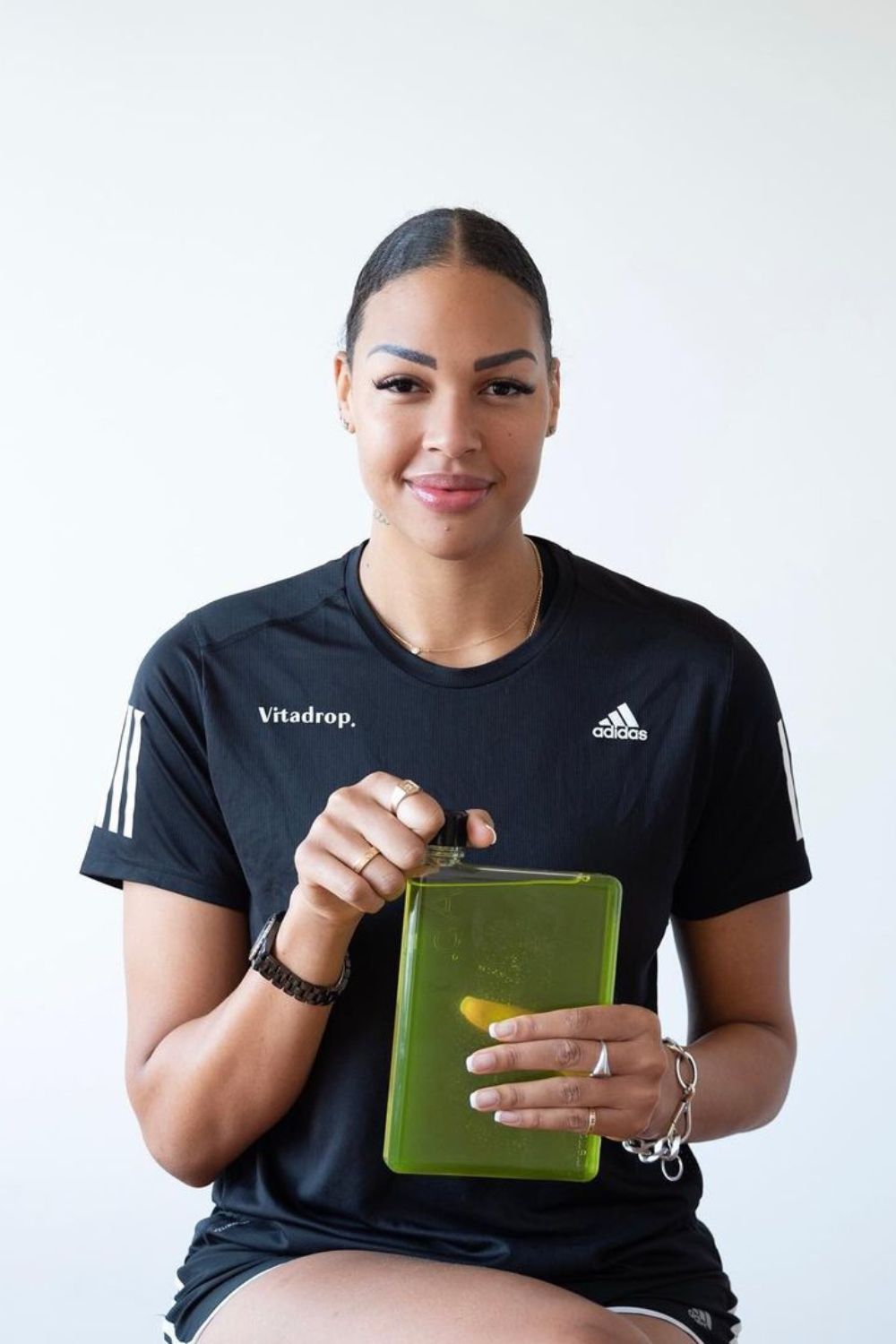 In some of her Insta posts, we can see her promoting Beats By Dre headphones.
In addition to music and modeling, in 2021, Liz launched a career on OnlyFans, an online subscription service most commonly known for adult content.
She initially teased a career on the platform in April 2021 to her social media following.
Liz said she was 'scared' to make a move to the platform but had been reportedly tempted by the 'crazy' money she could make.
According to The Sun, her site costs around $12.99 per month to subscribe to, and her profile has more than 77,500 likes.
Cambage earns about $1.61 million every year for her content from the platform per marca, more money than what she made as a professional basketball player.
Endorsements
Liz was one of the first professional athletes to endorse Rihanna's Savage X Fenty lingerie brand.
Likewise, some of the other brands under her belt include Adidas, BONDS, GirlGaze, Burnergirls, Jordan, Glue Store, Kappa Australia, and Nike Sportswear.
Liz has also graced the covers of several magazines, including Elle Australia.
Lifestyle
So what kind of life does a seven-figure income gives you?
It's pretty much what we ordinary people expect. Celebrity friends, branded designer clothes, luxury cars, vacations, and anything money can buy.
Did you know rap artist Drake shouted her out in his "Sicko Mode" feature, rapping his shot as "wet like I'm Lizzie"?
In June 2022, Liz was featured on GQ's 10 Essentials video, where she discussed the top 10 things she cannot live without.
So in the video, Liz explains how she loves basketball and her gold ring, which her nana gave her as a gift.
Aside from this gold ring, Liz also dons other jewelry items, mostly gold necklaces and diamond bracelets.
Similarly, Liz is into spirituality, so she burns Palo Santo to smoke away the negative energy.
She used to burn Sage but later switched to Palo Santo, which she thinks works better for her.
Moreover, Dior lip gloss, a pack of gum, Beats headphones, a disposable camera, and La Mer moisturizer are some of the other stuff that she carries with her all the time.
Last but not the least, Liz loves Yeezy slides, which cost around $55 a pair. She practically wears them every day.
Talking about cars, Liz does not seem to be a car enthusiast. She has been photographed driving some typical rich person rides, including a Rolls Royce Cullinan and BMW SUV but nothing special. Duh!!
Vacations
Millionaire former WNBA player Liz Cambage goes on a vacation every now and then despite her busy schedule.
She carves her time out to enjoy luxury vacations around the world with her entourage.
In February 2021, she was seen on vacation in St Barts. She was seen having the time of her life while partying on a luxury yacht with a friend.
Career
Liz began playing basketball professionally at 15. She played junior basketball with Dandenong Rangers after joining the WNBA team for the 2007-08 season.
In 2011, Tulsa Shock drafted Liz second overall in the first round of that year's draft. She also played in the 2011 WNBA All-Star Game.
In 2012, Liz signed with the Zhejiang Chouzhou basketball team in China.
Even though she played for the national team and other leagues, she did not return to WNBA until 2018, when she signed a multi-year contract with the Dallas Wings.
With Wings, Liz scored a WNBA record 53 points on July 2018 in a game against the New York Liberty.
Nevertheless, she requested a trade from the Wings on January 2019 and signed with the Las Vegas Aces on May 2019.
In 2022, Liz signed with the Los Angeles Sparks.
However, because of internal issues, Sparks released Liz on an according "contract divorce" on July 26, 2022.
Cambage announced her retirement from WNBA a month later, on August 15, 2022. In March 2023, she was announced as the player for Maccabu Nbot Ashdod of the Israeli Female Basketball Premier League.
Controversies
Liz was named to the national team for the Tokyo Olympics in 2021. However, she withdrew from the team less than two weeks before the tournament citing mental health issues.
In May 2022, it came out that Liz had goaded the Nigerian team players during pre-Olympics training, calling them "monkeys" and telling them to "Go back to your Third World Country."
In addition to that, she was later found to have slapped and elbowed players on the team, causing the training game to be called off.
Nonetheless, Liz denied having assaulted or racially slurred the Nigerian team players.
She later stated that she has had mental health problems- first anxiety and later depression.
Unknown Facts
Just before World Championships in 2014, she ruptured her Achilles tendon. This injury caused her to miss eight months of playing time.
She was named to the list of 24 players to represent Australia at the 2012 London Olympics in February 2012.
Liz was voted into the 2018 WNBA All-Star Game making it her second all-star appearance.
Popularity
From being the highest point scorer in a single game in the WNBA to her alternate career and controversies, Liz has gained quite few number of fans worldwide.
The above graph gives brief information about the popularity of Liz Cambage based on Google searches in the United States over a year.
Frequently Asked Questions (FAQS)
Why did Liz Cambage leave the WNBA in 2013?
Liz's agent released a statement saying she was tired after playing for the national team. Liz took a five-year hiatus from the WNBA and returned to the league with Dallas Wings in 2018.
Who is Liz Cambage to Drake?
In November 2021, rapper Drake shared a photo of himself with Cambage on Instagram. While some fans thought they were dating, that was not the case. The two are close friends, though.