Skylar Diggins-Smith is a four-time Women's National Basketball Association (WNBA) All-Star and two times All-WNBA First Team honoree.
She is an American professional basketball player for the Phoenix Mercury in the WNBA. Making the list of 30 Under 30 – Sports 2019, Skylar, without a doubt, is one of the greatest players in the WNBA.
Tulsa Shock drafted her third overall in the 2013 WNBA Draft.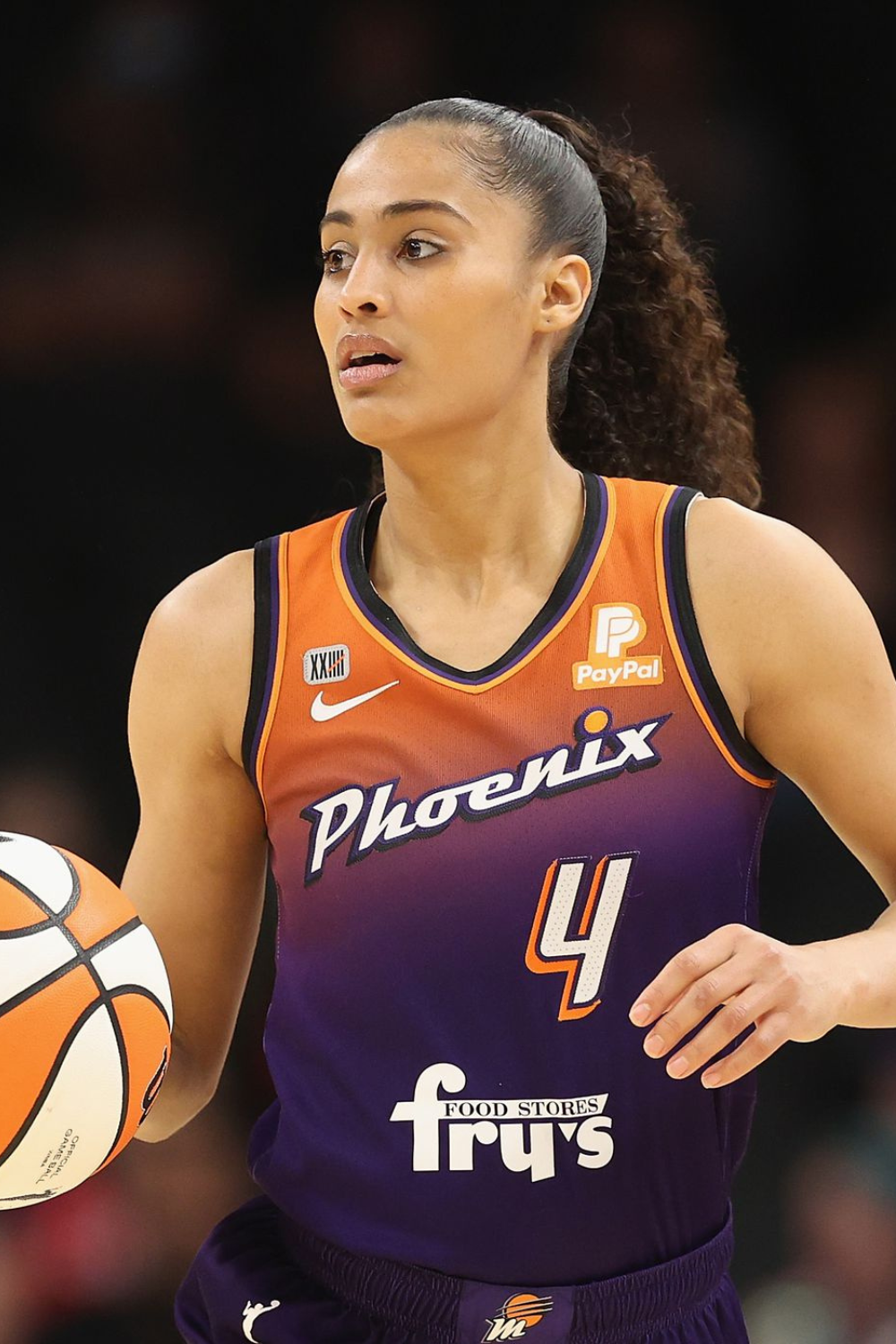 She was awarded National Gatorade Player of the Year and Gatorade Female Athlete player of the Year in her high school. Moreover, she was also the recipient of the WNBA Most Improved Player in 2014.
Smith played point guard for Notre Dame, where she led the Dame to three consecutive final fours and two consecutive NCCA appearances.
She ended her Notre Dame career ranking first in points and ends, second in assists, and two-time winner of the Nancy Lieberman Award.
Moving on, the WNBA star has amassed huge earnings from her successful career. Smith has a net worth of $400k in 2023.
This article will take you through the career & net worth of Skylar Diggins-Smith. Moreover, we deliver insights into her early life, personal life, and social media.
Before looking more into Smith's life, let us have a look at quick facts.
Quick Facts
Full Name
Skylar Kierra Diggins-Smith
Birth Date
August 2, 1990
Birth Place
South Bend, Indiana
Age
32 Years Old
Nick Name
Skylar
Religion
Christianity
Nationality
American
Ethnicity
Mixed
Alma Mater
University of Notre Dame
Washington High School
Horoscope
Leo
Father's Name
Tige Diggins
Mother's Name
Renee Scott
Siblings
Tige, Destyn, Maurice, and, Hanneaf
Height
5'9″/1.75 m/175 cm
Weight
64 kg/141 lb
Profession
Professional basketball player
Position
Point guard
Relationship
Married
Husband
Daniel Smith
Affiliations
Tusla Shock / Dallas Wings
Phoenix Mercury
Net Worth
$400k
Merch
Trading Cards
Social Media
Facebook
Last Update
June 2023
Body Measurements
Skylar Diggins is a gorgeous lady with a toned athletic body and figure. As for her appearance, she is tan-skinned with curly black hair with eyes of similar color.
Diggins stands 5'9″/1.75m tall while weighing 64 kg/141 lb.
Diggins works quite hard and strictly to keep her fitness at the peak level. Some of her workout routines include using giant tires, ropes, and sledgehammers.
Amidst the variety of workout procedures, Diggins loves high-intensity workouts such as drills with high repetitions and minimal rest.
Alongside her tiring workout comes her balanced and strict maintenance of the diet. Her diet includes a high-carb meal after an intense workout.
As for her typical get-to-go meal, she eats oatmeal for breakfast, followed by chicken or fish with vegetables and sweet potatoes or quinoa for the afternoon.
The last and most important key is hydration; thus, her favorite drink is BODYARMOR. Diggins believes in sound rest; therewith, she only trains for five days a week and rests the other.
Early Life, Family, & Education
The talented and outspoken basketball player was born on August 2, 1990, in South Bend, Indiana, to supporting parents Renee Scott and Tige Diggins. She grew up with three siblings, Tige Jr., Destyn, Maurice, and Hanneaf.
Skylar is not the only athletic person in the family. Her mother, Tige, is a gymnast who realized that her daughter was more into the dirt than into dolls from a young age.
Thus, Tige signed Skylar for different sports such as cheerleading, tumbling, gymnastics, and later basketball.
At 6, she played basketball with all boys at the YMCA.
As her love for basketball only grew, she realized that she was actually good at it and could do it forever.
High School Career
While growing up, she attended Washington High School in South Bend and played four-year varsity basketball. She finished her high school basketball career with 2,790 points.
With an average of 25.9 points per game, she became the third-highest girl scorer in Indiana history.
Not only was she an excellent basketball player, but she also participated in volleyball. Diggins-Smith led the Panthers to state championships, including the title-winning season in 2007.
Skylar rose to fame at a very young age compared to other players. She is the recipient of Gatorade National Player of the Year.
College Career
She attended Notre Dame and earned her bachelor's degree in Management-Entrepreneurship. Skylar was the fourth Indiana native to join Irish Roster.
She continued to shine on the court during her college days and is the only player in Notre Dame basketball history to register 2,000 points, 500 rebounds, 300 steals, and 500 assists, that too of either gender!
During her freshman season, she created a record of the only Notre Dame player to score 400 points in a debut season. Moreover, she was one of the three Miss Basketball honorees for the year 2009-2010.
During her sophomore season, she led her team to win the second NCAA championship of school history, ten years after their first win in 2001.
For her excellent performance on the court, she was selected as the 2011 Third Team All-American by the Associated Press.
Diggins-Smiths scored her career-high of 16.8 points alongside 5.7 assists and 2.6 steals in her junior season.
By the end of the season, she became the first Notre Dame player to be named Big East Player of the Year and Nancy Lieberman Point Guard of the Year.
In her final year of college, she appeared in all 37 games scoring her career-high 17.1 points.
She ended her college career in NCAA women's basketball final four with Big East rival. Although they lost the game, Skylar was named Nancy Lieberman Point Guard of the Year for the second consecutive year.
Professional Career
Skylar was drafted third overall in the 2013 WNBA Draft. In her debut season, she scored her career-high of 22 points and was named WNBA All-Rookie Team.
2014 was a breakout year for Skylar as she was named WNBA All-Star and won the 2014 WNBA Most Improved Player Award.
In 2015, she suffered from a torn ACL during a game against the Seattle Storm. Despite missing the rest of the season, Skyler was named WNBA All-Star for the second consecutive year.
She was named one of the finalists for the US Olympic team in 2016 but couldn't play due to a torn ACL. She returned to the court four weeks after the team was chosen.
Skylar signed a multi-year contract with Tulsa Shock, now named Dallas Wings, in 2016, where she played 27 games upon her return. She scored an average of 13.1 points per game on average throughout the season.
In 2017, she played all 34 games of the season with an average of 18.5 points per game, leading the team as the number 7 seed in the league.
Skylar set her new career-high of 35 points against the Indiana Fever and was voted 2018 WNBA All-Star Game for the fourth time.
The same year in 2018, Skylar took a hard hit on her chin, which affected a part of her head. Many stated that she might have faced a concussion; however, they confirmed that she only had dizziness.
In 2020, it was announced that Diggin-Smith was traded to the Phoenix Mercury.
On September 9, 2020, she scored a season-high 33 points in a 100-95 win against the Connecticut Sun.
2021-2022
| | | | | | | |
| --- | --- | --- | --- | --- | --- | --- |
| Year | G | GS | AST | STL | BLK | PTS |
| 2021 | 32 | 32 | 5.3 | 1.1 | 0.8 | 17.7 |
| 2022 | 30 | 30 | 5.5 | 1.6 | 1.0 | 19.7 |
| Career | 252 | 239 | 5.0 | 1.3 | 0.6 | 16.7 |
Off Seasons
Skylar has been affiliated with ESPN for quite some time now. It first began as her summer internship in college.
During her offseasons, she appears as a commentator during the WNBA playoffs and as a guest host.
She was an executive producer for Little Ballers Indiana, which is a documentary series on Nickelodeon.
Along with her husband, Skylar published a children's book, the Middle School Rules of Skylar Diggins.
Injury
Diggins has always been that fiery girl with a determined attitude. Young and competent, she is pretty conscious about her fitness and hasn't gotten involved in illness much as others do.
Having said that, Diggins did have an injury back in 2015, in her third season with the Shock. As their team was leading the match and the clock only showed 44 seconds till the end of the match.
Right at the moment, Diggins dropped the 31 points and was chasing down a ball.
However, she collapsed and tore the ACL in her right knee. Indeed, it counts as the foremost major injury of Diggins, which kept her away for the rest of the season.
Skyler said, "That was the first major injury I've had. It definitely taught me a lot about my body and how I should've, or should from now on, take care of it. Injuries aren't an anomaly. You play sports, and things happen. I knew it wasn't anything I could control."
Achievements
4× WNBA All-Star (2014, 2015, 2017 & 2018)
2× All-WNBA First Team (2014 & 2017)
2× All-WNBA Second Team (2018 & 2020)
WNBA All-Rookie Team (2013)
2× Nancy Lieberman Award winner (2012 & 2013)
2× First-team All-American – AP (2012 & 2013)
Third-team All-American – AP (2011)
2× Big East Player of the Year (2012 & 2013)
McDonald's All-American (2009)
Indiana Miss Basketball (2009)
Gatorade National Player of the Year (2009)
Net Worth
Diggins Smith is one of the highest-paid basketball players in the WNBA.
In February 2020, Phoenix Mercury signed Skylar for four years under WNBA's new collective bargaining agreement, with a base salary of $215k.
Skylar previously negotiated with Shock to receive a full salary while on maternity leave, as many players are paid only half. However, the negotiation didn't go as per plan.
Sklyar's net worth is estimated at $400k in 2023.
Diggins-Smith also earns from her endorsement deals; In 2013, she signed with Roc Nation Sports, the first female athlete to do so.
She also signed an endorsement deal with Bodyarmor SuperDrink in 2014.
Fun fact: she starred in a commercial for Bodyarmor directed by Kobe Bryant.
Husband
Skylar announced her engagement with Daniel Smith in 2016. They tied the knot on April 29, 2017, at the Museum of Contemporary Art Chicago.
After getting married to Daniel, she changed her jersey name to Diggins- Smith on the court.
In 2019, Skylar gave birth to her son, Seven. The couple chose the name for biblical reasons. She has not disclosed her son's identity and prefers to keep away from the media.
Furthermore, she stated that she took two full months away from basketball during this year's WNBA season due to postpartum depression.
Diggins-Smith On Unequal Pay
Skylar is one of the few players to talk about sensitive yet essential issues in basketball openly.
In a series called "Money Diaries" by Wealthsimple Magazine, she wrote about WNBA's salary difference compared to their NBA counterparts.
She accepts that she is one of the highest-paid players on the Dallas Wings, yet her salary is nothing compared to Harrison Barnes, whose stats are much lower than hers.
Moreover, she also disclosed that NBA players earn 50% of the league's annual revenue compared to the WNBA's 22% of revenue.
Personality
Skylar Diggins-Smith is known to be a persistent and dedicated athlete. A natural leader since birth, she is known to make rational and quick decisions in court.
She played the entire 2018 season being pregnant, with no one knowing about it. Although it was very tiring, she was responsible for keeping the energy up as a team captain.
The WNBA player does not hesitate to speak her mind. Being a mother isn't an easy job, but mothers who need to travel frequently face many hurdles. For instance, Skylar was accused of abandoning her team.
Skylar went through post-partum depression after giving birth to his son and has been vocal about her struggle.
Moreover, she has also described her struggles as a new mom and the difficulties she faced to keep up with the game.
Skylar has openly called out WNBA to provide resources such as the right to have a private room to pump and nurse the baby for new mothers.
Moreover, many athletic mothers have shared their struggles. For instance, Sanya Richards-Ross, Allyson Felix, and Serena Williams have also shared their struggles.
Fun Fact
Apparently, she has been titled the "most fashionable athlete." As described by herself, Diggins believes her style is tomboy: all about comfy and trendy.
Skyler is quite playful with style and showers her love on Zendaya. Apart from this, Diggins is quite a genius with 4.
Social Media Presence
Like other athletes, Skylar is active on social media platforms like Instagram and Facebook and frequently updates her fans.
Instagram:1m followers
Facebook: 464k followers
View this post on Instagram
Popularity
The American professional basketball player is a four-time WNBA All-Star and two times All-WNBA first-team honoree.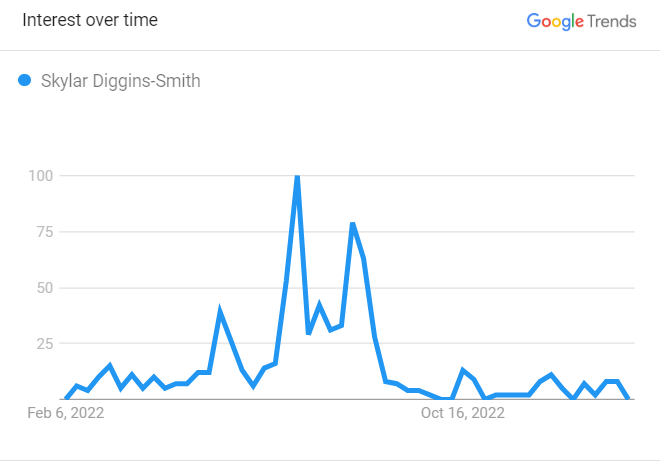 The graph shows her search trend for the span of 12 months.
Frequently Asked Questions (FAQS)
What is the jersey number of Skylar Diggins?
Skylar Diggins features in jersey number 4 for the Phoenix Mercury.
What is Skylar Diggins known for apart from basketball?
Apart from basketball, Skylar Diggins is known for working as an executive producer on a Nickelodeon documentary series Little Ballers Indiana. Additionally, she is also a subject in a children's book, The Middle School Rules of Skylar Diggins.
What does Skylar Diggins-Smith, love?
Skylar Diggins-Smith is an avid music lover and can often be seen in the concerts of Kendrick Lamar, Beyonce, Lady Gaga, Jay-Z, and Bruno Mars