Lorenzo Brown is a professional basketball player who is currently playing for the Maccabi Tel Aviv of the Israeli Basketball Premier League and the EuroLeague.
He is one of the most prominent point guards/shooting guards in the NBA and international leagues.
Previously, he played for the UNICS Kazan of the VTB United and the EuroLeague but had to leave the team in early 2022 due to a rising conflict between Russia and Ukraine.
Brown has been able to showcase his talent and has demonstrated his skill in leading the team.
Playing and winning in both national and international leagues has helped him gain a lot of experience.
His tremendous height contributes to the defensive backboard and instant fast break threat creating a path to score in a challenging position.
This has made him one of the most successful players who can be proud of his achievements.
Before getting into other details, let's look at his quick facts.
Quick Facts
Full Name
Lorenzo Dontez Brown
Birth Date
August 26, 1990
Known As
Lorenzo Brown
Birth Place
Roswell, Georgia, USA
Nick Name
N/A
Nationality
Spanish/American
Ethnicity
African-American
High-School

Centennial High School (Roswell, Georgia)
Hargrave Military Academy (Chatham, Virginia)

University
North Carolina State University
Horoscope
Virgo
Father's Name
N/A
Mother's Name
Kim Brown
Siblings
Three
Age
33 Years Old
Weight
189 lbs/86 kg
Height
6 feet 5 inches/1.96 m/196 cm
Build
Athletic
Marital Status
Unmarried
Girlfriend
Halle Calhoun
Profession
Professional Basketball Player
Position
Point Guard, Shooting Guard
League

Israeli Basketball Premier League
VTB United League
Euro League
NBA

Team
Maccabi Tel Aviv
Jersey Number
#4
NBA Draft
2013 / Round 2 / Pick 52nd Overall
Net Worth
$1 Million
Active Status
2013 – Present
Social Media
Instagram, Twitter
Merch
Signed Card
Last Update
November 2023
Life Before Fame
Lorenzo Brown was born on August 26, 1990, in Rockford, Illinois. He was raised by a single mother, Kim Brown, along with his three siblings.
He grew up with two sisters and a brother, but their names are not revealed yet.
As a single mother, it was tough to feed and educate four children in a country like America.
Thus, even at an early age, Lorenzo knew about the hardships his family was going through and wanted to assist from his side as soon as possible.
And thanks to his mother and siblings, he could take his dream and passion of becoming a rooster in the NBA League.
Sadly, in 2020, his eldest sister passed away, after which he posted a heartfelt tribute to her on Instagram.
Age, Height & Body Measurement
On August 26, 1990, Lorenzo Brown was born under the zodiac sign Virgo, making him 33 years old.
Lorenzo has a muscular body structure with a decent height of 6 ft 5 in (1.96 m) and a weight of 189 lb (86 kg).
There's a saying, " A healthy mind makes a healthy body," and Brown lives up to the proverb.
He has tattoos on both his hand, from his wrist to his shoulders, which makes him an undeniable charm to his fans.
Amateur Career
High School Career
He attended Centennial High School in his hometown Roswell, Georgia.
As a senior, he averaged 20.8 points and was named a fourth-team Parade All-American with Georgia 5A Player of the Year.
Graduating from Centennial at 18, Brown was already among the top players ranked 36 nationally and the no.7 shooting guard overall by Rivals.com.
College Career
Lorenzo played for North Carolina State University for three years. He helped the Wolfpack team appear in the NCAA tournament twice in 2012 & 2013.
Brown started all three seasons after joining the team.
As a junior, he made 12.4 points and 4.3 rebounds with 7.2 assists per game. It helped the team in reaching the Atlantic Coast Conference (ACC).
Brown scored 11.6 points, 4.2 rebounds, and 5.8 assists in his overall college career, closing the season honored with second-team All-ACC.
After the 2012–13 season, he decided to forgo his final season of college eligibility and went through the NBA draft.
NBA Draft
The selection from the NBA draft is made based on the following points. Moreover, Lorenzo got selected in the 2nd round and was the 52nd overall pick.
| | | |
| --- | --- | --- |
| Athleticism | •••••••• | 8 |
| Size | ••••••••• | 9 |
| Defense | ••••••• | 7 |
| Strength | •••••• | 6 |
| Quickness | •••••••• | 8 |
| Leadership | ••••••• | 7 |
| Jump Shot | ••••••• | 7 |
| NBA Ready | •••••••• | 8 |
| Ball Handling | •••••••• | 8 |
| Potential | ••••••• | 7 |
| Passing | •••••••• | 8 |
| Intangibles | ••••••• | 7 |
| 2013 Mock – 38 | Big Board – 35 | Overall – 90 |
Strength & Weakness
The below-mentioned points were the main discussion points on whether Lorenzo Brown would be able to make it to the draft pick or not.
The coaches thoroughly inspected him based on the draft points and his strengths and weaknesses.
Has natural creativity and court vision to scan the defense plotholes.

Seems to be walking with big strides but provides an impression of 'gliding.'

Helps in defenses, dangerous transitional and can decide a shoot/pass.

Subsequent decision-making is lacking.

Sometimes gets out of line, collapsing the team's defense plan.

Slow to understand the quickly given information.
Professional Career
The first NBA team Lorenzo Brown ever played was Minnesota Timberwolves. He was the 52nd overall pick in the 2013 NBA draft, but after only a month, the Wolves let go of him.
Then, on November 1, 2013, he was acquired by Springfield Armor, but after nineteen days, he got signed by the Philadelphia 76ers.
On March 16, 2014, Lorenzo was re-acquired by Springfield Armor. Brown was named the Future All-State Team for the 2015 NBA D-League All-Star Game on February 4, 2015.
In September 2016, the shooting guard signed with the Phoenix Suns but was waived in October of the same year.
Then, he spent the 2016-17 season playing for the Grand Rapids Drive of the NBA G League.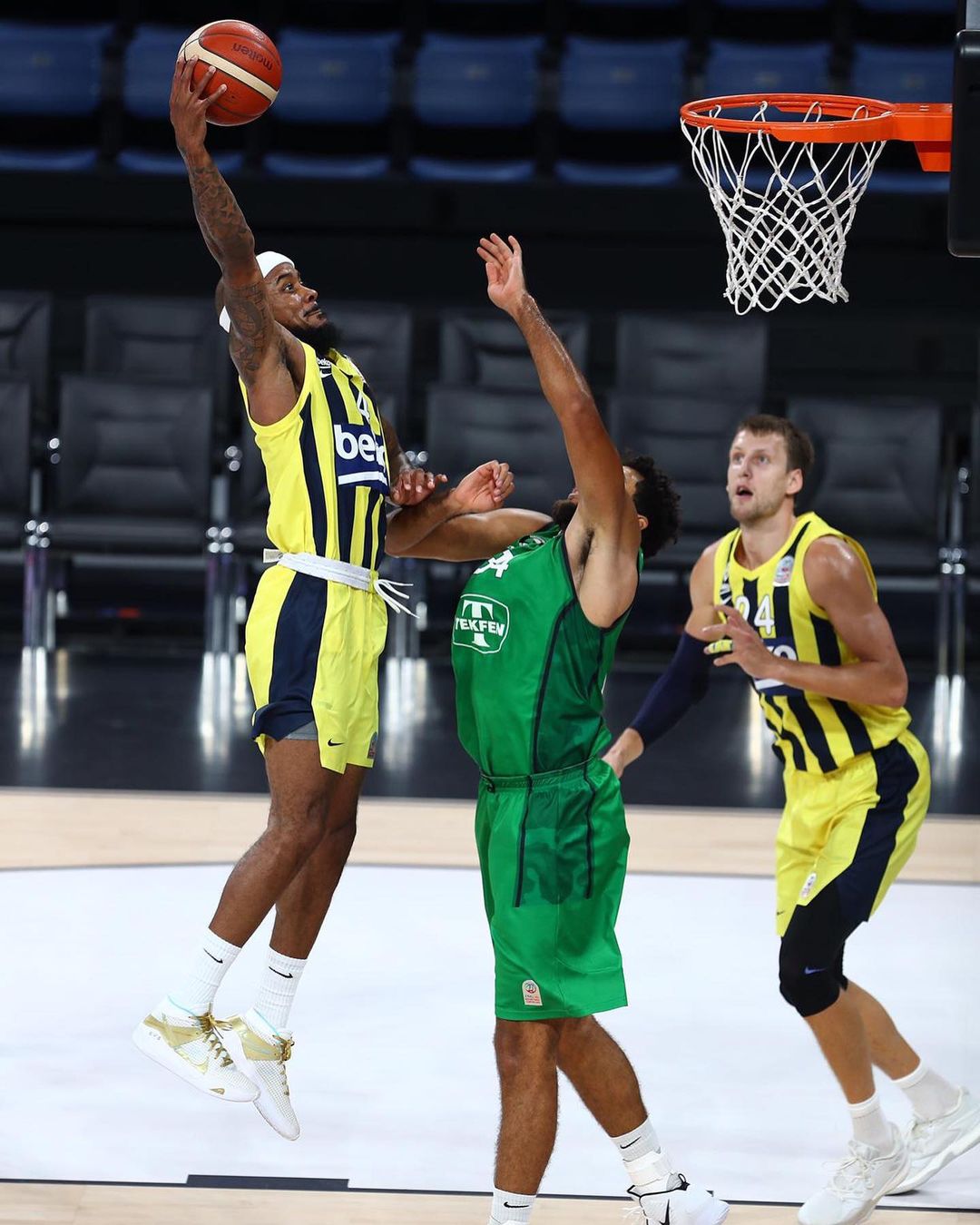 At the end of January 2016, he was named the East All-Star team for the 2016 NBA D-League All-Star Game, making his second straight All-Star nod.
On July 2018, he signed a two-way contract with the Raptors, splitting his time between the Raptors and their G League affiliate, the Raptors 905.
He was a member of the Raptors' 2019 NBA championship team, appearing in five playoff games.
International Leagues
For the 2019-20 season, Lorenzo signed with KK Crvena Zvezda, and the next season, he signed with Fenerbahçe Beko of the Turkish Basketball Super League.
On July 23, 2021, a contract was signed between Brown and UNICS Kazan for a year.
However, due to the 2022 Russian invasion of Ukraine, Lorenzo left the team in early 2022 but eventually returned to finish the season.
On June 29, 2022, the athlete signed a two-year contract with Maccabi Tel Aviv, an Israeli club.
Awards & Achievements
Right from his high school to the NBA, Brown has managed to swipe something always under his name.
Some of Lorenzo Brown's awards and achievements include:
NBA G-League MVP (2018)
First-team All NBA G League (2018)
Two times NBA D-League All-Star (2015, 2016)
Second-team All ACC (2012)
Third-team All-ACC (2012)
Fourth-team Parade All-American (2019)
Relationship Status
Talking about his relationship status, this handsome man is currently dating a model, actress, and entrepreneur, Halle Calhoun.
She has an online clothing store called "Peaches n Strings" and also runs a fitness camp.
But further details regarding the start of their love life and how they met are still unknown.
So, stay tuned for additional information regarding his private life.
Net Worth
Playing with the NBA and various international club teams, Brown has saved himself a decent amount of money.
Lorenzo Brown has an estimated net worth of $1 million as of November 2023.
At the start of his rookie year, Lorenzo made $490,180 in 2013. Then, he signed a three-year contract which gave him an amount of $2,190,503 with other benefits.
Well, his second-highest career in the NBA was $365,015 during the 2014-15 season, while his highest earning was $800,000 in 2018-19.
In addition, Brown has earned a decent income after playing in the international leagues.
However, the exact net worth is debatable, but we can guess from his number of followers, brand sponsorships, and basketball career that he indeed makes good money.
Social Media Presence
Lorenzo Brown is active on social media and has achieved a large number of followers. He keeps his fans fed by posting pictures of his life and career from time to time.
Instagram: 75.3K Followers
Twitter: 20.2K Followers
Popularity Graph
The former NBA player is searched by millions of his fans from over the world.
The above graph illustrates his 12 months search trend.
Frequently Asked Questions (FAQs)
What is Lorenzo Brown's religion?
Exact information about his religion isn't discussed anywhere, but he is often speculated to be a Christian.
What jersey does Brown wear for Maccabi Tel Aviv?
He wears a no.4 jersey while playing as a point guard position for Maccabi Tel Aviv.