Luka Samanic is a professional basketball player who plays the position of power forward for the Utah Jazz of the National Basketball Association (NBA).
The Croatian has clearly been raising the bar high in Europe and also in the whole world.
He is, after all taking his country's name above and ahead with his super impressive playing skills.
Samanic was rated as one of the top prospects for the 2019 NBA draft; after which San Antonio Spurs drafted him and later assigned him to play in its G League team Austin Spurs.
Then, Luka played for the Westchester Knicks and Maine Celtics of the NBA G League.
Besides that, he is a highly embellished player who won the MVP in 2017 and won the gold medal at the FIBA Europe Under-18 Championship B.
Luka has all that it takes to fit into an NBA team. With his speed, agility, and body size, he wants to prove he is worthy of being a top basketball player.
At the same time, he is pretty much familiar with the fact that you have to prove it in every game when you live an athlete's life.
Added to some improved work ethic and the right mindset, the player aspires to rise and shine.
Let's take a deep dive into his side of the story and explore Luka Samanic. But before that, having a glance at his facts is a must.
Quick Facts
| | |
| --- | --- |
| Full Name | Luka Samanic |
| Birth Date | January 9, 2000 |
| Birth Place | Zagreb, Croatia |
| Nick Name | The Croatian Kevin Durant |
| Religion | Not Available |
| Nationality | Croatian |
| Ethnicity | White |
| Education | No |
| Horoscope | Capricorn |
| Father's Name | Marko Samanic |
| Mother's Name | Not Available |
| Siblings | A Sister |
| Age | 23 Years Old |
| Height | 6 feet 10 inches/2.08 m/208 cm |
| Weight | 227 lb (103 kg) |
| Wingspan | 6'10.5 |
| Standing reach | 8′ 11" |
| NBA Draft | Year-2019 / Round: 1 / Pick: 19th Overall |
| Hair Color | Blonde |
| Eye Color | Blue |
| Career Highlights and Awards | 2017 FIBA Europe Under-18 Championship B MVP |
| Build | Athlete |
| Marital Status | Single |
| Girlfriend | Not Available |
| Position | Power Forward |
| Profession | Basketball Player |
| Net Worth | $3 million |
| Salary | $105,522 |
| Currently Plays or | Utah Jazz |
| Jersey Number | #19 (Utah Jazz) |
| League | NBA G League |
| Active Since | 2017- Present |
| Social Media | Instagram |
| Merch | Rookie Card |
| Last Update | June 2023 |
Early Life, Family & Nationality
Starting with the basics, Luka was born on January 9, 2000, in Zagreb, Croatia, to his father, Marko Samanic, and his mother's name remains unknown.
Luka's father, Marco, was also a professional basketball player for probably two decades.
He played in the Euroleague with the Slovenian club Krka. He was a lefty, and it was from him that Luka learned shooting skills from the very beginning.
He lived quite a nomadic life earlier due to his father's career. He got a chance to explore different countries, such as Belgium, Slovenia, and Germany.
Luka was just nine months old when he moved to Belgium. Unlike his father, Samanic was not much of a basketball fan earlier.
He pretty much enjoyed and played soccer until he turned eleven. Moreover, he attributes soccer as an experience that helped him to build a base as a basketball player.
Not only that, Luka played a variety of sports like handball and tennis. He was also involved in breakdancing, but unfortunately, no footage has been found yet.
But yes, he did it for fun when he was nine or ten years old. He would dance his heart out on rap music especially.
If Luka had to shake his legs, he would do it on Drake, Meek Mill, or Travis Scott's tracks.
Youth Career
Samanic started his basketball journey with the local club Zagreb at the youth level.
Later, on 16 November 2015, he grabbed 43 points, 8 rebounds, and 7 steals for Zagreb and conquered Samobor with a record of 160-21.
On January 3, 2016, Luka clinched the most valuable player (MVP) honor for leading his team in a championship win against Virtus Roma in a youth tournament in Italy.
The trend of bagging victories was on its way. Luka notched 32 points in a blowout 111–43 win over the Rudeš junior team on 16 January.
He dominated the Cedevita junior team, grabbing 26 points, 10 rebounds, 4 steals, and 4 blocks along with his team.
For the efforts he showed on the court, he was named MVP of the Croatian cadet championship after his double-double of 16 points and 11 rebounds in a blowout of the Cibona junior squad on May 29.
Later in June, Luka attended a three-day pre-NBA draft camp, the Adidas EuroCamp, for international candidates in Treviso, Italy.
Leveling Up
In 2016, he leveled up his basketball career in the amateur leagues with FC Barcelona, signing a 2 -year contract.
Samanic got much priority from some premiere Division I colleges in the U.S. (including Florida, Gonzaga, and Purdue), but he ultimately chose to stay in Europe.
The Croatian player won the Slam Dunk Contest at a youth tournament in Tenerife on 22 December. Luka also played for the 2016–17 Adidas Next Generation Tournament and was the youngest of all to play at both events.
In the first game, he headed his team to a 79-56 win over the Olimpija junior team with 11 points and 5 rebounds.
Later, in the final tournament in May, he took the Rising Star Trophy home, averaging 8.7 points, 6 rebounds, and 0.7 assists through 3 games.
Not to mention, Luka also conquered the Slam Dunk Contest, a three-day entertainment event at the 2017 EuroLeague Final Four.
He was also named L'Hospitalet tournament MVP and received All-Tournament Team honors.
Professional Career
In the 2017-2018 season, he joined FC Barcelona Basque B- the FC Barcelona reserve team in the LEB Oro, the Spanish basketball league system.
And he led the team to win against Força Lleida, playing only four minutes.
Luka also participated in a 'Basketball Without Borders Camp' in Los Angeles, which also included many other international NBA prospects.
Olimpija
Luka joined Petrol Olimpija of the Slovenian League and ABA League after signing a multi-year professional contract on 31 May 2018.
He also had offers from the Croatian club Zadar, and eventually, things did not go along.
His initial debut was a failure against Petrol Olimpija, scoring 2 points and 3 rebounds in 19 minutes.
Samanic notched season-high marks of 22 points and 11 rebounds in an 85-73 win against Sencur, a Slovenian professional basketball club.
San Antonio Spurs
Luka announced his entry into the 2019 NBA draft on 20 April 2019. It was his dream since childhood.
He always worked hard on his body, on his shots, and everything which would help him translate to the NBA as a modern big guy.
Not to mention, Luka was the record-high 58 international prospects to announce entry that year.
Later, San Antonio Spurs selected him in the first round of the 2019 NBA draft on 20 June 2019.
Samanic received his first assignment to the Austin Spurs, which is the San Antonio Spurs' affiliate team in NBA G League.
He played a game against Utah Jazz on August 13, 2020, as a starter; unfortunately, his team went through a loss.
After that, Luka played for two NBA G League teams: Westchester Knicks (2021–2022) and Maine Celtics (2022–2023).
Furthermore, on 28 March 2023, he signed a 10-day contract with the Utah Jazz.
Luka On His Plans To Fit Into An NBA Team
In an interview, when asked about schemes that he thinks of to be able to fit into an NBA team, Luka said,
"I always think of myself as a defender who can guard anyone."
He also can block shots, and on offense, he can spread the floor as he thinks himself off as a good shooter and passer. He is someone who takes his move according to the game.
To sum up, he said, "I can adjust my game for anyone." Luka also mentioned, "I want to guard the best player on the squad; it's my aim before the game."
He thinks he can switch onto any player on the court as he is pretty fast with lateral movement. To boot on, his body frame adds a lot to his game.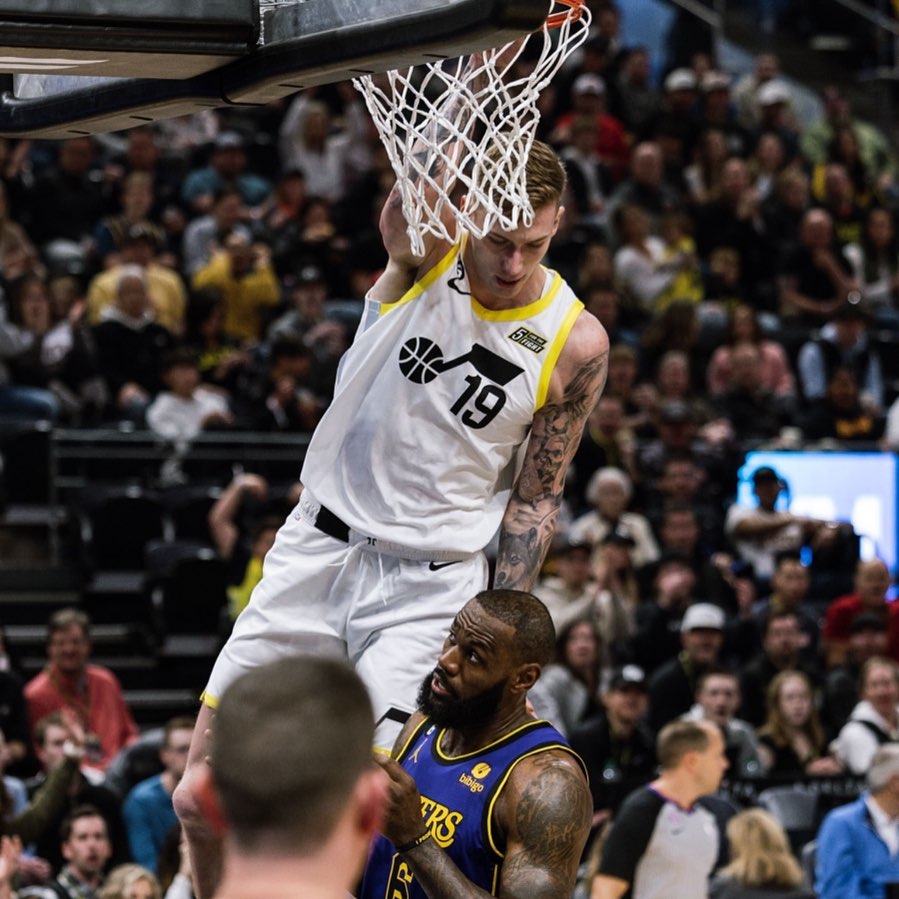 Additionally, he takes a handful of advice from his friend Rodion Kurucs, who plays for the SIG Strasbourg of the French LNB Pro A.
They played together in Barcelona for two years and shared a great bond. He simply brings energy to him and on the court him.
People underrate him as he was not that high a pick, but he has a great hunger to prove himself in every game.
National Team Career
Luka made his national team debut at the 2016 FIBA Europe Under-16 Championship in Radom, Poland, representing Croatia.
However, Croatia accomplished the fourth spot, and Luka received the All-Star Five honors.
In 2017, he participated in the FIBA Europe Under-18 Championship Division B in Tallinn, Estonia.
He took the gold medal to his country after scoring 13.3 points, 7.3 rebounds, 1.8 steals, and 1.6 blocks per game.
Luka also participated in the 2018 FIBA Europe Under-18 Championship in Latvia.
He could only average 17 points, 7.7 rebounds, and 1.8 blocks per game in the tournament, and Croatia completed in the eleventh spot.
Personal Life
Luka is one handsome young man with dashing looks and a power-packed personality.
No wonder any girl will fall for him and would be lucky to call him their love.
Does Luka Have A Girlfriend?
Keeping the curiosities in mind, we did some research but sadly could not come up with any accurate information.
Maybe he is single as of now and strictly prudent towards his career.
And that's okay enough, he is young, and there are days to come when he can match someone who is meant for him in real.
Net Worth & Salary
It is no doubt that he is getting dominant in the NBA. His numbers are impressive and clearly depict that he is in his own lane.
The basketball player has an estimated net worth of $3 million as of June 2023.
Luka inked a 4 year $13.03 million rookie scale contract with the San Antonio Spurs, which offered him an annual average salary of $2.8 million.
In 2023, he signed a 10 days contract worth $105,522 with the Utah Jazz.
Trivia
Besides speaking the Croatian language, he can also speak Spanish and English fluently.
Luka was just fifteen when he moved out to Barcelona, but he had to make a living out of football.
However, slowly and gradually, he learned Spanish there and got adopted. He liked Spanish food too.
Luka likes American culture. "Everything is fast here," he says. Furthermore, he is in love with the food and people.
Samanic admits to being a social guy.
If Luka has to describe himself as a player and person in a sentence, he stated, " I am very competitive." He does not like losing.
Luka is a huge fitness fanatic who works out hard in the gym for his physicality.
He wants to become his best version, and he does not want to play under his skill set.
Luka admires Toni Kulkoc quite a lot. To add on, his playing style is often compared with NBA players Kristaps Porzingis and Kevin Durant.
Social Media Presence
Luka is not that socialite when it comes to social media presence. By that, we mean he is only available on Instagram, where he mostly posts about his game.
You can follow him there to get a peek into his life.
Instagram: 33.8K Followers
Popularity Graph
Luka Samanic is quite famous and is searched by many fans on the internet.
The above line graph illustrates his search trend in the last 12 months.
Frequently Asked Questions (FAQs)
Are Luka Samanic and Luka Doncic from the same country?
Yes, Samanic and Doncic, who share their first name, are netizens of Slovenia. Moreover, they hold the same aim to show the doubters that Europeans do succeed. When asked about Doncic's performance, Samanic said that he never had a doubt on his capacity or him showing up in NBA and being the top player. After all, he was the MVP of the Euroleague. It's always a good feeling to see someone rise high from Europe. On the other hand, Luka Doncic also tweeted with a clap emoji for Samanic when he got selected for San Antonio Spurs.
Was Luka Samanic injured?
Luka Samanic missed most of the December 2021 games due to a foot injury. However, he returned to action to play the team's first game in the 2022 season.
Is Luka Samanic good in defense or forward?
Luka Samanic is considered an extremely talented basketball forward player. But he is considered average on defense since he gets beat by quick and explosive players.
Why did the Knicks wave Luka Samanic?
The professional team New York Knicks, waived Luka Samanic because he'd been sidelined with a plantar fasciitis injury at Westchester. Plantar fasciitis is basically a condition that causes inflammation of the fascia, which connects the heel and toes. This condition results in intense pain in the bottom of the heel and arch.