Malcolm Miller, this name pops up in every basketball conversation. Miller is an American basketball player who has shown a remarkable ability to establish himself as a great player. His craving for the game, as well as his dedication and hard work, are unsurpassed.
The player is a genius at justifying whatever role he plays, whether it's blocking shots, free throws, stealing, or scoring.
He is a rising star with a large fan base on social media. No one in the game can equal his abilities and intelligence.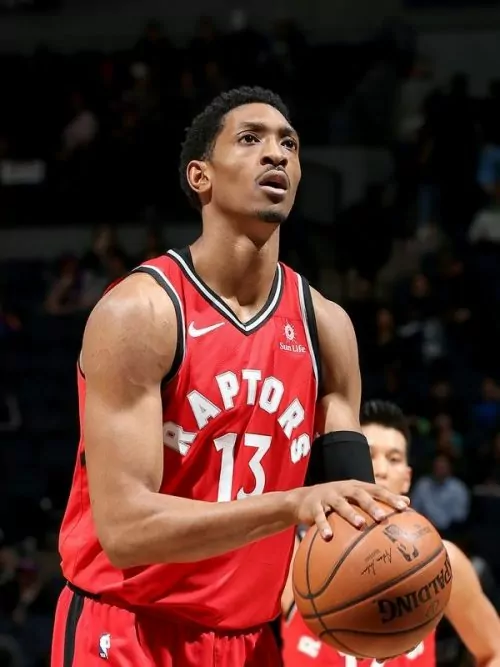 Also, he has already played for five organizations, indicating that he is a seasoned player with a positive attitude and leadership position.
Talking about his life in detail, let's take a glance at some important facts about Malcolm Miller.
Quick Facts
Full Name
Malcolm Miller
Father's Name
Robert Miller
Mother's Name
Sheila Miller
Birth Date
6 March 1993
Age
30 years old
Birth Place
Laytonsville, Maryland
School
Gaithersburg High School
University
North Carolina Central University
Zodiac Sign
Aries
Nationality
American
Religion
Christianity
Weight
95 kg (209 lb)
Height
2.01m (6ft 7inch)
Hair Color
Not available
Eye Color
Not available
Profession
NBA Player
Career

Gaithersburg High School
Boston Celtics
Maine Red Claws
Alba Berlin
Toronto Raptors
Salt Lake City-States
Vanoli Cremona

Position
Small forward
Net Worth
approx. $2,122,899
Current Team
Vanoli Cremona
Active Since
2015 – present
Siblings
One brother and two sisters
Spouse
Dana Helen
Children
Mya Jennifer Miller
Agent
David Gasman
NBA Debut
20 December 2017
Social Media
Instagram, Twitter
Merch Celtics
Celtics T-shirt
Last Update
June 2023
Malcolm Miller | Early Life
Malcolm Miller is a professional basketball player born in Laytonsville, Maryland, on March 6, 1993.
Robert Miller (father) and Shelia Miller (mother) are his parents. Malcolm is the youngest of three siblings, with one older brother and two younger sisters. Janell Thomas, his sister, was a basketball player at North Carolina Central University.
The player studied philosophy as a major. Before joining the NBA, he played high school basketball for the Holy Cross Crusaders (2011-2015).
Discover more about another very accomplished NBA player, check out Sean Elliott's bio and be amazed.
Malcolm Miller | Wife & Kids
According to his Instagram post, Malcolm Miller was in a relationship for seven years before his marriage to the same girl.
After a long time being together, he got married in June 2021 to Dana Helen, welcomed a baby girl on 3 October 2021, and named her Mya Jennifer Miller.
He posted on his Instagram, "She stole my heart already! Mya Jennifer Miller was born on October 3, 2021, at 10:25 pm. 9 lbs 5 oz. Dana, you did amazing! She's perfect."
Having this, Miller is a successful player and a perfect family man who knows to manage his family and his career without any transition.
Malcolm Miller | Career & Achievements
Career
Malcolm has been playing basketball since he was in high school. The game itself enthralled him.
Gaithersburg High School recognized his skill early on and named him a 'team captain.' As a senior, his statistics were impressive, averaging 13.1 points, 7.5 rebounds, 2.8 assists, 2.6 blocks, and 1.4 steals per game.
These stats made him a school celebrity, making him easy to start and continue his college career. He earned the first-team All-Gazette honors in his high school career.
Subsequently, after Gaithersburg high school, he joined Holy Cross for four years. Miller did a great job with spectacle stats and an inspiring gaming career.
His scores were in double figures 25 times. This was already a great head start to commencing a professional career.
In the 2015 NBA draft, he went undrafted. As a result, for the NBA Summer League, he joined the Boston Celtics.
On 31 October 2015, he was signed by the Maine Red Claws of the NBA development league. Maine signed him as an affiliate player of the Celtics. Luckily, this signing was his fantastic debut in his career and NBA's future too.
He played for Alba Berlin, Toronto Raptors, Salt Lake City Stars, and Vanoli Cremona. During his career, he played matches for many clubs and established himself as a successful NBA player.
Visualization of his Basketball Career
| | | |
| --- | --- | --- |
| Season | Signing date club | Club |
| – | – | Gaithersburg high school |
| 2014/2015 | Undrafted, therefore, joined Celtics | Boston Celtics |
| 2015/2016 | 25 September 2015 | Maine Red Claws |
| 2016/2017 | 27 July 2016 | Alba Berlin |
| 2017/2018 | 10 February 2019 | Toronto Raptors |
| 2019/2020 | 18 December 2020 | Salt Lake City Stars |
| 2020/2021 | (Signed out on 24 January 2022) | Vanoli Cremona |
Achievements
2019 NBA champion
2015 Second-team All-Patriot League
2014 Third-team All-Patriot League
You might also be interested in knowing about another most famous and highly appreciated NBA player, David Wear.
Malcolm Miller | Salary & Net Worth
Miller is an active player, he has now settled with his family in his own house with a generous income.
Check out his numerical salary value for his NBA career from season 2017/2018 to 2019/2020.
| | | |
| --- | --- | --- |
| Season | Club | Salary |
| 2019/2020 | Toronto Raptors | $1,588,231 |
| 2018/2019 | Toronto Raptors | $457,418 |
| 2017/2018 | Toronto Raptors | $77,250 |
He started his NBA career with the least salary of $77,250. However, this figure didn't remain static.
Subsequently, he was signed again by Toronto Raptors with an increment in his contract resulting in the figure of $457,418. This was a good head start.
Luckily, Miller was again signed by Toronto Raptors with a massive accrual. He was signed with more than one and a half million US dollars which is a massive price pool.
According to the data, his income has been steadily growing over time as a result of his experience. Although his net worth is unknown, many journalists estimate it to be in the millions of dollars.
His net worth is more than $2 million. Moreover, he has his car handled in his own house.
Moreover, he owns an amazing beast Audi A7 whose starting base price is $69,200. This car shows his success and taste for luxury.
Malcolm Miller | Appearance
Miller has a perfect physical appearance with an amazing height and athletic body.
Amazingly, his height is about 6 feet 7 inches (2.01 m) and he is 95 kg (209 lb) as per recent data.
The athlete looks like a lion with his bright face and athletic body on the court. His movement, intensity, attention, and strategies are stunning and pleasing to the sight in court.
Social Media Presence & Fans
Malcolm Miller is quite famous among his social media followers and fans, amounting to huge followers on Instagram and Twitter.
The player has a large following on Instagram, with 24.6k followers. His profile contains images of his family, cars, and information on clubs, weekends, and so on.
Miller, too, is a regular Twitter user. On Twitter, he has a compelling bio that reads: "Every day is a blessed day! Stay ready, Stay Positive!"
Surprisingly, he discusses cryptocurrencies and real estate in his Twitter bio. This shows that he has a diverse business portfolio outside of his NBA/basketball profession.
Indeed, his Twitter following is at 11.7k. Many individuals have been impressed by his remarkable career and multi-faceted commitment.
Malcolm is deserving of all of the love, respect, and care that he is receiving on social media. As a result, he has a reputation for being a decent and fearless individual.
Frequently Asked Questions
Is Malcolm Miller married?
According to an Instagram post by Malcolm Miller, he married his long-time girlfriend, Dana Helen, in June 2021. He had not revealed the exact date and location of his wedding, but we were able to confirm it through his social media.
When did Malcolm Miller start his NBA career?
On March 4, 2018, Malcolm Miller made his NBA debut for the Toronto Raptors against the Charlotte Hornets. From then, he went on to become a star in the NBA.
How much does Malcolm Miller charge?
Malcolm Miller is a well-known NBA player who earns a sizable sum of money. He inked a contract with the Toronto Raptors for the 2019/2020 season, making $1,588,231 in-contract. The amount of money earned changes according to the season.
Know about Steve Blake's personal and professional life. What is he doing after his retirement and what is his net worth?