Sean Elliott is a former professional basketball player who has played in the National Basketball Association. He started his career with the San Antonio Spurs after they drafted him in the 1989 NBA Draft.
Besides that, he served as a small forward for the Detroit Pistons for a season before going back to the Spurs. He was an exceptional basketballer in the NBA.
Furthermore, his jersey number 32 has been retired by the San Antonio team in his honor. Similarly, he played collegiate basketball for the University of Arizona, which also retired Elliott's number 32.
Besides that, he is a two-time NBA All-star and a one-time NBA Champion with the Spurs. Likewise, the athlete broke Kareem Abdul Jabbar's all-time Pac-10 scoring record in college.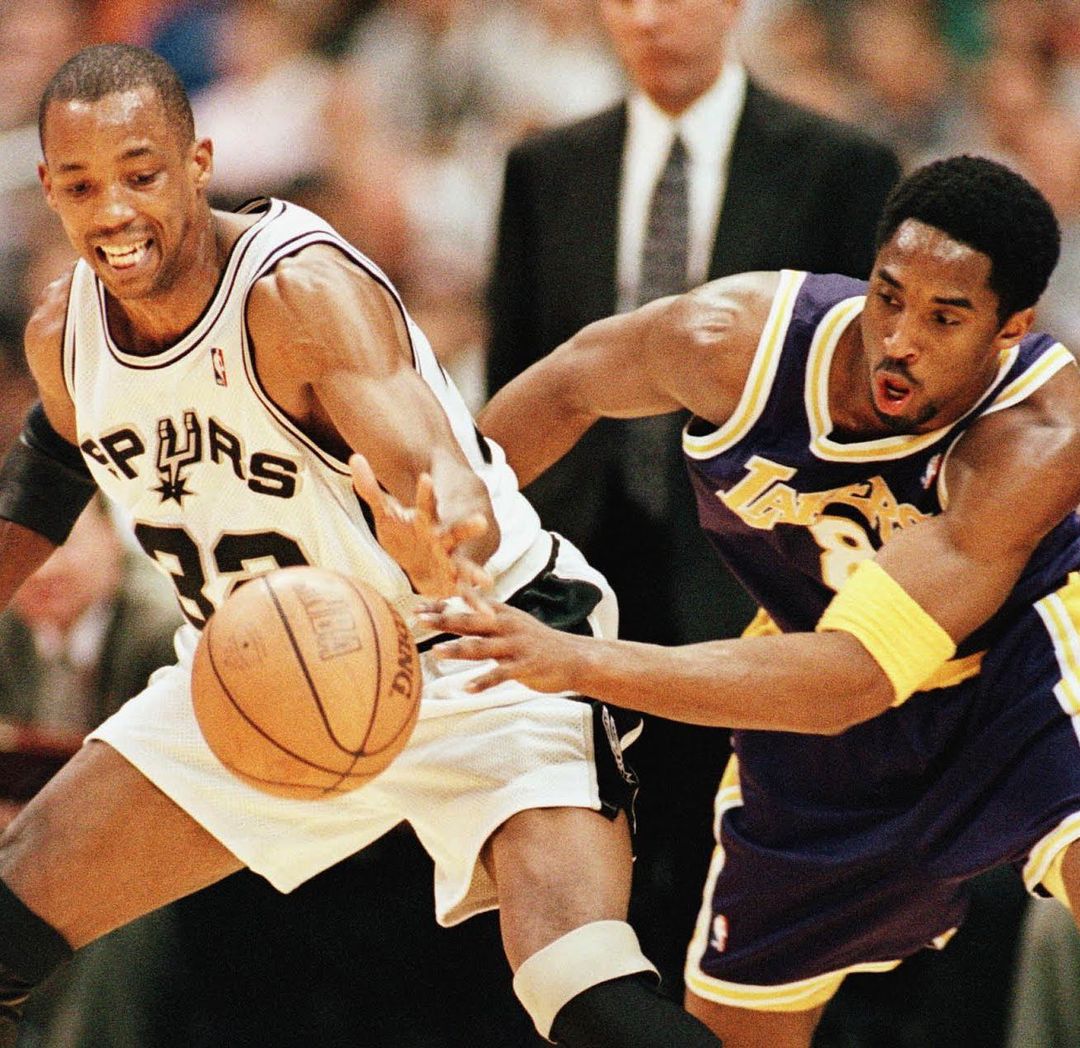 On top of that, he was Arizona's all-time leading scorer and was very popular for his basketball skills. Not to mention, Elliott has won several awards for his contribution to collegiate basketball.
Sean is the recipient of the John R. Wooden Award, Adolph Rupp Trophy, NABC Player of the Year, and AP Player of the Year in 1989. Moreover, he was named to the Consensus first-team All-American twice.
Aside from that, he represented his country and the US Team in the 1986 FIBA World Championship. As a result, he is also a gold medalist.
Before getting into details about the former Spurs player's life and career, here are some quick facts about him.
Quick Facts
| | |
| --- | --- |
| Full Name | Sean Michael Elliott |
| Birth Date | February 2, 1968 |
| Birth Place | Tucson, Arizona, the United States |
| Nick Name | Ninja, Silly |
| Religion | Christian |
| Nationality | American |
| Ethnicity | African American |
| Education | University of Arizona |
| Horoscope | Aquarius |
| Father's Name | Robert Elliott |
| Mother's Name | Odiemae Elliott |
| Siblings | Two; Noel and Bobby Elliott |
| Age | 55 years old |
| Height | 6'8″(203 cm) |
| Weight | 205 lb (92 kg) |
| Hair Color | Black |
| Eye Color | Brown |
| Build | Athletic |
| Profession | NBA Player |
| Former Team | San Antonio Spurs, Detroit Pistons |
| Position | Small Forward |
| Active Years | 1989 – 2001 |
| Marital Status | Married |
| Wife | Claudia Brittingham |
| Kids | Three; Jordyn Elliott, Tad Elliot & Jada Elliot |
| Net Worth | $16 million |
| Social Media | Instagram, Twitter |
| Merchandise | Spurs Rookie Card, Signed Index Card (NBA All-Star) |
| Jersey Number | 32 |
| Last Updated | March, 2023 |
Sean Elliott | Early Life, Family, And Education
Sean Elliott was born in Tucson, Arizona, the United States. His parents are Robert Elliott and Odiemae Elliott.
The player's parents divorced when he was quite young. Furthermore, his mother was a registered nurse who worked as a critical care nurse at Tucson VA Hospital.
She graduated from the University of Arizona's Nursing College in 1977. Moreover, she raised the NBA player and his older brothers Noel and Bobby Elliott as a single mother.
As a result, her boys were very close to her. Not to mention, Odiemae was Sean's biggest supporter and biggest fan.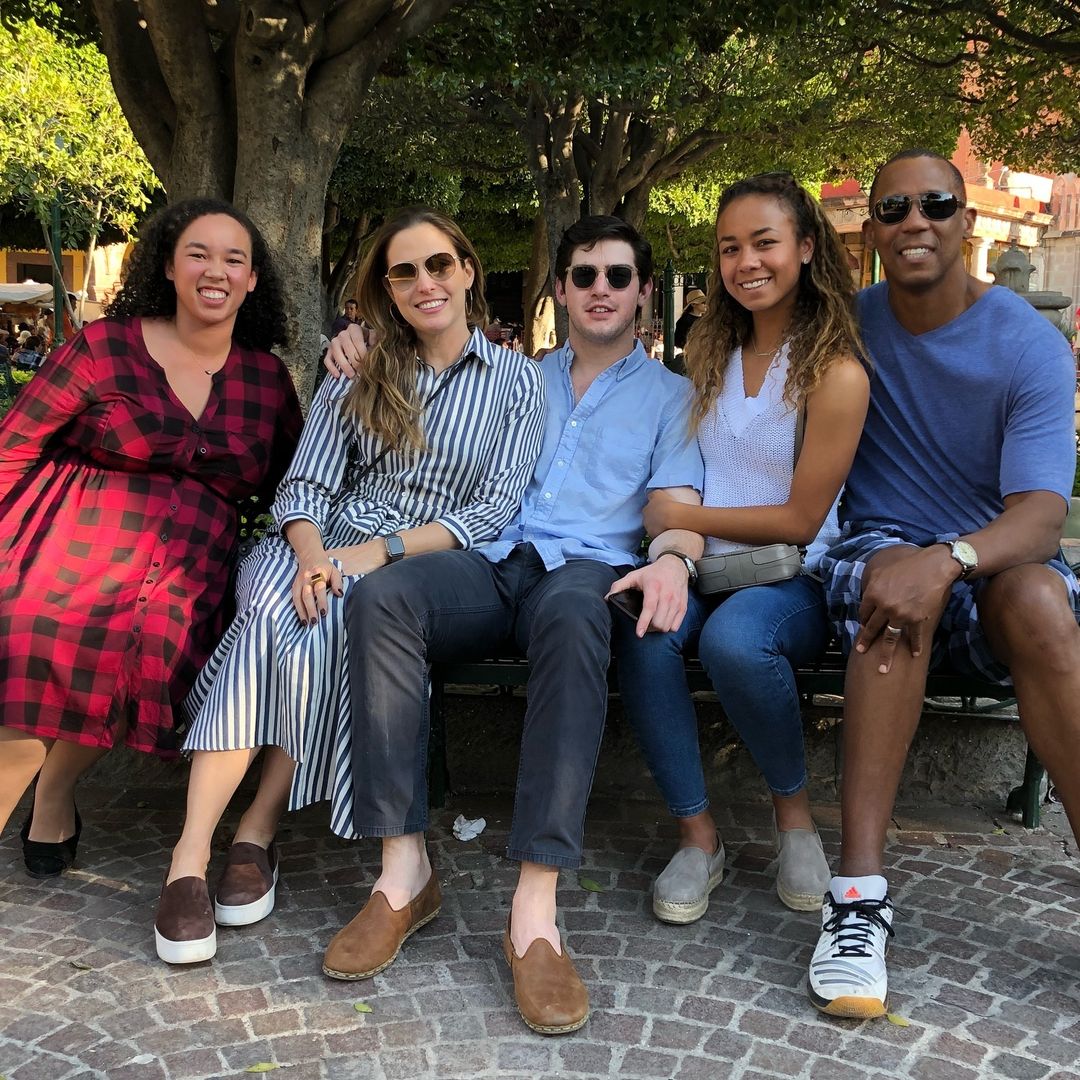 Even though she had a hectic schedule as a critical care nurse, she tried her best to attend all of her son's games from high school to college.
Likewise, Mama Elliott was very proud of his accomplishments and would boast with pride over the life he made out of himself.
Sadly, Odiemae passed away in 2014 after a long battle with cancer. The small forward said in an interview, "[I am] devastated but relieved that she's not in pain anymore."
The former basketballer added that she had been in a lot of pain, and the years before her death were quite hard for her.
Nevertheless, Sean was very proud of her life and the impact she had on people's life.
He said,
"I have people telling me they really enjoyed her company, and she was great. I could take her anywhere. 'Pop' (Gregg Popovich) called and said, 'what a great lady.' And he didn't know her as well as people in Tucson did."
Besides that, the athlete's father was not fond of attention, so he lived most of his life out of the limelight.
Nonetheless, he was reportedly a loving and caring father to all of his children. Robert passed away in 2015.
Education
As a middle-schooler, the NBA player attended Tolson Elementary School, where he took part in the Gifted and Talented Education program. Thereafter, he joined Cholla High School for his high school education.
Furthermore, he played high school basketball for the Cholla Chargers. As of now, the school is quite famous as the one Sean Elliott attended.
Moreover, the gymnasium was renamed Sean Elliott Gymnasium, and the school's halls are covered with the NBA player's high school jerseys.
Following an exceptional career with the Cholla Chargers, he decided to play collegiate basketball for the University of Arizona.
Don't Forget To Check Out Former Spurs Player Jonathon Simmons's Bio- NBA, Net Worth, Stats, Spurs, Wife & College >>
Sean Elliott | Age, Height, And Weight
The small forward was born on February 2, 1968. Hence, he is 55 years old as of 2023. Furthermore, the former athlete takes great care of his health and diet.
As a result, he is quite fit and fine for a guy in his 50s. Besides that, Elliott is 6 feet 8 inches tall and weighs around 205 lb, i.e., 92 kg.
Sean Elliott | Basketball Career
Collegiate Career
After graduating from Cholla High School, he went to the University of Arizona in 1985. Further, he played collegiate basketball for the Arizona Wildcats under coach Lute Olson.
For the first season with the Wildcats, he played 32 games averaging 15.6 points, 5.3 rebounds, and 2.2 assists per game. Hence, he reived the Pac-10 Freshman of the Year award.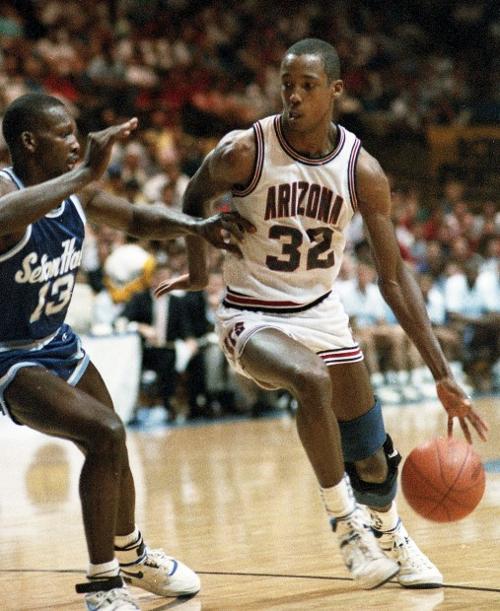 Furthermore, his stats increased for the next two seasons. Similarly, he had a career-high 22.3 points, 7.2 rebounds, 4.1 assists, and 1.0 steals per game in his last season.
As a result, he is still the all-time leading scorer for the University of Arizona. Ninja also played for the US national team in the 1986 FIBA World Cup. Not to mention, they won the FIBA tournament.
College Stats
| | | | | | | | |
| --- | --- | --- | --- | --- | --- | --- | --- |
| Year | GP | MPG | FG% | 3P% | FT% | RPG | APG |
| Career | 133 | 33.8 | .512 | .456 | .793 | 6.1 | 3.4 |
NBA Career
San Antonio Spurs
The San Antonio Spurs drafted the former champion as the third overall pick in the 1989 NBA draft. Further, as a rookie, he started in 69 games out of 81 games averaging 10 points per game.
Spurs entered the NBA playoff that season just to be knocked out in the semi-finals. However, the next season Elliott was moved into the starting lineup permanently.
This sparked a major change in the regular season as they won 55 of their 82 games. Nonetheless, they fell short to the Warriors in the first round of the postseason.
The next two seasons were pretty much the same as they failed to get past the first round. As a result, the Spurs trade him for Dennis Rodman in a multi-player deal.
Nevertheless, after spending just one season with Detroit Pistons, he was again traded back to the Spurs. During the 1997-98 season, the player was only able to play 39 games due to multiple injuries.
Despite their best efforts, the championship drought continued for his team; until the 1998-1999 season. He sustained an injury during the season as well that limited him to 36 games.
Moreover, Elliott performed exceptionally well during the playoff. As a result, he won his first NBA Championship by averaging 11.9 points in 17 games in the playoffs.
Additionally, he played two more seasons with the spurs but failed to win the title again. Thus, after 12 years, he announced his retirement from competitive basketball in 2001.
Learn More About Spurs' Former Center, Tim Duncan Bio: Career, NBA, Spurs, Girlfriend & Net Worth >>
Detroit Pistons
After playing four seasons with the spurs, they decide to trade him to the Detroit Pistons. Even though Elliott was a great player, he still struggled with the Pistons.
As of which, the Detroit team decided to trade him to the Houston Rockets. However, the trade fell through because of his kidney problem.
As a result, he remained with the Pistons for the remainder of the season, averaging 12.1 points per game. Nonetheless, he was traded back to the Spurs in the offseason.
You Might Be Interested In Pistons' Small Forward, LiAngelo Ball Bio: Team, Girlfriend, Contract & Net Worth.
Career Stats
| | | | | | | |
| --- | --- | --- | --- | --- | --- | --- |
| Year | GP | GS | MPG | FG% | 3P% | FT% |
| Career | 742 | 712 | 33.0 | .465 | .375 | .800 |
Achievements and Highlights
1999 NBA champion With San Antonio Spurs
Two-time NBA All-Star in 1993 and 1996
NBA All-Rookie Second Team in the year 1990
No. 32 was retired by San Antonio Spurs
John R. Wooden Award in 1989
1989 Adolph Rupp Trophy
1989 NABC Player of the Year
AP Player of the Year in 1989
Two-time Consensus first-team All-American in the year 1988 and 1989
Two-time Pac-10 Player of the Year in the year 1988 and 1989
No. 32 retired by Arizona Wildcats
1985 McDonald's All-American
Gold Medal winner at the 1986 FIBA World Championship
Silver Medalist at the 1987 Summer Universiade
Kidney Transplant
Right after Elliott had won the NBA Championship title with the Spurs, he revealed that he was battling a serious kidney disease known as focal segmental glomerulosclerosis.
Furthermore, Sean had known about the diagnosis since 1993 but had been fighting it silently.
As a result of his disease, his kidneys were unable to filter off waste from his blood. His condition only worsened with time.
Shortly after, the doctors made it clear that the NBA player needed to have a kidney transplant to save his life. Hence, his brother Noel got tested and matched to be a donor.
On August 16, 1999, the basketballer and his older brother underwent surgery to have a kidney transplant. Thereafter, in 2000, he became the first player to be back in NBA after a kidney transplant.
Recently, in 2019, Sean and Noel celebrated 20 years of a kidney transplant. The Spurs' color commentator continues to spread awareness about transplants through his platform.
Sean Elliott | Marriage, Wife, And Kids
Elliott is married to Claudia Zapata. As a Registered Dietitian Nutritionist (RDN), Zapata has a Master of Science Degree in Nutrition.
Furthermore, she is deeply passionate about healthy eating and leading an active life. Similarly, Claudia loves weight lifting, working, and doing yoga.
Zapata is also the creator of The Diplomacy Diet, which, as she mentions in her blog, is an "art of negotiation, used to broker deals that lead to positive and lasting lifestyle changes."
Besides that, her blog is claudiazapata.com, where she shares healthy recipes and many more.
The RDN can also be seen on morning shows like San Antonio Living and Great Day SA. Moreover, she serves as a TV host for Spectrum's Simply San Antonio segments.
The NBA plyer's wife is strictly against cleanses, detox diets, and cheat meals as she believes food should be savored and guilt-free. Through her Instagram account, she promotes healthy recipes, fitness, workout tips, and routines.
Ex-wife and Kids
Sean was previously married to Akiko Herron from 1993 to 2000. The former couple has a daughter named Jordyn Elliott. Unlike her father, Jordyn plays collegiate football at the University of California, Berkeley.
Likewise, the Spurs player's oldest daughter is Jada Elliott, who turned 29 years old in 2021. She is full of life and loves traveling. Her mother is Susan Dalley.
Furthermore, Claudia also has a son named Tad Brittingham. All of the kids were very young when Zapata and Elliot married in 2001.
Although their family is not conventional, they are very close to each other. Sean's daughters are very fond of their stepmom; Tad has an amazing bond with Elliott, and the siblings are quite affectionate.
Sean Elliott | Net Worth And Salary
The former Spurs player earned most of his wealth through his amazing career in the National Basketball Association. Elliott, aka Ninja's net worth, is estimated to be around $16 million.
However, his overall career earnings amount to $67,032,824.
Likewise, his salary with the Spurs and Pistons ranged from $1 million to $5 million.
Besides that, he served as an analyst for well-known networks like NBC, ABC Sports, and ESPN. As a well-experienced basketballer who has won an NBA title, we can assume he earned well with the networks.
Furthermore, he worked as a color commentator for the San Antonio Spurs and has called a college game with Fox Sports 1. Hence, we can only imagine the athlete's current earnings.
>> Seth Curry Bio – Early Life, College, Family, NBA & Net Worth <<
Sean Elliott | Social Media Presence
The NBA player is quite active on various social media platforms. Hence, he has an Instagram account with 10.7k followers.
He mostly shares his life as a post-NBA player and color commentator through his Instagram handle.
In most of his posts, Sean can be seen inside the basketball court with Bill Land, where the players love to joke around with him.
Besides that, the small forward has shared many pictures with his beautiful wife and lovely children. Furthermore, he works with several charities and healthcare that contribute to organ donating and receiving.
Similarly, the former athlete also has a Twitter account with 45.9k followers. Subsequently, he is a little more active on his Twitter handle.
The analyst usually shares NBA-related news, events, and highlights in his account. Likewise, he also tweets about collegiate basketball and the Spurs.
During the Black Lives Matter protest, Sean used his platform to raise awareness against the systemic racism deeply rooted in America.
Sean Elliott | FAQs
How much is Sean Elliott's rookie card value?
The basketballer's 1990 Hoops Basketball rookie card value is $6.95 on Amazon.
Is Sean Elliott in the NBA Hall of Fame?
No, Sean is not inducted into the NBA Hall of Fame. However, in 2018, he was inducted into the National Collegiate Basketball Hall of Fame.