Steve Blake is a famous former NBA player and coach from Florida. The 6 feet tall point guard dedicated seventeen years to playing professional basketball in the NBA.
Basketball was everything for Steve, and he would prioritize it over everything in his life. His dream was to play in the NBA. And he conquered his vision after he was drafted 38th overall by Washington Wizards in 2003.
Since then, the player has played for several NBA teams, including Portland Trail Blazers, Denver Nuggets, Detroit Pistons, and Sydney Kings, before retiring in 2016.
This article will look into Steve Blake's journey in NBA, including his personal and professional life.
But, before we dive into the details, let's briefly look at his quick facts.
Quick Facts
Full Name
Steven Hanson Blake
Name

Steve Blake

Nick Name

Steve

Date of Birth
February 26, 1980
Age

43 years old

Birth Place
Hollywood, Florida
Nationality

American

Ethnicity

White

Zodiac Sign

Pisces

Height
6 feet 3 inches
Weight
172 lb (78 kg)
Hair Color

Brown

Eye Color

Brown

Father's Name
Richard Blake
Mother's Name
Cindy Blake
Siblings

Three older sisters

High School
Miami Killian High School
Education

Graduate

University
University of Maryland
Marital Status

Married

Wife
Kristen Blake
Children
Three; Nicholas, Jameson, and Zachary Blake
Profession

Former NBA Player

Position

Point guard

Leagues

National Basketball Association (NBA)

NBA Draft
38th overall pick in the second round in 2003 by Washington Wizards
Debut Year

2003

Retirement

2016

Coaching Teams

Portland Trail Blazers (2017–2019)
Phoenix Suns (2019–2020)

International Award

Gold at 1998 FIBA Americas U18 Championship

Awards and achievements

NCAA champion (2002)
First-team All-ACC (2003)
Third-team All-ACC (2002)

Net Worth

$1-$5 million

Social Media
Merch
Basketball Trading Card
Last Update

March 2023
Steve Blake | Early Life
On February 26, 1980, Steven Hanson Blake was born in Hollywood, Florida. He is the son of Richard Blake (father) and Cindy Blake (mother).
Furthermore, he has three older sisters. However, their whereabouts are unknown.
Steve was passionate about basketball from a young age. He was so passionate about basketball that nothing in his life was as important as basketball. He would miss the prom just to practice basketball.
For education, Blake briefly attended Miami Killian High School before transferring to Miami High School. He briefly attended Oak Hill Academy and then enrolled at the University of Maryland.
Age, Height, and Weight
Steve Blake was born in 1980, which makes him 43 years old. People born in August are Pisces.
Furthermore, Steve was born in Hollywood, Florida, and identifies himself as an American of white ethnicity.
Also, Blake is 6 feet 3 inches (1.91 meters) tall and weighs around 172 pounds (78 kg).
Steve Blake | Basketball Career
Blake played basketball alongside another NBA star, Udonis Haslem, at Miami High School. He then went to the University of Maryland.
Blake was the first ACC player to record 1,000 points, 800 assists, 400 rebounds, and 200 steals in his first season. He is also ranked fifth in NCAA all-time career assists.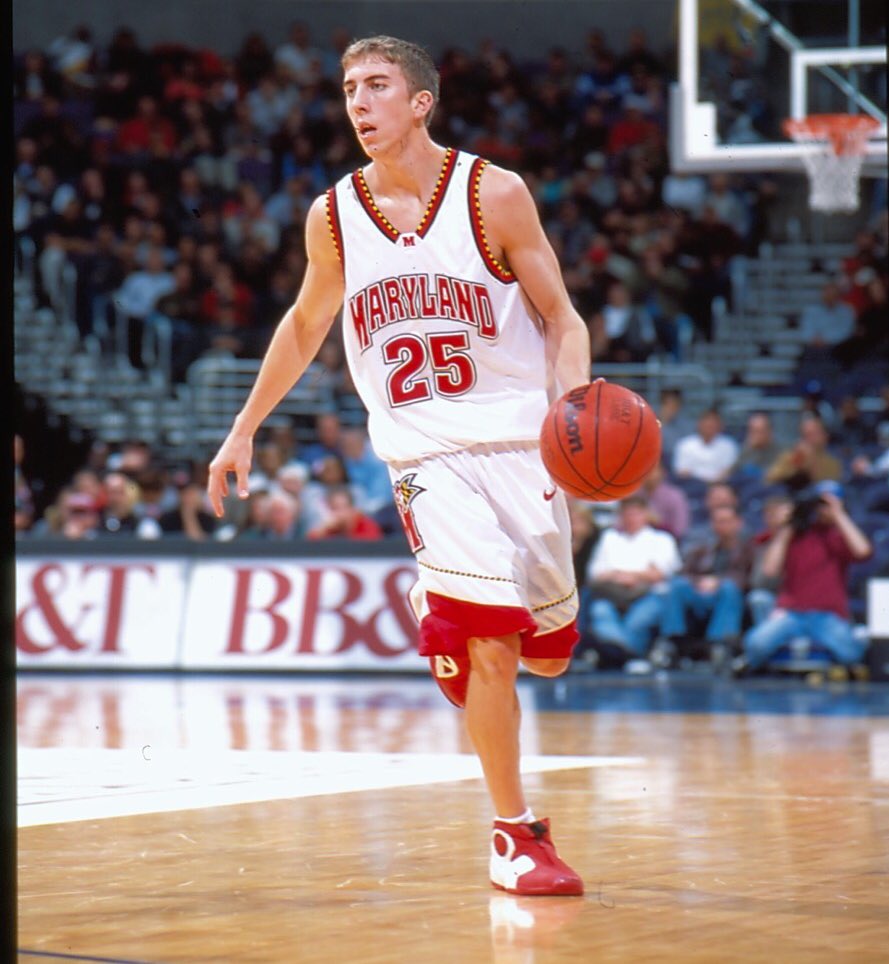 He was chosen to several all-ACC teams and first-team All-ACC selection. Steve was inducted into the hall of fame of Maryland, and his jersey number 25 was retired as an honor for his contribution during his college days.
You may also like to read about Latvian born NBA player Davis Bertans, who currently plays for the Washington Wizards>>
Professional Career
Steve Blake was chosen 38th overall by the Washington Wizards in the 2003 NBA Draft. Later he went on to sign an off-season deal with Blazers in 2005.
However, Blake was dealt with the Milwaukee Bucks in July 2006 and later with Denver Nuggets.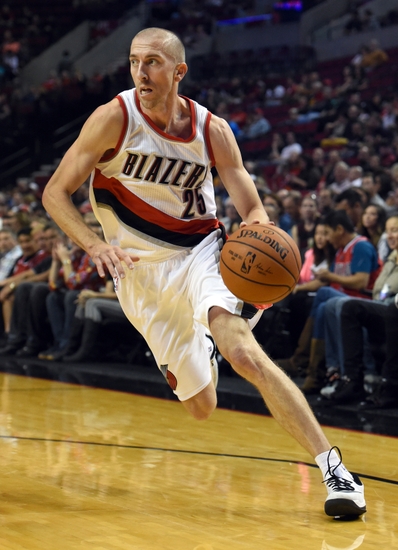 He later signed a three-year contract with the Portland Trail Blazer. But, he was dealt with the Los Angeles Clippers on February 17, 2010
Coaching Career
After retiring as an NBA player, Steve joined Portland Trail Blazers as a coaching intern. He was later promoted to on-court assistant.
On June 26, 2019, Steve joined Phoenix Sun as an assistant coach. However, William, the head coach of the Phoenix Suns, announced that Steve was no longer part of the team.
Though William did not address the reason for Steve's departure from the team, he thanked Steve for his contribution to the team.
You may also like to read about basketball legend Michael Jordan who is best known for his basketball skills and his sneaker Air Jordans>>
Steve Blake | Injuries
Steve had to face many injuries during his NBA career. While he was playing for the Los Angeles Lakers, he had to face a costochondral fracture, the fracture in his ribs. He had to take rest the entire season.
Furthermore, he had to suffer from the abdominal strain, for which he had to get the surgery. After the surgery, Steve faced groin problems and had to be sidelined for the entire season.
Steve Blake | Awards and Achievements
NCAA champion (2002)
First-team All-ACC (2003)
Third-team All-ACC (2002)
Gold at FIBA America U18 Championship.
Steve Blake | Wife and Children
Steve Blake is married to Kristen Blake and is blessed with three children; Nicholas, Jamison, and Zachary.
Though not much information is available about Steve and Kristen on how and where they met, it can be seen that the couples are supportive of one another.
Kristen always shields her husband and supports him in his every game. Sometimes, haters even send death threats and hateful comments to Kristen, but she stands up for herself and never forgets to stand for her husband.
Furthermore, Steve loves playing basketball and hot wheels with his children. He says his son Nicholas loves racing and always competes with him in the race.
Blake sees himself in Nicholas and says he is like a younger version of him. He loves how competitive his kids are.
Steve Blake | Charity
Steve lost his favorite cousin Danny Ketchum to cancer. Danny was diagnosed with a brain tumor when he was just four years old. He battled cancer throughout his life and passed away.
The death of Danny had a huge impact on Steve, who then wanted to do something for the cancer patients.
Since then, Steve has been actively involved in charitable causes for cancer research and treatment. Steve's wife, Kristen, has also joined hands with Steve in this mission.
As a result, she created kristensbirthdaywish.com on her 30th birthday to give links for people to contribute to different causes that she and Steve support.
In honor of Danny, Steve Blake has collaborated with the Children's Cancer Association and Athletes against Cancer. The couple is involved in several charitable organizations to battle against cancer.
You may also like to read about legendary basketball player Kobe Bryant who is known for his exemplary basketball skills>>>
Social Media Presence
Steve Blake is active on social media and has verified a Twitter and Instagram account with thousands of followers.
Thus, you can follow him on his social media handles to get updates about Steve's personal and professional life.
Instagram: 41.1 K followers
Twitter: 140.1 K followers
Steve Blake | Net Worth
The net worth of Steve Blake is estimated to be anywhere between $1 million to $5 million. He earned a net worth as an NBA player.
The athlete signed a rookie deal with the Washington Wizards for $986,977. Then he signed a two-year deal with the Portland Trail Blazers for $2,330,000 and a three-year deal worth $13,430,000.
Furthermore, Blake signed his career's most expensive deal with the Los Angeles Lakers, worth $16 million in 2008. Thus, the player made millions playing for different teams.
Unfortunately, Steve's earnings as a coach are not known. However, based on his knowledge and experience, it's likely that Blake gained a decent deal of money from his coaching career as well.
Facts About Steve Blake
Steve is extreme when it comes to music. He could listen to hip-hop and raps a day, and the next day he would be listening to Christian songs.
He loves watching action movies. 300 is his favorite movie so far.
Steve says he is the least flexible athlete and is bad at doing yogas.
He loves eating steaks and sushi.
Frequently Asked Questions (FAQS)
Why was Blake banned from playing for Public high school?
Steve Blake transferred to Miami High School and represented the school in the state championship.
But, later, Blake was found using fake addresses and information to enroll in Miami High School. Thus, he was banned from playing for any public high school in Florida.
What are the overall NBA statistics of Steve Blake?
In his NBA career, Steve Blake played 870 games with an average of 2.1 rebounds, 0.7 steals, four assists, 0.1 blocks, and 6.5 points per game.
Did Steve Blake represent the United States in any championship?
He represented the United States in the 1998 FIBA Americas U18 Championship, winning gold.