Marina Mabrey is an American professional basketball player who is currently serving as the shooting guard for the Dallas Wings.
Agile and talented to the core, she was drafted by the Sparks in the 2019 WNBA draft in the 19th pick overall.
Likewise, Marina was one of the five Notre Dame players drafted back in 2019. Other than being a professional player, she is also an entrepreneur and has her own business.
Today, we will be talking more about Marina and her personal life. We will include stuff about her career, dating life, salary, and much more.
Marina Mabrey: Quick Facts
| | |
| --- | --- |
| Full Name | Marina Mabrey |
| Birth Date | September 14, 1996 |
| Birth Place | Belmar, New Jersey, US |
| Alias | Marina |
| Religion | Unknown |
| Nationality | American |
| Ethnicity | White |
| Education | University of Notre Dame |
| Horoscope | Virgo |
| Father's Name | N/A |
| Mother's Name | N/A |
| Siblings | Updating Soon |
| Age | 27 Years Old |
| Height | 5 feet 11 inches(180cm) |
| Weight | 77 kgs(170 lbs) |
| Build | Athletic |
| Eye color | Dark Brown |
| Hair color | Blonde |
| Profession | WNBA Player |
| Active years | 2019-present |
| Position | Shooting Guard |
| Team | Dallas Wings |
| Marital Status | Single |
| Salary | $57,000 |
| Net Worth | $1 million |
| Social Media | Instagram, Twitter |
| Merch of Dallas Wings | Rookie Cards, Hoodie |
| Last Update | September, 2023 |
Who is Marina Mabrey?
Marina Mabrey is a professional Women's National basketball player who currently plays for the Dallas Wings.
The shooting guard was drafted in the 2019 WNBA draft as a second-round, 19th overall pick by Los Angeles Sparks.
Age and Body Measurements- How old is Marina Mabrey?
The professional player, Marina Mabrey, is a professional player who has made a distinction in the basketball world.
This young player was born in the year 1996, which makes her 27 years as of, 2023. Also, her birthday falls on the 14th of September.
Likewise, Marina's sun sign happens to be Virgo; the sign is known to be intelligent, smart, and logical, among other signs.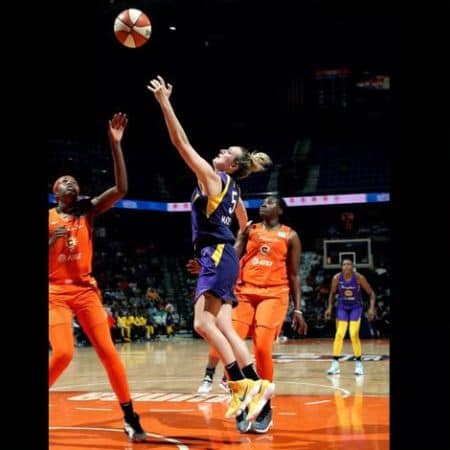 With the understanding of her own body and mind, Mabrey excels as an athlete. She stands at 5 feet 11 inches(180 cm) and weighs around 77 kgs(170 lbs).
Even though other measurements are unknown, we do know she is fit and possesses an athletic physique.
Aside from that, Marina has attractive features as well. Mabrey has long blonde hair and stunning dark black eyes that go well with her fair skin complexion.
Early Life, Family, and Education
Since her rising as a professional basketball player, many fans have been curious about her upbringing and childhood. To begin with, Marina was born in the city of Belmar, New Jersey, the United States of America.
Unlike other information about her, there are not many details regarding her family. Any details on her parents' names and whereabouts are unknown. The same is the case with her siblings as well.
For all we know, she might be the only child.
Similarly, for her education, Marina attended Manasquan High School, located in Manasquan, New Jersey. She later enrolled at the University of Notre Dame, where she played college-level basketball.
As for her ethnicity goes, Mabrey is of white descent and holds American citizenship.
Net Worth and Income- How much is Marina Mabrey's salary?
Even though Marina is a full-fledged WNBA basketball player, it has not been long since she went professional. Because of it, Mabrey's income can be somewhat less than we imagined.
Likewise, it is assumed her net worth as of now is $1 million. But the amount has yet to be confirmed, along with many other things.
Also, the 27 -year-old signed a four-year contract worth $189,522 with the Los Angeles Sparks. The contract even includes an average annual salary of $47,381.
Many might not know this; Marina was traded to Dallas Wings later in 2020 by the Sparks. With this, there has been an inevitable spike in her earnings. For starters, her salary has gone up to $57,000.
However, Marina is one of the least paid players in the team; Astou Ndour, Moriah Jefferson, and Isabelle Harrison are the three most-paid players on the team, with each making over $150,000 in an annual salary.
Apart from her income as a player, Marina also makes an additional amount from endorsing brands like Calvin Klein.
Professional WNBA Career- Marina Mabrey
Marina Mabrey's career is what we call a mystery. Even though she is now a professional WNBA player, her earlier basketball career is almost unknown.
Among the few things that are there, we know she played basketball from a young age.
Likewise, Mabrey represented her high school team, Manasquan High School, located in New Jersey. With them, she won the state Tournament of Champions, not once but twice.
Marina continued playing basketball even at the college level for Notre Dame from 2015 to 2019. Not to mention, Mabrey was named a McDonald's All-American back in 2015.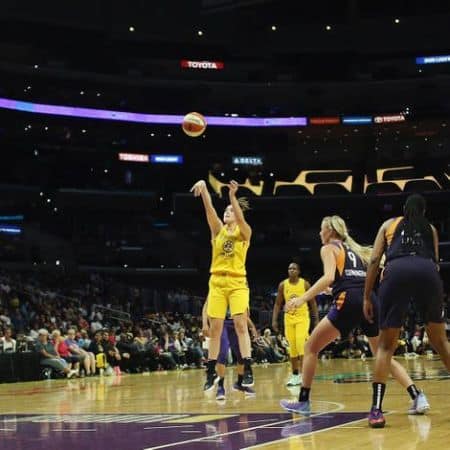 During her performance at the Europe tour, she ranked in the third position in the team with a point of 12.3 per game.
She must have been impressive during her college years, as in the 2019 WNBA draft, Mabrey was picked 19th overall by the Los Angeles Sparks.
Before this, the young player played with the United States women's national under-19 basketball team and the University of Dame.
Moreover, Marina is one of the five Notre Dame players to be drafted that year. For a year, she served as a shooting guard for the Sparks.
Marina Mabrey traded to Dallas Wings in 2020
On February 20, 2020, the Los Angeles Sparks announced that they would be trading Mabrey, their shooting guard, to the Dallas Wings for the 2021 second-round pick.
With that, the Sparks waived Alexis Jones too.
Eric Holoman, a managing partner, and Governor released a statement regarding the news.
"These moves provide us with additional flexibility as we build a 2020 team that gives us the best chance to compete for a championship. The Sparks organization would like to thanks Marina Mabrey and Alexis Jones for their contributions."
With that being said, the Sparks tweeted thanking Marina on their official Twitter account that Friday afternoon.
Franchy Cordero Age, Nationality, Salary, Stats, Girlfriend, Contract, Net Worth >>
Moreso, Brian Agler, Wings head coach, is ecstatic about the news.
"I've enjoyed watching Marina play since her freshman year at Notre Dame. She's extremely competitive, a great shooter, and finds ways to be effective. She will have the opportunity to come in and compete for a roster spot and add to the depth of our roster."
Likewise, in her rookie season, Mabre appeared in 31 games with the Sparks and averaged 4.0 points, 1.2 rebounds, and 1.0 assists while shooting 34.4% from the field.
Marina Mabrey – Career Highlights and Achievements
The WNBA basketball player has just started her professional career in basketball. In a short period of time, she has been one of the successful basketball player. Here are some major career achievements of Mabrey.
2013 – Ranked in 3rd position in Europe tour.
2015 – Selected for McDonald's High School All-American team.
2019 – Selected as the 19th overall pick in the WNBA Draft by the LA Sparks.
Marina Mabrey – College Stats
| Year | Team | GP | Points | FG% | 3P% | FT% | RPG | APG | SPG | BPG | PPG |
| --- | --- | --- | --- | --- | --- | --- | --- | --- | --- | --- | --- |
| 2015-16 | Notre Dame | 35 | 373 | 51.4% | 45.3% | 81.7% | 2.8 | 2.0 | 1.5 | 0.3 | 10.7 |
| 2016-17 | Notre Dame | 37 | 540 | 47.1% | 38.3% | 84.3% | 3.0 | 2.5 | 1.5 | 0.5 | 14.6 |
| 2017-18 | Notre Dame | 38 | 549 | 45.8% | 39.0% | 85.7% | 4.4 | 4.4 | 2.1 | 0.3 | 14.4 |
| 2018-19 | Notre Dame | 35 | 434 | 46.6% | 40.8% | 69.4% | 2.7 | 4.9 | 1.3 | 0.3 | 12.4 |
| Career | | 145 | 1896 | 47.4% | 40.0% | 81.7% | 3.2 | 3.4 | 1.6 | 0.4 | 13.1 |
Is Marina Mabrey single?- Personal Life and Dating
Sorry to disappoint you all, but at the moment, Marina Mabrey is single and not dating anyone. The Belmar native is busy giving a stellar performance on the court for the Wings.
And it is not like she used to date and now has stayed single. Marina has always been secretive about her personal life or anyone from her family, from what we know.
Also, at present, there are no rumors of Mabrey dating and her past boyfriend's dating history or any other.
Because of it, many have raised questions regarding her sexuality, too, but as of now, not much has been confirmed by the star herself. We can only wish for time to unfold the mystery.
'This is my kitchen'- Against Online Sexism.
Aside from being a stellar player, Marina also launched herself as an entrepreneur from her shirt line.
More precisely, one particular shirt that Marina wore into the Staples Center caught the eyes of many across the league and followers.
Written in large black and yellow letters right beneath her full name, read, "THIS IS MY KITCHEN."
Marina uploaded a picture of her wearing the shirt with the caption, "We've been cooking lately! #leadthecharge" on her Instagram on July 9, 2019.
Upon its release, the picture created a frenzy among the fans and searched for its purpose.
As Mabrey stated, the main reason behind it is a campaign fighting against the sexist comments and reactions concerning women's basketball on social media.
Likewise, the essence dates back to her tweet a year before in 2018, right after Notre Dame Fighting Irish grabbed the national championship over Mississippi State.
"To all the male women's basketball haters, y'all can get in the kitchen and make us a sandwich now, thanks."
Mabrey shared her thoughts with the High Post Hoops,
"I gave the idea, I told them what I wanted out of it, and we did a couple of runs with what the shirt could look like, and I picked one."
In regards, she also raised the issue of women's basketball, facing many online backlash and sexist comments.
"It's just plain disrespectful. I think a lot of people are angry because women's basketball is coming up, and they don't like the fact that women can be powerful just like men can be."
Nonetheless, other NBA counterparts have noticed the clothing line; and showered her with praise and support. Some of those include stars like Bradley Beal and Kyle Kuzma.
More importantly, her former teammates have shown support for Mabrey's campaign; even fellow rookie Kalani Brown posted an alternate design with the same 'THIS IS MY KITCHEN' featured in the middle.
Online Presence
Instagram– 38k+ Followers
Twitter– 11k+ Followers
Some FAQs
Who is Marina Mabrey Boyfriend?
At present, Marina is single and not dating anyone.
What Position does Mabrey play for?
Mabrey plays for the Shooting Guard position.
Which Team Marina currently plays for?
Marina currently plays for Dallas Wings.