No one has ever had an exciting career like Mario Lemieux, a two-decade tapestry of colossal highpoints and even devastating setbacks followed by extraordinary returns.
Mario Lemieux was the king of comebacks, among other things. "Super Mario" retired with the second greatest PPG rate in NHL history, with 1,723 points in 915 games.
The Pittsburgh Penguins icon used his 6'4″ frame and offensive skills to dominate throughout his career, winning two Stanley Cups, six Art Ross Trophies, and numerous other honors.
Mario Lemieux will be remembered for his exceptional talent, agility, and power on the ice for the rest of his life.
However, Mario's bravery in his struggle against Hodgkin's illness in the middle of the 1992-93 season may be remembered most warmly by hockey fans.
Here, in today's article, we will cover everything about Mario Lemieux, from his prevailed career in hockey to his acute illness. But before getting into details, let's take a glance at quick facts about him.
Mario Lemieux: Quick Facts
Name
Mario Lemieux
Full Name
Mario Lemieux OC CQ
Nick Name
Super Mario, Le Magnifique, The Comeback Kid, The Magnificent One
Birthdate
October 5, 1965
Birthplace
Montreal, Quebec, Canada
Age
58 years old
Sexual Orientation
Straight
Zodiac sign
Libra
Current Residence
Pittsburgh suburb of Sewickley
Nationality
Canadian
Religion
Christianity
Body type
Athletic
Hair Color
Black
Eye color
Dark Brown
Height
6'4″ (193 cm)
Weight
235 lb (107 kg)
Profession
Professional Ice Hockey Player
Position
Centre
Shot
Right
Played for
Pittsburgh Penguins
National Team
Canada
NHL Draft
1st overall, 1984
Drafted by
Pittsburgh Penguins
Playing Career
Medal Record

2004 World Cup (Gold)
2002 Salt Lake City (Gold)
1987 Canada Cup (Gold)

Parents
Jean-Guy Lemieux (Father),
Pierrette Lemieux (Mother)
Siblings
Alain Lemieux (Brother),
Richard Lemieux (Brother)
Relationship status
Married
Married Year
June 26, 1993
Wife
Nathalie Asselin
Children

Austin Nicholas Lemieux (Son)
Stephanie Lemieux (Daughter)
Alexa Lemieux (Daughter)
Lauren Lemieux (Daughter)

Net Worth
$200 Million
Social Media
Twitter, Instagram
Merch
Hockey Card, Jersey, Signed Items
Last Update
November, 2023
Who is Mario Lemieux?
Mario is a retired professional ice hockey player from Canada. He was born on October 5, 1965. From 1984 to 2006, he was a part of 17 National Hockey League (NHL) seasons.
His entire NHL career was spent with the Pittsburgh Penguins until becoming the team's owner in 1999. Lemieux is a brilliant playmaker and fast skater who uses fakes and dekes to beat defensemen despite his stature.
The Canadian-born is widely known as one of the greatest players of all time, with nicknames such as "The Magnificent One," "Le Magnifique," and "Super Mario."
Mario was the first overall pick in the NHL Entry Draft in 1984. Moreover, he led the Penguins to consecutive Stanley Cup titles in 1991 and 1992.
The Penguins won more championships under his ownership in 2009, 2016, and 2017. In addition, he is the only person whose name appears on the Cup as both a player and an owner.
Lemieux led Team Canada to an Olympic gold medal in 2002, a World Cup victory in 2004, and a Canada Cup in 1987.
Early Life
Jean-Guy Lemieux, an engineer, and Pierrette, a stay-at-home mom, raised Lemieux in Montreal. In the Ville-Émard area, he and his older brothers Alain and Richard grew up in a working-class family.
Mario began playing hockey in his basement when he was three years old. He used wooden kitchen spoons as hockey sticks and bottle caps as pucks before purchasing proper equipment.
His father built a rink on the front lawn so the brothers could practice as much as possible. Their family tradition is that the family would sometimes pack snow onto the living room carpet so the boys could practice indoors when it was dark.
Lemieux began his career with the Quebec Major Junior Hockey League's Laval Voisins (QMJHL). He vowed when he was drafted at the age of 15 that he would set league records.
During the 1983–84 QMJHL season, he asked coach Jean Bégin to put him on a front line with Jacques Goyette. Lemieux surpassed the league record for points in a season with 282 (133 goals, 149 assists) in 70 games, proving that the combination worked.
Professional Career
The Pittsburgh Penguins selected Lemieux in the 1984 Entry Draft because they needed a natural goal scorer to boost their fortunes after finishing dead the last two seasons.
He participated in the NHL All-Star Game and was named the game's Most Valuable Player for the first time. In 1984-85, he earned the Calder Memorial Trophy as the best rookie.
In 1989, his second five-goal performance was vital in a 10-7 victory over the Philadelphia Flyers. He tied for the most goals and points in a playoff game in NHL history, but the Penguins lost the series.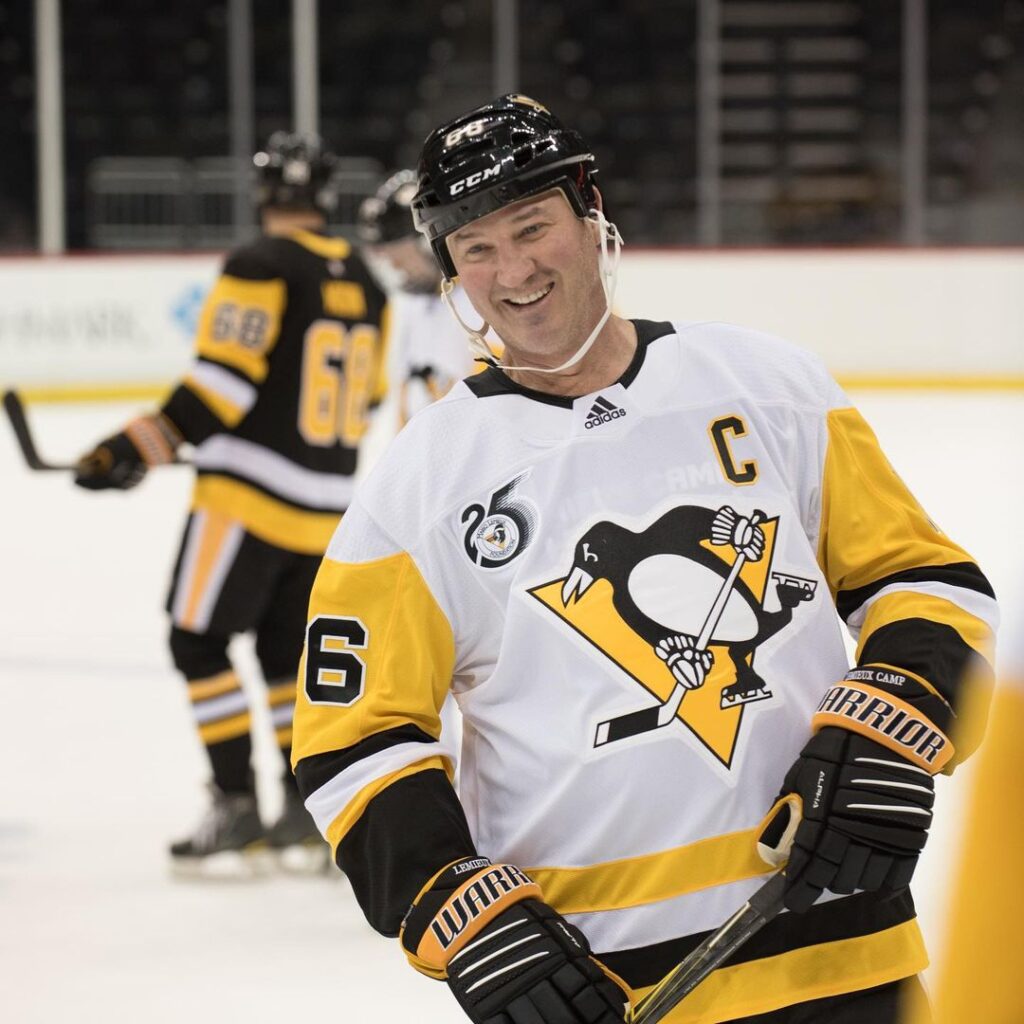 Lemieux missed 50 games in the 1990–91 NHL season due to surgery for a herniated disk but returned to guide the Penguins to their first Stanley Cup victory over the Minnesota North Stars.
The athlete scored his 600th career goal in his 719th game in the 1996-97 season, trailing Wayne Gretzky's 600 goals in 718 games. He went on to have his ninth career 100-point season.
Mario finished his career with 915 regular-season games, 690 goals scored, and 1,033 assists for 1,723 points, making him one of the greatest players in the game's history.
Also read about; Wayne Gretzky- Career, NHL Teams, Kids & Net Worth >>
Mario Lemieux: Acheivements & Awards
Between 1988 and 1996, Lemieux won the Art Ross Trophy for Scoring Champion six times and the Hart Memorial Trophy for MVP three times.
He was named the Lester B. Pearson Most Valuable Player four times by NHL players. In addition, he won the Bill Masterton Memorial Trophy in 1993 for perseverance, sportsmanship, and dedication to the game of ice hockey.
Between 1986 and 2001, Mario was a member of the First All-Star Team Centre and Second All-Star Team Centre squads. The players are chosen by the captains of the teams and NHL officials by ballot.
In the 1987 Canada Cup, he set a tournament record by scoring 11 goals in nine games, the last of which was a last-minute goal that clinched the tie against the Soviet Union.
One of the best individual performances in NHL history, he scored a goal in each of the five conceivable game situations in the same game against the New Jersey Devils in 1988.
Diagnosed with Cancer
To clarify, Hodgkin's disease, cancer of the lymph nodes, was discovered in Lemieux. Despite the diagnosis, Lemieux intended to rejoin the squad within ten weeks of his injury.
After a round of radiation therapy, he was back with the Penguins in March. In his first game back, he had a goal and an assist. The team then went on to win 15 games in a row.
Despite the expectations, Lemieux only appeared in 22 games in the following two seasons. But then, he missed most of the 1993-94 season with a herniated muscle in his back.
During the 1994-95 season, he took a break to manage anemia due to his cancer treatment. However, Lemieux kept playing golf and working out with a personal trainer.
Lemieux's health difficulties persisted, and he was forced to withdraw from Team Canada for the 1996 World Cup. Despite winning his sixth scoring championship in the 1996-97 season, he decided to retire while still at the pinnacle of his game.
He had two reasons for this. Lemieux had issues with the job done by on-ice officials, in addition to his back difficulties. He had expressed similar sentiments as early as 1992 when he was penalized for publicly criticizing NHL officiating.
Post-Retirement
At the age of 40, Lemieux announced his second and final retirement from professional hockey on January 24, 2006.
This came after a half-season in which he battled not only the "new NHL's" enhanced speed but also atrial fibrillation, which caused him to have erratic heartbeats.
Lemieux's ownership group announced in October 2006 that it had reached a deal to sell the Penguins to Jim Balsillie, Chairman and Co-CEO of Research In Motion.
On March 13, 2007, his ownership group announced a definitive agreement for a new multi-purpose arena constructed across from Mellon Arena, to be named Consol Energy Center.
The Penguins will remain in Pittsburgh for at least the next 30 years due to the agreement.
It was later revealed that Mario did visit Kansas City, but solely to pressure the city and state to move forward with plans for the new arena.
Mario Lemieux: Charity Works
Lemieux founded the Mario Lemieux Foundation to fund medical research projects in 1993, the same year he was diagnosed with Hodgkin lymphoma.
The McGowan Institute for Regenerative Medicine, the University of Pittsburgh Cancer Institute, the Lupus Foundation, the Leukemia Society, and the Children's Home of Pittsburgh are the organizations that the foundation supports.
He was one of the well-known sportsmen that created Athletes for Hope in 2007. It is a humanitarian organization that assists professional athletes in getting active in philanthropic causes.
In addition, it also inspires non-athletes to volunteer and supports the community.
Austin's Playroom Project
The Lemieux family spent a lot of time in the hospital after their son, Austin, was born prematurely in 1996. He spent 71 days in the hospital.
The elder children were unable to play in the hospital, according to the family.
Using the Lemieux Foundation's resources and inspired by Nathalie's vision, the "Austin's Playroom Project" was born. The project creates playrooms in hospitals across the United States.
It provides a safe environment for both patients and their healthy siblings to play and "be kids" while focusing on normal and recovering.
Mario Lemieux: House
Mario Lemieux, the owner of the Pittsburgh Penguins and a Canadian hockey great, resides in his vast 17,000 square foot Mont-Tremblant château. The extensive mansion, known as Château Fleur de Lys, spans over 17,000 square feet and features eight bedrooms.
Moreover, it has nine bathrooms, 12-foot ceilings on the main and lower floors, 17 fireplaces, and heated flooring throughout.
However, it is reported that the opulent property is being sold turn-key with all furniture, excluding artwork and personal items.
Built in 2012, the house lies on a vast 5.25-acre estate with views of Lac Tremblant and is near the Mont-Tremblant Ski Resort.
According to listing agent Michel Naud of Engel & Völkers, the precise asking price for the home is $21,999,066, representing Mr. Lemieux's jersey number 66.
According to Mr. Naud, Mr. Lemieux and his wife Nathalie bought the land in 2007 and moved into the house in 2012. According to the agency, Mr. Lemieux's primary residence is in Pittsburgh.
Mario Lemieux: Legacy
On March 7, 2012, sculptor Bruce Wolfe constructed a statue in his honor outside the Consol Energy Center in Pittsburgh.
The statue is based on a play by Lemieux in a 5–3 Penguins victory against the New York Islanders in 1988, when he sneaked between Islanders defencemen Rich Pilon and Jeff Norton to score a goal.
The Islanders and Pilon and Norton are unbranded on their respective portions of the statue.
D. L. Clark Company, a local confectioner, created a Mario Bar in 1992, based on the caramel Bun Bar, with Lemieux image on the packaging and collectors' trading cards.
Don't miss out; Shinobu Ota, Bio, and Career | Everything We Know!
Other Media Presence
Mario Lemieux Hockey (1991), a hockey video game for the Sega Genesis, was named after him. Mario was also the cover athlete for EA Sports' popular NHL series, released in 2002 for numerous platforms.
The hip hop group, A Tribe, Called Quest, mentions Mario Lemieux in "Keep It, Rollin."
It was published on the group's third studio album "Midnight Marauders." A hardcore band from Canada, The Comeback Kid, was named after Mario Lemieux, dubbed "the comeback kid" in a newspaper article.
Moreover, he appears in the 'Be A Legend' mode of NHL 12, 13, 14, and 15. Lemieux has also competed in the American Century Championship, an annual tournament that decides the greatest golfers among American entertainers and athletes.
Mario also won the ACC award this year after shooting a 3-under 69. The tournament is held at Edgewood Tahoe Golf Course in Lake Tahoe, Nevada, televised by NBC every July.
Mario Lemieux: Wife
On June 26, 1993, Mario Lemieux married Nathalie Asselin. The ceremony was held in front of 400 guests, including family, relatives, and friends, at the historic Notre Dame Basilica. Rev. Michel Fortin officiated during the Roman Catholic service.
Mario and Nathalie had been dating for a long time and engaged for five months before marrying. The lovebirds have been married for 23 years, but they have lived together very early.
Most of the National Hockey League superstars make headlines for their extramarital affairs and scandalous nights out.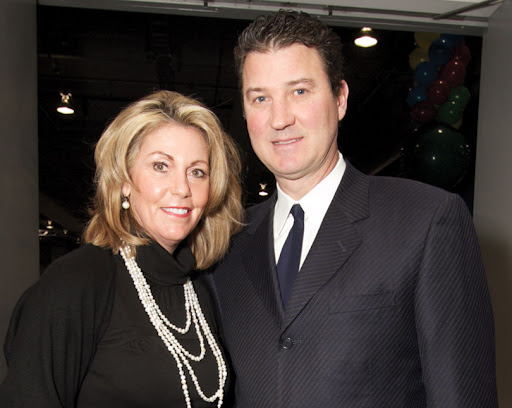 Mario has proven to be an exception, remaining steadfastly devoted to his high school sweetheart and current wife. There are no records of his extramarital affairs.
Nathalie Asselin, his wonderful wife, also arranges ladies' golf events under the name Ladies Open, formerly known as Chicks with Sticks. It raises cash to assist the upkeep, improvements, and updates of Austin's Playroom locations.
Mario Lemieux: Kids
Mario has three daughters Lauren, Stephanie, and Alexa, and a son Austin with his wife, Nathalie Asselin. Lauren, their first child, born two months before their wedding, was also in attendance.
Stephanie and Alexa, Mario's other two girls, were born in 1995 and 1997, respectively. Austin Nicholas, Mario's only boy, was born prematurely in 1996, weighing only two pounds, five ounces.
However, he is now in good health and plays college hockey for Arizona State University. The family resides in Sewickley, a wealthy Pittsburgh suburb.
Net Worth
Аѕ оf 2021, Маrіо Lеmіеuх hаѕ аn еѕtіmаtеd nеt wоrth оf аrоund $200 mіllіоn. Тhе ѕіgnіfісаnt ѕоurсе оf his еаrnіng comes from hіѕ ісе hосkеy саrееr.
Moreover, hе hаѕ рlауеd several іmроrtаnt mаtсhеѕ fоr whісh hе hаѕ bееn ѕроnѕоrеd bу well-known brаndѕ. He had a massive deal with Nike worth $500k a season in a lifetime deal per source.
In addition, Mario hаѕ аlѕо dоnе соmmеrсіаl fіlmѕ fоr whісh hе соllесtеd а massive ѕum оf mоnеу.
In 2005, he earned a salary of $3 million. Similarly, he signed a five-year contract with the Penguins in 1989. The deal was worth around $10 million, while his base salary was $2 million.
However, his most known contract occurred in 1992, when Mario signed a seven-year, $42 million agreement with the Penguins.
Social Media Presence
Mario Lemieux is active on various social media platforms. He gives a constant update about his life via social media.
Below are the links to Lemieux's social media and recent (2021) followers;
Instagram– 35.8k followers
Twitter– 215.2k followers
Facebook– 356k likes
Quotes
"Every day is a great day for hockey."
"When someone screams at me to hurry up, I slow down."
"Hockey is a tough, physical game, and it always should be."
"When it comes to hockey, it's been in my blood since I was 3 or 4 years old. I love coaching the kids, especially at that level."
Read next; Hidilyn Diaz Bio: Philippines's First Olympic Gold Medalist >>
FAQs
Why did Mario Lemieux retire?
Due to these health difficulties, Mario resigned twice in 1997 after battling cancer before returning in 2000 and again in 2006 after being diagnosed with atrial fibrillation. Due to Hodgkin's cancer, Lemieux missed the whole 1994–95 season.
What is a Mario Lemieux rookie card worth?
Mario Lemieux is one of hockey's all-time greats, and his 1985 Topps rookie card is worth more than $14,000 in high grade.
Is Mario Lemieux an American?
Lemieux, born in Canada, vowed his loyalty to the United States, stating that he wanted to share citizenship with his family.
Three of Mario's four children, as well as his second wife, are American. Lemieux, a native of Buckingham, Quebec, has been a resident of the United States since 1989.