If you've ever been interested in BMX, you've almost certainly heard of Maris Strombergs.
Although the sport had acquired enormous international popularity in the 1970s, BMX – an abbreviated word for bicycle motocross – did not make its Olympic debut until 2008.
Furthermore, Maris Strombergs won the gold medal in the men's event at the 2008 Summer Olympics in Beijing, China, making him the first Olympic champion in BMX cycling.
Four years later, the Latvian rider won gold at the second BMX Championship hosted in London. Six years later, Maris Strombergs announced his retirement on November 13, 2018.
Despite the lack of knowledge about the former BMX champion, read on to discover what Maris has been up to since his retirement.
Quick Facts
| | |
| --- | --- |
| Full Name | Maris Strombergs |
| Nickname | Strombis, The Machine |
| Birth Date | March 10, 1987 |
| Age | 35 years old |
| Birth Place | Valmiera, Latvia |
| Nationality | Latvian |
| Ethnicity | Not Available |
| Residence | Not Available |
| Religion | Not Available |
| Education | Not Available |
| Zodiac Sign | Pisces |
| Father's Name | Guntars Strombergs |
| Mother's Name | Sarmite Strombergs |
| Siblings | Two sisters – Ilze Stromberga & Vita Stromberga |
| Height | 6 feet 1 inch |
| Weight | 90 kgs |
| Eye Color | N/A |
| Hair Color | Golden Brown |
| Body type | Fit |
| Profession | Former BMX racer |
| Associated Teams | Latvian Olympic Team, Free Agent Bicycles World Team & Rockstar |
| Discipline | Bicycle Motocross (BMX Racing) |
| Marital Status | Married |
| Wife's Name | Natasa Strombergs |
| Children | Son – Rio James Strombergs |
| Net Worth | $1.5 Million |
| Social Media | Instagram, Facebook, Twitter, Website |
| Merch of BMX | Freestyle Sidewalk BMX, Fat Tire Mountain Bike |
| Last Update | May, 2023 |
Maris Strombergs | Family and Education
On March 10, 1987, Maris was born to Guntars Strombergs (father) and Samrite Strombergs (mother). He is also the middle child of the Strombergs, with two sisters: Ilze Stromberga (younger sister) and Vita Stromberga (elder sister).
Unfortunately, there is no information about his family or early childhood.
When it came to academics, Strombergs was always a bright kid, and he seemed to enjoy learning about history. Maris was unable to complete his education at the time since he was about to compete in professional BMX contests all over the world.
When it comes to his hobbies, Maris Strombergs is a huge music fan who has been since he was a child! He is also a major Nirvana fan.
Maris also enjoys sports and is a die-hard Chelsea supporter. Maris, a former professional BMX rider, is now 35 years old. He measures 6'1″ tall and weighs around 206 lbs (90 kgs) as of 2021.
Maris Strombergs | Professional Career
Maris began riding when he was five years old. Riding was only a hobby for him back then.
"It was a great after-school activity — like a hangout with buddies," Strombergs explains.
He learned that BMX would be included in the Olympic Games when he was fourteen years old. He thought it was fantastic at the time but not something he could accomplish.
Raimonds Ciesnieks was his initial mentor, although he spent most of his time learning from Ivo Lakes.
All You Need to Know About BMX Star, Tommy Brackens
First BMX Champion
Strombergs had already won two world championships before competing in the 2008 Olympics. Even so, the twenty-one-year-old racer wasn't considered one of the favorites.
Even in Latvia, the media wrote off the young racer because they didn't think he could manage the strain.
Strombergs, on the other hand, found it to be a pleasurable experience: "I just went out there and had fun and liked it," he recalls in an interview.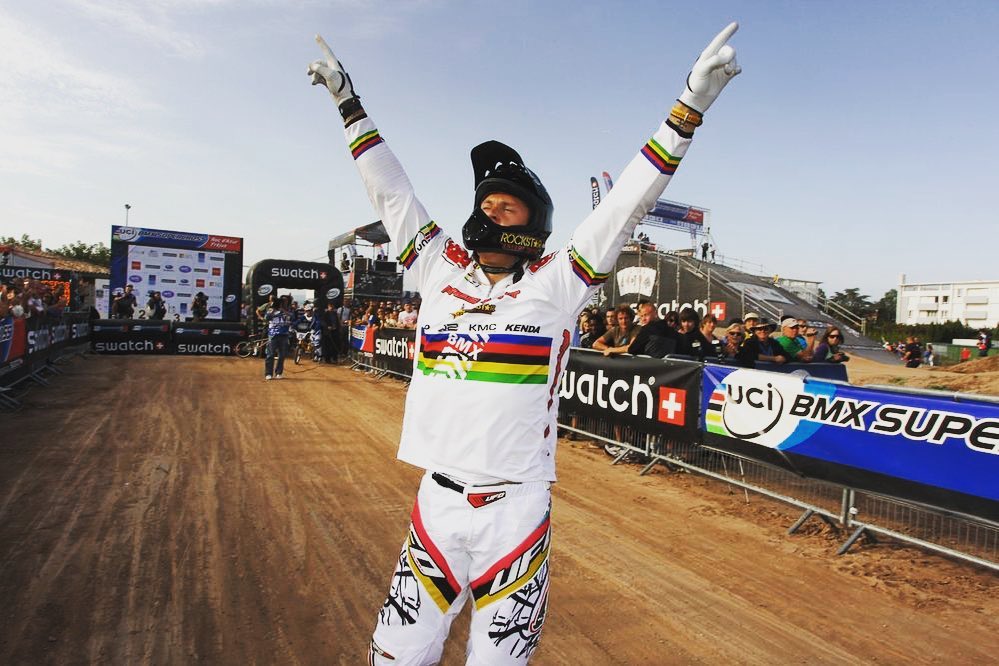 The Latvian racer was in Lane 1, with South African Sifiso Nhlapo to his right. He also raced through the lane, making his lead clear as he approached the second turn.
Furthermore, Strombergs crossed the finish line in 36.19 seconds, leaving Mike Day and Donny Robinson in second and third place, respectively.
He became the first guy to win the BMX Cycling Championship at the Olympics.
In the same interview with the Olympics, Strombergs describes what it's like to compete in BMX: "The problem about BMX is that you can't get too excited too early." You must maintain your concentration."
"You always have to do what you have to do," he added. That's when you start thinking when you cross the finish line."
After Olympics
Strombergs comprehended the magnitude of his victory until he returned to Latvia. When he returned home, the media began to focus on him, and people waited for him at the airport.
Maris Strombergs struggled to remain anonymous in his home country of Latvia after winning his maiden Olympic gold medal. Latvia had only won one gold medal at the Olympics since its return as an independent country, furthermore to the collapse of the Soviet Union.
Additionally, in 2000, Igors Vihrovs earned Latvia's first gold medal in gymnastics with the floor exercise.
All About Fernando Alonso, Net Worth, Wins & Wife
The second BMX Championship win
In 2012, London hosted the second BMX Cycling Olympic Games.
When Strombergs returned, the pressure of defending his championship title was palpable.
THE RACER SAID, "DEFENDING THE TITLE IS MORE DIFFICULT THAN WINNING IT."
Strombergs was in Lane 3 this time. The British Strombergs and Liam Phillips team got off to the best possible start.
However, Philips stumbled on the first turn, allowing the Latvian to take the lead and subsequently win the BMX race in 37.576 seconds. As a result, the Latvian is now a two-time Olympic gold medallist, with Sam Willoughby and Oquendo finishing second and third, respectively.
After victory in Beijing, Strombergs lifted his hands, but in London, the first thing he did was yell. Furthermore, it appeared that winning would be considerably more difficult for him this time.
All of his hard work over the previous four years had finally paid off, and the pressure to keep the championship title for another year seemed to fade away.
"All I wanted to do was let it all out." "I had a pretty rough year leading up to the Olympics, you know, with all the pressure and everything," the racer added.
Maris Strombergs | Awards and Achievements
Maris Strombergs has won numerous medals in his professional racing career. The following is a list of them:
2007– Bronze medalist in the European BMX Championships
2008 – European BMX Championship gold medalist
2008 – At the Beijing Olympics, he won a gold medal in the BMX competition.
2010 – In Pietermaritzburg, South Africa, he won the UCI BMX World Championship.
2011– Silver medalist in the UCI BMX World Championships in Copenhagen, Denmark.
2012 – At the London Olympics, he won a gold medal in the BMX competition.
2013 – European BMX Championship gold medalist 2014 – European BMX Championship gold medalist
Maris Strombergs | Life After Retirement from BMX
Since his retirement, the BMX star, Strombergs, has trained and prepared younger riders for competitions.
He also appears to be preoccupied with spending time with his family and carrying out his responsibilities as a father. James Strombergs seems to share his father's passion for cycling.
Strombergs' merchandising business has also been an enormous success. 'THE MACHINE' is printed on the front, and '81 MARIS STROMBERGS' is printed on the back. Strombergs also traveled to Canada, the United Kingdom, and Columbia in 2019.
In addition, Maris' hometown of Valmiera hosted the 2019 European Championship. He was also the theme of a song.
Maris Strombergs | Injuries
Strombergs, like many other athletes, have had their fair share of injuries.
In November 2010, Maris was involved in a car accident that left him with a broken hand, a dislocated wrist, and an injured shoulder.
He also underwent two rounds of surgery and could not participate for almost six months. He wasn't thinking about the Olympics after his accident. Maris competed in a few tournaments, including one in the Netherlands, where he won the World Cup.
He was trying to regain his confidence and become physically right – back to where he was before. Strombergs added, "At the time, the Olympics were far away, but it was in the back of my mind."
Maris Strombergs | Marriage and Children
On November 8, 2016, Strombergs married Natasa Stromberga. Rio James Strombergs is the couple's firstborn child.
Furthermore, Maris and Natasa appear to be content with their marriage and are frequently seen uploading images of their baby on social media.
Maris Strombergs | Net Worth
Unfortunately, there isn't much information available on Strombergs' pay. Strombergs is said to be worth approximately $1.5 Million in net worth.
Apart from that, Maris has been actively selling his stuff, the proceeds of which aren't publicly visible.
Max Verstappen, F1 Driver, racing under the Dutch Flag
Maris Strombergs | Social Media Presence
On Instagram, Strombergs has over 57.4K followers (as of 2021). He typically posts images of his son and moments from his daily life.
He may also be seen wishing competitors good luck in the current BMX competitions. On the other hand, we occasionally see him on Facebook, reminiscing about his racing days.
He also constantly posts about his family and pets.
Now that he is no longer competing and has retired, Maris is frequently asked if he wants to resume riding, to which he replied in February 2020, "It has been almost a year and a half when Maris last has ridden his BMX bike."
"Do I miss racing?" he continued. I'm frequently asked this, and my answer is no, although I do miss riding my bike."
Like, the BMX racer is also active on Twitter.
Frequently Asked Questions (FAQs)
How many times did Maris win an Olympics affiliation?
Maris Strombergs won the BMX Championship in the 2008 Summer Olympics as well as the 2012 Summer Olympics. This makes Strombergs the first man in history to win the BMX Olympics twice in a row.
When did the BMX star take his retirement?
On November 13, 2018, Strombergs announced his retirement, ten years after his first Olympic game. He still enjoys coaching younger racers, though.