Marvin Bagley III is a well-known American professional basketball player for the National Basketball Association's Detroit Pistons.
After reclassifying himself as an affiliate from Sierra Canyon, he was able to play college basketball for Duke University in 2017.
He was a 2018 Consensus All-American while playing college basketball for the Duke Blue Devils.
Bagley was named to the NBA All-Rookie First Team at the end of the 2018–19 season. Let's take a look at quick facts about him.
Quick Facts
Full Name
Marvin Bagley III
Known as
Marvin Bagley
Nickname
MB3
Birth Date
March 14, 1999
Birth Place
Tempe, Arizona, the United States
Residence
Tempe, Arizona, the United States
Religion
Christianity
Nationality
American
Ethnicity
African American
Education
Corona del Sol, HillCrest Prep, Sierra Canyon School, Duke University
Zodiac Sign
Pisces
Father's Name
Marvin Bagley Jr.
Mother's Name
Tracy Caldwell
Siblings
2 (Marcus and Martay)
Age
24 years old
Height
6 feet 11 inches
Weight
235 lb (107 kg)
Eye Color
Brown
Hair Color
Black
Body type
Athletic
Profession
Basketball Player
Marital Status
In a relationship
Girlfriend
Rissah Lozano
Children
None
Active since
2014 – present
Teams
Sacramento Kings, Detroit Pistons
Achievements

NBA All-Rookie First Team (2019)
Consensus first-team All-American (2018)
Pete Newell Big Man Award (2018)
NABC Freshman of the Year (2018)

Endorsements
Puma
Net Worth
$14 million
NBA Draft Pick
2018 / Round: 1 / Pick: 2nd Overall
Position
Center/ Power forward
League
NBA
Merch
NBA Album Sticker
Social Media
Instagram, Twitter
Last Update
March, 2023
Marvin Bagley III: Amateur Career
Bagley was a freshman at Corona del Sol High School in Tempe, Arizona, and a sophomore at Hillcrest Prep in Phoenix, Arizona.
During his sophomore year, he shared the court with future No. 1 pick Deandre Ayton. The athlete transferred to Sierra Canyon School in Chatsworth, California, in 2016.
He was ineligible to play his first year at Sierra Canyon because of California Interscholastic Federation rules.
The basketball player averaged 24.9 points per game and 10.1 rebounds per game for Sierra Canyon in his final season. In 2017, he was named to the All-USA Today First Team.
Also, read about; Jeremy Lamb: Career, Wife & Net Worth>>
Bagley was a five-star recruit throughout high school and was previously ranked as the top player in the 2018 class before reclassifying.
Bagley was the top overall recruit and power forward in the 2017 high school class. When he was 14, the athlete received his first college basketball scholarship from Northern Arizona University.
Bagley was reclassified into the Class of 2017 before beginning what would have been his senior year of high school.
On August 14, 2017, the athlete announced that he had successfully reclassified as a Sierra Canyon graduate and would play college basketball for Duke University during the 2017–18 NCAA Division I men's basketball season.
Marvin Bagley III: Age & Height
Marvin Begley III was born on March 14, 1999, in Tempe, Arizona, United States.
The 24 years old NBA star was born under the Pisces astrological sign.
Sapiens born under the sign of Pisces, or the Fish, are known as the Zodiac's proverbial dreamers! They are beautiful, mystical, and caring beings. They may be dreamers or collaborators in the positive manifestation of their personalities.
Marvin has a well-kept body and appears very athletic in terms of physical appearance. He keeps his physical fitness up by eating well and going to the gym daily.
Furthermore, the American player stands 6 feet 11 inches tall and weighs around 107 kg. Unfortunately, the rest of the player's body measurements are unknown.
Marvin, like many other people, has tattoos all over his body. He is also attractive with his dark hair and brown eyes. He is of African-American descent and American nationality.
Marvin Bagley III: College Career
On November 10, 2017, Bagley debuted for Duke's team, scoring 25 points and grabbing ten rebounds to win over Elon University.
Marvin received ACC rookie of the week on November 13, 2017. On November 24, he led Duke to an 85–78 overtime victory over the Texas Longhorns, scoring 34 points and grabbing a freshman-record 15 rebounds.
In the next game, he tied the freshman record for rebounds and scored 30 points in an 87–84 win over the Florida Gators, the first time a Duke player had done so since the 1960s.
Bagley had 23 points and ten rebounds in a 91–81 win over Indiana on November 29, 2017.
Bagley had 32 points and a career-high 21 rebounds in a 100–93 win over the Florida State Seminoles on December 30.
ACC Record Holder
Marvin notched the title, "ACC rookie of the week," for the third time on December 4, 2017.
On January 13, 2018, he set the ACC record for most 30 points, ten rebound double-doubles in a season with 30 points, and 11 rebounds in an 89–71 win over the Wake Forest Demon Deacons.
Marvin received the ACC rookie of the week honor for the fifth time on January 15, 2018. He had 21 points and 15 rebounds in a 74–64 win over rival North Carolina on March 3, 2018.
Bagley grabbed the ACC's Rookie of the Year and Player of the Year at the end of the regular season, as well as a member of the All-ACC first team.
Multiple organizations also named him a consensus All-American First-Team member. In addition, Bagley joined Deandre Ayton and Trae Young as the freshmen with the most All-American First-Team selections in a season.
Following Duke's defeat in the 2018 NCAA Men's Basketball Tournament, Bagley declared his intention to forego his final three years of collegiate eligibility and enter the 2018 NBA Draft.
Also relevant, Who is Trae's Young Wife?
Marvin Bagley III: NBA
Sacramento Kings selected Marvel with the second pick in the 2018 NBA draft on June 21, 2018, behind his former high school teammate Deandre Ayton.
The athlete signed a rookie scale contract with the Kings on July 1, 2018.
Bagley made his professional debut on October 17, 2018, with Sacramento, scoring 6 points and grabbing five rebounds in 12 minutes off the bench in a 123–117 loss to the Utah Jazz.
Bagley had 19 points, eight rebounds, three assists, and three blocks in a 149–129 loss to the New Orleans Pelicans two days later.
Marvin had a double-double of 20 points and 17 rebounds off the bench in a 117–116 loss to the Golden State Warriors on November 24.
The athlete scored a career-high 28 points off the bench in a 123–121 loss to the Brooklyn Nets on March 19, 2019, with the Kings leading by 25 points entering the fourth quarter.
Injury
On December 14, Marvin sprained his left knee during their second game against Golden State, which sidelined him for 11 games.
Marvin was diagnosed with a non-displaced fracture in his right thumb on October 24, 2019, and was expected to be gone for four to six weeks.
Instead, he only appeared in 13 games before the season was halted on March 11, 2020, due to the COVID-19 pandemic.
He suffered a right foot injury during practice on July 19, 2020, and was expected to miss the rest of the 2019–20 season.
On December 4, 2020, the Sacramento Kings declared they had exercised their option on Bagley.
The Kings informed Bagley before the 2021–22 season that he would not be a part of the rotation due to a contract extension not being reached.
Don't miss; Denzel Valentine's Bio: NBA, Net Worth & Awards>>
Detroit Pistons
Marvin was traded to the Detroit Pistons as part of a four-team trade on February 10, 2022.
The Detroit Pistons acquired Bagley in a four-team trade from the Sacramento Kings. To obtain the former No. 2 overall pick, the Pistons sent Josh Jackson, Trey Lyles, and two second-round picks.
Bagley certainly entered the NBA with high expectations, and it has recently been widely reported that Bagley was selected ahead of Trae Young and Luka Doncic.
Marvin made his Pistons debut on February 14, scoring 10 points, one assist, and eight rebounds in a 103-94 defeat to the Washington Wizards.
Bagley performed admirably in Stewart's absence, playing in the dunk position on offense and allowing Olynyk to play at the four, where he is better suited.
He also contributed in the post, rolled nicely to the rim, and created numerous second-chance opportunities for the Pistons.
Marvin Bagley III: Personal Life
Marcus and Martray Bagley are Bagley's younger brothers. Marvin Jr. played college football at North Carolina A&T and professionally with the Arizona Rattlers.
Marvin Jr. met his wife, Tracy Caldwell while playing for the Rattlers of the Arena Football League. His Father is currently an AAU basketball coach for the Nike Phamily.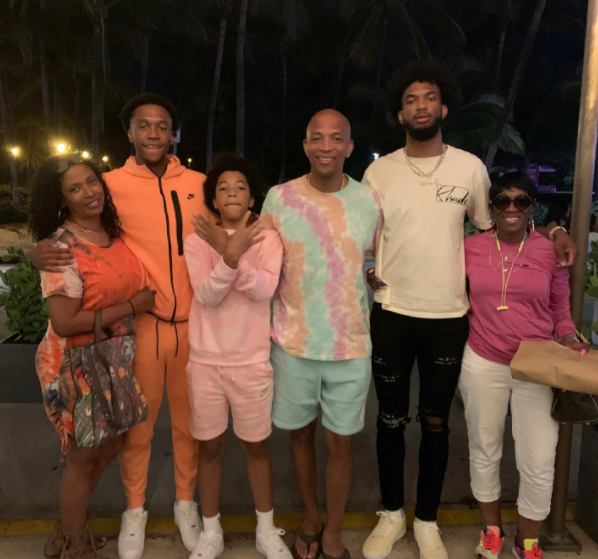 Marcus Bagley, Bagley's younger brother, attended Arizona State University. Bagley volunteered at Hoops with Heart, a non-profit organization in the Los Angeles area that helps underprivileged youth.
Bagley's Grandfather, Joe Caldwell, was an NBA and ABA player.
Bagley's grandfather, Joe Caldwell, was a dynamic player in the NBA, and while he had his headlines, his legacy still lives.
Caldwell was drafted No. 2 overall by the Pistons in 1964. A 6-5 winger from Arizona State, Caldwell averaged 10.7 points per game for the Pistons before being traded to St. Louis in December 1965.
Caldwell played in the NBA and ABA for 11 years, averaging 16.1 points per game and being an All-Star in both leagues.
Surrounded with Family Support
The Bagley family has been chastised for its outspoken and, at times, bombastic support of the Duke freshman, but the standout knows he wouldn't be where he is without it.
He told ESPN that his parents only missed one game when he was a kid, and that was because he and his brother were both playing at the same time.
Even after settling into life as a college basketball star, Bagley is as close to his family as he has ever been.
But, as his stardom rose this season, Bagley never forgot his roots or the group of family members who were always in the stands.
Marvin Bagley is a rapper and hip-hop artist, in addition to being a basketball player.
He is known for writing his raps and producing a wide range of music in his spare time.
Moreover, his songs range from those that tell his story to those meant to be relatable to the listener.
On August 24, 2019, his album "Big Jreams" was released. Iman Shumpert and Famous Los are among the artists on his album.
Customized T-shirt Controversy
Marvin Bagley Jr. has always considered himself his son's biggest fan. Still, in January, the Father was confronted with a potential NCAA scandal when t-shirts he designed ended up on third-party retailer websites.
Bagley created the t-shirts – white, long, and short-sleeved, with an image of his son screaming on them in Duke blue.
However, it didn't take long for the design to be shipped to other "unauthorized" sites, and on January 14, 2018, Bagley posted a series of Facebook messages warning fans not to buy from the site.
According to a News & Observer report, the image was mostly restricted to TeeChip Pro, a franchise that claims to allow "its users to design and sell their T-shirts and other merchandise."
Bagley-themed merchandise was available on the website, including t-shirts, phone cases, and mugs.
The NCAA forbids athletes or their families from profiting from their likeness and can punish athletes who attempt to do so.
On the other hand, proficient athlete Marvin Bagley III and his dad are not doing any business out of their playing skills. His Father designed some t-shirts as a giveaway to his fans.
Love Life
Rissah Lozano is best known as the stunning girlfriend of Marvin Bagley. Rissah was born in April 1999 and attended West Ranch High School, where she graduated in 2017.
Aside from that, she wants to be a model and open her boutique someday. Rissah also wants to start her clothing line.
She also desires to collaborate with athletic brands and independent stylists. Similarly, she is a very stylish person who is well-suited to a career in fashion.
The two have been dating for two years, and we hope their love story continues till death separates them. They've shared a lot of photos of themselves on Instagram.
She, too, is an athlete. Rissah is a Master's University volleyball player.
Rissah attended the pre-NBA Draft party in New York City earlier this week with Marvin and his family. She was dressed in his Duke jersey.
Marvin Bagley III: Net Worth
Marvin Bagley III's net worth is around $14 million.
He began his career with the Sacramento Kings, where he signed a rookie-level two-year, $15 million contract that paid him a yearly average salary of $ 7 million.
In addition, the player's salary for this season is $8,963,640. Not to mention that he will earn more than $11 million the following season.
Aside from that, the athlete makes a good living through sponsorships. Many well-known brands and companies, such as Mountain Dew, support him.
Furthermore, the athlete is currently signed to a five-year contract with the footwear and apparel company Puma. In addition, he is the Puma Hoops, brand ambassador.
People also like to read about; Chris Andersen Bio: NBA & Net Worth>>
The basketball player is very active on social media. As a result, he has 1m followers on Instagram.
The basketball player usually shares his life as an NBA player on his account. Aside from that, he has posed with his teammates.
He has also shared his workout routines and training sessions with the public. Furthermore, the power forward enjoys flaunting his girlfriend on his handle occasionally.
He has some on-stage and in-studio photos because he is also a rapper. Bagley also has a Twitter account with 93.4 thousand followers.
The NBA player typically shares basketball-related news and game highlights on his account. Marvin promotes Puma through his social media platforms as a brand ambassador.
FAQs
Why does Marvin Bagley wear 35?
Danny Ferry, Marvin's basketball idol's retired no. is 35. Ferry won the Naismith Award in 1989 and was a member of the Blue Devils from 1985 to 1989.
Can Marvin Bagley shoot?
Bagley had a solid field goal of over 50% in his rookie season. Yes, he gets a lot of dunks, but he also appears to have grown more comfortable taking mid-range shots as he gained more experience.