Matteo Jorgenson's parents Cheri, and Sam Jorgenson, raised their three kids in Boise. Matteo has two older siblings and like him, showed interest in cycling.
Matteo, the 24-year-old American cyclist, wasn't the first from his family to compete in the sport. His brother, Kristo, was the first to do it.
Jorgenson grew up in a family that loved cycling. During their family trip, they even decided to tour Europe by bike. Young Matteo would rather choose to fall asleep in the saddle than let go of his bike.
Jorgenson is currently in Tour de France, competing for the second time in a row. Last year, he finished 21st out of 176 finishers.
Jorgenson came close to winning the ninth stage of the ongoing Tour de France but was surpassed by Michael Woods.
Jasper Philipsen has till now won three stages, and Adam Yates, Mads Pedersen, Victor Lafay, Tadej Pogacar, and Jai Hindley have won one stage each.
Matteo Jorgenson Parents, Cheri, And Sam Jorgenson
Matteo Jorgenson's parents, Cheri and Sam Jorgenson wanted their youngest son to participate in any sports other than cycling.
But little Matteo was captivated by the freedom that came from cycling. At first, Sam and Cheri weren't big fans of Matteo dropping out of college.
They wanted their son to complete his education first, but they finally gave up on his reluctance to become a cyclist. They even supported him financially when he left for Europe to continue his cycling dream.
In his interview with Escape Collective, his father, Sam, said the young cyclist was never a superstar among his peers. But the main thing was he was never a quitter.
Matteo's mom, Cheri Jorgenson, graduated from Bowdoin College and was previously a volunteer teacher for International Rescue Committee and Project Amal.
With Project Amal, Cheri Jorgenson aimed at helping Syrian refugee children and designed a culturally sensitive Health and Wellness Workshop for Syrian youth.
During the conversation with Escape, Cheri said she and Matteo wouldn't get along well due to her son's strong will. Cheri said, "Matteo and I butt heads consistently because he is really strong-willed."
Cheri is available on Facebook and has shared only a few posts, mostly of her three kids. Last year, she shared a poster of Team Movistar, with whom Matteo made his Tour de France debut.
Matteo Jorgenson Siblings, Kristo, And Nicole Jorgenson
Matteo Jorgenson grew up alongside two siblings, Kristo, and Nicole Jorgenson.
Kristo and Matteo share an age gap of six years. Like Matteo, Kristo also loved cycling as a kid. When they were young, Matteo looked at his brother for inspiration.
When Kristo left for Europe to represent the US National Team, he wanted to go and thought it was cool. But Kristo has left behind his cycling career and is currently a Technical Team Lead for The New York Public Library.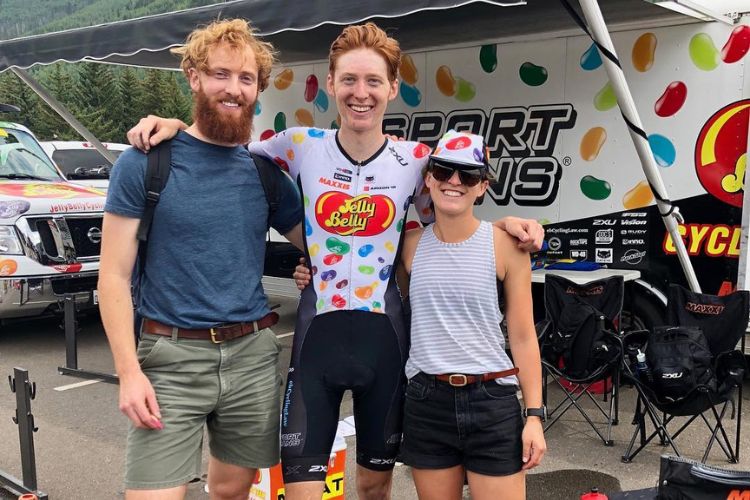 He graduated from Columbia University with a degree in computer science in 2018 and previously studied at Dartmouth College but left after two years to establish Sixcycle.
He was also a Lead Web Designer for Luxury Presence, Lyrasis, and Amigos Library Services.
Matteo's sister, Nicole Jorgenson, is a graduate of Colorado College. She earned a degree in religious studies and a minor in global health.
Currently, Nicole works as a professional ski patroller for Sun Valley Company, a position she has held for six years. Prior to working for Sun Valley, Nicole worked for the City of Ketchum-Ketchum Fire Department as an Emergency Medical Technician.