Max Strus is the rising shooting guard of the National Football Association(NBA). As a free agent, he has played for the teams like Chicago Bulls and Windy-City Bulls.
The soon-to-be celebrated basketball player currently plays for the Miami Heats and Sioux Falls Skyforce.
Originating from an athletic background, Max has achieved so much more than his age. By believing the saying, "Good things happen to the good people who work hard," he has come a long way.
Before making his profession into the NBA, Max played school and college basketball. He received numerous awards for being the exceptionally best, including All-Big East Conference and All-Great Lakes Valley Conference at the college level.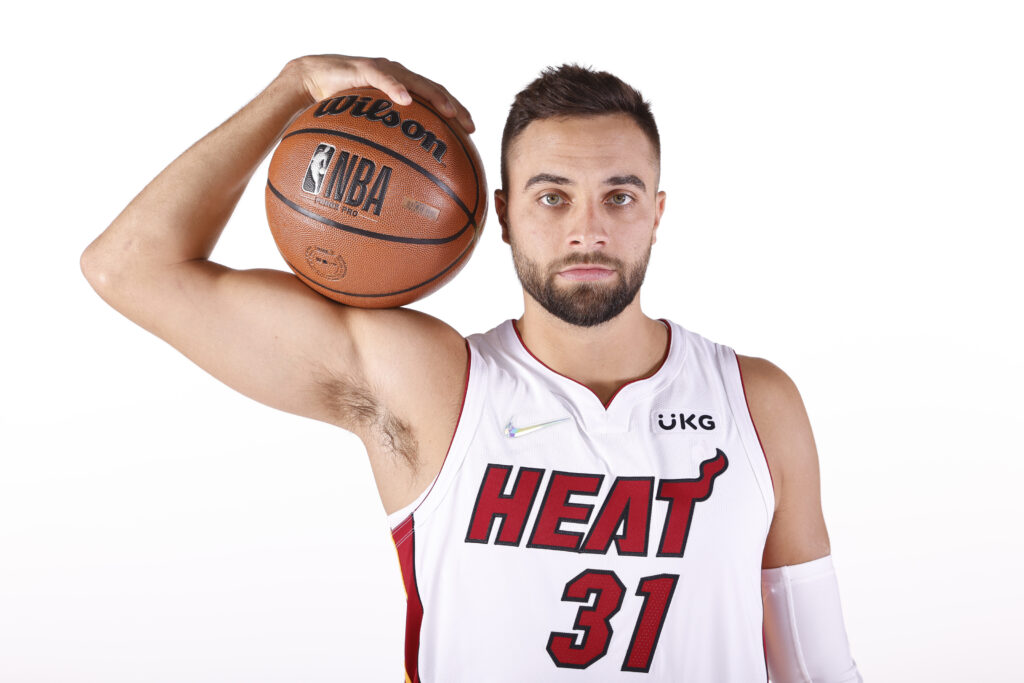 Not to mention, the player is well known for his dunks. He is still well remembered for his memorable dunk against John Wall in a game against the Rockets.
Moreover, Max has already marked his footprint in the NBA. Aren't you eager to know how did he reach this peak? If you are, then you are at the right spot. So, let's get started.
Before that, go through the quick facts below:
Quick Facts
| | |
| --- | --- |
| Full Name | Max Strus |
| Nick Name | None |
| Age | 27 Years Old |
| Height | 6 feet 5 inches (1.96m) |
| Chest size | Not Available |
| Hip Size | Not Available |
| Shoe Size | Not Available |
| Weight | 98 kg (215 lbs) |
| Horoscope | Aries |
| Date Of Birth | March 28, 1996 |
| Birth Place | Hickory Hills, Illinois, United States |
| Religion | Not Available |
| Nationality | American |
| Ethnicity | White |
| Hair Colour | Black |
| Eye Colour | Light Brown |
| Marital Status | Unmarried |
| Girlfriend | None |
| Kids | None |
| Father's Name | John Strus |
| Mother's Name | Debra Strus |
| Siblings | Brother, Mart, and a sister, Maggie |
| High School | Amos Alonzo Stagg High School |
| University | Lewis University and DePaul University |
| Profession | Basketball Player |
| Position | Shooting Guard/ Small Forward |
| NBA Draft | 2019 |
| Current Team | Miami Heat & Sioux Falls Skyforce |
| Former Teams | Chicago Bulls & Windy City Bulls |
| College Teams | Lewis Flyer & DePaul Blue Demons |
| Awards | Second-team All-GLVC (2015), First-team All-GLVC (2016), and Second-team All-Big East (2019) |
| Trade Mark | 18th Best Miami Heat player (2020), 480th Highest-paid NBA player (2020), 207th Best-paid NBA guard (2019), and 481st Best-paid NBA player (2019). |
| Agent | Kieran Piller |
| Net Worth | $1- $5 million |
| Salary | $79,568 (As of 2020-2021) |
| Social Media | Instagram |
| Miami Heat Merch | Jersey, Shorts, Autographed Card |
| Last Update | December, 2023 |
Is Max Strus Dating? – Girlfriend
The perfectly structured player, Max, has a lot of fans who are eager to know his dating status. Also, many of them might be heartbroken, thinking that someone else has the player's heart.
If you are one of them, then fasten your seatbelt to know the truth behind it. Or maybe not! To be straight to the topic, Max is single as of now.
It seems the 24-year-old is solely devoted to his game only. Not only that, but he has not dated anyone, at least publicly.
But we will let you know as soon as we get some information on it.
Max Strus Wiki | Age, Childhood & Family
Max, the Heat's shooting guard, was born in 1996 in Hickory Hills, Illinois. He celebrates his birthday on the 28th of March. As of writing this article, he is 24 years old.
Also, being born in March, his birth sign is Aries. He spent his childhood with his siblings, Marty and Maggie.
Max is the youngest son of his athletic father, John, and mother, Debra. Back then, John played college baseball as a pitcher.
At the same time, Debra was a volleyball and basketball player at DePaul University.
Similarly, Max's older brother, Marty, was also into sports. At Lewis University, Marty played basketball. Currently, his brother is serving as the head coach at Stagg High School.
Get To Know The Early Life Of Next Athlete | Troy Brown Jr. Bio: Basketball Career, Family, NBA & Net Worth
Likewise, the shooting guard's older sister, Maggie, is an assistant volleyball coach at DePaul University. She also was a volleyball player at the University of Illinois at Chicago.
We can see where Max got the athletic genes from, and it's truly amazing.
Max Strus | Education & Basketball
Speaking about Max's education, he attended the Amos Alonzo Stagg High School in Palos, Illinois. The player played numerous sports, including baseball and basketball, while he was at the school.
Similarly, Max has a record of averaging 19 points and nine rebounds per game during his senior year.
Also, he received many awards and honors. For instance, he was declared the year's player by The Reporter, Southwest Suburban Conference, and SouthtownStar.
Later on, Max got enrolled at Lewis University. He also played for the college. Then, the rising basketball player got transferred to another DePaul University in Chicago, Illinois.
Highlights
Second-team All-Big East selection in 2019
First-team All-GLVC in 2016
2015 Second-team All-GLVC
Max Strus | College Stats | DePaul Stats
| | | | | | | | | | | |
| --- | --- | --- | --- | --- | --- | --- | --- | --- | --- | --- |
| Season | School | G | FGA | FG% | 2P% | 3P% | FT% | ORB | TRB | AST |
| 2017-18 | DePaul | 31 | 419 | .408 | .511 | .333 | .803 | 48 | 175 | 85 |
| 2018-19 | DePaul | 35 | 541 | .429 | .517 | .363 | .842 | 39 | 207 | 77 |
| Career | DePaul | 66 | 960 | .420 | .515 | .350 | .825 | 87 | 382 | 162 |
Here's a clip of Max Strus v. Bucks:
Max Strus Body Measurements | Height And Weight
Even as a basketball player, Max is decently tall. Do you know that he was already 5 feet and 9 inches when he was in his sophomore year at the high school?
Now, the professional basketball player stands tall at 6 feet 6 inches (1.97m). Similarly, his listed weight is 98 kg (215 lbs).
Max Strus's Other Personal Info
Max, being originated from America, holds an American nationality. And the player belongs to the White ethnic groups.
Similarly, the player possesses light brown eyes, which makes him more attractive while playing games. Also, he has thick black hair.
How Rich Is Max Strus?
One of the highest-paid NBA players, Max has collected an enormous fortune until 2020. He is just 24 years old but has been able to generate a hefty amount from his profession.
Sadly, Max Strus's net worth is not surfaced out officially.
However, Max's projected net worth is estimated between $1-$5 million.
Contracts Details And Other Earnings
Max generates a considerable amount through contracts with the NBA teams. For instance, he earned $79,568 as a base salary from Chicago Bulls for his 2019-2020 season.
Next Wealthy Athlete | Glenn Gronkowski Bio: Early Life, Net Worth, Team & Career >>
Also, Max signed a deal with the Miami Heat on 30th November 2020.
By December 2020, the Miami Heat converted his agreement to a two-way contract. So, the estimated salary for the young player in 2020-2021 is $79,568.
Properties
Indeed, Max has enormous physical assets, including mansions and vehicles. He lives a lavish and comfortable life as there is no shortage in his livelihood.
However, the detail of his assets is not uncovered.
Max Strus's Injury And Rehab
The player, Max, had to encounter the unfortunate injury on 21st December 2019. He was playing for the Chicago Bulls at the NBA G League and injured his left knee.
Also, the shooting guard suffered a bone bruise and a torn anterior cruciate ligament.
As a result, Max had to end his season and take complete rest for almost eight-twelve months. To be fully treated, he underwent surgery on 11th January 2020.
The player took his Instagram to let him know his fans that he had a successful operation.
Soon, Max is going to return to the games with infinite strength and motivation.
Max Strus's College Basketball
Max has a great impression on his first college, Lewis University, for being one of the best players. He scored 13.3 points and 5.3 rebounds per game in his new year.
Similarly, as a sophomore, he set a record of 167 free throws and 666 points in a single season. Plus, he averaged 20.2 points, 8.4 rebounds, and 3.5 assists per game.
Overall, Max made 1,078 points in his seasons from 2014-2016 at Lewis University.
Move to DePaul University
In 2017, Max joined DePaul University. In the first season, the player played 31 games.
Likewise, Max scored 20.1 points, 5.9 rebounds, 2.2 assists, and 0.9 steals per game in his final season. Overall, he made 1,226 points, 554 three-point attempts, and 194 three-pointers.
Max Strus Professional Career
The Illinois native's professional career in basketball commenced after he became undrafted in the 2019 NBA. However, he played for the Boston Celtics in the Summer League roster.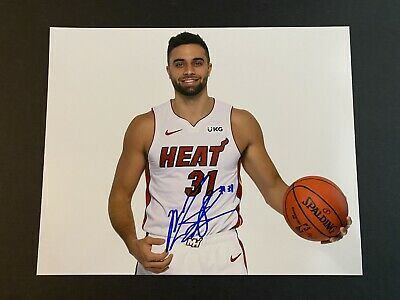 Before being signed by the Miami Heat in 2020, Max played for the teams like Chicago Bulls, Windy City Bulls as he is a free agent. Also, Max is the player for the Sioux Falls Skyforce as of 2020.
Max Strus | The Miami Heat's Plug-And-Play-Guy
On 28th January 2021, the rising player represented the Miami Heat against the Sacramento Kings. Max recorded 11:56 against the Sacramento Kings by playing for the entire fourth quarter.
Likewise, Max and another two-way-contract holder, Gabe Vincent, assisted in winning the Miami Heat match.
Also, for the match that night, the head coach, Erik Spoelstra, praised Max and his teammate in an interview by saying;
"They put in so much time behind the scenes. They're prepared, they're ready to produce."
Plus, Erick added that Max is fearless and he is a big wing player.
Stats
| | | | | | | | | | | | |
| --- | --- | --- | --- | --- | --- | --- | --- | --- | --- | --- | --- |
| Year | GP | GS | MPG | FG% | 3P% | FT% | RPG | APG | SPG | BPG | PPG |
| Career | 41 | 0 | 12.5 | .458 | .336 | .680 | 1.0 | .6 | .3 | .0 | 5.9 |
Learn more about his stats and recruiting on 247 Sports.
Social Media Presence:
Instagram: 53.3k Followers
Exciting Facts About Max Strus
Max Strus ranks 480th in terms of the best-paid NBA player as of 2020.
Plus, Max is the 18th best player of the Miami Heat as of writing the article.
Similarly, the rising basketball player was the 207th best-paid guard and 481st best-paid NBA player in 2019.
Kieran Piller from the Priority Sports & Entertainment is the agent of Max Strus.
As of 31st December 2020, Max handles about 17.9k followers on his Instagram account. And he has shared 23 posts.
Apart from Instagram, Max is not active in social media like Facebook and Twitter.
Know The Married Life Of Colleen Jones | Colleen Jones: Personal Life, Career & Meningitis >>
Common Queries About Max Strus
Which college did Max Strus go to?
Max Strus went to Lewis University from 2014 to 2016. Then he attended DePaul University(2017-2019).
What is the net worth of Max Strus?
Max's net worth is not surfaced as of 2020. Yet, it is evident from his playing career that he has collected millions of fortune.
What is Max Strus' wingspan?
The basketballer has a wingspan of 6-foot-9.
Is Max Strus married?
The rising shooting guard, Max, has a full concentration on his basketball. So, he is single and unmarried as of writing the article.
What happened to Max Strus?
In late 2019, Max suffered from bone bruises in his knee. Also, the player's anterior cruciate ligament was torn during the NBA G League.
Are Max Strus and Jimmy Butler friends?
When asked about Max Strus, Jimmy Butler said that Strus just stinks, so people leave him open.
He further talked about Erik Spoelstra, stating when Coach Erik asks Max to throw, he's wide open, so I gotta throw it to him.
I asked Jimmy Butler about Max Strus

Just enjoy:@5ReasonsSports pic.twitter.com/YrAQgwkvS8

— Brady Hawk (@BradyHawk305) January 15, 2022
Butler also said how he tries to look him off, but it's like, you got to throw it to him, he's wide open. He ended the conversation by stating, "You know, he got lucky; he made a couple of shots tonight. I'm not impressed."