Colleen Jones is a curler and television personality from Canada. She became popular as the skip of two women's world championship teams and six Tournament of Hearts Canadian women's championships.
She also had an unprecedented four titles in a row and has the record for most Tournament of Hearts wins from when she won her 67th game in 1994 until her eventual 152 wins were eclipsed by Jenifer Jones in 2021.
Colleen Jones again worked as the sideline reporter for the curling events in the 2022 Winter Olympics. She had already presented herself in the same position in the 2014 and 2018 Winter Olympics.
"The moment you realize what you are best at, you should keep hustling until you are at the top and satisfied with your work."
The above statement relates best to Canadian athlete Colleen Jones's life, the top curler known for her astounding curling skills.
With her dedication and determination towards curling from 14, Colleen has collected four trophies by playing in the Canadian curling Championship.
Plus she won Canadian Mixed curling Champion (1993 and 1999).
Also, World curling Champion (2001 and 2004), Canadian Senior curling Champion (2016), and World Senior curling Champion (2017).
Colleen has served as a reporter for over three decades for CBC Nova Scotia.
Besides being the curler and the reporter, Colleen is a published author.
Some of her published works include Elastic Black Dog (2002), Curling Secrets: How to Think and Play Like a Pro (2007), Simple Welsh in an Hour of Your Time: Kickstart Your Welsh Today (2016), and many more.
So, let's look at the quick facts before jumping to the full article.
Colleen Jones | Quick Facts
| | |
| --- | --- |
| Full Name | Colleen P. Jones |
| Birth Date | 16 December 1959 |
| Birth Place | Halifax, Nova Scotia, Canada |
| Nick Name | None |
| Nationality | Canadian |
| Religion | Undefined |
| Ethnicity | Unknown |
| Horoscope | Sagittarius |
| Father's Name | Unknown |
| Mother's Name | Unknown |
| Siblings | Eight ( Seven Sisters & One Brother) |
| Height | Unknown |
| Weight | Unknown |
| Hair Color | Natural Brown |
| Eye Color | Blue |
| Education | St. Patrick's High School & Dalhousie University |
| Build | Athletic |
| Profession | Curler And Reporter |
| Current Network | CBC Nova Scotia News |
| Member | Canadian Curling Hall of Fame & Canada Games Hall of Honour |
| Active Years | 1982-Present |
| Canadian Mixed Curling Champion | Two Times (1993 and 1999) |
| Canadian Curling Champion | Six Times (1982, 1999, 2001, 2002, 2003, & 2004) |
| World Curling Champion | Two Times (2001 & 2004) |
| Canadian Senior Curling Champion | One Time (2016) |
| World Senior Curling Champion | One Time (2017) |
| Marital Status | Married |
| Husband | Scott Saunders |
| Kids | Zach Saunders And Luke Saunders |
| Net Worth | $1-$5 Million |
| Social Media | Not Available |
| Merch | Books |
| Last Update | May 2023 |
Colleen's Family Details
Colleen's parents' name is still unknown as she keeps her private life to herself. But, little do we know her family was also into curling.
During her childhood, Colleen's father taught her and her other eight siblings to ride a bicycle, sail, and go out.
Unlike Colleen's father, her mother always did house chores.
As per the information obtained from Theglobeandmail.com, in 2015, Colleen informed that her mother has Alzheimer's.
Since then, Colleen has not discussed her mother's health out in public.
Colleen Jones | Age & Education
Colleen opened her eyes to see the beautiful world on 16th December 1959 in Canada. Her zodiac sign is Sagittarius.
As of 2023, Colleen is 63 years old. She was raised along with her seven sisters and one brother by her parents.
Talking about her education, she went to St. Patrick's High School, located at Quinpool Road in Halifax, Nova Scotia, Canada.
After that, she enrolled at Dalhousie University for her higher education.
Colleen Jones | Body Measurement
Although her height measurement is nowhere to be found, by looking at her playing the curling inside the sheet, without a doubt, it can be said that she is tall enough.
Besides her height, she also possesses a charming white face, which adds more beauty to her charismatic smile.
Moreover, Colleen has blueish eyes and naturally brown hair, which makes her look elegant.
Colleen Jones|
Meningitis
During her peak success in curling, and before a week of her women's curling playdowns for a 16th Nova Scotia women's title, she fell sick and was rushed to the hospital.
On 10th December 2010, doctors informed Colleen of being suffered from Meningitis. So, she had to take a break from her matches.
After visiting the hospital and the doctor, Colleen discovered that she had also been enduring Cerebral-spinal Fluid Leakage for many years, besides Meningitis.
Consequently, she had brain surgery to be free from fluid leakage. She recovered from her disease like she never got one and continued her career as a curler and reporter.
Colleen Jones | Career
Broadcasting
After graduating in 1982, Colleen joined CHUM radio sports and commenced working there.
She worked in the radio sports network for at least two years before switching to other broadcasting channels.
By gaining experience in broadcasting while at CHUM radio, Colleen added more adventures to her working life by joining the television broadcasting channel CTV in 1984.
Similarly, Colleen chose to serve for CBC (Canadian Broadcasting Corporation) in 1986.
At the beginning of 1993, she became the weather presenter and sports reporter for CBC Morning News on CBC News world, now known as the CBC News Network.
Besides her job as a weather and sports presenter, Colleen also gave her ear-blessing voice for the 2006 Torino Olympics as she did the CBC segments about curling.
Almost after four years, she also did the curling commentary and echoed the entire stadium with her bold voice for the 2010 Winter Olympics in Vancouver.
She starred in a public service announcement about the Canada 2006 Census. On January 15, 2008, episode of This Hour Has 22 Minutes, where Jones appeared in a skit named MVC Most Valuable Curler.
Furthermore, she also co-hosted the online series That curling Show with CBC journalist Devin Heroux.
A Career In Curling
From 1973 To 2001
Colleen started her successful and competitive ride in curling by playing for the Mayflower Curling Club while she was a student at St. Patrick's High School.
She played for her club just from the age of 14, which is astonishingly surprising to her devoted and beloved fans.
Further, Colleen collected her first curling-winning title, Nova Scotia, when she was 19.
Being the holder of Nova Scotia at such an early age, she got to compete and show her skills at the Canadian Championship.
Colleen came second at the Canadian championship, and Jones attended Dalhousie University shortly but never completed her study as she worked in broadcasting in her native Halifax.
She again played for the Canadian Women's Curling Championship in 1982 and secured the first position in the championship. Jones won the match and became the youngest skip ever to lift the title, as she was only 22 years old.
However, Colleen couldn't fasten up her seatbelt during her ride for the curling as she had to maintain her married life and her family.
Despite her circumstances and many years of gap in the curling field, Colleen returned to where she belonged.
In 1999, she joined her new teammates, Kim Kelly, Mary Anne Waye, and Nancy Delahunt.
In her comeback, Colleen and her team won the Championship title in 1999.
She and the crew maintained consistency by grabbing their win World curling Championship in Lausanne, Switzerland, in 2001.
From 2002 – 2006
Colleen, along with her teammates, succeeded in winning another Canadian Championship.
As there is a saying, teamwork makes the dream work; Colleen and her team set a new record of winning the Canadian Championship for the fifth time in a row at the 2004 Scott Tournament of Hearts.
But, in the 2005 Scott Tournament of Hearts, the team and Colleen did not secure the title.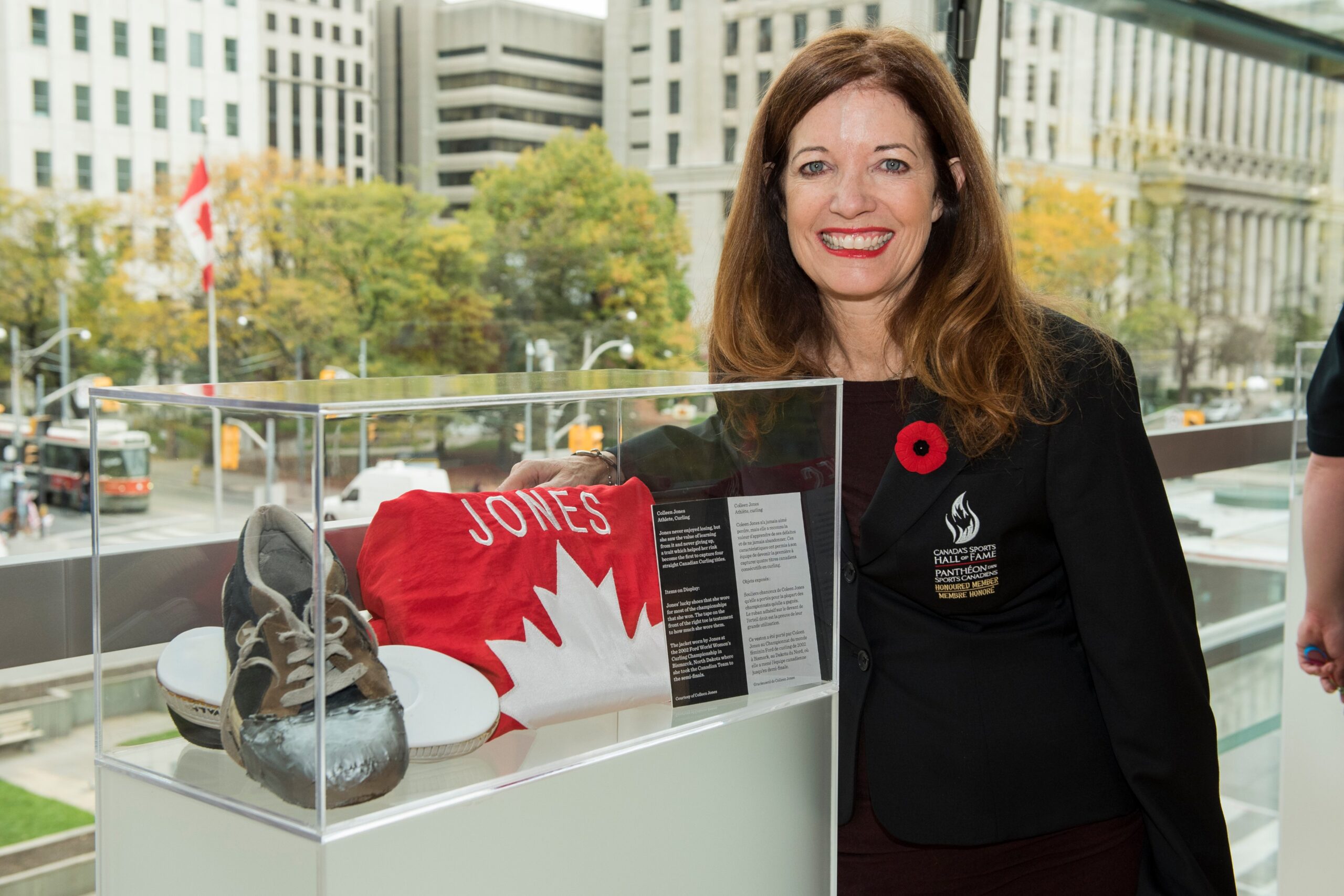 Due to their stellar performance, they completed their match with the tie-breaker by maintaining the points of 6-5 to the Sandy Comeau of New Brunswick.
Later, in 2006, the team entered the semi-finals but lost the match to Jennifer Jones. At the end of 2006, Colleen and the group disbanded.
From 2006 – 2011
Subsequently, splitting with her teammates, she joined the team of Haligonian Kay Zinck.
Colleen played with the new teammate briefly during the 2006-2007 season before returning to being a skip.
She retired from competitive curling at the end of the 2007-2008 season.
After two years, Colleen announced her comeback via CBC News on 24th March 2010.
She was selected by Heather Smith-Dacey, Blisse Comstock, and Teri Lake to take responsibility as the skip for the 2010-2011 season.
Unfortunately, on 10th December 2010, the news circulated about Colleen being diagnosed with Meningitis.
As a result, she handed her duties to Heather Smith-Dacey.
After recovering from her sudden health deteriorating disease, Colleen won Nova Scotia Senior Women's Championship on 27th February 2011.
From 2012 – Present
For the 2012/2013 season, Colleen formed a new team with players like Kristen MacDiarmid, Helen Radford, and Mary Sue Radford.
She also reunited with her former teammate, Mary-Anne Arsenault, and Kim Kelly.
Similarly, Colleen participated in Canadian Senior Curling Championship in the years 2011, 2012, 2015, and 2016, making her the only player to attend the championship four times.
Likewise, Colleen won her first Canadian Senior Curling Championship in 2016. This win helped her add up to her winning trophies and represent Canada at the 2017 World Senior Curling Championships in Lethbridge, Alberta.
Colleen Jones was inducted into Canada's Sports Hall of Fame on May 8, 2021.
She also joined the Fredericton of Team Birt, which played in the Montague Curling Club for the event as a spare for third Marie Christianson alongside other team members, as per news on August 2022.
As per TSN's report on 7 December 2022, the 2023 Scotties Tournament of Hearts will take place in Kamloops, B.C., beginning from February 17-26 at the Sandman Centre.
Kerri Einarson, of Gimli, Man., will skip Team Canada and go for a fourth consecutive Scotties title, which would tie the record set by Colleen Jones.
Colleen Jones | Relationships, Husband & Children
Like many known personalities, Jones keeps her personal and love life private.
Colleen Jones married Scott Saunders, who is an engineer and also a curler. She won her first Canadian mixed title in 1993 with her husband.
Talking about her kids, she is a mother to two sons, Zach Saunders and Luke Saunders. In the year 2009, Zach graduated from Dalhousie Law School.
Her son, Zach, plays hockey, whereas another son, Luke, plays tennis. She is a private person, and as of 2023, we do not know her relationship status.
Colleen Jones is not available on any of the social media platforms.
Colleen Jones | Net Worth
Being a curler and a reporter by profession, Colleen obviously has added enormous fortune to live a wealthy life.
The curling base salary is estimated at between $39,500 and $65,000. Likewise, Jones had played many games and won many championships, contributing to her net worth.
As per the sources, the world-famous curler has accumulated a net worth of $1-5 million.
Popularity Graph
The above graph shows Colleen's popularity over the past twelve months.
Frequently Asked Questions (FAQs)
How many links did Colleen Jones have?
Colleen Jones married Scott Saunder. We know she had only one relationship. There is no controversial news released related to her.
How many Scotties did Colleen Jones win?
Colleen Jones won 6 of the Scotties Tournament of Hearts. Other than that, she has 17 other titles in her name.
Is Colleen Jones related to Jenifer Jones?
No, she does not share any relationship with Jenifer Jones. Colleen is a skip to have won three Tournament of Hearts in a row, while Jenifer's third win has put her in the elite company of Vera Pezer.