Maxx Crosby shares one kid with his wife, Rachel Washburn. The couple experienced parenthood for the first time in 2022 after the arrival of their daughter, Ella Rose Crosby.
The 26-year-old defensive end of the Las Vegas Raiders exchanged his vows with his college sweetheart, Rachel Washburn, in March 2023.
The lovebirds dated for six years before tying the knot.
Maxx and Rachel share similar interests, with both being supreme athletes. But Rachel gave up on a professional soccer career after graduating from college.
Recently, the NFL star made headlines after revealing his torso tattoos for Michael Jordan, Muhammad Ali, and Kobe Bryant. These tattoos are featured alongside a tattoo he has on his chest for his daughter, Ella.
Maxx Crosby Kids, Daughter Ella
Maxx Crosby welcomed his first kid with his wife, Rachel Washburn, in October 2022.
Crosby shared the news with his Instagram followers by sharing a picture of him in the Las Vegas hospital holding his baby girl in his arms.
The couple has named their daughter Ella Rose and celebrated their first Christmas as a family of three in 2022.
Maxx shared a few pictures from his family Christmas celebration with Ella and Rachel wearing matching outfits.
On Valentines Day, Maxx shared a series of pictures of his three favorite girls to celebrate the occasion. It included snaps of Ella, Rachel, and their family pet dog.
Ella was also one of the attendees of their parent's wedding ceremony as she wore a similarly embellished dress as her mom.
Recently, on Father's Day, Maxx shared a couple of pictures with his daughter to celebrate the occasion. The Raiders' defensive end previously talked about fatherhood in his many interviews.
Before the birth of his daughter, Maxx said that his increasing family gave him additional motivation.
Speaking to the 8NewsNow, Maxx revealed it was he, who picked the name, Ella Rose. He also shared he had a picture of a rose tattooed on him as a tribute to his daughter.
During the interview, the NFL player hinted he wanted more kids, with four or five being the preferred number.
Maxx Crosby Wife: Rachel Washburn
Maxx Crosby's wife, Rachel Washburn, has made sure that Maxx isn't the only one in the family with athletic credentials.
Rachel Washburn graduated from Eastern Michigan University with a degree in sports management in 2016. Rachel's love for soccer stemmed from her early days at Hartland High School.
She was named Defensive Player of The Year for all four years at Hartland High School. Rachel then continued her soccer career at Eastern Michigan.
Standing at 5ft 8, Rachel made 63 appearances throughout the four seasons with the Eagles. At the end of her senior year, Rachel ranked 11th in EMU history for assist tally.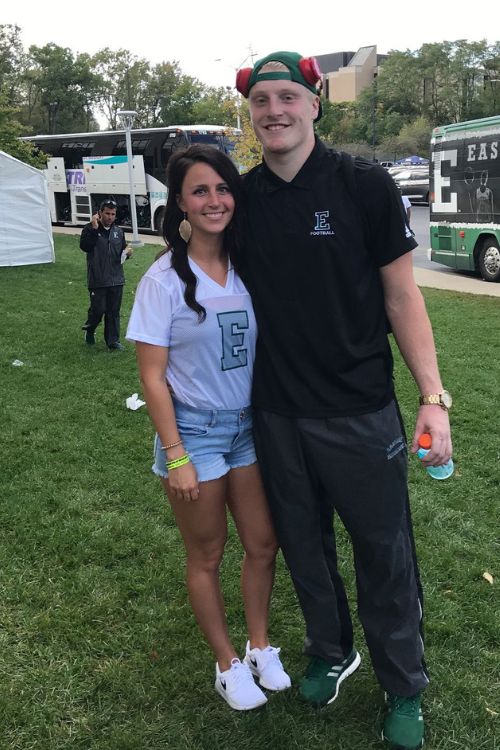 Her first goal for the Eagles came in her senior year from a free kick against Ohio. She helped them rack up 14 points and made 12 assists.
Rachel And Maxx Relationship Timeline
Rachel and Maxx first crossed paths as students at Eastern Michigan University. Soon the couple fell in love and started dating in 2017.
Rachel has a big hand on the man Maxx has become today, a star defensive end in the NFL.
In 2020, Crosby entered rehab to put an end to his alcohol addiction, and Rachel was with him throughout the entire ordeal.
Rachel and Maxx became Instagram official in 2017 when Rachel shared a photo of her hugging the football star with him placing a kiss on her head.
She has previously shared several appreciation posts for Maxx on her Instagram page. On January 22, 2018, Rachel shared a series of images of her and Maxx on their first anniversary.
Last year in February 2022, Rachel announced her engagement with the NFL star, sharing the picture of Maxx holding her hand while she showed her engagement ring.
Eight months after their engagement, the couple became parents for the first time, welcoming Ella to the world. Then five months after Ella's birth, the couple tied the knot.
Maxx and Rachel held their wedding ceremony at Cascata Golf Club in Boulder City, Nevada, on March 4, 2023.
The couple prepared their own vows to exchange at the altar and even had legendary UFC announcer Bruce Buffer introduce them into the room.
Rachel and Maxx have been each other's rock throughout highs and lows. Now with the couple entering a new chapter in their lives, they will hope this partnership only gets stronger with time.