Mengke Bateer is a retired Chinese professional basketball player who played at both NBA and CBA. With his tall and imposing frame, Mengke played in the position of a center.
Moreover, Bateer started playing professionally in 1997, and since then, he is the only Chinese basketball player who has played in the NBA without being selected during NBA Draft.
Likewise, Bateer is also one of the only two Chinese basketball athletes who has won both NBA and CBA finals.
Furthermore, let's get to know more about Mengke Bateer's life in detail. First, let's look into some of Bateer's quick facts.
Mengke Bateer | Quick Facts
Full Name
Mengke Bateer
Birth Date
November 20th,1975
Birth Place
Hanggin Banner, Inner Mongolia, China
Age
47 years old
Nickname
"Walking Great Wall"
Religion
Not Available
Nationality
Chinese
Education
Not Disclosed
Horoscope
Scorpio
Father's Name
Not Disclosed
Mother's Name
Not Disclosed
Siblings
Not Disclosed
Height
6'11" (2.11 m)
Weight
132 kgs (290 lbs)
Build
Athletic
Shoe Size
Not Available
Hair Color
Dark Brown
Eye Color
Brown
Position
Center
Team
Beijing Ducks

Denver Nuggets

San Antonio Spurs

Toronto Raptors

Huntsville Flight

Xinjiang Flying Tigers

Sichuan Blue Whales

Beijing Ducks

Shaanxi Weinan Xingda

Number
27, 34, 14, 42
Marital Status
Married
Spouse
Not Disclosed
Children
Niu-Niu Bateer, Difeilana Bateer
Profession
Professional Basketball Player
Net Worth
$5 million
Career Highlights & Awards
NBA champion- 2003

4× CBA Most Valuable Player

2× CBA All-Star Game MVP

No. 9 retired by the Beijing Ducks

Merch
Trading Card
Last Update
March, 2023
Mengke Bateer | Early Life, Family & Education
Bateer was born on November 20th,1975, in Hanggin Banner, Inner Mongolia, China.
Mengke has not revealed anything regarding his family. Thus, his family name remains unknown.
Moreover, Bateer is a part of the minority predominant ethnic group living in China's inner Mongolia Autonomous Region.
Like many other ethnic Mongols, Bateer does not have a family name, and his full name is a combination of two words: Monkh, which means Eternal, and Baatar, which means Hero.
Likewise, in Mandarin, he is referred to as Ba Te Er. He is also affectionately called "Da Ba," with Da translating into English as "big," and Ba represents his name's first character in Mandarin.
Age, Height, and Body Measurements
Mengke turned 47 years old, in 2023. He possesses an athletic body frame and stands at the height of 6'11" (2.11 m), and weighs around 132 kgs (290 lbs).
According to Bateer's birthdate, he falls under the sun sign of Scorpio.
Education
Bateer has also not revealed anything regarding his educational background. As he was born and raised in China, we can assume that he graduated from Chinese educational institutions.
Mengke Bateer | Career and Profession
Before moving into Bateer's professional career, let's look into his early playing career.
Early Career
Bateer was brought up through the youth ranks by the Beijing Ducks.
He made his debut for China's national basketball team before the 1994 Asian Games when he was 18 years old.
Likewise, three years later, although a regular member of the playing rotation, Bateer was removed from the national squad because of disciplinary problems.
Mengke was often presented to the public as a filial son as he repeatedly attempted to leave his teams and return to his family several times throughout his career.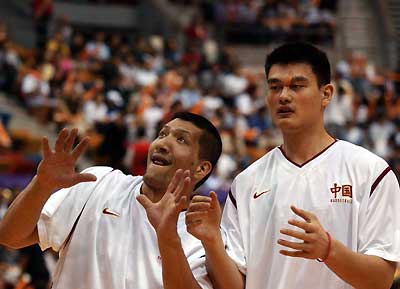 Furthermore, while training with China's national team in 1999, Bateer was invited to play in a pre-draft tournament in Phoenix, where he suffered from jet lag and did not impress the scouts in attendance.
Additionally, Mengke also made a brief appearance during another pre-draft venue, held in Treviso, Italy.
However, he waited several more years to play in the NBA and stayed with the Ducks from the 1997–1998 CBA season through the 2001–2002 season.
Eventually, Mengke earned MVP honors at the 2002 CBA All-Star Game.
NBA Career
Denver Nuggets
Furthermore, in October 2001, Mengke joined the Denver Nuggets during the team's preseason training camp.
The Nuggets dropped him after two preseason games, but in March 2002, he rejoined the team, as the team was in desperate need of a player with big stature after trading Raef LaFrentz.
This made Mengke the second Chinese basketball player to compete in the NBA after Wang Zhizhi.
Wang made his debut for the Dallas Mavericks a year earlier. Besides, Bateer was also the first undrafted Chinese player in NBA history.
Moreover, Mengke played in the Nuggets' final 25 games of the season, where his average was 5.5 points while battling fouls of opponents.
Similarly, due to the lack of big stature players in the Nuggets roaster, Mengke also ended up in the starting 10 of those contests and became the first Chinese player ever to start an NBA game.
However, Wang never made it in the starting line-up during his time with the Mavericks.
Rasual Butler- Accident, Wife, NBA, Net Worth & Death>>
Detroit Pistons / San Antonio Spurs
Furthermore, in 2002, Denver Nuggets traded Mengke to the Detroit Pistons and Don Reid in exchange for Rodney White and a future first-round pick.
However, after an impressive play against Team USA during the 2002 FIBA World Championship in Indianapolis, Mengke scored 19 points leading China in scoring in five of seven games during the competition.
USA assistant coach Gregg Popovich, the San Antonio Spurs head coach, decided to take a chance on Mengke and obtained him in exchange for a second-round pick.
Thus, despite playing only occasionally with the Spurs, Bateer was a member of San Antonio's 2002–2003 championship team.
Last Few Seasons in NBA
Furthermore, in the following season, Bateer signed as a free agent with the Toronto Raptors, but the Raptors transferred Mengke later in the 2003–2004 NBA season to the Orlando Magic, who waived him three days later.
Thus, in October 2004, the New York Knicks signed Mengke as a training camp invitee but waived him before the 2004–2005 NBA season.
After the Knicks waived him off the team, Mengke represented the Huntsville Flight of the National Basketball Development League for a while before he decided to return to China.
Billy Donovan Bio: Bulls, Wife, NBA & Net Worth>>
Return to China
Furthermore, Mengke rejoined the Beijing Ducks in the Chinese Basketball Association in mid-February 2005, a couple of weeks before the end of the 2004–2005 CBA season, and became the MVP of the 2005 CBA All-Star Game, which was held in Nanjing on March 7th, 2005, after the regular season ended.
Bateer scored a contest-best 28 points while leading the North to a 103–99 victory over the South.
Furthermore, during the 2005–2006 CBA season, Mengke helped Beijing win a then-franchise-best CBA North Division title with an average of 11 rebounds, five assists, and 25 points per game.
Initially, CBA chose Mengke to be the league's Regular Season MVP.
Still, the honor was vacated due to a rule forbidding players who were slapped with suspensions from receiving any awards.
Because earlier in the season, Mengke incurred the heaviest fine in CBA history for arguing with a referee and sat out two games as a result.
Xinjiang Flying Tigers
Moreover, Bateer then missed the 2006–2007 CBA season due to injuries and subsequently moved from the Ducks to the Xinjiang Flying Tigers, where he spent the next six years of his career.
While representing Xinjiang, Mengke became the first player to win the CBA Most Valuable Player honors in 2009, 2010, and 2011.
The Tigers also made their way to the CBA Finals in each of those years but failed to win the title after losing to the Guangdong Southern Tigers on all three occasions.
Furthermore, after a brief stint with the Sichuan Blue Whales in China's lower-tier NBL in summer 2013, just as the team was preparing to join the CBA, Bateer returned to the Beijing Ducks for the 2013–14 CBA season.
Bateer was more of a role player by that point in his career. Nonetheless, he provided an occasionally useful presence in the frontcourt for Beijing and helped the Ducks win their second CBA title.
National Team Career
Apart from playing with various basketball clubs in NBA and CBA, Bateer has represented the Chinese basketball team.
Moreover, Mengke competed for China in the Summer Olympic Games at Atlanta, Sydney, and Athens in 1996, 2000, and 2004.
Likewise, Mengke also represented the PRC at the 2002 FIBA World Championship in Indianapolis and was a member of his country's national team for several FIBA Asia Championships, Asian Games, and East Asian Games competitions the 2001 Summer Universiade in Beijing.
Some fans and commentators knew the trio of Yao Ming 7'6″, Wang Zhizhi 7'1″, and Bateer 6'11" as the "Walking Great Wall."
Marvin Bagley – Net Worth, Injury, Contract, Draft & NBA>>
Mengke Bateer |
Retirement
Furthermore, looking to stay in shape, Mengeke played briefly with the NBL team Shaanxi Weinan Xingda during 2014.
However, he did not compete during the 2014–15 CBA season as, reportedly, Mengke was struggling with complications from the onset of diabetes.
Moreover, on August 11th, 2015, Mengke was acknowledged with an official retirement ceremony, which took place in the Beijing Wukesong Culture & Sports Center.
Similarly, the event was attended by former national team squadmates Wang Shipeng, Zhu Fangyu, Wang Zhizhi, Du Feng, and Hakeem Olajuwon.
Likewise, Yao Ming sent a videotaped farewell message, and the evening climaxed with Mengke's number 9 jersey being lifted to the arena's rafters.
As per his official retirement in 2015, Mengke holds two notable distinctions and is the only Chinese basketball player to have played in the NBA without being chosen in any NBA draft.
Likewise, Mengke is also the first Chinese basketball player and one of only two overall to have been on an NBA championship-winning roster.
Similarly, Bateer was also the first player of Asian descent to win an NBA title.
Furthermore, Both Bateer and Sun ended up with the 2014 CBA champion Beijing Ducks, making them the first and so far only winners of both the NBA Finals and CBA Finals.
Moreover, Bateer was also the first-ever Chinese player to start an NBA game when he joined the Denver Nuggets in 2002.
Mengke Bateer | Net Worth
Banteer has played basketball professionally since 1997. Since then, he has had quite a successful career until his retirement.
Although he has not revealed anything regarding his career earnings, looking back at his career, we can assume that-
The presumable net worth of Mengke Bateer falls around $1-5 million.
Mengke Bateer | Wife and Children
As we know, Bateer is very secretive about his private matters. Thus, the information regarding his wife is unknown.
However, Mengke has revealed his children's names thus far, and their names are Niu-Niu Bateer and Difeilana Bateer.
Interesting Facts about Mengke Bateer
Apart from playing basketball, Mengke had also featured in various Chinese movies called- The Blue Xanadu, Bodyguards, and Assassins, Here Comes Fortune, and Journey to the West: The Demons Strike Back.