Metta Sandiford-Artest, aka Metta World Peace, is an American former professional basketball player who played with six different National Basketball Association (NBA) teams during his professional career.
The NBA champion had a whale of a time since his college days as he seized the attention of the folks and coaches with his versatile gameplay.
Debuting in the NBA in 1999 and announcing his retirement in 2017, Artest undoubtedly gained popularity as one of the league's exclusive defenders.
World Peace earned the NBA Defensive Player of the Year in 2004 and several other accolades.
Besides, he was named the NBA All-Star once and NBA All-Defensive First Team twice.
He keeps changing his name; the player was born Ronald William Artest Jr. then legally changed his name to Metta World Peace in 2011 and Metta Sandiford-Artest in 2020.
Besides his gameplay, the former NBA player often stayed highlighted in controversy for his nasty on-court activities and unconventional attitude.
Discover further intriguing details about the former competitive player, Metta World Peace, beneath.
Also, have a quick peek at the quick facts illustrated below.
Quick Facts
Full Name
Metta Sandiford-Artest
Name Changed
Metta Sandiford-Artest (2020)
Birth Date
November 13, 1979
Birth Place
Queens, New York
Nick Name
Crazy Pills, Ron-Ron, The Straightjacket
Religion
Christianity
Nationality
American
Ethnicity
Unknown
Education

La Salle Academy
St. John's

Horoscope
Scorpio
Father's Name
Ron Artest Sr.
Mother's Name
Sarah Artest
Siblings
Seven (Isaiah, Daniel, Walid, Khalik, Angelique, Quanisha, & Shalice Holmes-Taylor)
Age

43

Years Old
Height
6'7″/2.01 m/201 cm
Weight
118 Kg/260 lb.
Jersey no.
15, 37, 93, 37, 51, 91, 96
Hair Color
Black
Eye Color
Black
Body Type
Athletic
Profession
Businessman (Current)

NBA (Former)

Position
Small forward
NBA Draft
1999 / Round: 1 / 16th overall pick
League
NBA & International
Active Years
1999 – 2017
Sexual Orientation
Straight
Marital Status
Married
Wife
Maya Sandiford-Artest (m. 2018), Kimsha Artest (m. 2003-2009)
Kids
Four (Ron Artest III, Sadie, Jeron & Diamond)
Net Worth
$30 million
Last Played NBA Team
Los Angeles Lakers
Social Media
Twitter, Instagram, Facebook
Merch
No Malice: My Life in Basketball
Last Update

March 2023
Early Life & Family
Metta Sandiford-Artest was born to his parents, Ron Artest Sr. and Sarah Artest, in Queens, New York, on November 13, 1979.
The Christian devotee is said to have seven siblings, Isaiah, Daniel, Walid, Khalik, Angelique, Quanisha, and Shalice Holmes-Taylor.
Shalice Holmes Taylor died of cancer a day before his training camp, which greatly distracted him during his games.
According to reports, Artest has anger issues that developed at a young age after his parents got separated.
His parents decided to part ways; however, his father resided just a few doors down so that he could catch a glimpse of his children and their day-to-day activities.
World Peace was taken to anger management therapy, and the counselor suggested finding a distraction outlet to overlook the ongoing things around him.
That was the time when his love for basketball was born. He initiated playing basketball, played with his father whenever possible, and somewhat overcame his anger.
Basketball Career
College Career
World Peace attended St. John's University and played basketball for the college team from 1997 to 1999.
In the meantime, he came into the limelight for his summer basketball tournaments at Nike Pro City in Manhattan, Hoops in the Sun Tournament at Orchard Beach in The Bronx, and The Dyckman Basketball Tournament in Washington Heights.
Professional Career
NBA Draft & The Journey
Metta Sandiford-Artest was selected with the 16th overall pick by the Chicago Bulls in the 1999 NBA Draft.
During his stint with the Bulls in the 1999-2000 season, he was named to the NBA All-Rookie Second Team.
The Bulls traded Peace to the Indiana Pacers midway through the 2001-02 season.
In the 2003-04 season, he averaged 18.3 points, 5.7 rebounds, and 3.7 assists per game, making the cut as a reserve for the 2004 NBA All-Star Game and he was also named the Defensive Player of the Year.
Longest Suspension
The Malice at the Palace happened during the game between the Pacers and Detroit Pistons in Auburn Hills, Michigan. Peace was the crucial part of an altercation.
The clash included Peace, Pistons' center Ben Wallace, Peace's teammates Stephen Jackson and Jermaine O'Neal, and many other players.
As an outcome, the ongoing game stopped with less than a minute remaining.
Later, the NBA suspended Peace for the remaining regular-season and playoff games. He missed 86 games, the longest suspension for an on-court incident in NBA history.
Trade & Betray
In the 2005-06 season, Peace appealed a trade from the Pacers and was placed on the team's inactive roster.
His inappropriate decision created a rift between him and his teammate Jermaine O'Neal.
The president of the Pacers, Larry Bird, had deemed it a "betrayal" and "disappointment."
Eventually, he was traded to the Sacramento Kings on January 25, 2006, in exchange for Peja Stojaković.
Initially not wanting to join the Kings, Peace saw himself wearing the Kings jersey, and with his defensive games, he was named as a starter on the team.
Later the former Kings small forward was traded to the Houston Rockets, and the contract was made official in August 2008. However, his time with the Rockets did not last long.
Winner Takes All
World Peace was signed with Los Angeles Lakers on a five-year/$33 million deal in July 2009.
With the Lakers in Game 5 of the 2010 Western Conference Finals, he made a game-winning shot at the buzzer after picking a last-second offensive rebound.
Metta Peace World won his first championship title with the Lakers. In April 2011, he earned the NBA's J. Walter Kennedy Citizenship Award.
Other Teams
After coming into training camp out of shape, World Peace was moved to a reserve role by then new Lakers coach, Mike Brown.
He was handed a seven games suspension after elbowing James Harden in a game against the Oklahoma City Thunder and suffering multiple injuries, he was seen less on the court.
Later, the former small forward signed two year deal with New York Knicks in July 2013, and the Knicks waived him after the team bought out his contract on February 24, 2014.
In August 2014, he took off to China and signed with the Sichuan Blue Whales of the Chinese Basketball Association.
Then, he joined Pallacanestro Cantù of Italy for the 2014-15 Lega Basket Serie A season.
Homecoming
After playing couple of years overseas, World Peace returned to his country and joined the Los Angeles Lakers for a second stint in September 2015.
In September 2016, he re-signed with the Lakers, and in April, he recorded a team-leading 18 points helping Lakers to extend their winning streak to five games.
What's More
The former Lakers joined the New Orleans Gators of the Global Mixed Gender Basketball League during the offseason in 2017.
Then, he signed a one-day agreement with the San Diego Kings of the American Basketball Association in 2019.
Grants & Honors
NBA champion (2010)
NBA All-Star (2004)
All-NBA Third Team (2004)
NBA Defensive Player of the Year (2004)
2X NBA All-Defensive First Team (2004, 2006)
2X NBA All-Defensive Second Team (2003, 2009)
NBA All-Rookie Second Team (2000)
Third-team All-American-AP, NABC (1999)
Haggerty Award (1999)
First-team All-Big East (1999)
Second team Parade All-American (1997)
McDonald's All American (1997)
Coaching Career
In 2017-18, World Peace was employed as a player development coach for the South Bay Lakers, the Los Angeles Lakers' development-league team in the G League.
Later, in the 2018 offseason, he partook in 3×3 basketball with the BIG3 at the request of league co-founder Ice Cube.
Net Worth & Salary
The celebrated former player, Metta World Peace, had a net worth of $30 Million as of 2023.
Regarding his earnings during his professional career, he earned $1,079,760 in his first year with the Bulls and a somewhat similar amount in his next two seasons.
Artest bagged around $18 million in his three seasons with the Pacers.
In 2008-2009, his estimated salary with Houston Rockets was $7,400,000, and in the 2005-06 season with Indiana Pacers, he earned $6,842,105.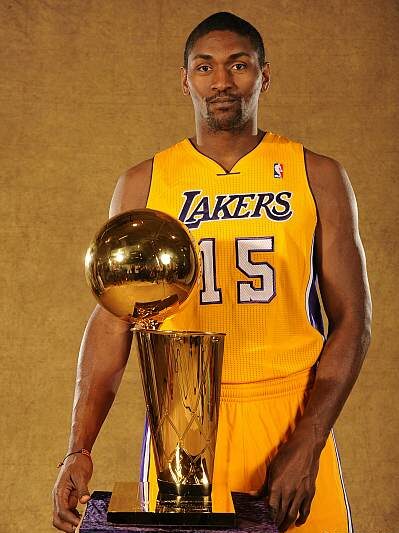 The former Lakers amassed amassed $5,854,000 in his first year with the Los Angeles Lakers and $6,322,320 the following year.
In the 2016-17 season, he earned $1,551,659 and $1,499,187 in the 2015-16 season.
With the Knicks, he earned around $2 million, including $1,284,834 in the 2013-14 season and $555,166 in the 2014-15 season.
Age & Body Features
Metta World Peace was born on November 13, 1979, and is currently 43 years old.
About physical stats, he stands at a tall height of 6 feet 7 inches (2.01 m), and his body weight is around 118 kg (260 pounds).
Who's Metta World Peace's Wife?
The fine-looking athlete has an exquisite love diary filled with twists and turns.
World Peace and Kimsha Hatfield love story began during their teenage days when he was 15 and Kimsha was 14.
Kimsha was a cast member on the TV reality show, 'Basketball Wives: LA,' which was broadcasted on VH1.
Happiness knew no bounds when the Former couple had their first child, Sadie, in 1997, and later their second, Ron III, and third, Diamond.
His son, Ron III, is also a professional basketball player.
The couple finally got married in June 2003, and after finishing some life's journey together, they divorced in 2009.
World Peace became a grandfather after his eldest daughter became a mother.
Above & Beyond
Apart from Kimsha, World Peace was in a brief relationship with his former high school girlfriend, Jennifer Palma. The former couple shares a child, Jeron.
The former basketball player is married to a Korean-Canadian model, Maya Sandiford.
The couple shared the vows in 2018 and in May 2020, Metta World Peace declared that he had legally changed his name to Metta Sandiford-Artest, combining his last name with that of his wife.
Media Presence
Television
World Peace developed and produced his reality show, 'They Call Me Crazy,' in collaboration with E1 Entertainment and Tijuana Entertainment in April 2010.
Also, he became part of the line-up for the reality show 'Dancing with Stars' in its thirteenth season.
The former NBA player made his appearance on a game show, Figure It Out, in October 2012 as a panelist on the American television channel Nickelodeon.
Furthermore, he appeared in an episode of 'Spike's Lip Sync Battle' against actor Skylar Astin in June 2017. He attempted Insane by Cypress Hill and Roar by Katy Perry.
He then appeared in the first American edition of Celebrity Big Brother in January 2018.
Metta World Peace – Founder of Media Group
Metta Sandiford-Artest founded the Artest Media Group in 2010. The brand management company's clients include renowned music artists and music producers.
The former NBA player plans a $1 billion investment fund for Artest Management Group. Reportedly, he is teaming up with the co-founder of Houlihan Lokey, aiming to invest in sports real estate, health, and startups.
Rap Album
World Peace released a rap album titled 'My World' in October 2006. His album featured guest artists, Juvenile, P. Diddy, Nature, Big Kap, Mike Jones, and Capone.
Advocacy
World Peace has been involved in advocacy relating to mental health issues. Following this, he announced to donate some or all of his salary generated from the 2011-12 NBA season to mental health awareness charities.
Besides, he posed for PETA ad campaigns encouraging people to report animal abuse and to have their pets neutered.
Legal Affairs
World Peace drank Hennessy cognac in the locker room during the halftime match against the Chicago Bulls in 2009.
Then, he wore a bathrobe over his Indiana Pacers practice uniform, which he confessed as a "symbolic reminder to take it easy."
In 2003, he destroyed a TV camera at Madison Square Garden and was suspended for three games.
Again, he had a conflict with Miami Heat coach Pat Riley and was suspended for four games.
In 2007, World Peace was sentenced to 20 days in jail for domestic violence and was suspended for seven games at the beginning of the 2007-08 season.
In the same year, he was obliged to abandon ownership of his dog, a Great Dane, for malnutrition and neglect.
Controversy
In April 2012, World Peace elbowed James Harden in the head while slamming a dunk. Harden was found to have suffered a concussion.
Thus, he got a flagrant foul penalty 2 and was eventually rejected.
In the 2008-09 season with Houston Rockets, World Peace was ejected after a hard foul on Pau Gasol, who was striving to dunk.
Social Media Presence
The former NBA player is an avid social media user. He frequently posts pictures of him with his family and friends and some throwbacks.
He is available on Instagram under the handle @mettaworldpeace37, Twitter @MettaWorld37, and Facebook @Metta World Peace.
Instagram: 188k followers
Twitter: 638k followers
Facebook: 564k followers
Popularity
Metta Sandiford-Artest has gained much popularity from his professional NBA career, over-aggressive game plays, and 86 games suspension.
The above graph gives brief information about the popularity of Metta Sandiford-Artest based on Google searches in the United States over a year.
Frequently Asked Questions
Who were Metta World Peace's teammates during their youth?
World Peace teamed up with Elton Brand and Lamar Odom in Amateur Athletic Union.
Why did the New York native change his name to Metta World Peace?
The player officially changed his name to Metta World Peace to inspire and bring youth together from all over the world. He chose Metta as a first name because he says it's a traditional Buddhist word that refers to love, kindness, and friendliness towards everyone.