Frank Vogel's wife, Jenifer Vogel, met the NBA coach while he was working for Celtics. The couple share two daughters, who are now teenagers.
Vogel, 49, started his career in NBA as a video coordinator for the Celtics before being appointed as an assistant. And slowly he climbed the ladder and became a head coach with the Indiana Pacers in 2011.
He coached the Pacers for five seasons before moving to Orlando Magic in 2016 and finally landed at Los Angeles Lakers in 2019. During the bubble, Vogel guided his team to its 17th Championship title, with LeBron James crowned the Finals MVP.
But with disappointing results in the 2021 season, Vogel was fired. Now, Vogel looks to work his magic on Devin Booker and Kevin Durant as reports circulate he will be the next head coach of the Phoenix Suns.
Vogel's appointment comes after Monty Williams was fired from his position two days after being eliminated by Nikola Jokic's Denver Nuggets.
Frank Vogel Wife, Jenifer Vogel
Frank Vogel's wife, Jenifer Vogel, has tried her best to remain away from the spotlight.
The former Lakers coach, Vogel, met his wife in 1999 while working for the Boston Celtics. In an interview with the official NBA website in 2017, Frank recalled the ridiculous hours he would have to clock.
Vogel had been newly appointed as the video coordinator by Rick Pitino, and even on off days, he would be working 15 hours. Social life was non-existent for Frank.
But how did he meet his wife, Jenifer? The Celtics video coordinator got some relief in 1999 from his work. At the time, there was the infamous NBA lockout, which gave Frank some off days.
So, if many NBA fans and the organization wouldn't want to remember those dark days, for Frank, it had become one of the most pivotal chapters of his life, and a happy one too.
Three years after their first meeting, the couple tied the knot in 2002. But since then, there isn't much information on Jenifer.
The better half of the Sun's coach isn't a big fan of social media like her husband. But we get glimpses of her on her daughters' social media handles.
Frank And Jenifer Share Two Daughters
Frank Vogel and his wife, Jenifer Vogel, share two daughters, Alexa and Arianna.
The two girls have been previously seen in press conferences when their dad was with Indiana Pacers. Now the two girls are all grown up, with one of them attending the University of Wisconsin.
Alexa Vogel Is The Eldest Child Of Frank And Jenifer
Alexa Vogel, the oldest daughter of Frank and Jenifer, was born in 2004. She completed high school last year and is currently enrolled at the University of Wisconsin.
She is available on Instagram with the username @alexavogel_, and her bio hints that she is part of the Gamma Phi Beta sorority.
Though her Instagram handle might be private, her TikTok handle is open for public viewing. Most of her TikTok videos are like any regular teenager, hanging out with her friends and overall experience in her college and Wisconsin.
Arianna Vogel Is In The Varsity Soccer Team
Two years younger than her sister, Arianna Vogel is part of the Mira Costa varsity soccer team.
The youngest member of the family, Arianna Vogel, recently turned 17. She celebrated her birthday on April 21 by sharing a TikTok video lipsyncing to the song "Dancing Queen."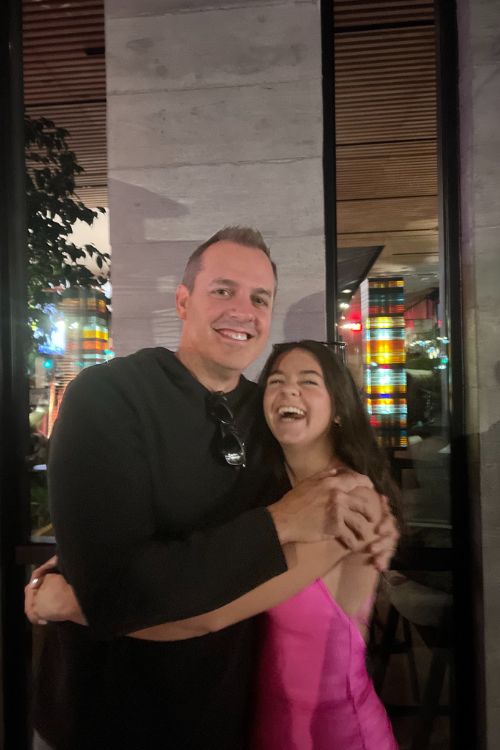 Like her sister, Arianna Vogel is active on TikTok and has shared several videos of her enjoying herself with her friends. In some of the TikTok videos, her famous dad is also visible.