Mickie James, a 5-time WWE Women's Champion, grew up with two sisters, Susan and LaToya James.
After Susan lost to cancer, she has only one surviving sister, LaToya. The American wrestler often posts tributes on her Instagram to her late sis.
Mickie grew up in a close-knit environment with seven siblings. Aside from two sisters, she has four brothers: a half-brother, Benjamin, and three step-brothers, Wayne, David, and Joey.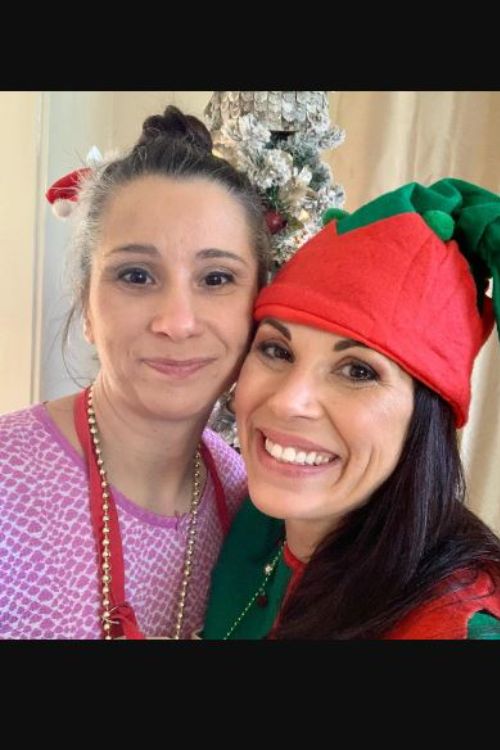 Mickie Laree James, who is currently signed to Impact Wrestling, is the daughter of Stuart James, a retired wastewater treatment worker, and Sandra Knuckles, a teacher and real estate agent.
After her parents divorced, her father married another woman, also named Sandra, on February 17, 1997. On the other, Mickie's mother married Wayne Knuckles Jr.
Her childhood trauma didn't stop her from being a successful wrestling figure, but it was not an easy road. To support her low income from Independent Circuit, she had to work as a waitress and a "nu*e" model.
Throughout her career, Mickie jumped between Impact Wrestling (aka TNA) and WWE, with notable storylines with divas like Trish Stratus, Lita, Maryse, Madison Rayne, and Alexa Bliss.
While in Impact Wrestling, she won five Impact Knockouts World Championships.
James became a five-time WWE Women's Champion and a one-time WWE Divas Champion at the WWE (2003- 13, 2016-19).
Mickie James Sister: Susan And LaToya James, Their Age Gap?
Famous for her Mick-Kick finisher, the American diva is the eldest of three sisters- the two younger sisters: Susan (deceased) and LaToya James.
Born on August 31, 1979, the Richmond, Virginia native is 44 years old as of 2023.
She has an age gap of 2 years with LaToya Mundie (nee James), 42, who was born on May 15, 1981. Her late half-sister, Susan James (b. October 22, 1986- d. November 16, 2019), was seven years younger than her.
LaToya Has Two Daughters And Works As A Police Dispatcher
Micke's sister, LaToya, is a police dispatcher at J. Sargent Reynolds Community College (2013- present), according to her Facebook profile. She graduated from Patrick Henry High School in Minneapolis, Minnesota.
She lives in Ashland, Virginia, with her husband and two daughters: Desire Ann Mundie (b. October 9, 2001) and Destiny Mundie (b. January 29, 2007).
Younger Half-Sister Susan Died Of Ovarian Cancer
The American wrestler's youngest sister, Susan, died in Caroline County, Virginia, on November 16, 2019. At that time, she was 33 years old.
According to Mickie's Facebook post, her sister died after a 5-year battle with Ovarian cancer. After her demise, she wrote a long, heartfelt caption dedicated to Susan.
Now and then, the wrestler cum country singer tributes to her sister on social media and advocates ovarian cancer.
On October 22, 2023, she wished a posthumous birthday to Susan, stating she would have been 37.
Susann James, the daughter of Stuart James and Robin Jones, was a licensed nurse at Wade Service Group home. She studied nursing at J. Sargeant Reynolds Community College.
She was not married but was engaged (in March 2018) to her then-fiance, Dominic Sheppard. They welcomed a son together, Dominic Sheppard Jr.
Mickie James' Another Family Tragedy
On November 28, 2022, the 5-time Impact Wrestling Women's Champ took to Twitter to share sad news about her brother's death.
Her older step-brother, Wayne Knuckles Jr., died in a car accident on November 22, 2022.
In the fatal accident, Wayne Jr, his 16-year-old stepdaughter, and his daughter's best friend lost their lives.
Mickie's sister-in-law, Christy Knuckles (Wayne's widow), was left in a critical condition. They were parents to three daughters: AnAlease Knuckles, Alyssa Dukes, and Amber Wright.
I still haven't found the right words. Home to see my family on Monday. Lost my oldest brother on Tuesday. It's been a week. I've cried everyday since. If you pray, please save one for his 3 beautiful daughters. They need it the most. I love you Wayne. ♥️ https://t.co/JFnXiogXN4

— Mickie James~Aldis (@MickieJames) November 27, 2022
Born on March 20, 1975, Wayne was 47 at the time of his demise. He was the son of the late Carolyn Gendron and Wayne Knuckles Sr.
He was a heavy equipment mechanic and worked at the Dominion, Carter Cat Machinery, and Century Concrete.
Mickie has also lost her younger step-brother David Knuckles (b. December 27, 1980- d. December 4, 2014). He worked for Allianz Global Assistance.
David was the father of a son, Joshua, with his wife (widow) Krystal Rhyne Knuckles.
Among her four brothers, she has only two surviving brothers: Joey Gendron and Benjamin Knuckles (b. July 24, 1985).