Amy Christine Dumas, better known by her stage name Lita, is a professional wrestler from the United States. She is one of the most well-known female WWE superstars. In 2014, she was inducted into the WWE Hall of Fame. She is regarded as one of the Attitude Era's icons.
In a profession such as wrestling, women are not considered lesser. Similarly, one of the strongest and most iconic wrestlers is Amy Dumas, Lita. Lita is a retired professional wrestler and four-time WWE Women's Wrestling Champion.
Lita started her wrestling career earlier, inspired by another male wrestler in the ring.
Thus, her passion and love for wrestling made her one of the renowned and competitive wrestlers. Her wrestling performance is still in use as a reference for the Women's Championship.
Besides wrestling as her primary source of earning, Lita is also a singer. She spent her wrestling career with E.C.W. and WWE.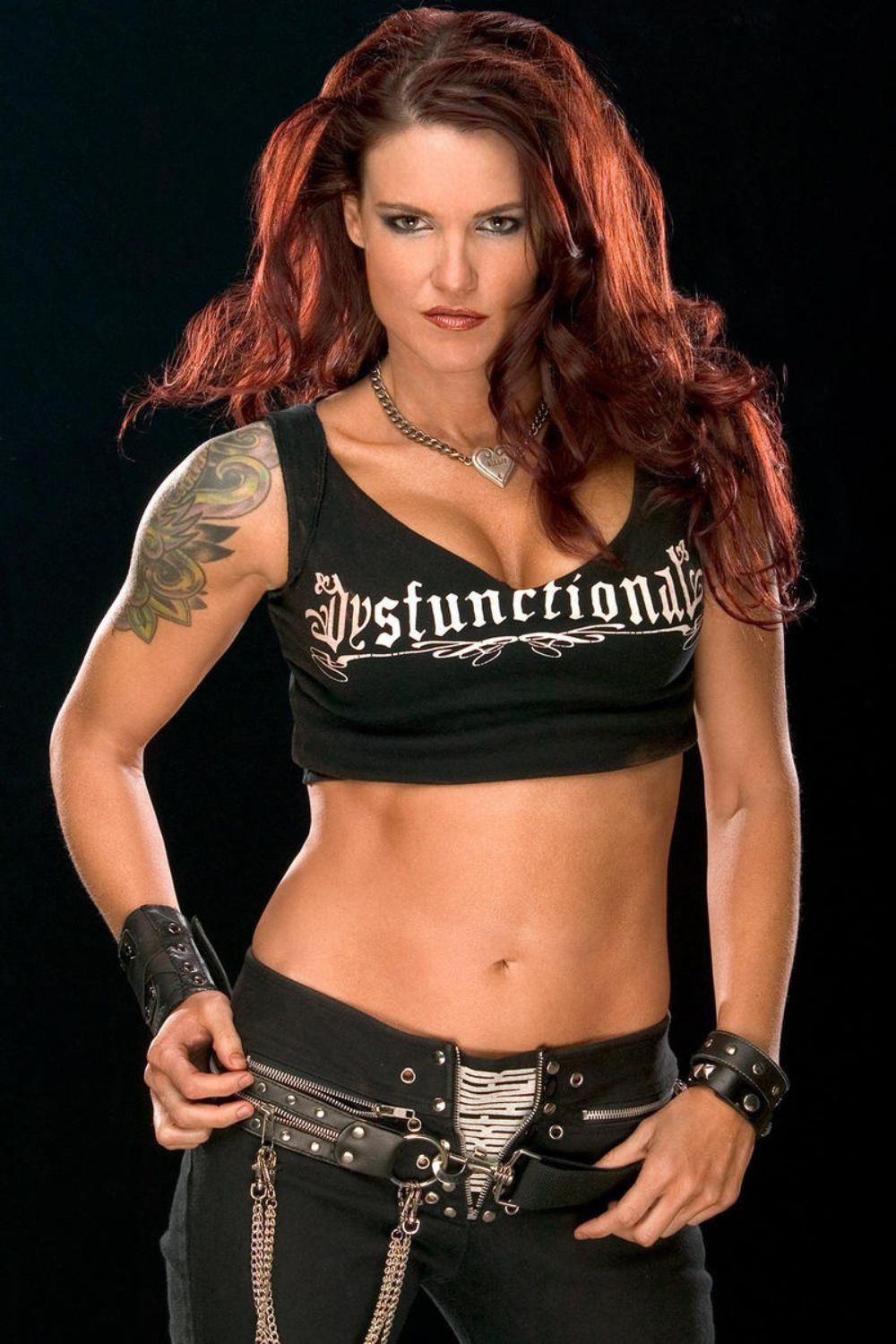 Furthermore, during her entire WWE career, she had a love relationship with some of the renowned wrestlers in WWE. Similarly, she also faced several rivalries. In brief, she is a physically fierce and robust athlete.
With lots of devotion and training, Lita performed her best in the ring. Likewise, there she received lots of honors and consideration, including fame. On the other side, Lita received respectful care on her side business after retiring from the wrestling career.
This athletic woman has always done what she loves. With her earnings, Lita owned an animal foundation. Yet, even for her training, Lita danced in the club. Relating more, following, we have more information in-depth about Lita.
Lita, in the early month of 2022, competed in the Women's Royal Rumble match marking her return to WWE television.
Quick Facts
Learn more about this diva wrestler Lita, here are some the quick facts about her as follows:
| | |
| --- | --- |
| Full Name | Amy Christine Dumas |
| Known as | Lita |
| Nickname | Lits, Angelica, Miss Congeniality, The Extreme Diva, Lovely Lita |
| Birth Date | April 14, 1975 |
| Birth Place | Fort Lauderdale, Florida, United States |
| Residence | Florida or Atlanta |
| Religion | Christian |
| Nationality | American |
| Ethnicity | White |
| Education | Lassiter High School, Georgia State University |
| Horoscope | Aries |
| Father's Name | Mike Dumas |
| Mother's Name | Christine Dumas |
| Siblings | 1 (Billy Dumas) |
| Age | 47 Years Old |
| Height | 5 feet And 5 inches (165 cm) (1.65 m) |
| Weight | 61 kg (134 lb) |
| Eye Color | Green |
| Hair Color | Brown |
| Body type | Athletic |
| Profession | Wrestler, American animal welfare activist, and Singer |
| Marital Status | Unmarried |
| Beginning of Professional Career | 2000 |
| Retirement | 2006 |
| Playing style | Right-handed (one-handed backhand) |
| Coach | Presbyterian College |
| Honors | Hall of Fame, W.W.F. |
| Net Worth | $4 Million |
| Body Measurement | Waist 26 and hip 36 |
| Social Media | Facebook, Instagram, Twitter |
| Merch | It Just Feels Right |
| Last Update | March, 2023 |
Personal And Early Life
Briefly, Lita's real and full name is Amy Christine Dumas. On April 14, 1975, she was born in Fort Lauderdale, United States, to Christine and Michael Dumas. She grew up with her younger brother Billy Dumas.
During her school days, Lita changed numerous schools and completed her high school at Lassiter High school. Later Lita attended Georgia State University, majoring in education. But, she dropped out of her education in 1993.
Earlier, she was so much into music. Lita also used to be the bass guitarist for a lot of bands. Later, she got impressed after watching Rey Mysterio's playing. Since then, she has gotten into wrestling.
Here's Andre The Giant Daughter: Who Is She? >>
Career
Early Career
Just after getting interested in wrestling, Lita decided to have a wrestling career. For which she lacked financial support. And, for some earning she danced in the clubs and made some earnings through it.
Furthermore, she went to Mexico to train professionally for her future. There, Amy received changes to meet numerous professional trainers and trained under them as well. Later, after full completion of training, she returned to the U.S.A.
However, by getting into some of the Independent circuits as a valet, Lita got into Maryland Championship Wrestling. Similarly, there she named her ring name Angelica. Simultaneously, she made an appearance at the N.W.A. Mid-Atlantic.
Renowned wrestlers Matt and Jeff Hardy approached her to train her.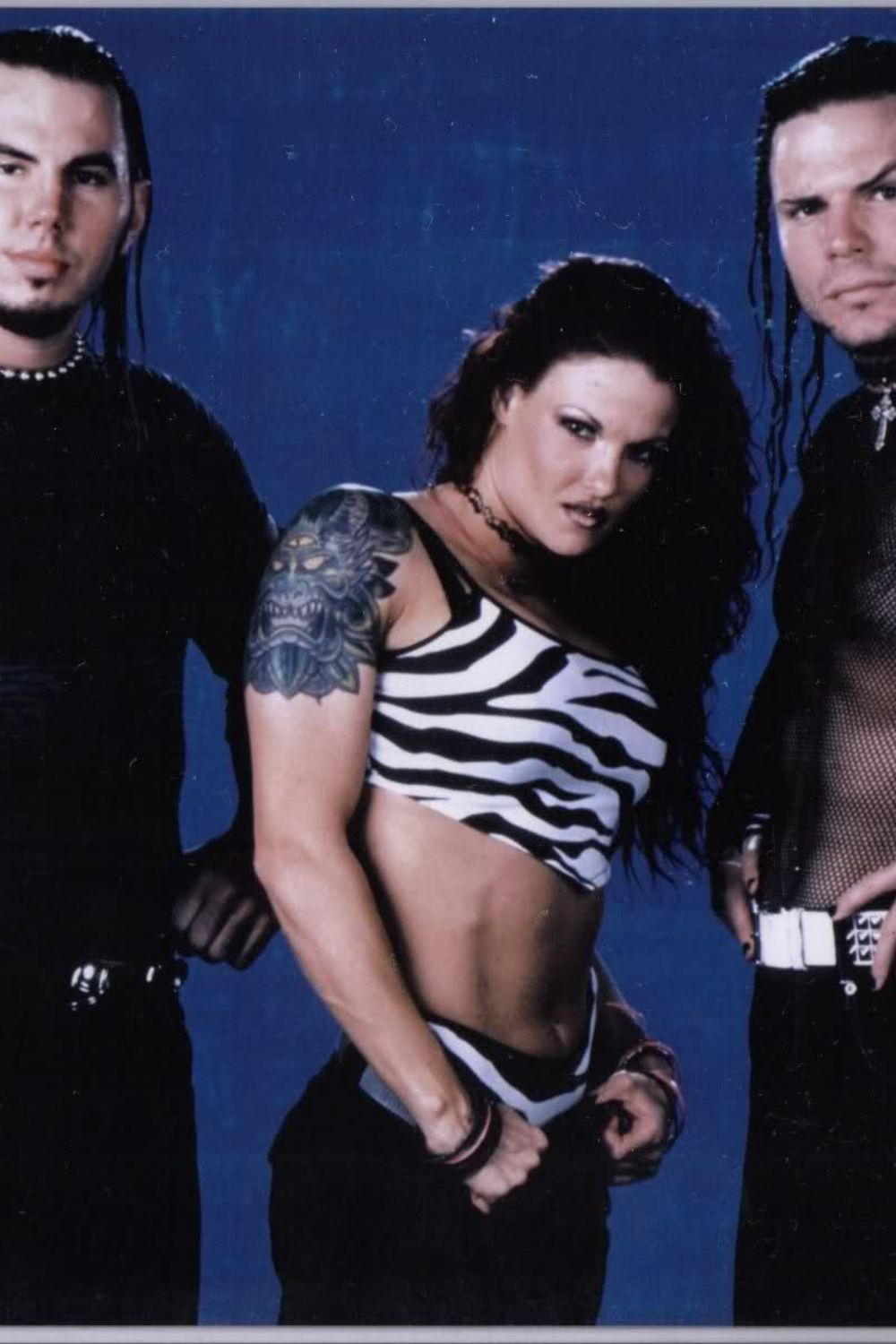 Later, she met Paul Heyman. Paul was the owner of the E.C.W. Back again, there she met Dory Funk Jr, who offered to train Lita at his wrestling school, "The Funkin' Conservatory." Immediately, she was listed as one of the 24 graduates from the school.
Afterward, Amy made her actual appearance in E.C.W. in October 1999. After that, she signed the W.W.F. development deal on November 1, where she was given her ring name Lita.
Also, paired with Luchador Essa Rios. From there, she made her debut on February 13, 2000.
Later after some time, Rios and Lita separated, then Matt and Jeff Hardy joined her. Hence they formed their trio Team Xtreme.
Consequently, being the only female member of Xtreme, Lita became the only female to get in a Tables, Ladders, and Chairs match in W.W.F.
Leading To Made History
Undoubtedly, she became well-known and noticed by many. Similarly, she began a feud with W.W.F. Women's Champion Stephanie McMahon- Helmsley.
With further changes, in an episode of Raw on August 21, 2000, Lita defeated Stephanie. In brief, she applied moonsault and took the Women's Championship title. Lita held the title for all long 73 days.
But she lost in a four-way match on an episode of SmackDown. Again, her efforts did not work out to regain the title as she failed to Ivory at Survivor Series, Rebellion.
The year 2001 became quite fruitful as her feud with Dean Malenko began. Besides, she defeated him on Raw Battle and later joined hands with Trish Stratus. Thus, she had to combat Stacy Keibler and Torrie Wilson.
Then, on July 22, 2001, Trish and Lita had their first-ever Bra and Panties match, stripping the opponent naked.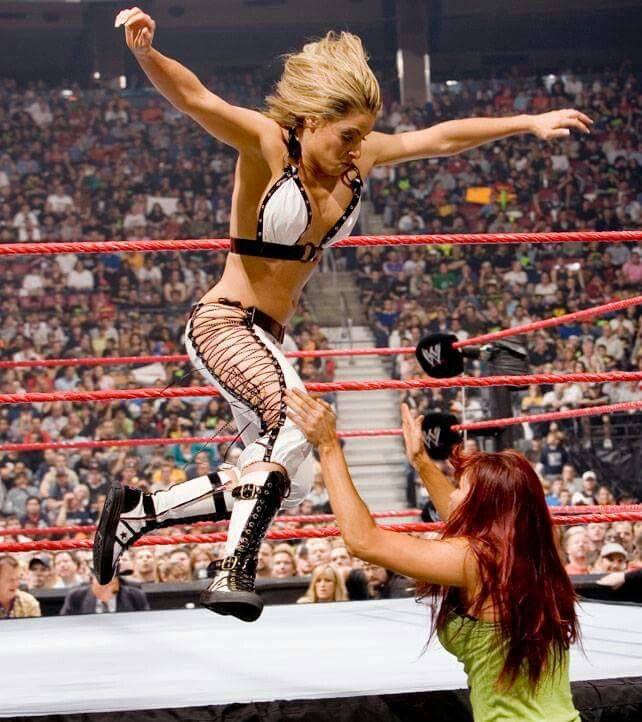 In the same way, they teamed with Jacqueline and again feuded with Keibler, Ivory, Wilson, and Mighty Molly.
Finally, with lots of effort, Lita re-tried W.W.F. television in 2002 and resumed the W.W.F. Women's Championship title.
Unfortunately, that time reigning champion Jazz pinned her down at WrestleMania X8.
Accordingly, Lita's destiny toward the Championship title again got interrupted. This time, she went through three cracks in her vertebrae.
Thus, for the whole year Lita spent rehabilitating, making sporadic appearances as a commentator.
Back Again After Injury
Later after the complete rest of seventeen months, Lita showed up for an episode of Raw. She competed in the women's division and won the battle royal, becoming the number one contender for the Women's Championship.
In the back, Lita reunited with Matt Hardy, who helped her from an attack by Kane. Later, seeing this, Kane could not bear their reunite, and he kidnapped Lita.
Moreover, he gave her a title shot at Bad Blood which made her lose against Trish Stratus.
On Her Pregnancy
Leading up with numerous rumors, Lita once broke the news of getting pregnant. The news shocked everyone; moreover, about pregnancy rumored that the child was of Kane.
In a debate between Hardy and Kane, they had a match, "Till Death Do Us Part." In the end, Kane defeats Hardy and goes on to marry Amy.
Despite her marriage with Kane, Amy was not in his favor. It is also heard that she thwarted him during matches aiding his opponents.
In addition, during Kane's game against Gene Snitsky, Kane accidentally falls on Amy, which eventually causes the miscarriage.
After a complete case of miscarriage, Amy stood up for the Women's division up until November 2004. Then, with so much grace, Lita challenged Stratus to a Women's Championship match.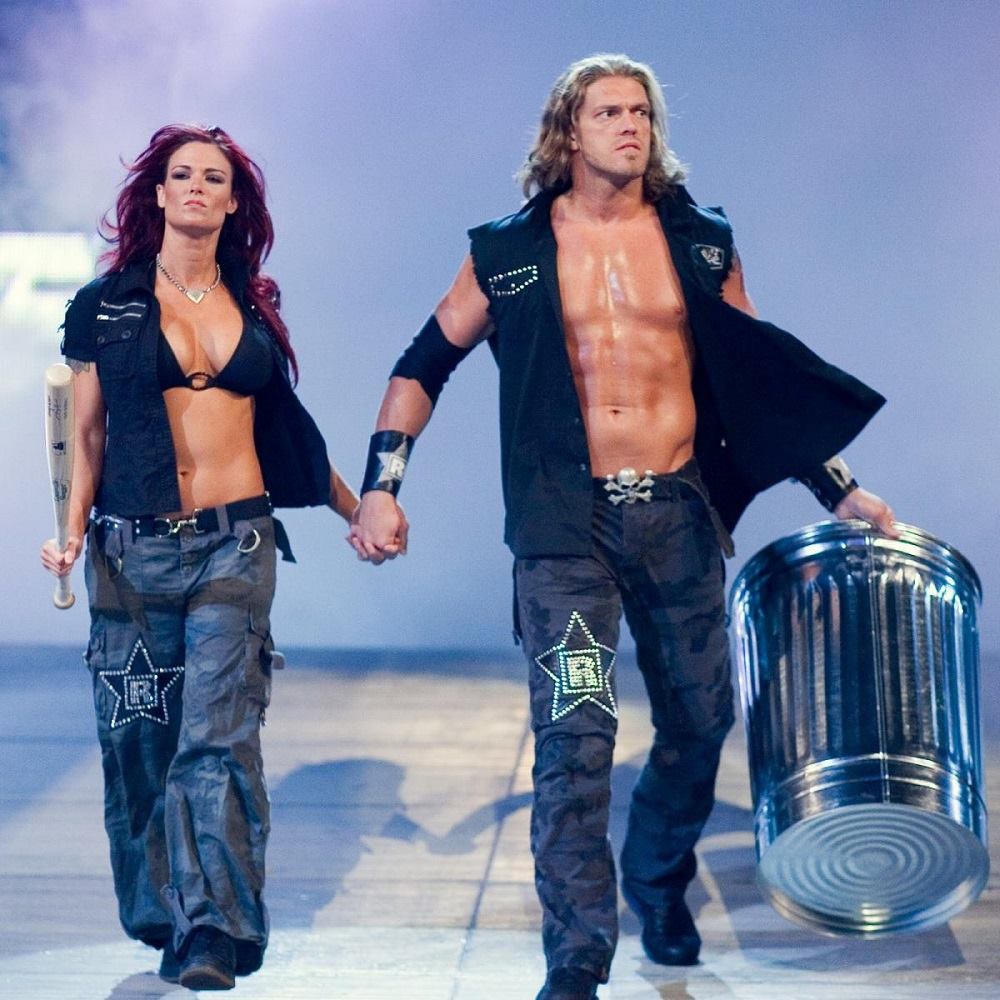 In summary, she fought and defeated Stratus and won her second WWE Women's Championship title. It was one of the best Women's Championship matches in WWE history.
As everything has an end, Amy's victory could not last long. Just after a month, Stratus again defeated her. So, unfortunately, her Championship title ended on January 9, 2005.
During the match, Lita was again injured severely. This time she had to miss the Women's Championship title at Wrestlemania.
Lita returned to the ring in March 2005 as a mentor to Christy Hemme. Besides all of her training, Stratus defeated her in anger of Amy.
Back again, Amy got a chance and knocked out Stratus with her crutches. Thus, these all emerged as a villain.
On the other side, her relationship with Kane ended as she helped Edge defeat him in the Raw Rush Tournament. Furthermore, she again helped Edge to win a match against Hardy.
Despite all, Lita won her third Women's Championship in August 2006 against the famous Mickie James.
After that, however, she lost her all-time rival Trish Stratus which became unforgiven in that Stratus's retirement match. Later, her Retirement made Lita regain the vacant title in November.
2022 Update
As previously mentioned, Lita competed in the Women's Royal Rumble match in January 2022, marking her return to WWE television.
After that, she joined forces with Becky Lynch to compete for the Raw Women's Championship in a dream match at the WWE Elimination Chamber Premium Live Event in Saudi Arabia.
In the recent month, she has been working on a secret project, as she posted about it on her Instagram, which is not revealed yet.
View this post on Instagram
In November, Lita announced that she would appear with her best friend Trish Stratus in @ricomiccon.
On November 4-6, 2022, at the @riconvention.
Controversies Of Lita
Betrayed Edge for Kane.
Flushing Kane's Wedding Ring down the toilet.
Eliminating Mickie James from the Women's Championship by cheating.
After winning the WWE Championship, Edge promised a "live sex celebration" with Lita on Raw the next night to share their joy.
Assisting Edge in Attacking the Beulah.
Attempting to destroy Trish stratus's Retirement.
Setting fire to a table for Edge to attack Mick Foley.
Retirement
Just after the Retirement of Stratus, Lita also announced her Retirement in 2006.
Meanwhile, the information was at the Survivor Series stating that would be the last match of her career. There, she got to fight with Mickie but lost.
In the end, she lost the match and the title.
After Retirement
Making the official retirement announcements, Lita showed up very often on the ring. In 2007, she debuted for United Wrestling Federation (U.W.F.) as a special guest referee.
Similarly, she again debuted for Family Wrestling Entertainment as a special guest referee.
Simultaneously she returned to WWE, not as a wrestler, but she made her appearances randomly from time to time.
Amazingly, she teamed up with Stratus for the match against Jillian Hall. Even just for audience demand, she reunited with her former husband, Kane.
However, wrestling is Amy's primary Career and source of income; she was also in a punk rock band. Likewise, the band was 'The Luchagors' in 2006. The band owned a self-titled debut CD on September 11, 2007.
By the year 2013, Lita also hosted a radio show called Amy's Discordia. But, equally important, she wrote an autobiography with Michael Krugman and named it Lita: A Less Travelled R.O.A.D.
Trend Graph
The search for Lita is not at its peak for 2022, but it was at a high peak at the end of 2021 due to the rumors of her facing Baker, but the sides could not reach a final agreement.
This shows that her fans still search for her.
Awards And Achievements
WWE Hall of Fame: 2014
W.W.F. Women Champion: 2000, 2004, 2006
Net Worth
Attempting to do all, Lita lived a luxurious life. Thus, at the age of 47, Amy is still an energetic and cheerful person.
In conclusion, Lita's estimated rate of net worth is $4 million.
Trivia
Edge Came Up With Her Ring Attire on stage.
She injured her neck on a tv show.
She Wasn't Invited To R.A.W.'s 25th Anniversary.
She and Edge began with an emotional affair.
Social Media Appearances
Comparably, Lita is one of the wrestlers who are still in the eye of many wrestling lovers. Meanwhile, she is still active and energetic in maintaining her figures. With such a nature, Lita is active on her social media accounts.
Currently, there are posts about her dog, vacation, and daily updates, including her love for wrestling. Thus, she has the following number of fan followers on her accounts as of 2023:
View this post on Instagram
Frequently Asked Questions (F.A.Q.s)
Is Amy Dumas married?
Despite having lots of dating rumors and affairs with wrestlers, including other renowned faces, Amy is still unmarried.
Are Lita and Stratus still friends?
Despite having rivalry numerous times, these two famous wrestlers, Lita and Stratus, are good friends in real. Lita is the godmother to Stratus's son.
You Might Also Have Interest In Top 12 Female Professional Wrestlers In WWE >>