Mickie James is a professional wrestler and also a well-known country singer. She was also a stage dancer who went by the name Alexis.
James is a champion Women Wrestler, a five-time WWE women's title winner, and a former WWE Divas Champion.
She has three TNA ( Total Nonstop Action Wrestling) knockout championships under her name and won the 2013 TNA world cup with Team TNA.
She is also a nine-time champion between WWE and TNA, making this achievement a national record.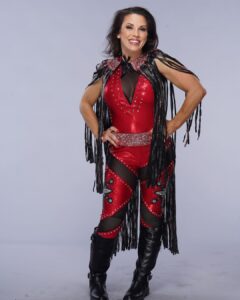 In her career of more than two decades, she has had memorable rivalries against top female wrestlers.
She was ranked the number one female wrestler by Pro Wrestling Illustrated (PWI) magazine in 2009. PWI magazine readers have voted her Woman of the year twice, in 2009 and 2011.
Besides wrestling, Mickie is also passionate about music. She has released two music albums in the country-rock genre and writes/co-writes most of her songs.
An interesting fact is that her TNA entry song, Hardcore Country, is sung by herself!
In this article, we will go through the life of this incredibly talented diva, her early days, struggle, and making it big in the ring. First, here are some quick facts about her:
Quick Facts
Full Name

Mickie Laree James-Aldis

Birthday

August 31, 1979

Birth Place
Richmond, Virginia
Nick Name
N/A
Religion
Christianity
Nationality
American
Ethnicity
Native American; Powhatan
Education

Patrick Henry High School

Zodiac Sign
Virgo
Father's Name
Stuart James
Mother's Name
Sandra Knuckles
Siblings
Four brothers, two sisters
Age
44 Years Old
Height

5'4 (163 centimeters)

Weight
124 lb (56 kg)
Hair Color
Dark brown
Eye Color
Dark brown
Body Measurement
34-25-35 inches
Figure
Curvy
Married
Yes
Husband
Nick Aldis 'Magnus' since 2015
Kids
One Son:

Donovan Patrick Aldis

Profession
Professional Wrestler, Singer, Dancer, Model
Net Worth
$4 million
Affiliations
Childhelp
Active Since
1999
Social Media
Facebook, Instagram, Twitter
Website
www.mickiejames.com
Merch
Autographed Posters, Wrestling Trading Card
Last Update
November, 2023
Mickie James | Early Life, Family, and Education
Mickie James, the WWE diva, was born on 31st August 1979 in Richmond, Virginia.
Her mother, Sandra Knuckles, is a teacher and real-estate agent, whereas her father, Stuart James, is a retired wastewater-treatment worker and a landscaper.
A lesser-known fact is that Mickie is a native American and part of the Powhatan tribe from her mother's side.
Likewise, Mickie's parents divorced soon after her birth, and her custody was given to her mother, Sandra.
Mickie spent most of her childhood days with her grandmother on her grandmother's 47 acres horse farm.
She loved horses, and it ignited her initial interest in sports. James had her first riding lesson at six years old, and she dreamed of being a horse trainer in the future.
Mickie even had a pony named sugar, on whom she learned to ride.
James also developed a keen interest in music from her early childhood. She was very good at the violin and played it for five years through middle and high school but eventually discontinued.
I'd always wanted to sing when I was a little girl, but I didn't have the confidence to get up in front of people.
She attended Patrick Henry High School and completed her graduation in 1997. She has a sister, a half-brother, a half-sister, and three stepbrothers.
Mickie James | Wrestling Career
Mickie was a long-time fan of wrestling, and after her friend suggested it, she joined a professional wrestling school in Washington DC.
In 1999, she made her professional debut on the independent circuit under ting name 'Alexis Laree' as a valet for KYDA pro wrestling. During this time, she managed several wrestlers, the likes of Tommy Dreamer.
Mickie honed her wrestling skills by taking part in training camps such as the 'Extreme Championship Wrestling' (ECW) dojo and the 'Funking Conservatory.'
Some early competitions that she took part in were Maryland Championship Wrestling' (MCW) and Ring of Honor' in 2002. James debuted with TNA wrestling in June 2002 in a pay-per-view lingerie battle royal.
Besides such stints with wrestling, Mickie worked as a waitress in 'Olive garden,' an American casual dining restaurant chain.
To make ends meet, Mickie also posed nude for adult magazines such as the leg show and naughty neighbors in the early 2000s.
Time and again, Mickie has hinted that she is not proud of that now since she is a mother to a son.
In her 2008 interview with The Morning After the radio show, she said, "It's kind of hard to say, I've done some things in my past, but that doesn't make me who I am today."
WWE debut and Trish Stratus
WWE signed her in 2003 and sent her to Ohio Valley territory, which was still their developmental territory back then.
Her first TV appearance for 'OVW' was on January 29, 2004, following which she took part in many tag-team matches.
James's WWE debut was on Oct 10, 2005. She went by the name Mickie James in a RAW episode where she was presented in a gimmick as an obsessed Trish Stratus fan.
Stratus won the following match between the divas.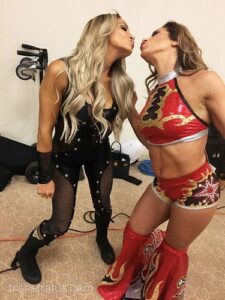 This iconic storyline continued as both of the ladies appeared in more matches together. James eventually defeated Trish on April 2, 2006, Wrestlemania 22, claiming her first women's championship title.
To this day, this match is considered one of the best women's matches in history.
Likewise, James went on to win the women's championship four more times later on. Mickie earned her first 'Divas Championship' in July 2009, defeating the then Divas Champion Maryse.
She was associated with the Smackdown brand from October 2009 to April 2010.
Mickie made a comeback to the independent circuit in April 2010 and appeared for World Wrestling Council(WWC) and 'Maryland Championship wrestling' MCW.
TNA signed a contract with Mickie in September of that year, and she appeared on promotion and a special episode of 'Impact!'.
Rising to fame
James won the first 'Covey Pro Women's Championship in April 2011 but lost the title to Jessie Belle Smother in November that year.
She also beat Madison Rayne to bag the title of 'TNA Knockouts Championship' in April 2011.
This win established her as the first and only diva to hold the three titles, 'WWE Women's,' 'WWE Divas' and 'TNA Knockout Championship.'
She won TNA knockout championship two more times, in 2011 September, and 2013 May.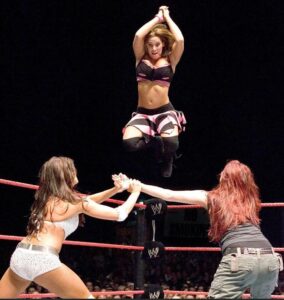 She won the MCW women's championship in June 2015, only to lose the title to Kimber Lee in November the same year. She was associated with Global Force Wrestling (GFW) for a short while in July 2015.
In January 2017, the diva returned to WWE on an episode of 'SmackDown Live.' She was drafted to RAW in the 2017 'Superstar Shake-Up.'
The WWE diva was drafted back to the SmackDown brand during the 2019 Superstar shakeup.
She suffered a knee injury during a live event in July 2019 and was out of action for several months after a successful surgery. She worked as a commentator for the main event during her recovery.
Moreover, James returned to the ring on the August 2020 episode of Raw and lost a singles match to Natalya. James challenged RAW women's champion Asuka in September, which she eventually lost.
Mickie appeared in a special 'Legends Night' episode of RAW on Jan 2021 alongside other WWE superstars.
Mickie James | Musical Journey
As mentioned before, Mickie had developed an interest in music when she was in school, but it wasn't until later that she started music professionally. She began recording songs in 2009 while on the road with WWE.
The gorgeous diva released her first single, 'Are you with me,' and the album 'Stranger's & Angles' in 2010. Notable music producer Kent Wells produced this album.
She was signed to "Eone Music Nashville' later on and released her first single with a music video, 'Somebody's Gonna Pay.' This video features her real-life husband, Nick Aldis, and her friend Trish Stratus.
Consequently, her album of the same name was released and debuted at no. 15 on the billboard heatseekers charts.
Mickie's TNA entrance music 'hardcore country' appears as a bonus track in her first album.
Since then, Mickie has released two more music videos, 'Left Right Left' and 'I don't give an A' in 2018 and 2019, respectively.
Mickie's official VEVO channel has 15K subscribers. And more than 1 million views.
Mickie is continuously working on new projects and has said that she is ready with a new unnamed album to be released soon.
The WWE diva describes her music genre as 'country southern rock' and is interested in writing songs from personal experiences and not just random songs.
"To see words that came out of your heart come to life and touch other people — that's where the real magic is for me."
She has won 3 NAMA (Native American Music Awards), including a song of the year 2017 for her 2016 single, 'Shooting Blanks.'
It was followed by the Best single recording 2018 for Left Right Left'. Mickie was also inducted into 'The Native American Music Awards Hall of Fame' in October 2017.
Mickie James | Relationships and Marriage
Throughout her career, our star girl Mickie has dated many fellow wrestlers. According to web sources, she has been in at least seven relationships before marrying Nick Aldis.
Mickie was in a relationship with Adam Birch, known by his ring name 'Joey Mercury' during the early 2000s, and with C.M Punk in 2003.
Mickie dated Kenny Dykstra in 2007 and was also engaged to him. Kenny is also a professional wrestler.
Unfortunately, this relationship didn't work out, and they split up soon.
Mickie also briefly dated star wrestler John Cena in the 2000s. This informal relationship ignited controversy as rumors swirled that James was transferred to a different show once the couple broke up.
Also, her ex-fiance Ken has made accusations that she was one of the reasons behind Cena's divorce from his then-wife, Liz Cena.
Mickie met Nick Aldis, known by his stage name 'Magnus' in TNA, and they started dating in 2011. They briefly split in 2013 for unknown reasons but got back together again.
Similarly, the couple welcomed their first child, a son, on September 25, 2014, named Donovan Patrick Aldis. They married on December 31, 2015, in a beautiful ceremony.
Mickie and Nick have been together for around a decade now, and we are delighted to see how in love they still are. They are regularly seen writing praises for each other on social media.
Personal Life and Kids
During the beginning years of her career, she spent most of her time in wrestling, spending more than 250 days a year on the road.
As she continues to age and grow, Mickie has said that she is learning to balance wrestling, family, and other interests, including music.
Mickie is fond of horses, an intimacy that developed during her early life. She owns two horses that are named casanova and Bunny.
The multi-talented James is also an avid dog lover and pets two dogs named Pixie and Butch, including a cat.
Mickie is also associated with Childhelp, a non-profit that helps children victims of abuse and neglect.
As an ambassador of Childhelp, Mickie works closely with the therapy center where they use horses for mutual healing of children and the horses. Mickie dreams of having her own horse farm someday.
Mickie James | GAW TV
In March 2020, Mickie James collaborated with other women of wrestling, namely Lisa Marie Varon and Valerie Wyndham (SoCal Val), to produce a youtube show called Grown-Ass Women (GAW) TV.
"Get ready to let loose and have a laugh with these unfiltered ladies as they discuss topics ranging from current events, careers, and relationships to fashion, beauty, wine, music, and more!"
This is a fun show where they talk unfiltered about life, career, relationships, fashion, and other interesting topics.
They have often described this show as "important nonsense." The official website of GAW TV also features GAW TV merchandise consisting of apparel, homewares, and accessories.
Mickie James | Net Worth and Properties
After years of hard work, Mickie has certainly made a name for herself and a good sum of net worth. Her estimated net worth is above 4 Million USD.
Likewise, Mickie lives a comfortable and luxurious life with her family and her pets in Nashville. The couple bought their new house in Nashville in December 2020.
In her Instagram post, Mickie described this as a 'dream come true.'
As expected, James' income sources are her salary, merchandise, music, endorsements, and other contracts.
However, the exact amount is still not mentioned in public. Nonetheless, she, along with her family, takes trips and vacations from time to time.
Social Media Presence
Facebook: 1.46 Million Followers
Instagram: 1 Million Followers
Twitter: 896.5K Followers
Mickie James | Frequently Asked Questions
Is Mickie James a native American?
Mickie James is a Native American of the Powhatan tribe from her mother's side. Mickie takes pride in her ethnicity and has incorporated it into her life.
In an interview with CowboysIndians, James revealed that her tribe has the Pocahontas' necklace.
Is Mickie James in a band?
No, the wrestler is not in a band. However, another person sharing the same name is in a band.
What gesture did Mickie James make?
In a match with Trish Stratus, James made a provocative gesture with her hand and her mouth.
Is Mickie James retiring?
After Mickie sustained an injury in 2020 and had an absence from wrestling, there have been rumors about her retirement.
But these rumors are not true, and she is still an active performer. The WWE website still lists her as a RAW Superstar.
Though she has hinted at her interest in focussing more time on family and music, there is no indication of her giving up wrestling any time soon.
(Make sure to leave us a comment. If any information is missing or wrong, feel free to reach out to us.)