Maryse Ouellet is a Canadian professional wrestler, actress, and glamour model. She is working with her husband, The Miz, under the WWE, appearing on the Raw brand.
It becomes difficult to choose the field that best describes Maryse Ouellet since there are many, and she has achieved success in every field she has stepped upon.
Whether it is wrestling, acting, business, reality star, or modeling, you will likely hear her name once in a while.
Ouellet earned recognition as she joined World Wrestling Entertainment after winning Miss Hawaiian Tropic Canada in 2003.
She was also featured on Playboy's 2007 Girls of Canada calendar cover.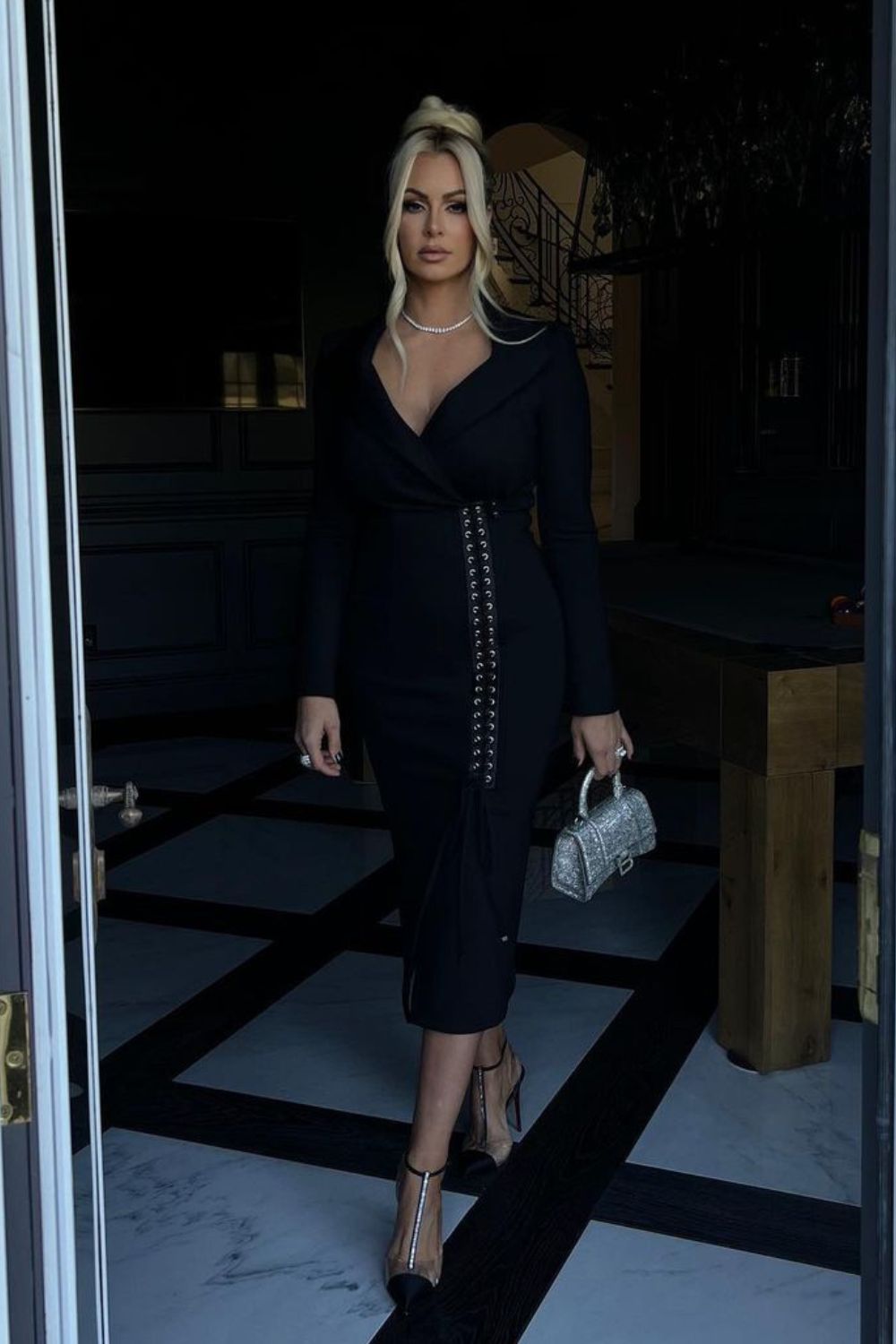 She is the third-longest title holder of the WWE Divas Championship and the first to win it in a tournament.
Maryse tried to convince Beth Phoenix to cancel their match at Royal Rumble, which led to a mixed tag team match in which her husband, The Miz, and she lost on January 17, 2022.
Ouellet's net worth is estimated to be $14 million as of November 2023, a combined net worth with her husband, The Miz, since 2014, although she is not active like before.
As a trained Karate, the black belt has earned quite the popularity for her finishers, i.e., finishing moves, which are called French Kiss and French TKO.
Besides that, she runs a clothing and jewelry brand and a reality television show, Miz & Mrs. But how did the gorgeous woman achieve this all?
When and where was Maryse born? Of course, these questions certainly have dwelled in your mind once you heard about her. Without delay, let's find the answers.
Let's begin with the quick facts table.
Quick Facts
Full Name
Maryse Ouellet
Birth Date
January 21, 1983
Birth Place
Montreal, Quebec, Canada
Residence
Thousand Oaks, California, United States
Nickname (Ring Names)
Maryse
Maryse Mizanin
The Sultry Diva
Religion
Christianity
Nationality
Canadian-American
Ethnicity
White
Education
College Montmorency de Laval, Quebec
Zodiac
Aquarius
Father's Name
Guy Ouellet
Mother's Name
Marjolaine Martin
Siblings
One sister
Sister
Michelle Ouellet
Age

40 Years Old

Height
5 ft 8 in / 173 cm / 1.73 m
Weight
52 kg / 115 lb
Build
Athletic
Shoe Size
9 (U.S.)
Eye color
Dark Brown
Hair Color
Blonde
Profession
Professional Wrestler
Wrestling Manager
Model
Actress
Businesswoman
Active Years
2006-Present (Wrestling)
Marital Status
Married
Spouse Name
Mike Mizanin (m. 2014)
Children
Two daughters
Daughters
Monroe Sky Mizanin
Madison Jade Mizanin
Net Worth
$14 Million
Salary
$200,000
Social Media
Facebook, Twitter, Instagram
Signature Moves/Finisher
French Kiss
French TKO
Favorite Actress
Scarlett Johansson
Favorite Wrestler
Lita
Retired On
October 2011
Merch
Autograph Wrestling Photos, Paperback
Last Update

November 2023
Early Life, Family, & Education
Maryse Ouellet was born Maryse Mezanin in Montreal, Quebec, on January 21, 1983, to parents Guy Ouellet and Marjolaine Martin.
She became an American citizen only in June 2018.
She shared a close relationship with her parents; the model even has a tattoo of her late dad's name on her wrist.
Ouellet grew up in a Roman Catholic family in Edmundston, New Brunswick, with her sister Michelle.
She attended a high school where she was the only girl in her class. Maryse took part in different fashion shows at her school and holds a bachelor's degree in business administration from College Montmorency de Laval.
Maryse became involved with modeling and glamour from her early days. She made various makeup products and competed in a few beauty pageants.
Moreover, she won the Miss Hawaiian Tropic Canada title in 2003 and became the runner-up at the International Finals of Miss Hawaiian Tropic.
The model has a black belt in martial arts, is very hardworking, and works out almost daily. The wrestler has even shared some of her workout tips. Maryse Ouellet is a vegetarian and an animal rights activist.
Wrestling career
Beginning From Diva Search
Ouellet was eliminated from the top eight positions when she aimed for the WWE Diva Search.
However, she got a chance to visit the Ohio Valley Wrestling training facility, joining Brooke Adams. Soon, she signed a WWE developmental contract to train at OVW in August 2007.
She debuted in the ring at a live event in OVW in December 2006 and managed Sylvain Grenier at OVW.
Ouellet moved to Florida Championship Wrestling, where she made her first appearance in September, joining Lacey Von Erich as a valet of Ryan O'Reilly.
She also started managing Ted DiBiase Jr. in December 2007.
Television Appearance & Settlement In WWE
Maryse was seen on television for the first time at Raw in May 2007, where she presented a new music video of 'Throw It on Me' by Timbaland.
Similarly, the black belt had regular appearances in SmackDown by early 2008, gaining recognition as a villainous character.
She contested a swimsuit competition on March 7, 2008, ending up in a brawl with Eve Torres.
In her in-ring debut in May at SmackDown, she lost to Cherry before defeating her in a rematch next week. Also, she had unsuccessful attempts against Natalya for the Golden Dreams championship.
Title At Divas Championship
Later in November 2008, she eliminated Kelly Kelly, Mickie James, and Candice Michelle in a five-on-five Divas elimination tag team match at Survivor Series.
Maryse won her first Divas Championship by defeating Michelle McCool in December 2008. She teamed with McCool in February 2009 to win against Maria and Eve Torres.
She defeated Melina in her debut at Raw in March in a Lumberjill match. Likewise, she retained her Divas title despite losing by disqualification against Gail Kim at SmackDown.
Again, she defended against Kim in her SmackDown appearance in April.
Next, she defended the title against Kelly Kelly in the same manner as Kim. However, she handed the title to Mickie James at Night of Champions in July.
She had kept hold of the title for the longest period before AJ Lee broke the record in January 2014.
First Diva To Win The Title Twice
Particularly, she had attacked the then Divas champion Melina in a 6-Divas tag team match in November 2008 at Raw. Also, she teamed with Jillian Hall against Melina and Gail Kim in a tag team match where she pinned Melina.
Next, she defeated Gail Kim in December and attacked Kelly Kelly to provide her with the Divas championship, which Melina denied.
She reached the tournament finals for the Divas championship in 2010 by defeating Brie Bella and Eve Torres. Soon, Maryse defeated Gail Kim in the finals to win the Divas championship.
In fact, in an Interbrand tag team match, Michelle McCool and Layla defeated the pair of Maryse and Gail Kim.
Losing The Title
Maryse defeated Kelly Kelly at Raw on March 15, 2010. Eve Torres and Gail Kim attacked her before LayCool saved her and joined Vickie Guerrero.
Besides, the team with Alicia Fox defeated Beth Phoenix in a 5-on-1 handicap match.
Similarly, she could not defend her Divas title against Eve Torres in April at Raw. Maryse could not gain the title back at Over the Limit and in a Fatal Four-Way match.
Alicia Fox, then Tamina Snuka's partner, had won the title.
Role As Ted DiBiase's Manager & Departure
Ted DiBiase provided Maryse with a role as his assistant in June 2010. Soon, she accompanied him at the Money in the Bank match in July.
Similarly, Natalya eliminated her from a battle royal to clinch the Slammy Award for the Year's Diva.
Soon in March 2011, she began co-hosting NXT with Matt Striker. Many romantic stories came of her with Yoshi Tatsu, Lucky Cannon, and Hornswoggle in NXT Redemption.
Later, she left Ted DiBiase to continue in NXT before being released from the WWE contract in October.
Return To WWE
Maryse returned to WWE in a WWE Intercontinental Championship match, where her husband, The Miz, faced Zack Ryder.
She helped her husband win the title by distracting Ryder. Then, she started managing Miz, appearing in his matches at SmackDown.
Similarly, Miz retained his title against Kane in June with help from Maryse. The couple began a feud with a similar couple, John Cena and Nikki Bella, losing to them in a mixed tag team match at WrestleMania 33.
Re-Draft To Raw
Raw drafted Maryse with her husband in April 2017. Again, she saw Miz win his seventh Intercontinental Championship against Dean Ambrose. However, Maryse stopped appearing on television following her pregnancy.
In particular, she was honored as a legend in the Raw 25 Years special episode with several other Divas.
Then, she assisted her husband backstage for his Mixed Match Challenge matches and has managed him at SmackDown since July 2018.
The couple won a mixed-tag match against Brie Bella and Daniel Bryan in September at Hell in a Cell.
However, she had a losing effort with disqualifications against Bella in a singles match at SmackDown Live. Again, in December 2019, she appeared in a feud between Bray Wyatt and Miz.
Although there were no official announcements of her return to the WWE, many sources claimed it would happen sooner. Nevertheless, she always said she would be part of the WWE even if she wasn't competing.
Maryse surprised everyone by returning to Raw when she was accompanied by The Miz and confronted Edge in the middle of his first promo after being drafted back to Raw on November 29, 2021.
After that, she appeared multiple times on Raw, including trying to interfere in the match between Edge and The Miz and The Miz on Day 1, where Beth Phoenix returned to confront her.
Modeling & Acting
Explicitly, she appeared in an issue of Muscle & Fitness in 2009. Similarly, she interviewed for Eurosport with John Morrison.
Maryse was on the cover of Sessions Magazine in October 2010 after appearing in a Redemption song; also, the model is quite known for her love for boots.
She has unapologetically worn them, especially knee-high boots, at several events, including some of her matches.
Not to mention, her outfit choices are immaculate. She gives life to every outfit she puts on her stunning body.
She was also featured in Sharknado 3: Oh Hell No! and in Santa's Little Helper and a reality TV series WAGS in 2015.
Ouellet was the main cast member of Total Divas' sixth season. Moreover, she started a reality television series, Miz & Mrs, in 2018 with her husband, Miz.
On November 17, 2022, Maryse went on a beach vacation with her family, which she updated through her social media showing off her bikini body on the beach of Cabo San, Lucas, Mexico. Earlier, she competed in a swimsuit competition.
Achievements & Titles
Ouellet had a fairly successful career in WWE and has won the Divas Championship two times.
Similarly, she was victorious at the Divas Championship Tournament in 2010.
With this in mind, Pro Wrestling Illustrated ranked her at no. 9 in 2009, no. 10 in 2010, and no. 28 in 2011 in the list of top 50 female wrestlers, i.e., PWI Female 50.
Indeed, this could be a sufficient recognition a woman may seek in her career.
Net Worth & Salary
There is no doubt that Maryse Ouellet has gained modest success in many fields in her career. She earns $100,000 annually from her contract with WWE.
Apart from that, she used to earn $200,000 per year during her peak. Also, she makes a decent fortune from her clothing and jewelry brands at the House of Maryse.
As of November 2023, Maryse Ouellet's net worth is $14 million.
The Mizanin couple has owned a lavish mansion worth $6.4 million in Thousand Oaks, California, since August 2019.
The couple bought an impressive $12.5 million suburban mansion outside L.A., where they live with their two daughters.
The property is in a gated community; the 10,400-square-foot home sits on 1.3 acres. They put this home on the market in January 2022 for $12.5 million.
According to sources, Maryse Ouellet, Austin, TX, the house is worth $2.75 million.
Likewise, they previously owned states worth $2.35 million and $3 million. Moreover, her husband, Miz, had a net worth of $9 million in 2020.
She owns a skin-care line that consumers and beauty enthusiasts appreciate. The businesswoman promotes her skin-care line on her social media handles.
Wedding, Husband, & Kids
Maryse was in a relationship with Mike Mizanin for a long time before getting engaged in 2013.
In like manner, the couple had a beautiful wedding on February 20, 2014, in The Bahamas. Her husband proposed to her with a beautiful round diamond engagement ring with an offset princess-cut accent.
According to sources, the couple met for the first time in 2006 when Maryse pursued the WWE Diva Search.
Michael Mizanin, or you may know him by his stage name 'The Miz, is an American wrestler currently signed to WWE's Raw brand.
Beginning his career in 2003 has won one WWE Championship and eight WWE Intercontinental Championships. Also, he has won the WWE Tag Team Championship title four times.
The Miz was briefly featured in archival footage in the Netflix docuseries Trainwreck: Woodstock '99 in 2022.
As of now, the couple has two daughters. Notably, their first baby, Monroe Sky, was born on March 27, 2018. She is 5 years old as of 2023.
Shortly after, Maryse was pregnant with their second child, Madison Jade, in September 2019. They welcomed their second daughter on September 20, 2019, who is 4 years old as of 2023.
Likewise, the couple has a good and healthy relationship with no affairs or tensions. The pair reside in their stunning California home with their adorable two kids and dogs.
Ouellet is a big dog lover and is very passionate when it comes to animals. Moreover, she has adopted many dogs. The couple reportedly had three dogs named Pumpkin, Luna, and Mug.
Popular Maryse Ouellet Quotes
"Just look at me! Beauty. Style. A little vision of perfection. I love myself, and that's enough."
"If I wasn't Maryse… I would want to be."
"All I need are chocolates, credit cards, and stilettos."
Social Media Presence
Surely, with her charm, look, and glamour, Maryse can draw anyone's attention, earning many followers on her social media.
View this post on Instagram
She uses Instagram, Twitter, and Facebook as her regular social media, where she updates about her family and other ventures.
Instagram @marysemizanin
Twitter (@marysemizanin): 1 million followers
Facebook (@Maryse Ouellet): 140k followers
Popularity Graph
Maryse Ouellet is a professional wrestler working under the Raw brand and an actress and glamour model.
The above graph shows Ouellets's popularity over the past twelve months.
Frequently Asked Questions (FAQS)
How did The Miz meet his wife, Maryse Ouellet?
Miz and Maryse met each other for the first time during the WWE Diva Search in 2006. Maryse was a contestant in the show that Miz hosted. Moreover, he slammed Maryse for not being able to speak English fluently.
Are Miz and Maryse married in real life?
It has been almost a decade since Miz and Maryse married after getting engaged in 2013. Moreover, they have had two beautiful daughters together. Before engagement, they had been in a relationship for a while, after meeting in 2006.
Who is Maryse Ouellet married to?
Ouellet is married to a professional wrestler, actor, and media personality Michael Gregory Mizanin. He is best known by his stage name, The Miz, and the couple is blessed with two kids.
Can Maryse Ouellet speak French?
Yes, Maryse Ouellet is a native speaker of French and can understand Spanish but cannot speak it. She also speaks English.
How much did the Maryse Ouellet new house cost?
According to sources, The Miz Mizanin and Maryse Ouellet paid $6.4 million for their house in Westlake Village, which they bought earlier. As of 2023, Miz and Maryse live in a suburban mansion outside L.A. which cost the couple an impressive $12.5 million.
Did Maryse Ouellet had surgery?
Maryse Ouellet underwent surgery for an abdominal hernia in 2011. As a wrestler, she likes to stay healthy and take care of herself.