Mikal Bridges is an American professional basketball player who plays in the small forward position for the Phoenix Suns of the NBA. He won NCAA Championships with Villanova Wildcats (2016 and 2018).
In 2022, Mikal was honored with NBA All-Defensive First Team, which was given to him for being the best defensive player during the regular season.
Nicknamed "The Warden," Bridges is everything he is today because of his mother. He comes from Pennsylvania, where his single mother, Tyneeha Rivers, raised him.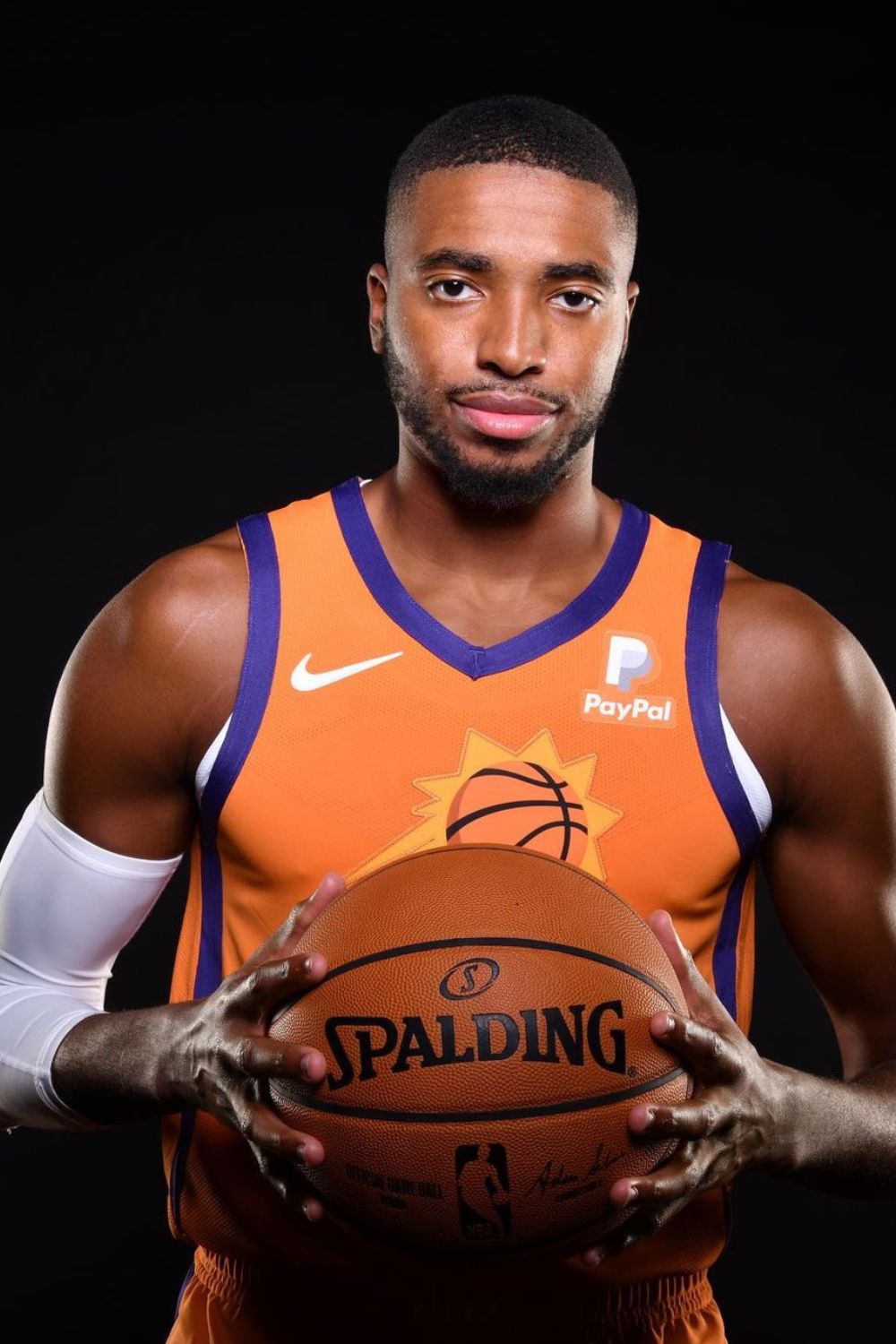 He played college basketball for the Villanova Wildcats at Villanova University.
Moreover, he is also dating a popular Lacrosse player and high school girlfriend, Grainger Rosati.
Please, read further for more information about the NBA player Mikal bridges.
But, before learning about the life of Mikal Bridges, let's jump into some quick facts about him.
Mikal Bridges | Quick Facts
Full Name
Mikal Bridges
Birthdate
August 30, 1996
Birthplace
Malvern, Pennsylvania
Current Residence
United States
Nationality
American
Ethnicity
Black
Horoscope
Virgo
Age
26 Years Old
Father's Name
Jack Devine
Mother's Name
Tyneeha Rivers
Sibling
3 Brothers: Korey, Eric, And Jack
Education
Great Valley High School
Villanova University
Marital Status
Unmarried
Relationship Status
Dating
Girlfriend
Grainger Rosati
Height
6 ft 6 in / 1.98 m / 198 cm
Weight
95 kgs / 209 lbs
Body Type
Athletic
Eye Color
Black
Hair Color
Black
Profession
Basketball Player
Current Team
Phoenix Suns
Jersey Number
25
Current Affiliations
NBA
Awards

NBA All-Defensive First Team (2022)
Julius Erving Award (2018)
NCAA Champion (2016 & 2018)
Third-Team All-American (2018)
First-Team All-Big East (2018)
Second-team All-Big East (2018)
Big-East Co-Defensive Player of the Year (2017)
Big East Tournament MVP (2018)

Salary
Estimated Salary $21 Million
Net worth
$8 Million
Social Media
Twitter, Instagram
Merch
Rookie Card, Jersey
Last Update
May 2023
Mikal Bridges | Early Life, Education & Family
Mikal Bridges was born in Malvern, Pennsylvania, to his parents Tyneeha Rivers and Jack Devine. However, Tyneeha Rivers raised Mikal as a single mother.
He also has a big household with three siblings; Korey, Eric, and Jack.
Moreover, his younger brother Korey plays high school basketball for Constitution High School.
If there is any title that anyone can give to Mikal's mom, then it is 'Supermom.'
Bridges' mother poured out blood and sweat as a single mother to raise her son to make him an NBA star.
Rightly so, Mikal's mom Tyneeha Rivers, deserves every right to be called 'Supermom.'
Rivers gave birth to Mikal when she was just 19. At the time, the 19-year-old was in her sophomore year.
Due to the need to handle her studies and her son, she took night classes, worked multiple jobs, and ran her family.
Despite her busy schedule, Bridges's mother ensured she spent enough time with her son.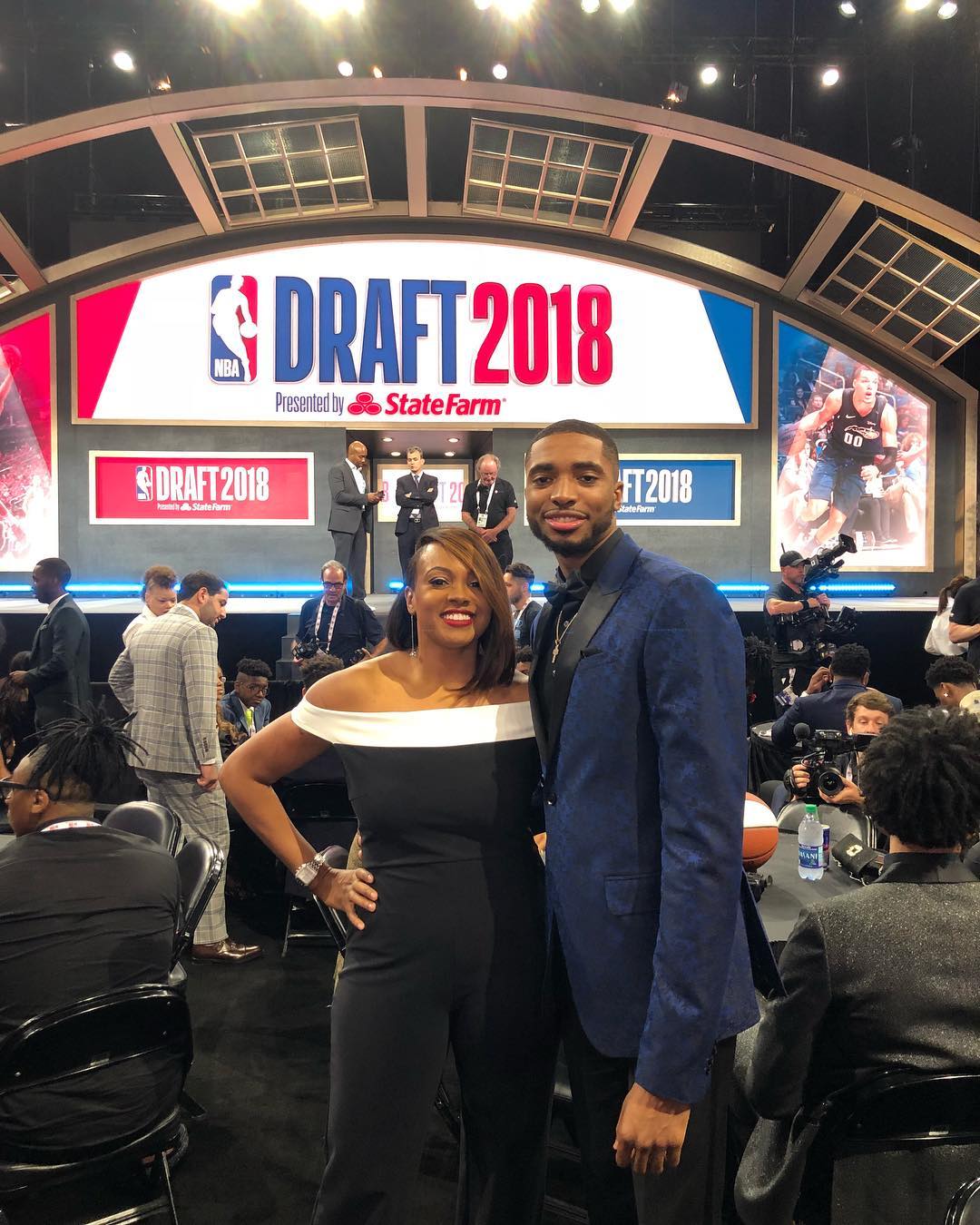 If it weren't for her relentless effort and sacrifice today, Mikal wouldn't have been playing basketball. Not to mention, Mikal's mom Tyneeha received her master's degree in human resources.
As of now (2022), she works as a Vice President of Human Resources for Harris Blitzer Sports and Entertainment, which hires for the 76ers.
Likewise, the mother and son share a deep relationship. Bridges revealed that he talks with his super hard-working mom before every game.
Is Korey Bridges A Future Superstar?
One fact that rings true about the Bridges family is that they all are talented and hard-working. Like his older brother Mikal, Korey Bridges plays basketball at Constitution High School.
Moreover, Korey is currently in his sophomore year and has put on impressive performances. Just like his brother, Korey hopes to make it big one day.
High School And University
Bridges studied at Great Valley High School in Pennsylvania. Likewise, he played basketball for his high school team.
After high school graduation, Bridges enrolled at Villanova University and played college basketball for the Villanova Wildcats.
Mikal Bridges | Age & Height
So, how tall is Mikal Bridges?
The small forward stands at a towering height of 1.98 meters; his listed weight is 209 lb.
Unfortunately, the information like body measurement and shoes-size of Mikal is still unknown.
he is known for his wide wingspan. Mikal's wingspan is reported to be 7-2.
He has a very tall and athletic body type. Mikal has black-colored hair and eyes. Similarly, he is 26 years old as of 2023.
Furthermore, since Bridges was born on the 30th of August, his zodiac sign is Virgo. People who are Virgo are known for being trustworthy and generous.
So, the next time you find Mikal generous, you don't have to act surprised.
You Might Be Interested In Reading About Kyle Van Noy: Exit from Miami Dolphins, Wife & Net Worth >>
Mikal Bridges | Basketball Career
Mikal Bridges plays a small forward for the Phoenix Suns. But before diving into some details about his career, let's learn quickly about how he started.
High School Stats
The star player played for the Great Valley High School. Similarly, Bridges had talent from a very young age; Jim Nolan coached him during high school.
Bridges were named the First Team All-Class AAAA due to his impressive style of play.
Throughout his high school career, Bridges compiled 1,340 points and 511 rebounds. Similarly, ESPNU ranked him the 82nd-best player in 2013.
Villanova University
After high school graduation, many universities were waiting to sign Mikal. However, he committed to Villanova University in June 2013.
In his freshman season, Mikal redshirted the season and assisted the team in various ways. Likewise, he worked on developing his skills and playing styles.
After working hard, Bridges slowly integrated himself into the team.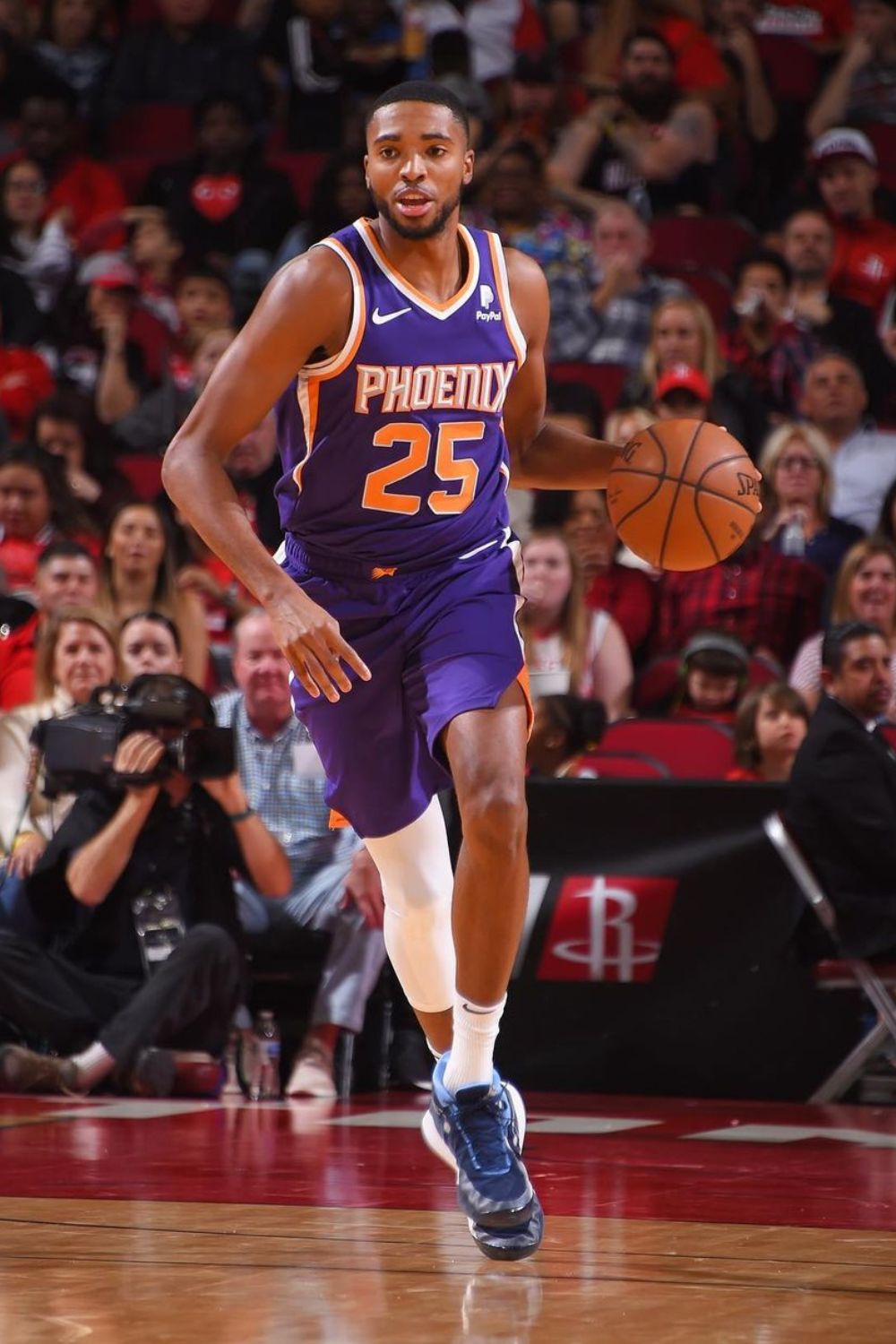 As a result, he became one of the influential starting players for the college basketball team. Similarly, Bridges became a top contributor to the college team as a junior and senior.
He was awarded the Julius Erving Award for the best small forward.
NBA Draft
Bridges made himself available for the NBA Draft in his final college basketball season.
The Philadelphia 76ers selected him in the first round of the 2018 NBA Draft. Also, he was the 10th pick of the draft.
Phoenix Suns
However, despite being selected by the 76ers, he was traded to the Phoenix Suns in exchange for Zhaire Smith.
After signing for the Suns, the team placed Bridges in the Phoneix Sun's 2018 NBA Summer League.
Mikal Bridges signed a four-year contract with the Phoenix Suns worth $17.6 million. Likewise, he agreed to a base salary of $4.4 million per year at the time.
On October 6, 2018, it was announced that he would miss the remainder of the pre-season due to an elbow injury.
Bridges debuted for the Phoenix Suns on October 17, 2018, against Dallas Mavericks. He has performed marvelously for the team on numerous occasions.
His career-high points came against Indiana Pacers as he scored 34 points. He is considered an important member of the Suns' team.
Mikal also assisted the Suns in starting their season with a 7-3 record, their best 10-game start to a season since 2009.
He scored 27 points in a 118-108 win to give the suns a 2-0 series lead during Game 2 of the 2021 NBA finals. Unfortunately, the Suns lost the finals in game six to Milwaukee Bucks.
Mikal and the Suns finished the regular season with the league's best overall record at 64-18. He got praise from players, coaches, fans, and reporters for his defense, ending second place in Defensive Player of the Year voting in 2021.
In the winning game against the New Orleans Pelicans on April 26, 2022, he scored a playoff career-high 31 points, including five rebounds and four blocks in a 112-97 game.
During the Western Conference Semifinals, the Suns jumped to a 2-0 lead in the series against the Dallas Mavericks before losing in game seven.
Mikal Bridges | Wife & Children
Many of you might wonder if the 26 year-old player from Pennsylvania is single.
We hate to spoil it for you, but the handsome Mikal is in a committed relationship with his girlfriend.
The special person he is dating is Grainger Rosati. So, who is Grainger Rosati?
Grainger Rosati is also an athlete who plays for Villanova's varsity hockey team.
She is on the varsity lacrosse team and is one of the top players.
On October 23, 1997, Rosati was born to Larry and Debby Rosati in Mountain Lakes, New Jersey.
Also, she has four siblings: Aubrey, Blaise, Sawyer, and Harper.
So, How Did The Two Meet?
There are plenty of rumors and stories regarding how the two met. However, most people believe they met each other in college and started dating shortly.
Sports might be one of the reasons they connected, as both of them are super athletes.
Rosati is currently 25 years old. She boasts a tall height of 1.55 meters.
There are no doubts regarding the love life of the pair. Mikal and Grainger are two souls who are deeply in love. Similarly, the couple shares a solid and stable relationship.
Both Bridges and Rosati love sharing about each other on their Instagram. They don't shy away from posting pictures of their significant other.
The two of them aren't married yet. However, we won't be surprised if they announce something special soon.
You can follow the beautiful Grainger Rosati on her Instagram. As of date, she has 5353 followers. She goes by the username of @graingerrosati.
One unique fact about the famous NBA star is that he is a dog lover. He has an adorable dog named Sonny.
Bridges posts a lot about him and his dog spending time together.
Sonny is a bundle of joy to Mikal and his girlfriend. Every year Mikal celebrates Sonny's birthday on October 5.
You Might Be Interested In LeBron James Bio: Early Life, Basketball Career & Net Worth >>
Mikal Bridges | Net Worth & Salary
Was A Big Contract Worth $100 Million Offered To Mikal Bridges?
After continuous stand-out performances, Bridges has made himself a vital team member.
Rumors circulated that Phoenix Suns would offer a mega-contract to Mikal Bridges.
According to NBA experts, Bridges would get an offer of $100 million. That would be the small forward's first-ever big contract, putting him on the list of highly-paid players.
Mikal has accumulated a massive sum by working hard and playing for the Phoenix Suns. Well, we can safely say that he is a millionaire.
On October 17, 2021, he signed for Phoenix Suns in a 4 years contract worth $90,900,000. Mikal Bridges has an annual salary of $22,725,000.
He is estimated to earn a base salary of $21,000,000 in 2022-23 while carrying a cap hit worth $21 million and a dead cap value of $21 million.
He also signed a multi-year deal with G Fuel C.E.O. Clifford Morgan on April 29, 2022.
Mikal Bridges said, " I'm ecstatic to join the GFuel and I'm looking forward to being an ambassador for years to come, I love G FUEL products so I'm happy to align with the brand."
This is another huge deal for him, which means he has a good flow of income.
According to various online sources, Mikal Bridges has a net worth of $8 million.
Net Worth Of Mikal Bridges In Different Currencies
Below is the net worth of Mikal bridges in different currencies, including the Dollar and Pound.
Currency
Net Worth
Euro
€

7,075,640

Pound Sterling
£

5,959,240

Australian Dollar
A$

11,054,000

Canadian Dollar
C$

10,259,280

Indian Rupee
₹

601,564,400

BitCoin
฿

165
Social Media Presence
Mikal Bridges is quite active on social media. You can follow him on social handles via these links.
View this post on Instagram
Instagram: 231k followers
Twitter: 64.4k followers
Popularity Graph
Mikal Bridges is a popular NBA player of the Phoenix Suns who plays in the small forward position.
The above graph shows his popularity over the past twelve months.
Frequently Asked Questions (FAQs)
Are Mikal Bridges And Miles Bridges Related?
Despite sharing the same surname, Mikal and Miles Bridges are not related to each other.
Does Mikal Bridges have Children?
Mikal Bridges does not have any children. He is in a long term relationship with his girlfriend. However the couple are focused on their career.
Did Bridges Join New York Knicks?
No, he has not joined New York Knicks. He is currently playing for Phoenix Suns in the position of small forward.
You Might Be Interested In Reading About Gerald Green: NBA Career, Family, Vertical Leap & Net Worth >>