Known for his dunking prowess, Gerald Green is a professional basketball player who plays as a shooting guard. His best vertical leap happens to be 39 inches. That's 39 inches of awesomeness.
Green is an American professional NBA star who has played for the Boston Celtics and Houston Rockets. Moreover, the Rockets' shooting guard shares his basketball journey in the NBA with his younger brother, Garlon Green.
Likewise, Green comes from the area of Houston, Texas. Loved by all the Texans, Green is a prominent figure in the Houston Rockets.
Moreover, the dunk-maestro has won the 2007 NBA Slam Dunk Contest. With three children and an anonymous girlfriend, we believe that Gerald Green has an exciting life. So, let's have a look at some exciting details about him.
However, let's take a quick detour first and look at some quick facts about him.
Quick Facts
Full name
Gerald Green
Known as
Chef BoyarGEE
Birthdate
January 26, 1986
Birthplace
Houston, Texas
Nationality
American
Ethnicity
Black
Religion
Unknown
Horoscope
Aquarius
Age
37 years old
Father's name
Gerald Green
Mother's name
Brenda Green
Sibling
Garlon Green, Delonya Green, and Terika Green
Residence
Houston, Texas
High School
J.Frank Dobie High School
College
Oklahoma State University (Not Graduated)
Marital status
Unknown
Relationship status
In a relationship
Girlfriend's Name
Unknown
Children
Three Sons: Jeremiah, Julius, and Silas
Height
6ft 6in
Weight
205 lb
Body type
Athletic
Eye Color
Black
Hair Color
Black
Profession
Basketball Player
Position
Shooting Guard
Played for
Houston Rockets, Boston Celtics, Phoenix Suns, Miami Heat
Jersey Number
14 (Houston Rockets)
Affiliations
NBA
Awards

NBA Slam Dunk Contest champion (2007)
McDonald's All-American (2005)

Net worth
$20 Million
Tattoo
Left and Right Arms
Social Media
Instagram
Merch
Celtics Jersey, Houston Rockets Jersey
Last Update
March, 2023
Who is Gerald Green? | Early Life, Education & Family
On January 26, 1986, Gerald Green was born to parents Brenda Green and Gerald Green.
Moreover, the future NBA star was born and raised in Houston, Texas. Likewise, Green grew up with three siblings in his house.
Green's younger brother's name is Garlon Green. Similarly, his sisters are Delonya Green and Terika Green. Moreover, his brother Garlon Grenn also shares a superstar status like himself.
Garlon Green plays professional basketball for the Spanish club Liga National. Also, Garlon is five years younger than Gerald.
Moreover, he started his playing career with the Australian team Canberra Gunners. Also, he has played all over Europe, Asia, America, and Australia.
Education
So, where did Gerald Green attend his high school years? Initially, Green studied in J. Frank Dobie High School.
Similarly, he played varsity basketball at the school. But due to academic issues, Green didn't receive much game time. As a result, he transferred to a new high school.
And just like that, Green became a student in a charter school, Gulf Shores Academy. There, he repeated his junior year in his new school.
Similarly, Green played basketball for the school team and made his mark in the world of basketball.
After high-school graduation, Green had enrolled at Oklahoma State University. However, he didn't graduate from college.
Ouch! An Accident!
Today, Green is a successful NBA star with a lengthy career. However, things would have been different if an accident had gone horribly wrong. During 6th grade, Green attempted a big dunk on a makeshift basketball hoop.
While attempting the dunk, the ring caught onto a nail in the hoop as he wore a ring. As a result, a significant part of Green's finger got chunked off. Yikes!!
Grant Hill Bio: Childhood, Net Worth, NBA, Injury & Children >>
How tall is Gerald Green? Age, Height & Physical Appearance
Green is currently 35 years old. The shooting guard is 37 years old as of January 26, 2023. Furthermore, Green's zodiac sign is Aquarius. A person who is Aquarius is known to be ambitious and helpful.
Everyone has a big interest in the NBA superstar's height. Gerald is listed at a tall height of 6ft 6in.
Moreover, his height is ideal for a player playing as a shooting guard. Similarly, Green weighs a whopping 205 lbs.
Standing at 6ft 6in, Green has a super-athletic body. This allows him to make good runs and contribute well to the team.
Similarly, Green has a handsome face with black-colored eyes and hair.
Road to NBA
Gerald Green has come a long way in his basketball journey. But, as we know, his career began during his high school years.
Likewise, he went on to play for various NBA teams. So, let's get a glimpse of his starting journey, major moments, and other significant events.
High School Days
Firstly, Green played high school basketball for J.Frank Dobie High School. However, he didn't receive much game time as he wanted due to academic reasons. As a result, he transferred to a charter school, Gulf Shores Academy.
As a senior in Gulf Shores, Green had an average of 33 points, 7 assists, and 12 rebounds per game. Moreover, the player was named an All-American due to his impressive performance.
Moreover, he had already attracted potential suitors for the upcoming draft. Green was a versatile player in his high school. Likewise, Rivals.com ranked the five-star recruit at No.1 in the list of players of 2005.
After graduating from high school, the American star enrolled in Oklahoma State University. However, he had second thoughts about it and chose to enter the NBA draft. Upon hiring an agent, he entered the NBA draft.
The NBA Draft
Gerald Green was highly anticipated to be a top pick in the NBA draft. However, the Boston Celtics selected him in the 18th pick of the 2005 NBA draft.
Similarly, Green became one of the last players to enter the NBA directly from high school.
Boston Celtics
Green initially played for the Celtics in the 2005 Las Vegas Summer League. However, he got less playing time in the main season. As a result, he was placed on the Fayetteville Patriots and Florida Flame.
But Green's first contribution for the Celtics came on a game on February 21. He made his mark by scoring 13 points and bagging 9 rebounds in under 25 minutes.
Likewise, he played 32 games for the team in his first season.
Furthermore, Green worked hard to improve his game to place himself as a starter. Also, in the 2006-07 season, his playing time increased due to Paul Pierce and Wally Szczerbiak's injury.
Along with it, Green bagged the 2007 NBA Slam Dunk Contest trophy. He defeated players like Nate Robinson, Tyrus Thomas, and Dwight Howard. On July 31, 2007, the Celtics traded Green to the Minnesota Timberwolves.
Slam Dunk Expert
Green always had a thing for slam-dunk contests. He had won the 2007 NBA Slam Dunk Contest beating other impressive players. Moreover, he never failed to impress the fans and players on occasion.
Likewise, Green made a great opening to the 2008 NBA Slam Dunk Contest. He opened the completion with an impressive dunk called "The Birthday Cake." The dunk involved him blowing out a birthday cake while dunking.
Moreover, Green impressed the fans with different variations of dunks. However, he lost to Dwight Howard, who won through fan votes despite his efforts. Green placed second in the competition.
Amazon's Most Reviewed Cheer Shoes >>
Green's Long Journey With Different Teams
After failing to secure a start in the team, Minnesota Timberwolves traded Green. Likewise, he signed for his hometown team Houston Rockets. It became quite difficult for Green to stay in one team. As a result, he moved on to various teams.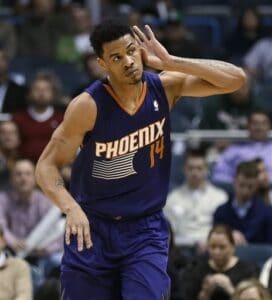 In the 2008/09 season, the Dallas Mavericks signed Gerald Green on a one-year contract. After seeing out his contract, Green signed for the Russian clubs, Lokomotiv Kuban and Krasnye Krylya. Subsequently, he also signed for the Chines team Foshan Dralions.
Other NBA Teams
Likewise, Green had difficulty registering himself as a regular starter in different clubs. As a result, he constantly switched clubs after staying for a year or two. The list of NBA clubs that Green has played in is below.
LA Lakers (2011 – 2012)
New Jersey Nets (2012)
Indiana Pacers (2012 – 2013)
Phoenix Suns (2013 – 2015)
Miami Heat (2015 – 2016)
Milwaukee Bucks (2017)
Houston Rockets (2017 – 2020)
Exit from the Rockets
Green had signed to play for the Houston Rockets in December 2020. However, an injury to Chirs Clemons and the hard NBA salary cap made the Rockets waive Green out of the team. Still, Green continues to remain a beloved figure for the Houston Rockets.
Career Summary
Overall, in his career, Green has played a total of 658 games. Moreover, he has had an average of 9.7 points per game and 2.5 rebounds per game. Likewise, the shooting guard has a few notable achievements to his name.
Green won the NBA Slam Dunk Contest in 2007. Moreover, he was awarded the NBA D-League All-Star in 2012. Also, during high school, Green was named the McDonald's All-American in 2005.
Similarly, Green's career-high points came against Oklahoma City Thunder on March 6, 2014. He scored 41 points, which included 8 three-pointers.
Career Stats
| | | | | | | | | | | | |
| --- | --- | --- | --- | --- | --- | --- | --- | --- | --- | --- | --- |
| Year | GP | GS | MPG | FG% | 3P% | FT% | RPG | APG | SPG | BPG | PPG |
| Career | 658 | 118 | 19.8 | .417 | .361 | .818 | 2.5 | .9 | .5 | .3 | 9.7 |
Gerald Green | Wife & Children
As of date, Green is not married to any woman. However, there are plenty of speculations regarding the love partner of Gerald Green. Green has been sighted with the gorgeous Dorislyn Martinez on numerous occasions.
Gerald and Dorislyn were spotted in the 2014 Phoenix Suns charity event. There are questions regarding the identity of Dorislyn and the relationship she shares with Green. But, many fans believe that she is the secret woman keeping Gerald Green happy.
On February 13, 2020, a day before Valentine's day, Green posted a picture of a woman on his Instagram. Unfortunately, the post included no captions.
Furthermore, the comments were disabled in the post. As a result, many speculate that the woman in the post could be Green's girlfriend.
Nonetheless, the NBA dunk champion has three children of his own. He has three sons who are named Jeremiah, Julius, and Silas. The youngest son, Silas, was born on September 3, 2020, during the Covid-19 pandemic.
Moreover, Green loves sharing pictures of his children on social media. Also, the father of two announced his youngest child's birth on Instagram.
Despite information about his children, his love partner's truth continues to remain an ongoing mystery.
Personal Life of Gerald Green
A Charitable Person
Green is a well-known person for his NBA accolades. However, off-the-court, he is a person of class and respect.
In 2018, a category 4 hurricane named Harvey wreaked havoc in Texas and Louisiana. The damage made by the hurricane was $125 billion.
To help the community who were in desperate times, Green vowed to help the people of Texas. Moreover, he raised awareness regarding the effects of the disaster.
Likewise, he made several donations that have been kept private in respect of Green's privacy.
A Family Man
Green has a tremendous love for his family and relatives. Moreover, Green loves spending time with his family members. Green posted a picture with his granny and aunt on one of his Instagram posts.
Similarly, the post included Green saying that he would do anything for the two of them.
Moreover, he doesn't hide his love for his father and other NBA legends. Green posted another picture that included his father and Hakeem Olajuwon.
Hakeem Olajuwon, or 'The Dream,' is an NBA legend for the Toronto Raptors and Houston Rockets.
You might be interested in reading about Draymond Green Bio: Early Life, Career, Wife & Net Worth >>
Gerald Green | Net Worth & Salary
So, what is Gerald Green's net worth? And, how much does the superstar earn yearly? Those are some interesting questions asked by many fans.
During his 15-year career in professional basketball, Green has spent time in 15 different clubs.
Moreover, the player has immensely impressed the Houston Rockets and Phoenix Suns. His annual salary with Houston Rockets in 2021 was $1.5 million. Moreover, his final-year contract with the rocket was $2.3 million.
Green has accumulated his net worth through his lengthy playing career.
According to various online sources, Gerald Green has a net worth of $20 million.
Is Gerald Green on Social Media? | Social Media Presence
If you are interested in following Green on social media, you're in the right place. The slam dunk champion and father of three is a popular social media figure. As of date, Green only uses Instagram to connect with his fans.
Green's Instagram feed is filled with fancy posts. Mostly, the player posts about basketball and the NBA. However, he also loves posting about his family, relatives, friends, and his vacations.
The famous superstar has a big following of 583k followers on his Instagram account. Likewise, you can follow him on Instagram @g.green14.
Frequently Asked Questions
Are Gerald Green and Danny Green related?
Yes, Gerald and Danny are related to each other. Danny Green is the second cousin of Gerald Green.
Is Gerald Green active?
Currently, Green is a free agent after being waived off by the Houston Rockets in December 2020.
Are Gerald Green and Jalen Green related?
No, the two NBA players are not related to each other. It is a mere coincidence that they share the same last name and are both professional basketball players.
Besides that, Gerald was born in Houston, Texas, to Brenda Green and Gerald Green, while Jalen was born to Bree Purganan in Merced, California.
(Make sure to comment down below if any information regarding Gerald Green is missing.)