Born on May 22, 1961, Mike Breen, an American play-by-play sports commentator for NBA on ABC, is 62 years old as of September 2023.
Raised in the city of Yonkers, New York, Breen's journey in sports broadcasting is rooted in his early years.
Breen attended St. Paul the Apostle Catholic grammar school, where his passion for sports began to take shape.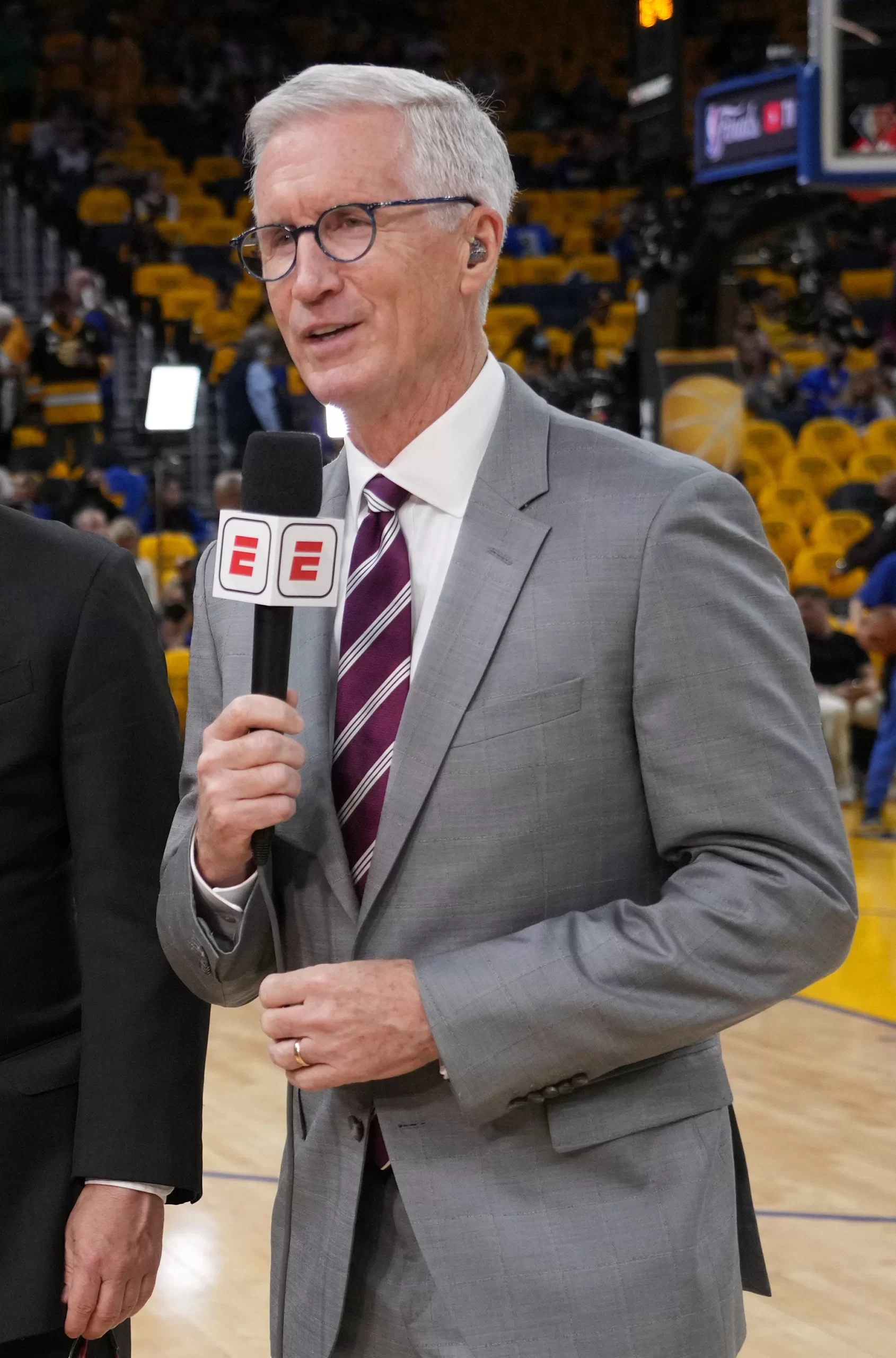 Continuing his education, Breen proudly graduated from Salesian High School in 1979. He further nurtured his love for basketball and communication during this formative period.
Taking his commitment to higher education, Breen pursued his studies at Fordham University, earning his degree in 1983.
100th NBA Finals Broadcast
As the dean of television announcers for the NBA Finals, Mike is set to enter rarified air space with his upcoming milestone.
In Game 5 of the Nuggets-Heat series, Breen will be calling his 100th NBA Finals broadcast. This remarkable accomplishment places him in an elite group of basketball announcers.
In fact, he will become only the third announcer in radio or television broadcasting history to reach this significant mark.
Furthermore, Breen's achievement places him among a select group of just six play-by-play voices in the United States who have surpassed this milestone, encompassing prestigious events such as the World Series and the Stanley Cup Final.
Entering the 2022-23 NBA season, Breen has established an impressive legacy as an NBA broadcaster, now in his remarkable 31st season in the profession.
Notably, a significant portion of his illustrious career unfolded during his tenure with NBC. While there, he contributed his expertise until 2002, coinciding with the network's final year as a broadcaster for both the NBA and WNBA.
In addition to his extensive NBA broadcasting career, Breen holds the distinguished role of being the primary voice for New York Knicks games on MSG Network.
Mike Breen Age & Wiki | Radio Broadcasting
Mike's broadcasting prowess extends beyond the realm of television, as he has also made his mark in the world of radio.
In the early 1980s, he embarked on his professional radio career as a sportscaster on WNBC radio.
Notably, he also had the opportunity to showcase his versatility as a host, frequently filling in for Dave Sims on the popular program "SportsNight."
From 1988 to 2000, Breen's voice could be heard on the airwaves as he delivered the sports segment for WFAN, a renowned sports radio station.
His talent and charisma were further recognized when he joined the nationally syndicated Imus in the Morning talk/comedy radio show during the same period.
During his time on the show, Breen became known for his unique comedic style, often delivering deadpan false sports news to entertain the listeners.
One memorable example was his sly reporting in the mid-1990s that Félix Millán, who had retired in 1977, had gone 4-for-4 with three runs scored in the previous night's Mets game.
Breen's ability to captivate audiences through both TV and radio broadcasts has solidified his reputation as a versatile and highly skilled announcer.
Mike Breen Age & Wiki | Personal Life & Iconic Catchphrase
Breen, a devoted Catholic residing on Long Island, New York, finds solace in his loving family—his wife Rosanne and their three children, Michael, Nicole, and Matt.
Recognized for his enthusiastic outbursts, Breen's voice reverberates through arenas, punctuating pivotal moments with spirited exclamations like "BANG!" or other favorites such as "It's good!" or "Puts it in!"
These signature phrases erupt from him during crucial late-game shots, amplifying the thrill and excitement for fans worldwide.