Miles Bridges is a professional basketball player in the National Basketball Association (NBA) for the Charlotte Hornets. He was a member of the Michigan State Spartans during his college career.
The Charlotte Hornets have long struggled to become a legitimate NBA threat. Small forward Miles Bridges, who made strides toward becoming a reliable franchise player in his sophomore season, has recently been one of the bright spots.
Players don't always recover from a rocky start in the NBA, but the Flint, Michigan native demonstrated the maturity to accept his progression. Miles Bridges' rise to stardom has been a recurring theme for the Charlotte Hornets.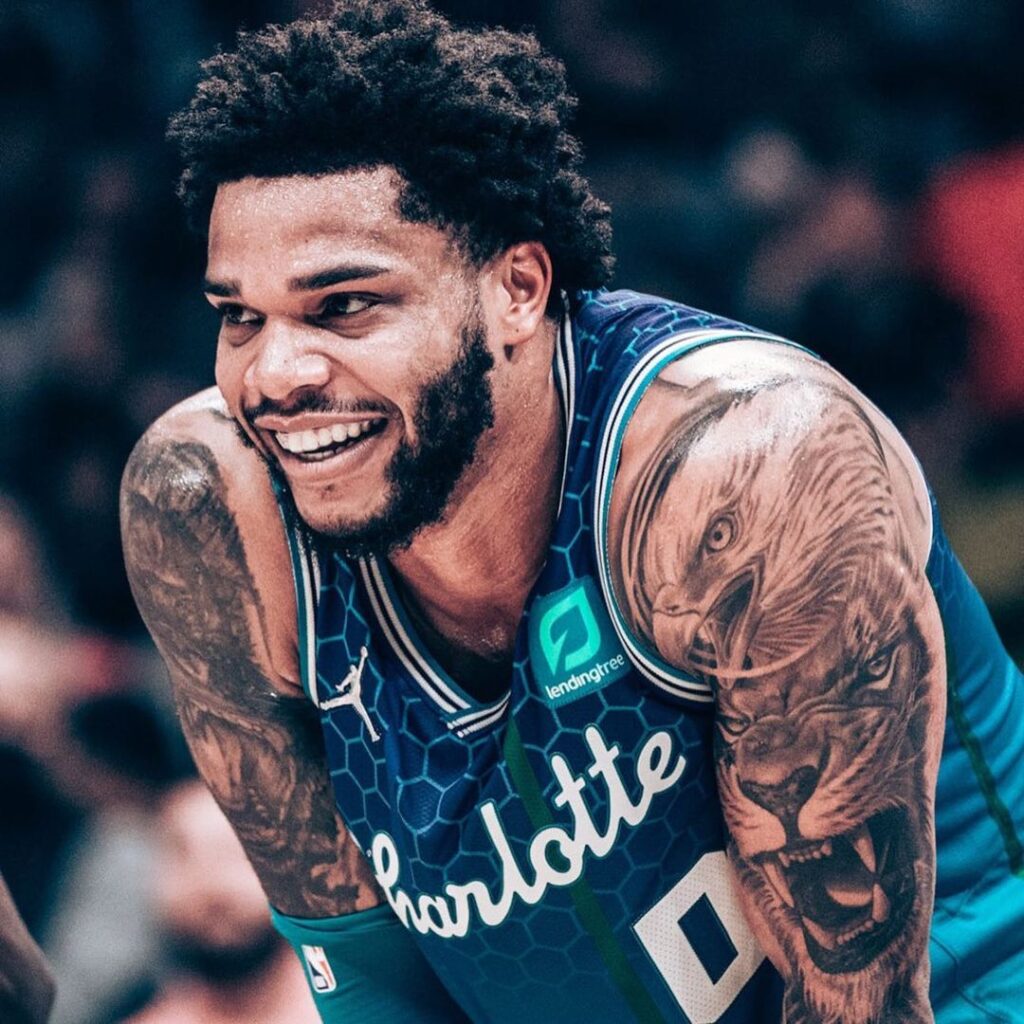 Bridges have been a significant catalyst for a Hornets team that is currently seventh in the Eastern Conference, with a combination of high-flying dunks, physical drives to the rim, and overall tenacity on the court.
Bridges' improvement has been critical to Charlotte's overall improvement this season, and as the season progresses and the postseason approaches, the Hornets will look to him to maintain his improved level of play.
Quick Facts
| | |
| --- | --- |
| Full Name | Miles Emmanuel Bridges Sr. |
| Known as | Miles Bridges |
| Nickname | Not Available |
| Birth Date | March 21, 1998 |
| Birth Place | Flint, Michigan |
| Residence | Not Available |
| Religion | Christianity |
| Nationality | American |
| Ethnicity | African American |
| Education | Flint Southwestern (Flint, Michigan), Huntington Prep (Huntington, West Virginia), and Michigan State (2016–2018) |
| Zodiac Sign | Aries |
| Father's Name | Raymond Bridges |
| Mother's Name | Cynthia Bridges |
| Siblings | Tara Rushing |
| Age | 25 years old |
| Height | 6 feet 7 inches |
| Weight | 225 lb (102 kg) |
| Eye Color | Brown |
| Hair Color | Black |
| Body type | Athletic |
| Profession | Basketball Player |
| Marital Status | Married |
| Wife | Michelle Johnson |
| Children | Ace Miles Bridges, and Ayla Marie |
| Active since | 2018 – present |
| Teams | Charlotte Hornets |
| Endorsements | Nike |
| Net Worth | $5 million |
| NBA Draft Pick | 2018 / Round: 1 / Pick: 12th overall |
| Position | Power Forward and Small Forward |
| League | NBA |
| Merch | Rookie Card |
| Social Media | Instagram, Twitter |
| Last Update | March 2023 |
High School Career
Bridges played varsity basketball for Flint Southwestern Academy in his hometown of Flint, Michigan, as a freshman.
He was 14 years old and stood 6 feet 4 inches (1.93) tall. Bridges led his team to the regional semifinals and a 17–6 record by averaging 10 points, 11 rebounds, and three blocks per game.
Oakland University quickly offered him an athletic scholarship. Bridges transferred to Huntington Prep School in Huntington, West Virginia, in July 2013.
During his junior year, he and his squad competed in the 2015 Dick's Sporting Goods High School Nationals Tournament at Christ the King Regional High School in Middle Village, Queens, New York.
Bridges attended the NBPA Top 100 Camp at the John Paul Jones Arena in Virginia in 2015. He led Huntington Prep to a 25–11 record as a senior, averaging 25 points, ten rebounds, 5.2 assists, and 2.0 steals per game.
College Career
Bridges was a five-star recruit ranked by Rivals.com as the tenth-best player in his class, while ESPN ranked him as the eighth-best overall recruit in the 2016 high school class.
He turned down offers from Kentucky, Kansas, and Oregon. On October 3, 2015, he announced his intention to play for Michigan State. Head coach Tom Izzo referred to him as a "blue-collar superstar," and he was expected to fit in quickly.
He was named Big Ten Freshman of the Year and was named to the Big Ten second team. He was named to the USBWA All-District V Team and the Sporting News Freshmen All-American Team.
Moreover, he was also named the AP Big Ten Newcomer of the Year and to the AP All-Big Ten Second Team.
Bridges announced his intention to forego his final two seasons of collegiate eligibility and declare for the 2018 NBA draft following Michigan State's loss in the 2018 NCAA Men's Basketball Tournament.
Miles Bridges: Age, Height & Weight
The Michigan native was born on March 21, 1998, and is a basketball player. As a result, he has reached 25 years old.
He is of African-American descent and holds American citizenship.
Miles was born under the astrological sign of Aries. Sapiens born under the sign of Aeries are bold and ambitious.
They are always up for a new challenge. They are leaders who are passionate and self-assured.
Miles has excellent body structure for a professional player. The athlete is approximately 6 feet and 6 inches tall.
His weight, on the other hand, is approximately 102 kg. He also has black hair and light brown eyes. Other information, such as his chest size, hip size, biceps size, and shoe size, is not available.
You might like; Pero Antic Bio: NBA, Net Worth & Family>>
Professional Career
The Los Angeles Clippers selected Bridges with the twelfth overall pick in the 2018 NBA draft on June 21, 2018.
Bridges officially signed a three-year, $10,896,360 contract with the Hornets on July 2, 2018. He competed in the Slam Dunk Contest in 2019.
Bridges was named Team USA's Rising Stars Challenge MVP on February 14, 2020, in Chicago, and Team USA defeated Team World 151–131. Bridges' statistics have only improved in his three seasons with the Hornets.
He averaged 12.7 points per game in his rookie season, 15.2 points per game the following year, 15.7 points per game in 2020-21, and 18.6 points per game as a starter. This is a very promising leap.
According to WynnBET, Bridges currently has the second-best odds (+600) to win the MIP award, with only Ja Morant (-275) of the Memphis Grizzlies having better odds.
Underrated Player of NBA
Miles Bridges made his debut in the 2020-21 season. With the Charlotte Hornets, he indeed came out of his shell and demonstrated that he has a bright future in the NBA.
Bridges' name is frequently left out of discussions about promising young players in a league brimming with young talent. In reality, he may have the brightest future of all.
Despite his incredible season filled with jaw-dropping dunks and vicious slams, a wide range of basketball fans has yet to grasp just how good Bridges is and can be fully.
Bridges' has always been a dominant player in basketball. In his draft year, the 6-foot-7 Michigan State basketball star was unanimously named to the All-Big ten first team and had quite the highlight reel in a Spartans uniform.
Bridges' play has piqued the interest of Hornets fans, but there is also a strong case to be made that he is deserving of league-wide recognition in the form of the NBA's Most Improved Player award.
Progression
Bridges' traditional stats have all risen, as he now averages 20.3 points, 7.3 rebounds, and 3.5 assists per game, all of which are career highs. This is partly due to Bridges' increased usage, as he is now playing nearly 36 minutes per game, a career-high.
Bridges has started every game this season and has a usage rate of 22.2 percent, up from 17 percent last season.
However, attributing the entirety of Bridges' improvement to increased opportunity would understate Bridges' overall improvement.
Bridges' shooting percentages are lower than last season, indicating that his increased offensive output is not solely due to better shooting.
On the other hand, Bridges has been relentless in attacking the rim, with nearly 53 percent of his scoring occurring in the paint, the highest percentage of any Hornets non-center.
The athlete also leads the team in free throw attempts per game due to his aggressive play. Bridges' production has had a significant impact on the Hornets as a whole and the individual improvements.
Miles leads the Hornets in win shares and plus-minus, and he has helped the Hornets play at a 46-win pace, up from a 38-win pace last season.
Are Miles Bridges and Mikal Bridges Related?
A few months ago, both Bridges faced each other when the Phoenix Suns played the Charlotte Hornets.
On January 2, the Phoenix Suns defeated the Charlotte Hornets by 133-99. The Hornets were on a three-game winning streak and had Miles Bridges back.
Bridges returned to the court after missing two games due to the NBA's health and safety protocol, but he only had ten points, three rebounds, a steal, and a block in 26 minutes.
Fans wondered if Miles Bridges and Mikal Bridges were related because they share the same surname.
They are, however, not. Mikal Bridges was born in 1996 in Philadelphia, Pennsylvania, and Miles Bridges was born in Flint, Michigan, in 1998. They were both chosen in the 2018 NBA draft, however.
Don't miss out; Jerrelle Benimon: NBA, Net Worth & More>>
Miles Bridges: Family
Bridges was born to Raymond and Cynthia Miles. His parents were instrumental in his development as a basketball enthusiast.
Raymond Bridges, a center and power forward, won back-to-back Class A state championships at Flint Northern in 1971 and 1972 under coach Bill Frieder.
Miles adored his father, who introduced him to basketball at the age of two, and he uses his father's legacy as motivation to improve.
His' mother, Cynthia, told Michigan State's official newspaper that her son has Attention-Deficit Hyperactivity Disorder and would encourage her son to play more basketball to burn off excess energy.
Miles was described as a "mamma's boy" in a November 2017 feature in the Detroit Free Press.
According to the article, Cynthia worked as a hospital receptionist for 42 years and wished for her son to be a "one and done" player so that she could retire.
Miles Bridges: Sister
Tara Rushing is well-known for being the sister of basketball legend Miles Bridges. His sister Tara, according to Miles, was a significant presence in his youth.
Tara and Miles grew up in Flint, Michigan, together. Tara was always there for his brother, and the siblings had a strong bond.
Miles always mentions how much his sister helped him and how important she was in his childhood.
However, the general public is unaware of much about Tara. She is frequently cheering on his brother Miles with her friends and family.
People also like to read about; Kevon Looney Bio: Injury, Career & Net Worth>>
Miles Bridges: Wife
Milles married Michelle Johnson, a long-time girlfriend and fellow basketball fan. In late 2015 or early 2016, the couple began dating.
Michelle Bridges, Bridges' wife, was a basketball player who represented St. Joseph Catholic High School team.
His wife was born in Huntington, West Virginia, on September 3, 1997. Scott Johnson, the head coach of the West Virginia Thunder Amateur Athletic Union Team, is her father's name.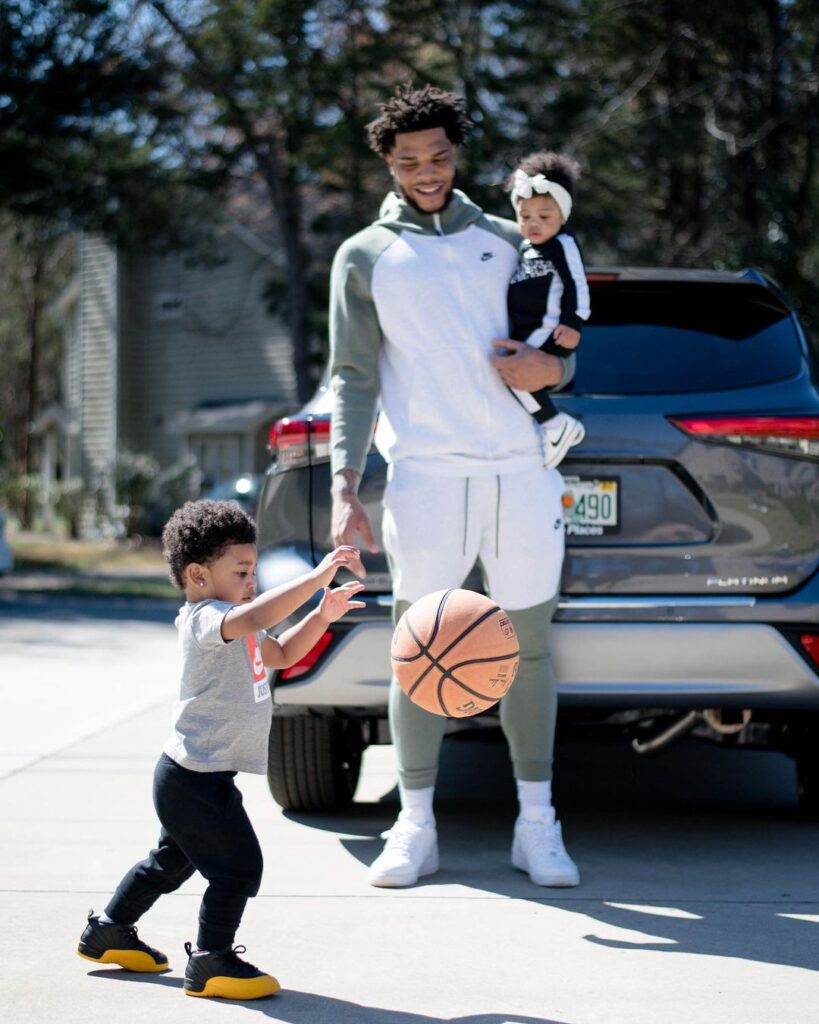 Johnson enrolled at Middle Tennessee State University, where she also played basketball. Michelle eventually transferred to Marshall after a year at Middle Tennessee State University.
Miles and Michelle are the proud parents of two lovely children. On October 26, 2018, the couple welcomed a son, Ace Miles Bridges, and a daughter, Ayla Marie, on February 25, 2020.
Miles Bridges: Controversy
In 2018, Michigan State announced that leading scorer Miles Bridges had paid $40 to a charity of his choice to settle an NCAA violation discovered during a university-conducted review of allegations made in documents published by Yahoo! Sports.
The documents were related to the FBI's investigation into college basketball corruption.
According to the documents, Christian Dawkins, a former employee of NBA agent Andy Miller, filed financial documents claiming that he paid Bridges' mother $400 in cash and $70.05 for dinner with the Bridges family.
Later, Michigan State stated that they conducted an internal investigation and determined that the allegations regarding the loan were false. Bridges said that he and his family did not accept money from Dawkins.
While investigating those claims last week, the school discovered that Bridges' family members had dinner with an agent without his knowledge, which is an NCAA violation.
MSU later learned that the NCAA had reinstated bridges. Bridges was obligated to pay $40, the value of the dinner, to a charity of his choice as part of the reinstatement process.
Miles Bridges: Net Worth
Miles Bridges' net worth is estimated to be a whopping $5 million.
The Michigan native agreed to terms with the Charlotte Hornets on a four-year, $16,317,853 contract, with $16,317,853 guaranteed and an annual average salary of $4,079,463.
Bridges will earn a base salary of $5,421,493 in 2021-22, with a cap hit of $5,421,493 and a dead cap value of $5,421,493.
He told GQ Sports that he belongs in the latter category. He has "one rule" for managing his wealth: save or invest 80% of income and spend no more than 20%. He'll be able to figure it out once his career is over.
Endorsements
Miles Bridges, the NBA draft's No. 12 overall pick, signed a four-year endorsement deal with Nike in 2018.
He made a point to purchase a Rolex for $30,000 and spend another $60,000 on chains with his earnings. Following that, much of the remaining funds were directed toward more practical concerns.
According to Sportscasting, he spent $200,000 on a home for his mother that was conveniently located about 20-30 minutes away from his own home — to limit drop-in visits, of course.
Then he spent $50,000 on an Audi for his girlfriend. He chose a $100,000 Range Rover because he heard it was the safest vehicle for his son to ride in the back seat.
Finally, he put up $600,000 for his largest purchase, a home for himself in Charlotte.
Social Media Presence
Miles Bridges is active on various social media platforms. The basketball player utilizes his social media to connect with his fans and followers.
Moreover, he often shows a glimpse of his personal life to his followers. You can follow him on his social media to connect with his life on a daily basis. Below is the link to his social media accounts;
Instagram– 634k followers
Twitter– 170.8k followers
FAQs
Is Miles Bridges All-Stars?
Miles Bridges left off the NBA All-Star team. He has been ruled ineligible for the 2022 NBA All-Star game.
Will Miles Bridges get a max contract?
Miles Bridges turned down the Hornets' contract extension offer last offseason, which was reportedly worth $60 million over four years.
He is set to earn far more in restricted free agency this summer based on how he has expanded his game. His maximum offer sheet estimates a total value of $130 million over four years.
Who was Miles Bridges traded for?
Miles Bridges was later traded to the Charlotte Hornets for the pick before him, Shai Gilgeous-Alexander.