Talent and hard work do not always guarantee success overnight in the life of athletes. Unfortunately, this has been the case in the career of a soccer player, Mix Diskerud.
Mix Diskerud is a Norwegian-American professional soccer player who currently plays for Cypriot club Omonia as a midfielder.
He got his name 'Mix' for having tremendous energy like a 'Mixmaster' from his mother. Likewise, there are rumors that he started running around the house as soon as he learned to walk.
Definitely, it looks like an early symptom of being a future footballer!
Mix is one of the few fortunate players who has represented two countries, Norway and the United States, in international tournaments.
Once in an interview, he said his love for football started at the early age of 6.
Interestingly, he has played for nine different clubs up to this date. All the while, he has had some smooth and some bumpy rides, which we will discuss later in the article.
Mix Diskerud | Quick Facts
Full Name
Mikkel Morgenstar Pålssønn Diskerud
Nick Name
Mix
Date of Birth
October 2, 1990
Place of Birth
Oslo, Norway
Father's Name
Paul Diskerud
Mother's Name
Susan Hagerty
Religion
Not known
Ethnicity
Norwegian/White
Zodiac
Libra
Chinese Moon Sign
Horse
Age
33
Height
1.84m
Weight
157 Lbs
Shoe size
Not known
Hair Color
Not known
Eye color
Not known
Citizenship
United States
Norway
Position
Central Midfield
Other Position
Defensive Midfield
Left Midfield
Player Agent
Rispect Sports Agency
Current Club
Omonia Nicosia
Joined
July 7, 2021
Contract Expires
May 31, 2022
Profession
Athlete
Marriage
Not known
Children
Not known
Net Worth
$100K – $5 million (Approx.)
Salary
$100K – $5 million
Social Media
Twitter
Merch
Manchester City Jersey
Last Update

December, 2023
Mix Diskerud | Early Life, Family, and Education
The professional soccer player Mix was born in Oslo, Norway, on October 2, 1990. He was born to a Norwegian father, Paul Diskerud, and an American mother, Susan Hagerty.
He has kept things private about his family and his personal life. As a result, there is little to just no information available about them on social media. Also, he has appeared in very few interviews.
Additional to football, he used to play golf and basketball in Norway when he was young. Later, a time came when he had to choose one, and he chose soccer.
When he saw his first live hockey game, he found it cool and developed a fondness for it.
As a result, Mikkel still goes to games whenever he can. His favorite hockey player is Zuccarello, with whom he has developed a friendship after staying in New York.
About his education, the soccer star finished his schooling in his homeland Norway. He attended the sports school, Norwegian College of Elite Sport.
Caylin Newton Bio | Football, Brothers, Girlfriend & Net Worth >>>
Mix Diskerud | Age, Height, and Weight
The Norwegian-American player will turn 34 this October. When it comes to his zodiac sign, Mix belongs to Libra.
Likewise, this stellar player stands at 1.84 m, and he weighs around 157 Lbs.
Talking about his physical appearance, Mix has a sturdy, muscular physique. No wonder his fans go crazy over his robust body.
This professional player doesn't have a history of weight gain. As a matter of fact, Diskerud has always had an athletic body frame.
Mix Diskerud | Personality
"For me, football at large is about creating memories, developing as a person and as a player, and striving to win, in that order."
Stated Diskerud in an interview which clearly reflects his personality.
He values good times and good people in his life. That being so, he believes in being a good human first and then a good player.
Also, we can say Mix is a humanitarian who has expressed his concern regarding the covid-19 pandemic via his tweets, for instance.
Mix said football is the most important thing for him but sadly, not in this worldwide pandemic. We can understand why.
Moreover, he calls himself a free spirit. And, we call him a perfect combo of good looks and a great heart.
Mix Diskerud | Career
Club Career
Mix started his professional career with Norwegian Club 'Stabaek,' though he had already started playing with Frigg (Norwegian sports club) at the time.
He was spotted by Stabaek when he was playing in a district tournament in Oslo.
Ergo joined Stabaek's junior team in 2005 and helped the team win the Norwegian Junior Cup (U-19) in 2008.
At the same time, he played routinely for the club's B team in the Norwegian second division.
Later, Diskerud was named in the starting eleven when he scored a goal, 2 minutes after the match began in the 2009 La Manga Cup.
Afterward, Diskerud was loaned to a Belgian Pro League club, Gent, during the concluding games of the season.
TOP 10 BEST FOOTBALL MOVIES OF ALL TIME >>>
Transfer to Rosenborg & Rise
In August 2012, he signed with Rosenborg, Tippeligaen club, and stayed up to 2014.
Again, Diskerud signed with New York City in January 2015. While playing for NYCFC, he scored the first-ever goal in MLS play in an opening match with Orlando City.
Within just a few years, Mix had signed with Göteborg, Manchester City, Göteborg, followed by his transfer to South Korea to play for Ulsan Hyundai on July 18, 2018.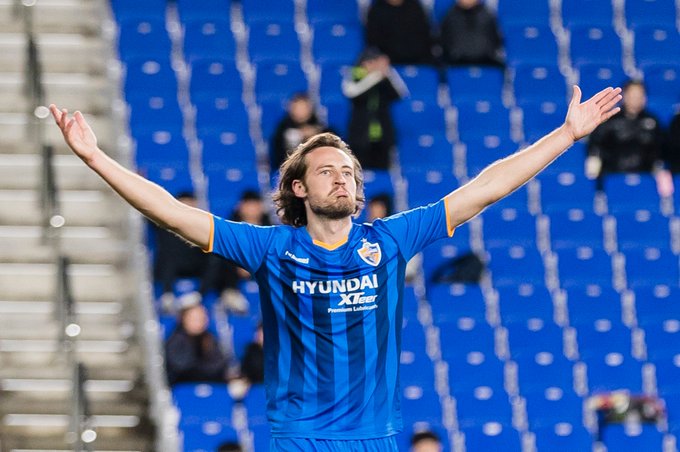 Again in June 2020, Helsingborgs IF signed him on loan for the short-term.
But this does not end here. Once more, on January 20, 2021, Mix signed 1.5 years deal with Turkish Super Lig club Denizlispor.
Moving along, on July 1, 2021, he signed for Cypriot First Division club Omonia Nicosia.
As we can see, he bounced around several clubs and has not yet found a permanent spot. However, we are hoping he will get to settle somewhere soon.
International Career
Credit to his multi-ethnicity, Mix is eligible to represent both Norway and the United States.
Initially, he played for Norway when Thomas Rongen, United States' U-20 coach, approached him.
So, he played a tournament representing United States U-20 team in April 2008 against Northern Ireland. He recorded three assists in that game.
The interesting part is, a month later, he played against the United States, representing Norway in the U-19s team. After all, he is a player, and for an athlete, playing is their religion.
Later, in 2010, Diskerud debuted for the United States national team. He was a member of the team 2013 Gold Cup, which eventually got the victory.
Accordingly, he played in the 2014 World Cup in Brazil. And his international goal count is 6.
Maxx Williams Bio: Early Career, Family, Football & Girlfriend >>>
Mix Diskerud | Interesting facts
Fans call his signature 'locks' the second best hair in soccer since David Beckham. Consequently, his hair has a separate fan base.
His signature move is known as 'Magic mix.' He has uploaded 26 seconds tutorial video on YouTube. Here's the link.
Similarly, his go-to song is 'Gravity' by John Mayer.
Mix Diskerud | Girlfriend, Wife, and Kids
There is no data whatsoever about his girlfriends and affairs. Furthermore, he detests when reporters ask to visit his house for interviews. He says he wants to maintain privacy about that part of his life.
Also, there is no news about him being gay. So he is assumed to be a straight person though we know nothing about his relationships.
Owing to his good looks and good personality, Diskerud must have had his share of girlfriends though none are known to the public.
Talking about kids, we do not have any information on it too. But fans are guessing that he has none.
Mix Diskerud | Net worth, Salary and Career Earnings
According to public sources, the handsome player's salary is around $100K – $5 million.
Moreover, his net worth for 2020 was $100K – $5 million (approx.), which increased from $50K – $2 million in 2019.
Similarly, his current market value is €600k. And, his highest market value is €1.40m.
Being a possessor of the good looks that he was born with and a potential rising player, he has locked the deals with many brands, including ROAR beverages and Bear mattress, to name a few.
Mix Diskerud | Social Media Presence
Mix does not have any official Facebook and Instagram accounts though many fake pages are under his name.
Luckily, he is active on Twitter. He tweets regularly and interacts with his fans through this medium. There were instances when he had asked his followers for song recommendations.
Most of his tweets are about his career update, some help-posts, and opinions on various subjects.
Also, he is found to be cheering his ex-clubs through a tweet.
Speculating from his tweets, he has a good relationship with his co-players and is very expressive and opinionated.
Mix Diskerud | Experience in Ulsan
While staying at Ulsan for a year, he completely fell in love with Korea and, most importantly, with famous Korean barbecue.
He was encountered with the unusual trend of the Ulsan Hyundai squad, where they stayed at a hotel together the night before matches.
As a consequence, he was completely taken aback by this behavior. However, even though it felt unnecessary to him at first, he later realized its benefits.
"After playing in the K-League, I would say there are many other aspects of how they approach the game of football that we, westerners could learn from, and vice versa"
Moreover, he also said he gets messages from South Korean fans on social media asking him to come back, and this sweet gesture makes his heart warm.
Mix Diskerud | Ranking
According to a popular website 'Tranfermarkt,' he ranked number 9.332 among all players worldwide, number 149 among all players from the United States; number 1.155 among all players playing as "Central Midfield," number 542 among all players born in 1990, number 8 among all players at Omonia Nikosia.
Having said that, his rankings are nowhere to be found on other platforms.
Mix, a strong believer in "Hard work beats talent if talent doesn't work hard," still has a long way to go.
But, we are all hoping for his one solid breakthrough. Optimistically, his time will eventually come!
FAQs | Mix Diskerud
What is Mix doing now?
Mix joined Omonia on July 1, 2021. However, he has not appeared in any matches but will continue after the corona pandemic subsides.