Sir Mohamed Muktar Jama Farah, also known as Mo Farah, is a Somalian-born British distance runner famous for his excellent performance.
Mo Farah is considered the most successful British track athlete in modern Olympic Games History. Why do you ask?
Well, in the 2012 London Olympics and the 2016 Rio de Janeiro Olympics, Farah won gold medals in 5,000-metre and 10,000-metre races.
Also, he was the second man in history to win long-distance titles in both major global competitions.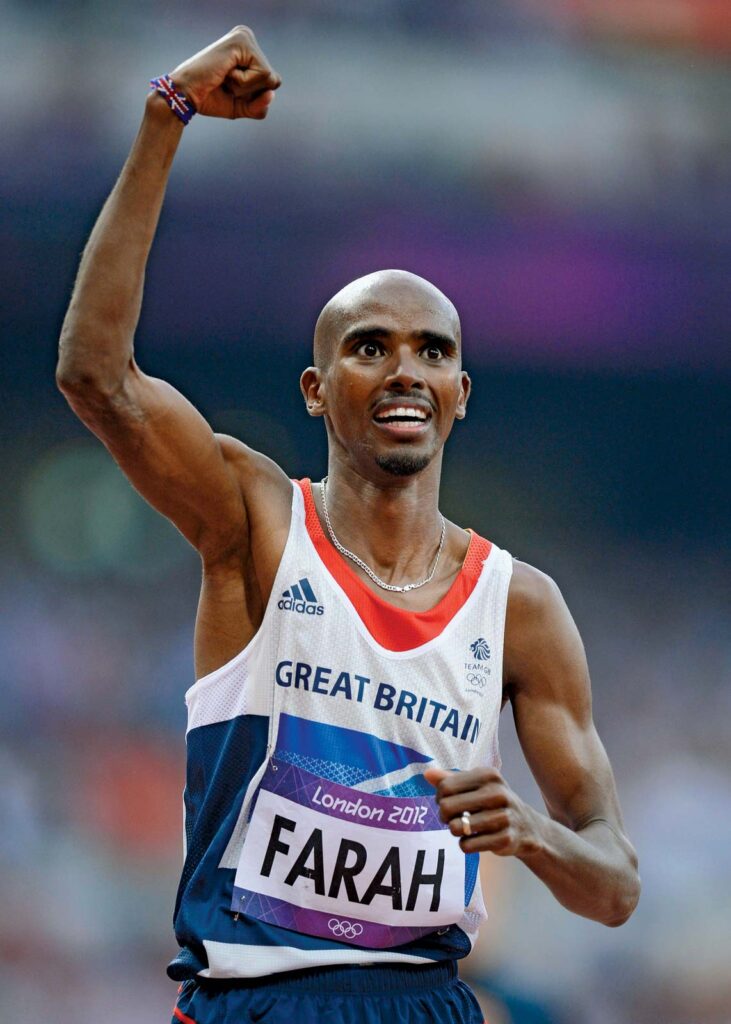 Likewise, Mo Farah had an unbroken streak of ten global final wins (the 5000m in 2011, the 10,000min 2017, and the double in 2012, 2013, 2015, and 2016).
Furthermore, his best marathon time in the 800m race is 1:48.24. Besides that, his fastest marathon run was in 2019 South Shields, when he finished a half marathon at 59:07.
Here are some quick, interesting facts about Mo Farah.
Quick Facts
Full name
Sir Mohamed Muktar Jama Farah
Nickname
Mo Farah
Birthday
March 23, 1983
Birthplace
Mogadishu, Somalia
Nationality
British
Ethnicity
Somalian
Religion
Muslim
Zodiac Sign
Aries
Age
40 years old
Father's name
Muktar Farah
Mother's name
Amran Farah
Sibling
Brother
Sibling Name
Hassan Farah
High School
Isleworth & Syon School
College
Feltham Community College
Marital status
Married
Wife's Name
Tania Nell
Ex-Girlfriends
Unknown
Children
Four
Children's Name

Rhianna Farah
Aisha Farah
Amani Farah
Hussein Mo Farah

Weight
60 Kg/ 132 lb
Height
1.75 m/ 5'9″
Eye Color
Black
Hair Color
Bald
Beard or Mustache
None
Body type
Athletic
Occupation
Runner
Sport
Athletics/Track, Long-distance running
Events
10,00m, 5000m, 1500m, half marathon, Marathon
Average Speed
21.8km/hour
University team Club
St.Mary's University College Twickenham London
Coached by

Charles Van Commenee
Alan Storey
Alan Watkinson
Ian Stewart

Net Worth
$5 million
Social Media
Instagram, Twitter
Website
mofarah
Merch
Twin Ambition: My Autobiography, Poster
Last Update
November, 2023
Mo Farah | Early Life, Parents, and Education
Mo Farah, the record holder, was born on 23 March 1983 in Mogadishu, Somalia. Farah's family was originally from Gabiley; however, they lived in Mogadishu, Somalia, because his dad was a businessman there.
Farah had to go through a tough childhood. After escaping from Mogadishu to Gabiley accompanied by his family, Farah spent his early childhood as a refugee in Djibouti with his twin brother, Hassan.
Despite not knowing English properly, he moved to Britain to join his father at eight.
At the same time, his grandfather, Jama, had a British background as he was born in the British protectorate of Somaliland.
Similarly, his father, Mukhtar Farah, was a British citizen born in London and an IT consultant.
Education
Unlike other children of his age who were busying playing, Farah got a job at McDonald's. He attended Isleworth and Syon School for his high school.
Later, he started his college journey at Feltham Community College. His physical education teacher Alan Watkinson was the first to address his athletic talent.
While growing up, Farah wanted to become a car mechanic or play as a right-winger for the Arsenal football club. Later, he joined the Borough of Hounslow Athletics Club in west London.
Mo Farah | Age, Height, and Weight
The athlete is 40 years old as of 2023. He does core workouts and strength training to maintain himself against the young, energetic athletes that enter the track and field world every day.
As a result, despite approaching his 40s, Farah still looks quite fit and has a toned physique. Not to mention, he runs 120 miles per week at an easy run pace.
The credit goes to gym training and his diet as well. Instead of the traditional breakfast, lunch, and dinner, Mo breaks down the meals into small meals and consumes them throughout the day.
His diet mostly consists of vegetables and salads along with a serving of rice and chicken or tuna. Besides that, the runner is 5'9″ tall and weighs 60 kgs.
Mo Farah | Track and Field Career
Junior Career
The 5000 meters was the first major title of Farah's at the European Athletics Junior Championship in 2001.
That year, Mo became one of the first two athletes at St Mary's newly formed Endurance Performance Centre.
Likewise, he lived and trained at the college and took some modules in an access course before becoming a full-time athlete as his career progressed.
Mavericks stun the Nets to get their much-needed win >>>
Senior Career
Mo Frank's senior career has been divided into various awards and honors he earned throughout his running journey.
First titles and personal beats
Starting his senior career, Farah recorded a time of 13 minutes, 9.40 seconds for 5000m. This record made him Britain's second-fastest runner.
Similarly, in the European Championship, Farah won the silver medal in 5000m in Gothenburg.
Farah's outstanding performance led him to represent the UK at 5000 m in the 2007 World Championships in Osaka, Japan. He came into the sixth position at a time of 13:47.54.
Farah ran 10,000 m events in 2008, which was the fastest UK men's time for almost eight years. However, before the 5000 m final at the 2008 Olympics in Beijing, he was knocked out.
British Records and European Champion
With effort and hard work, Farah set a new British indoor record in the 3000 meters. At the UK Indoor Grand Pix, he broke his own record by more than six seconds.
Without a doubt, as Steve Cram commented, it was "the best performance by a male British distance runner for a generation."
At the European Indoor Championships of 2009, Farah won gold in the 3000m with a record of 7 minutes 40.17.
Similarly, in late May, he also won the 2010 London 10,000. With effort and improvement in his performance, he set his track best by nearly 16 seconds at the European Cup 10,000m.
Mo returned to Europe for the 2010 European Athletics Championships after his training completion in Africa.
Farah took his first major title, the 10,000 meters gold medal making his first major title, and the first European gold medal in Great Britain.
The British runner then went on to win the 5000 m from Jesus España, becoming only the fifth man in the 66-year history of the European Championships to achieve the 5000 m/10,000 m double.
On 19 August 2010, Farah ran 5000 m, becoming the first-ever British athlete to run under 13 minutes.
Also, Farah was named track-and-field athlete of the year by the British Olympic Association.
Records, World Medals, and Accomplishments
The year 2011 was filled with success and honors for Farah. Right at the starting of the year, January 8, at the Edinburgh Cross Country, he defeated the top four finishers of that year's European Championships in a long race.
Again, Farah broke the European 5000 m indoor record in Birmingham, England, winning gold in the 3000 meters at the European Indoor Championships.
In June 2011, at a Diamond League meeting in Eugene, Oregon, Mo won the Prefontaine Classic's 10,000m event in a recorded time of 26:46.57, setting a new British and European record.
Surprisingly, Galen Rupp, Mo's training partner, took the second spot.
In the 2011 World Championships in Athletics, held in Daegu, South Korea, Farah made a breakthrough on the world stage by taking the silver medal in the 10,000 m and then the gold in the 5000 m.
At the 2012 European Championships, Mo won the 5000m race. This made Farah the first athlete to win this European title more than once.
Tobias Harris Net Worth: House & Contract >>>
Double Olympic Champion
Farah participated in the 10,000m at the London 2012 Olympics, where he won gold in a time of 27:30:42. The gold earned by Farah was Britain's first gold medal in the 10,000m.
Similarly, Farah also won a long-distance double in the 5,000m race in a time of 13:41:66. The gold medals which Farah earned were dedicated to his twin daughters.
Farah's success led him to the Commander's appointment of the British Empire's Order (CBE) in the 2013 New Year Honours for athletics services.
1500m record and world medals
Mo Farah broke the European 1500 m record at the Herculis meeting in Monaco. His record made him the seventh man to break both the 3:30 barrier in the 1500 meters and the 13-minute barrier in the 5000 meters.
In order to win the 10,000 m event at the World Championships in Moscow, Farah stayed in Ibrahim Jeilan. His victory in the race was his fourth global title.
Similarly, Mo Farah also won the 5,000m event, where the BBC commentator called him "Britain's greatest ever athlete."
Double-Double Olympic Golds at Rio
Mo Farah won a bronze medal in the 2016 IAAF World Half Marathon Championship in Cardiff, with a record of finishing in 59:59. Similarly, he also was the winner of the Glasgow Indoor Grand Prix 3000m event.
During the Rio Olympics 2016, Farah won a gold medal in the 10,000 meters. This record made him the first Briton to win three athletic gold Olympic medals.
Similarly, on 20th August, he won another gold medal in the 5000 meters race at the Rio Olympics. Mo Farah was honored with the Great North Run for a third consecutive year.
Farah was the fastest person in 2016 from Europe over two middle-distance events and three long-distance events and the half-marathon.
Tenth World Title & Track Retirement
After his performance in the 2017 World Championships in Athletics, Mo Farah reported that he would shift from track events to the marathon.
He won the Diamond League in Birmingham and Zurich, which were his final two-track events. Again, on 20 August 2017, he reiterated his decision to move to the marathon full-time.
Similarly, Mo Farah won the Great North Run for a record fourth consecutive time.
Full-time Marathon Runner & Planning a Track Return
After six months of break, in his first race to prepare for the London Marathon, Mo Farah won the inaugural London Big Half Marathon.
For the fifth time, he consecutively won the Great North Run on 9th September 2018. Likewise, he announced running again in the London Big Half Marathon and won the title on 10th March 2019.
For six consecutive times, Mo Farah won the 2019 Great North Run on 8th September 2019. He failed to qualify for the Tokyo 2020 Olympics after falling 19 seconds short of the qualifying mark.
Thereafter, he sustained a foot injury that later turned out to be a fracture. During the Tokyo Olympics, the athlete was recovering at home.
Conor McGregor Bio: Career, Controversies, Girlfriend & Net Worth >>>
Mo Farah | Net Worth, Salary, and Endorsements
The Somali-British runner, Mo Farah, has a net worth of $5 million.
Most of his earnings come from his primary career as a runner. However, he also has had endorsement deals with many different companies such as PACE, Sports Magazine, Nike, Bupa, Virgin Media, etc.
With the famous sports brand Nike Inc, he works with them to market clothing and shoes.
Likewise, Mo Farah also made a marketing deal with Quron as a part of a multimillion-pound campaign that aimed at doubling the firm's sales.
Besides that, his annual salary, i.e., yearly income, reaches up to $320,000. Furthermore, he also has a documentary titled Mo Farah: No Easy Mile.
The hour nineteen minutes long movie features other athletes such as Usain Bolt, Sebastian Coe, etc.
Mo Farah | Personal Life, Wife, and Kids
The renowned runner Mo Farah is married to Tania Nell. The two lovebirds met each other when they were students at a west London university.
The long-term couple married in April 2010 with a lavish wedding in Richmond, London. Many famous athletes attended the wedding, such as Paula Radcliffe, Hayley Yelling, Scott Overall, and many more.
The couple has three beautiful daughters and a son. They have one stepdaughter named Rihana and two daughters named Aisha and Amani, born in 2012.
Moreover, in 2015, the couple was blessed with a son named Hussein.
Social Media Presence
Mo Farah is active on social media sites like Instagram and Twitter. He updates his fans and followers about his daily life and progress. One can follow him to know more about him and his achievements:
Instagram: 1.1M followers with 503 followings
Twitter: 1.4M followers with 429 followings
Mo Farah | Frequent Asked Questions
How many miles does Mo Farah run a day?
The renowned runner, Mo Farah, reported that he runs 18 miles per day and sometimes even more.
Does Mo Farah have asthma?
Yes, the athlete has Asthma and has his inhaler on him at all times.
At what age did Mo Farah start running?
Since a young age, Mo Farah has been associated with football and even expected to pursue a career. However, at the age of 11, he steered towards running with the initiation of his sports teacher.