Ben Rhodes' wife, Caitlynn Rhodes, earned her master's in Autism and ABA and is a board-certified behavior analyst. The couple is a parent to a baby boy whom they welcomed in 2022.
The 26 years old NASCAR driver, Ben Rhodes, has kept his relationship with Caitlynn away from the limelight.
The driver isn't big on sharing photos of his family on social media except for a few big occasions like his wedding and engagement.
If it weren't for some of his interviews, his fans might not have even known the 2021 Camping World Truck Series Champion is a father.
His wife, too, tries to keep her social media usage to a minimum.
Currently fifth in the Craftsman Truck Series, Rhodes recently won his first NASCAR truck series win of the season at the Charlotte Motor Speedway.
He came out on top, defeating the likes of Corey Heim, Dean Thompson, and Carson Hocevar.
Ben Rhodes Wife, Caitlynn Rhodes
Ben Rhodes' wife, Caitlynn Rhodes (née Hale), completed her bachelor's at Indiana University Southeast in psychology.
Then the better half of Ben Rhodes earned a master's degree from the University of Louisville in autism and applied behavior analytics.
A native of Louisville, Caitlynn and Ben follow Christianity as their religion.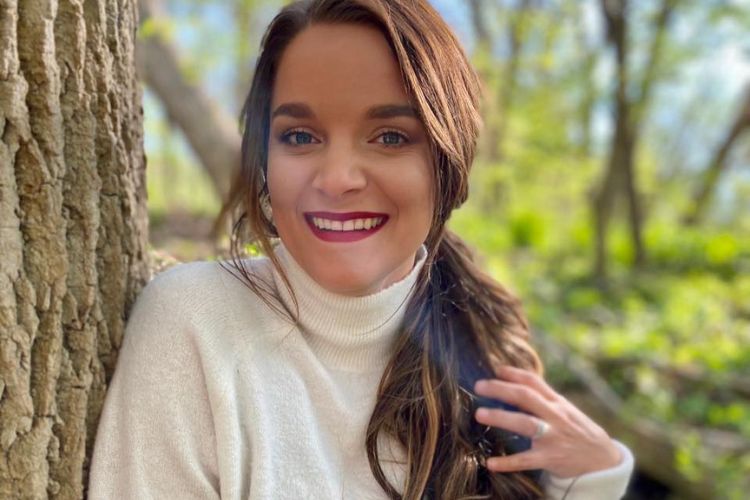 Caitlynn is one of three daughters of Jenny Lynn and Todd Hale. Her other two sisters are Caroline and Maddie Hale.
Caroline graduated with a nursing degree from Spalding University and was a softball player.
Her sister, Maddie Hale, works at Park Place Apartment Houses and, like Cailynn, graduated from the University of Louisville.
Caitlynn is available on Instagram with the username @caitlynn_rhodes and has kept her handle private but has shared pictures with Ben and her family on her Facebook.
Ben And Caitlynn Rhodes Relationship
Ben and Caitlynn Rhodes have kept their relationship a private matter. The racer has shared only a few pictures with his wife on Instagram and tries to keep it more work-related.
One of the first photos of the couple dates back to 2015, with Caitlynn sharing the picture of her and Ben on her Facebook handle.
Since then, Ben has become a regular feature on Caitlynn's social media handle.
Ben became an Instagram official couple with Caitlynn in May 2016 as they attended Kentucky Derby and walked the green carpet.
Watching the Kentucky Debeby from the stands became a norm for the couple. They attended the event a year later, this time with Caitlynn's family.
Caitlynn And Ben Share A Son
After three years of dating, the NASCAR driver popped the big question to Caitlynn in June 2018.
He shared a photo of him putting the engagement ring on Caitlynn's finger on his Instagram.
In October 2019, the preparation for their wedding began with Jenny Lynn sharing snaps from the bridal shower.
Jenny had also shared a picture of Caitlynn selecting her wedding dress as she held up the sign, "I said YES to the dress at Rebecca's."
The couple tied the knot on January 3, 2020, with Ben sharing a picture of him holding hands with Caitlynn in their wedding dress at a beach with the beautiful colors of the setting sun in the background.
Since then, the couple has welcomed a baby boy, with their son being born in 2022. In his interview with The Athletic, Ben said he loves spending time with his son. He shared that he has a trade-off with his wife on who makes dinner and who bathes the baby.