Nate Burleson and his wife Atoya Burleson have been married for two decades- they celebrated their 20th anniversary this March. Even now, they are head over heels like newlyweds, no doubt, this love & understanding stood them through the test of time.
The former NFL player met Atoya at college when his football career was still sprouting, and the duo has been inseparable ever since. Not only Nate & his wife became an exemplary couple in the NFL, but they are also idol parents.
Together, the couple shares three kids: two sons and a daughter. In fact, Burleson's sons have followed in his footsteps & are football players (potential NFL entrants).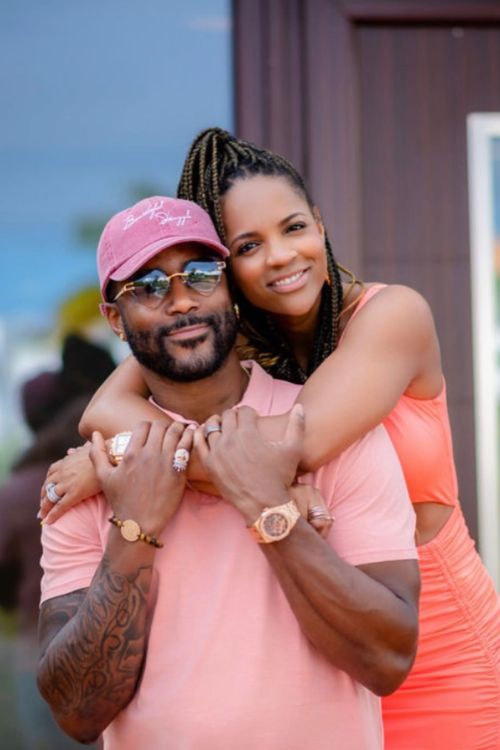 Nathaniel Eugene Burleson is a Canada-born American former NFL player who now works as a TV host & football commentator. He is a co-host of CBS Mornings and covers football for the CBS program The NFL Today.
During his NFL career, the University of Nevada alumnus played for eleven seasons from 2003 to 2013, totaling career earnings of $33.289 million.
He was the third-round pick of the Vikings in the 2003 NFL Draft, where he played until 2005. Then, Nate would play for Seattle Seahawks (2006 – 2009) & Detroit Lions (2010 – 2013).
Even though the Cleveland Browns signed him on a one-year deal in 2014 but was cut off the roster in the preseason.
Nate Burleson Wife, Atoya Burleson: What Does She Do?
The retired NFL player's wife, Atoya Burleson is an entrepreneur, fashionista, and influencer. According to her LinkedIn profile, she is the CEO/founder/host of the podcast insideLINES (August 2019- now), which aims to inspire other women through her experiences.
Moreover, Atoya is the CEO of Ladies Playbook (September 2022- now). She's been serving as the CEO & influencer of her own brand, Atoya Burleson Brand, since September 2020.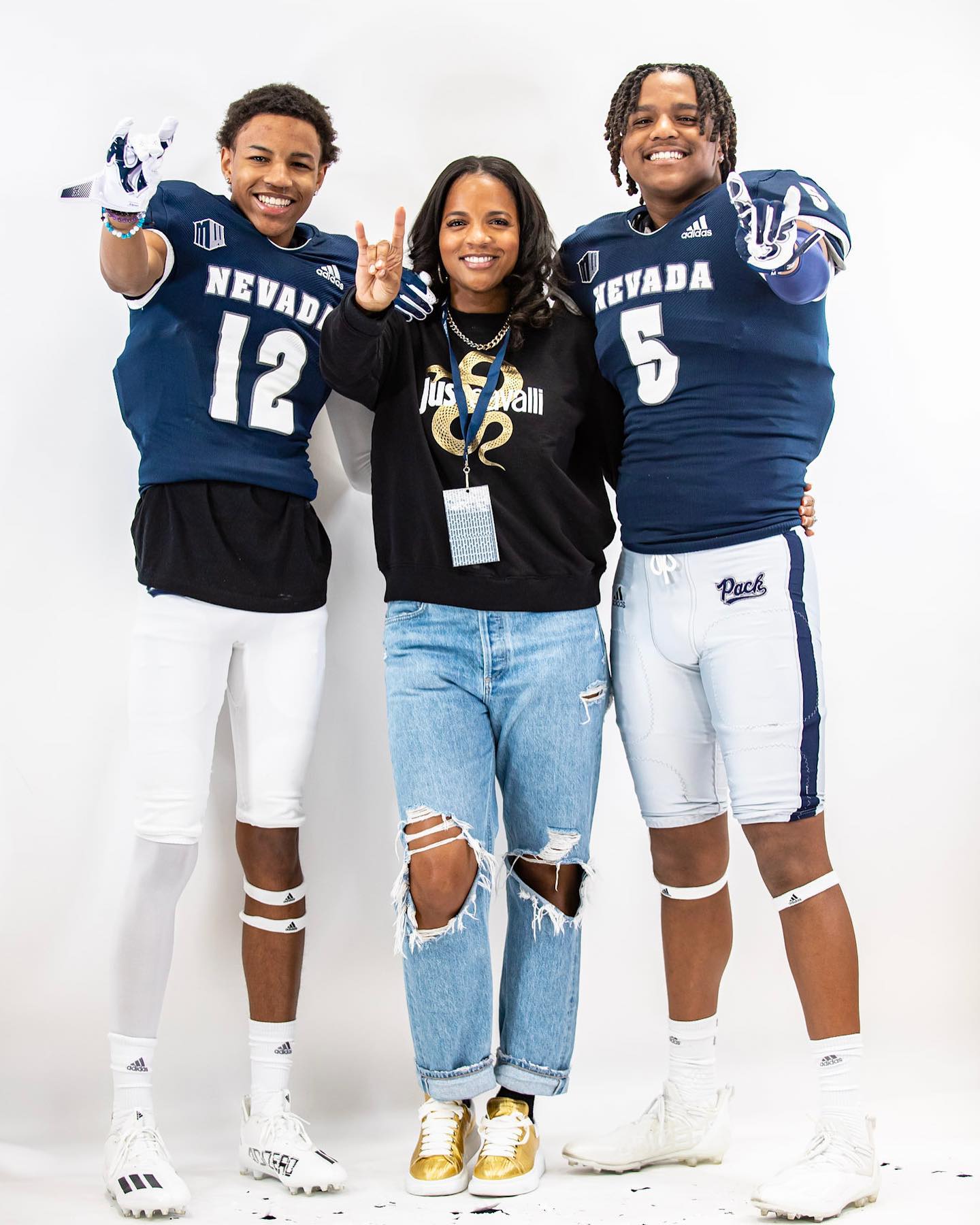 Mrs. Burleson is an alumna of the University of Nevada in Reno, earning her Bachelor's degree in Psychology (class of 2000) and a Master's degree in Education (class of 2002).
On her social media platforms, Atoya talks about women's empowerment & mental health while also side by side, she showcases her impeccable fashion sense.
Amid these busy modules, she is barely away from her motherly duties & leaves no chance to spend time with her kids.
Nate & Atoya Burleson's Relationship: College To Marriage
The love story of Nate Burleson and his girlfriend-turned-wife Atoya is one of the most talked about love stories in the NFL. The two met as college students at the University of Nevada in 1999 & began dating shortly after.
At Nevada, Nathaniel played for the collegiate football team Wolf Pack, while his future wife (then-girlfriend) was a track & field athlete.
She was a hurdle champion- led her college to the 2000 Big West outdoor track & field title while winning an individual conference title in the 100 hurdles.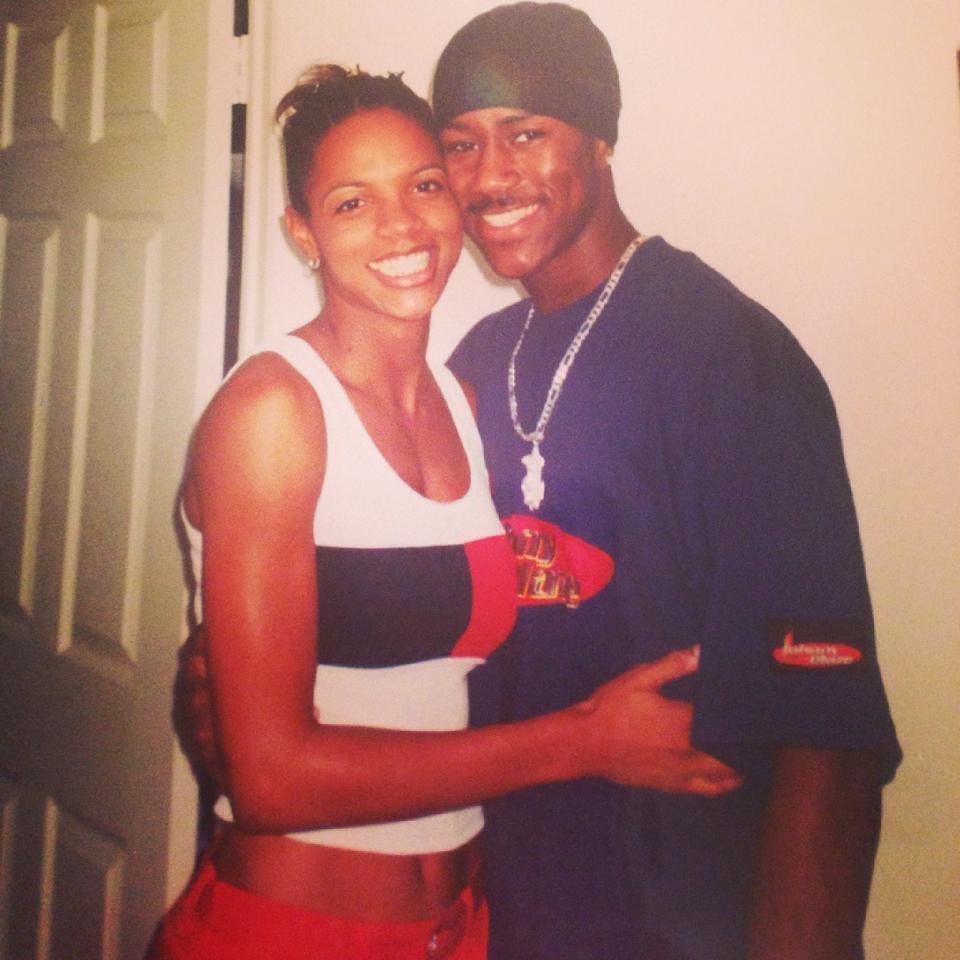 After four years of relationship, Nate and Atoya married on March 26, 2003. The couple often mention each other on their anniversary & birthday posts on Instagram.
Did you know? Nate Burleson's wife, Atoya, born on May 31, 1978, is three years older than him.
Parents Of Three Children: Nate Jr., Nehemiah & Mia
Nathaniel Eugene Burleson and his wife, Atoya Burleson, share three children together, two sons & a daughter, through their union of more than 2 decades.
The pair welcomed their first child, son Nathaniel Jr. on May 3, 2004, which followed the birth of their second child, Nehemiah, on April 5, 2006. Their youngest kid, daughter Mia Pearl, was born on July 2, 2010.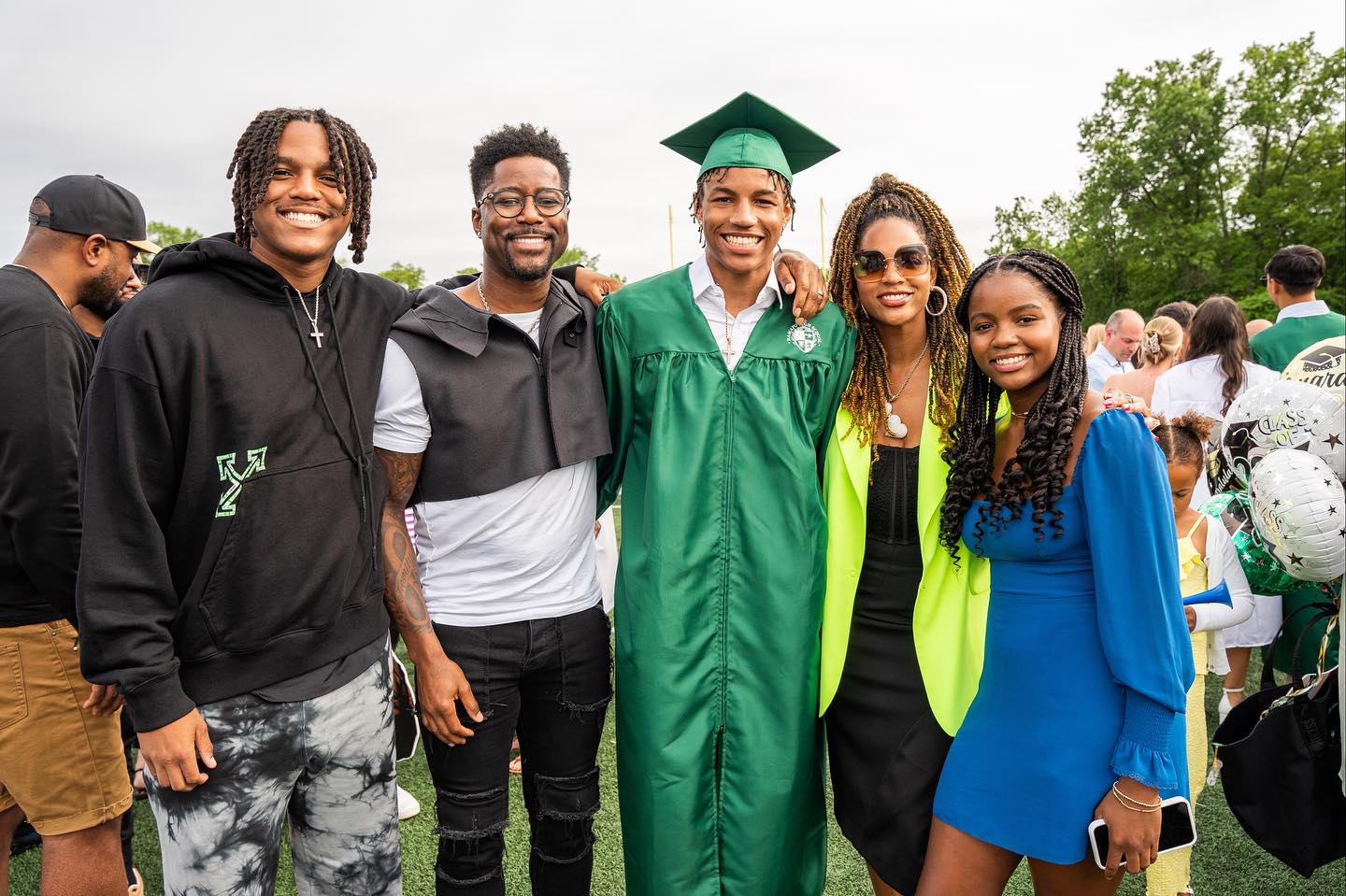 Both of Nate's sons are following in his footsteps in football.
The eldest of all, Nate II, a 2023 class of Ramapo High School, played football & basketball before his inclination to football. On December 21, 2022, the wide receiver signed with the University of Nevada for college football, the alma mater of his father & uncle, Lyndale Burleson.
Nehemiah, the middle child, is also a two-sport athlete (football & basketball) as a junior (in 2023) at Ramapo High School.
Mia, who is the youngest of all, is not active in sports but often makes media appearances with her father. In March 2021, she appeared in a segment of CBS online "Online+Mochi" featuring the former First Lady Michelle Obama.
Where Do Nate & Atoya Live?
Currently, the duo resides in New York City after their move from their Ridgewood, New Jersey house, where they moved in 2018. At that time, Nate was working in NFL's Good Morning Football.
Previously, Burleson & his wife owned a home in Newcastle, Washington, which he listed in January 2016 for $2.25 million, though the sales report is yet to be out.
The retired NFL player also owns a one-acre property featuring a six-bedroom & six-bathroom mansion spread over 6,000 sq. ft. in Scottsdale, Arizona.
He bought it in June 2015 for $1.92 million & tried to snag it off for $1.975 million in August 2017 but retained the ownership later.