One of the most popular sports globally, American football, has many audiences all over the planet. But only a few players can get much attention in the NFL – and Nate Ebner is one of them.
Nate Ebner is a professional National Football League (NFL) player currently playing for the New York Giants. Also, he is a Rugby Sevens player for the United States national seven-a-side rugby team.
Ebner is the only player born in Dublin, Ohio, and play for the United States' national team. He is the minority owner of MLB club New England Free Jacks alongside Patrick Chung.
Nate switched from rugby to American football. There are only a few players to do so in the NFL. He is a giant powerhouse player. Nate plays as a safety man – and he is also a special teamer in the club.
We'll learn more about Nate Ebner in this article. But before knowing more about his life, let's dive into his quick facts:
Nate Ebner | Quick Facts
Full Name
Nate Ebner
Birth Date
December 14, 1988
Birth Place
Dublin, Ohio, United States
Nick Name
Leonidas, Ebner 43
Religion
Jewish
Nationality
American
Ethnicity
White
Education
Primary Schooling from Hebrew School

High School degree from Hillard Davidson High School

Horoscope
Sagittarius
Father's Name
Jeffrey Ebner
Mother's Name
Nancy Pritchett
Siblings
Information Not Available
Age
34 Years Old
Height
6 feet 0 inches
Weight
98 Kilograms
Hair Color
Dark Brown
Eye Color
Light Brown
Build
Muscular
Profession
National Football League Player
Professional Career Seasons
8 Seasons
Active Years in American football
8 Years
Sexual Orientation
Straight
Marital Status
Married
Husband's Name
Chelsey Walton Ebner
Kids
Information Not Available
Net Worth
$4 Million
Social Media
Instagram, Twitter
Merch
T-Shirt
Last Update
March, 2023
Nate Ebner | Early Life, Parents, and Education
Nate Ebner was born on December 14, 1988, in Dublin, Ohio, United States. He is the son of Jeffrey Ebner and Nancy Pritchett.
Nate's father, Jeffrey, was a former college rugby player at the University of Minnesota.
Nate's biggest inspiration to become a rugby player was his father. He used to train with Jeffrey and learn new tactics from him. Also, Ebner's father used to work as a principal at Sunday School in Springfield, Ohio.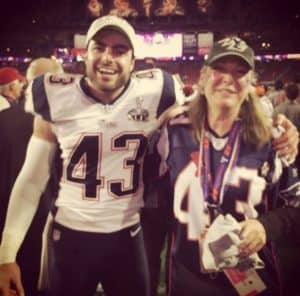 Ebner's mother, Nancy, works in their family business Ebner & Sons auto. Everything was fine in the Ebner family until an incident happened in 2008.
A robber robbed Ebner & Sons and killed Nate's father. It was the most challenging moment of his life. In 2010, the court sentenced him to life in prison.
Education
Ebner studied in a Hebrew school in Mason, Ohio, until his sixth grade. After that, his parents decided to move him to another school in Columbus, Ohio.
While growing up studying from a Jewish school, Ebner knows all Jewish rituals and customs – and he celebrated the festivals during holidays. His father and teachers taught him all cultural practices and customs.
Nate completed his high school degree from Hillard Davidson High School. However, he didn't play rugby from the high school's team.
Further, Ebner joined Ohio State University to study degree. He completed a major in Exercise Science.
Do you like this article? Read more: Rich Gannon Bio: Early Life, NFL, Personal Life & Net Worth
Nate Ebner | Height, Weight and, Body Measurements
Ebner is 6 feet (1.83 meters) tall and looks giant. He is powerful and fast. After watching his gameplay, a pro football critic said Ebner runs very fast like a ball hit from a bat or like a missile.
He weighs around 98 kilograms. Ebner lost two kilograms during the coronavirus pandemic. He keeps a strict protein-diet, which gives him the energy to play in the NFL.
Sadly, there is no information about his body measurements. Whenever our team gets the information, we will update it instantly.
Nate Ebner | Career
Ebner started to play rugby in 2006. He joined the junior rugby team of the United States Under 19 age group. During the season, the management staff decided to make him the Most Valuable Player (MVP) team.
Furthermore, Nate represented in under-19 IRB Junior World Championship in 2007 and under-20 IRB Junior World Championship in 2008.
College Football Career
After playing for the U.S.A team's age group, Ebner got an invitation from the college's football team.
Ohio State University offered him a scholarship to play for their team, Ohio State Buckeyes, in 2011. Despite having skills, the coach didn't offer him many matches to play for the team.
However, in 2011, Ebner got 11 tackles while playing football. It was a breakthrough for his career. Ebner played 36 games in his college career and did 30 tackles.
As mentioned before, Ebner is a fast runner. He completed a 60-yard shuttle in 10.90 seconds – making a record. He jumped 10 feet 8 inches in a standing broad jump.
Are you enjoying reading? Please, read more: Ed McCaffrey Bio: Age, Net Worth, Career & Personal Life
Professional Football Career
In the NFL draft 2012, New England Patriots drafted Ebner in the sixth round. After that, he signed a four-year contract with the team.
Nate played 15 regular games for the rookie season from the Patriots in 2012. He did 17 tackles and 297 snaps during the season.
Moreover, the team's management was satisfied with Ebner, so they decided to make him a full-time defense. In 2013, he played 15 regular-season games – with nine tackles, two playoff games, and two fumble recoveries.
In the 2014 season, Ebner helped the team to win the Super Bowl XLIX. It was a significant trophy for his professional career. He did the second most tackle (11) for the Patriots.
Sadly, during a 2014 game, Ebner broke his thumb. He had to rest for months. Nate missed four games that season.
Ebner was always the favorite of Patriots' coach Bill Bellichick. He has mentioned Ebner as one of the greatest players who understand the opponent's offenses and instantly reads the position. He added, Ebner is the player who adapted quickly and has proper knowledge of the defense.
Second And Third Superbowl
Ebner is a lucky player who has two super bowls during his short career. In 2017, the Patriots won SuperBowl LI. In the cup-winning game, Ebner recorded one tackle against Atlanta Falcons.
Nate extended his contract with the club for two years in 2018. This year, the Patriots defeated Los Angeles Rams – and won SuperBowl LIII.
However, Ebner decided to move on to another team, New York Giants, in 2020. He wanted to gain a new experience while playing with another club.
Hope to see this again… pic.twitter.com/hrbIKWHQpK

— Nate Ebner (@NateEbner) April 21, 2017
Further, the New York Giants head coach, Joe Judge, specially invited him to join the club. So, Nate didn't neglect his invitation.
Rugby Sevens Career
Nate Ebner is one of the American players who can play rugby and football at the same time. That's why he is playing rugby since 2016.
Firstly, Nate played seven-a-side rugby from the United States team in the 2016 Summer Olympics. He played with Argentina and Brazil – in both games, America got defeated.
Do you want to read more? Read this: Austin Ekeler Bio | Childhood, Career, and Net Worth
During the match against Brazil, Ebner did a wrong tackle, which leads him to the sin bin. He had to sit for two minutes as the penalty. However, his merit didn't decrease.
Secondly, Ebner served as an in-studio host for the Post Olympics in the 2018 Rugby World Cup. Sadly, the United States didn't do well in the championship.
Nate Ebner | Awards and Achievements
Nate Ebner has won various awards and achievements during his amateur and professional career. Some of them are as follows:
Ike Kelley Award

Bo Rein Award

SuperBowl (Three times)

Big Ten Conference All-Academic (Three Times)
Nate Ebner | Patriots Jersey
Ebner wore jersey number 43 for the New England Patriots of the NFL. Here's a picture of him in his Patriots jersey:
Nate Ebner | Drop Kick
Ebner's drop kick became quite famous in 2015. Here's a clip of his drop kick for the Patriots against the Eagles:
NATE EBNER DROP KICK ALERT https://t.co/RwC84p4SC6 pic.twitter.com/ZyBdKFSchi

— Land-Grant Holy Land (@Landgrant33) December 7, 2015
Nate Ebner | Wife, Kids, and Personal Life
Ebner is a married man. He married his girlfriend Chelsey Walton Ebner in 2020 in Ravello, Italy.
The couple was in a relationship for more than eight years.
There is not much information about Chelsey's profession. Some critics say she is a model. However, Chelsey is an exercise, nutrition, fitness, and cooking lover – talking about her hobbies.
The couple has not planned for children soon. But in the future, we can see their babies. Both of them are happily married, and there are no rumors of their separation.
Furthermore, talking about Nate's hobbies, he is a traveler. He likes to go to new places. Also, Nate is a jewelry lover. He likes to wear diamond rings. He also likes to read new books – mostly novels.
Ebner's favorite actor is Dwyane Johnson, and his favorite actress is Emma Stone. Nate is a gym lover. He spends three hours a day in the gym.
Read this: Trent Green – Early Life, Family, Career, Net Worth & Wife
Nate Ebner | Salary and Net Worth
Ebner has played for two big clubs in the NFL. He has won three SuperBowls. So we can analyze he must be a rich player.
In 2012, he signed a deal of $2.2 million with the Patriots. Ebner also got $96,000 as a bonus. Further, in 2020, he signed one year contract with the New York Giants for $2 million.
Similarly, Nate Ebner signed a 1-year contract worth $2,000,000 contract with the New York Giants of NFL.
If we further elaborate the sum, it would include $2,000,000 guaranteed with an average salary of $2,000,000 annually.
Ebner also does several advertisements for various companies. And he regularly stays in touch with the NBC channel as a rugby analyst.
By calculating his total amount, Nate's net worth sums $5 million.
Ebner lives a lavish life, spends money on diamond rings. He also travels to different parts of the world with his wife. Nate is living a great life.
Nate Ebner | Social Media Presence
Ebner uses two different Social Media platforms to connect with his fans. He is available on Instagram and Twitter.
He is not using Facebook. It's entirely unacceptable to know that an American player doesn't use Facebook. He must be using it undercover.
I told y'all I'd bring him around! @TomBrady #backtheboys @USARugbyPlayers @USARugby @rugbyworldcup #rugbyworldcup2019 #GoUSA pic.twitter.com/xSnI5HBNmB

— Nate Ebner (@NateEbner) September 25, 2019
Ebner is a down to earth person. He connects with his fans, mostly on Instagram. However, he only posts formal posts for Twitter. All of his travel pictures, wife's pictures are available on Instagram.
Frequently Asked Questions About Nate Ebner
When did Nate Ebner leave the New England Patriots?
Nate Ebner left the Patriots on March 26, 2020. He signed a contract with the New York Giants to play as a special teamer.
Where does Nate Ebner live?
Ebner has a permanent residence in Dublin, Ohio. But he has to move with the team to play football.
Which religion is Nate Ebner?
Nate is a Jew. He loves his tradition and celebrates it.
Is Nate Ebner a Super Bowl Champion?
Yes, Nate Ebner is a Super Bowl Champion. He has earned three Super Bowl rings till now.
He first earned it in Super Bowl XLIX against the Seattle Seahawks in 2015, then in Super Bowl LI against the Atlanta Falcons in 2017, and last in Super Bowl LIII against the Los Angeles Rams in 2019.