NBA and NBA teams are always vocal about racism, social injustice, discrimination, and many more and have taken a stand against the wrongdoings of the people in power.
One such incident where NBA took a strong stand was the case of George Floyd's murder.
On May 25, 2020, George Floyd, a 46-year-old black man, was murdered in Minneapolis, Minnesota, United States.
While arrested on suspicion of using a counterfeit $20 bill.
During the arrest, Derek Chauvin, a white police officer with the Minneapolis Police Department showed no mercy to Floyd
As he knelt on Floyd's neck for nine minutes and 29 seconds after he was handcuffed and lying face down.
The other two cops assisted in restraining him while one cop prevented people from intervening.
Floyd pleaded to Chauvin and even said it was hard to breathe.
And even people begged Chauvin to let go but Chauvin didn't lift his leg until medics arrived.
Witnesses and security cameras recorded the incident and went viral the following sending chills throughout the Nation.
Such gruesome brutality from the cops who are to save people received huge criticism and protest from throughout the Nation.
After protests finally, justice served as Chauvin convicted.
NBA too protested against the police brutality and took a stand for justice to George Floyd.
Floyd's death sparked a wave of protests worldwide last year.
And over the last year, the NBA has served as a platform for many stars to campaign against social and racial injustice.
Before each game, NBA teams bowed their heads and knelt during the playing of the U.S. national anthem while wearing Black Lives Matter T-shirts.
Coaches and game officials joined players in taking a knee to protest against racial injustice and police brutality.
After a long-fought battle for the justice of George Floyd finally, Chauvin convicted.
Chauvin convicted of second-degree unintentional murder, third-degree murder, and second-degree manslaughter.
The trial commenced in Minneapolis on March 8, 2021, in Hennepin County District Court.
Jury selection began on March 9. Opening statements occurred on March 29, 2021, and closing arguments on April 19, 2021.
On April 20, 2021, the jury found Chauvin guilty of all charges. Sentencing is due to take place eight weeks after the verdict.
Following Chauvin's conviction, Judge Cahill revoked his bail, and Chauvin has taken to police custody.
NBA reacts to the Chauvin verdict.
As the verdict of Chauvin announced, the whole NBA world reacted to the news.
NBPA Executive Director Michele Roberts and NBA Commissioner Adam Silver released the following joint statement today:
"George Floyd's murder was a flashpoint for how we look at race and justice in our country, and we are pleased that justice appears to have been served. But we also recognize that there is much work to be done and the National Basketball Association and the National Basketball Players Association, together with our newly-formed Social Justice Coalition, will redouble our efforts to advocate for meaningful change in the areas of criminal justice and policing."
NBPA Executive Director Michele Roberts and NBA Commissioner Adam Silver released the following joint statement today: pic.twitter.com/r0XQkLssOb

— NBA (@NBA) April 20, 2021
Coaches react to the verdict
Many coaches have bitter-sweet reactions to the verdict.
Brooklyn Nets' coach Steve Nash, "It's bittersweet. Obviously, George Floyd lost his life as many others have unjustly, and we can't forget that people are losing their lives. On the other hand, it is a small gesture of justice and possibly hope for the future in that perhaps all the social justice movements, the NBA, the WNBA with the community at large are really making an impact. Whether it's small and creating a tipping point or whether it's large, it gives hope that the voices of many are making change and we have a better future for our kids."
New Orleans Pelicans coach Stan Van Gundy keeps it real.
New Orleans Pelicans coach Stan Van Gundy kept it real and called Tuesday's guilty verdict "an important day for our country" but said it was hard to find reasons to celebrate and recognized there is more work to do.
"We had somebody needlessly killed right in front of us," Van Gundy said. "Right in front of all of us because we can see it on video. And no verdict was going to change that. And while it's just, it's hard to celebrate. It's also hard to celebrate because we've had other incidents just like it since the time George Floyd got killed.
"I guess what you wonder out of all this is, is it going to change anything? Is it going to change anything? It was a just verdict. But will it have larger implications? Will it force us or motivate us to explore better policing and solving the immense problem of racial justice. Is it going to do any of that, is it going to move us forward on any of that? Or is this just an isolated verdict on one where we had clear video evidence?
"I applaud the just verdict, but it's hard for me to celebrate where the whole thing started. George Floyd still being dead and people since then being dead and not having overwhelming confidence that this is going to be a step in the right direction and not an isolated incident."
Minnesota Timberwolves coach Chris Finch reacts.
Likewise, Minnesota Timberwolves coach Chris Finch said there was a sense of "relief" among his players after the guilty verdict was read.
"I know there was a lot of anxiety surrounding the team over the last few days, not only about the verdict but of course about what might happen to our community," said Finch, who was with his team in Sacramento to face the Kings on Tuesday night. "We all have families, friends still there, so there's a lot of concern there. I haven't had a chance to connect with them all individually yet, which we intend to do, because we all kind of have different schedules as we come to the arena and prepare for the game."
Finch acknowledged that the trial, as well as last week's police shooting of Daunte Wright, a 20-year-old Black man, has made it difficult for many of his players to focus on basketball.
"I think it's something that's weighing on them every day," Finch said. "We see the visual reinforcement of what's happening, whether it be national guards in our street or the Brooklyn Center protests. These are things we can't escape — and it's perfectly OK to not think about basketball when we think about these other larger things in life that are right in our face that we're trying to deal with as a community."
NBA teams release statements.
After the conviction on Tuesday, the Oklahoma City Thunder tweeted the following statement:
"Today's verdict offers a level of justice for the Floyd family, but that is only one step in the long journey toward ending system racism in our country. The Thunder is committed to working toward ending racial injustice, and we are all responsible for helping to take this moment in our country's history and improve on it for today, for tomorrow, and for generations to come."
Golden State Warriors too released a statement on the verdict.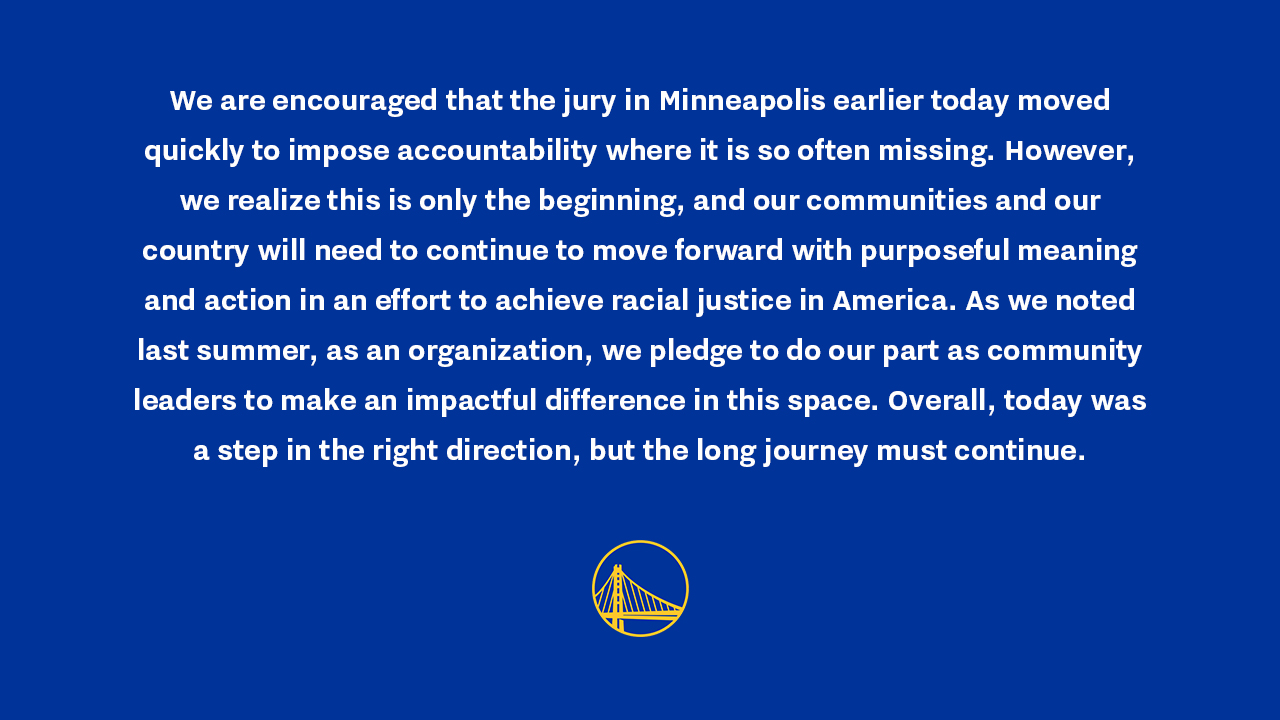 NBA players react to the verdict
NBA former player Dwayne Wade said, "Today showed to me the power of community. The work is not done."
Lebron James emphasized the word accountability as he reacted to the verdict.
Rudy Gobert tweeted," Let's hope that one day justice for all will feel normal and not like a celebration".
Let's hope that one day justice for all will feel normal and not like a celebration 🙏🏽

— Rudy Gobert (@rudygobert27) April 20, 2021
Jeremy Lin said it is a good start and the path for justice hasn't ended yet.
A good start but the path for justice doesn't end here by any means #presson https://t.co/3yCXeM32g1

— Jeremy Lin (@JLin7) April 20, 2021
Many NBA players simply tweeted "Justice" and "Justice served"
Meanwhile, Jamal Crawford believes it's a long journey to get justice.
But the fact we all saw what we saw last year, and STILL were nervous about if he would be held accountable, shows how far we have to go…

— 🏁 Jamal Crawford (@JCrossover) April 20, 2021
National Basketball Coaches Association started a committee on racial injustice and reform.
NBA world took a stand against such wrongdoings and gave inspiration and motivation to all generations to do the same.
We know that the NBA world will continue to take such stands in the future as well.