Neil Robertson is the only Australian ever to win a ranking snooker event; he was also undefeated in the first six finals aired live on TV.
As an expert breaker, he has only amassed over 750 century breaks in professional leagues, not accounting minor leagues. Moreover, Neil became the first player ever to make 100 centuries in a single season back in the 2013/14 season.
Neil Robertson is widely regarded as the most successful snooker player in professional snooker history outside of the United Kingdom. Oh, and he plays left-handed.
Over his long pro snooker career, there's nothing he has left to win. The Aussie is regarded as one of the best players in snooker history and undoubtedly the best overseas player.
Sure he makes it look easy, potting balls in the pocket one after another, but most people don't know that it takes skills, determination, and a lifetime of practice to perform calmly under such pressure.
How does Neil Robertson handle all the pressure during the game? When did he start playing? Has he won the Triple Crown? We will answer these questions in the articles, so stick with us until the end.
Let's get started with some quick facts.
Neil Robertson | Quick Facts
| | |
| --- | --- |
| Full Name | Neil Robertson |
| Birth Date | 11 February 1982 |
| Birth Place | Victoria, Australia |
| Current Residence | Cambridge, England |
| Nick Name | The Thunder from down under/The Melbourne Machine |
| Religion | Christianity |
| Nationality | Australian |
| Famous for being | Snooker player |
| Ethnicity | Caucasian |
| Education | Norwood Secondary College |
| Horoscope | Aquarius |
| Father's Name | Ian Robertson |
| Mother's Name | Alison Hunter |
| Siblings | Marc Robertson (younger brother) |
| Age | 41 years old |
| Height | 6 feet 1 inch |
| Weight | 167 lbs (76 kg) |
| Hair Color | Blonde |
| Eye Color | Brown |
| Build | Average |
| Hobbies | Playing snooker, listening to music, playing video games, etc. |
| Favorite Destination | N/A |
| Profession | Pro snooker player |
| Marital Status | Married to Mille Fjelldal |
| Kids | A daughter and a son |
| Net Worth | $5,000,000 |
| Merch | Snooker Cue Stick |
| Last Updated | March, 2023 |
Neil Robertson | Early Days and Education
Neil was born on the 11th of February, 1982, in Melbourne, Victoria, Australia. He was born the first son and eldest child to his father, Ian Robertson, and Alison Hunter's mother.
He grew up in Melbourne, Victoria, along with his younger brother Marc Robertson.
The Aussie did not have much of a passion for snooker in his early days, but he gradually got into the sport and developed a liking to it. When he was just 14 years old, he got himself into professional snooker events.
Robertson also became the youngest player to make a century break in an Australian ranking match.
Moving on, he attended the Norwood Secondary College, which is located in Ringwood, Victoria.
Besides these, not much is known about The Melbourne Machine's childhood.
You might want to read about the top 12 pool players in the history of pool >>
Neil Robertson Career
Early Career
Robertson started playing professional snooker in 1998. Later, he won the World Under-21 Snooker Championship in 2003.
This feat helped him gain the wildcard spot in World Professional Billiards and Snooker Association (WPBSA) Main Tour.
Moreover, in the same year, the Aussie won the qualifying tournament for a wildcard place at the 2004 Masters. But he could not make it to the finals of the 2004 Masters after losing to Jimmy White in the first round.
Neil Robertson first came into the highlights after reaching the top professional ranks in the 2006/07 season. He led an impressive career moving on.
Neil reached the 2nd round of the 2007 World Championship but lost against the great Ronnie O'Sullivan. He lost the match despite winning six frames in a row.
Later Career
Later, Neil won the World Championship of snooker in 2010. In the same year, he scored his first official maximum break of his career playing against Peter Ebdon in the 2010 China Open.
Robertson was ranked the top player in the world in 2010 from September to December. In June 2013 and 2014, he attained the same honor again.
More specifically, in May of 2014, July and August of 2014, and in December of 2014, he was the 1st ranked snooker player in the world. The following year in January, he was on the top of the rankings yet again.
Going back to 2012, Neil won the 2012 Masters against Shaun Murphy with a 10-6 score.
Moreover, Neil made his 2nd official maximum break of his career in March 2013, playing against Mohamed Khairy in the Wuxi Classic.
Fast forward to 2016, Neil did not lose more than a frame in any match and managed to snatch the 2016 Riga Masters title. This is his performance yet in any competition.
Similarly, in 2018, Neil won the Riga Masters again for the second time in three years. He won the title against Stuart Carrington in the semi-finals and Jack Lisowski in the finals.
As of October 2021, he is in 4th place, a rank below the legendary Ronnie O'Sullivan.
Neil Robertson's highest break is 147 for the four times paired with his century breaks of 757.
Neil Robertson Total Titles
Ranking Titles- 19
Non-ranking Titles- 6
Minor league titles- 4
Neil Robertson | Net Worth
Neil Robertson's total career winnings are approximately 5.2 million euros, equivalent to $7.3 million as of 2021. He has been playing and winning snooker tournaments since he was a kid.
Snooker is his only source of income, so tries his best to earn as much as possible from the sport before retirement.
He did not save all of the 5 million euros he won from winning tournaments. Our experts estimate that his net worth is about $5 million, accounting for his traveling expenses, his family expenses over the years, and his rich lifestyle.
His total earnings were not limited to 5 million euros; his total earning throughout his career is estimated to be 7 million euros through endorsements, savings, interests, investments, etc.
You might want to read about the top 13 sports brand in the world right now >>
Neil Robertson | Marriage
The snooker star got married to his partner Mille Fjelldal in London, England. Their wedding ceremony was a romantic one, as you'd expect from a millionaire.
Mille was wearing a white gown with floral applique all over and a plunging neckline. Needless to say, she looked beautiful in it. She styled her hair in waves the showered down her shoulders.
On the other hand, Neil wore a classic tailored three-piece suit.
Shortly after the couple exchanged the rings, they got out of the venue and posed for the wedding photos in a bustling street.
The couple held hands together and started walking down the street while the cameraman did his work.
Lastly, they kissed on Regent Street on a pedestrian refugee. He shared the wedding photos over on Instagram with a heartfelt caption.
Neil expressed his gratefulness for everything Mille had done, looking after the family while away for matches. He said, "From everything you have been able to achieve while looking after our beautiful children when I can at times spend countless weeks away."
The caption further read, "To helping me become a better person, a better dad, and now as good a husband as I can be. I can't wait to spend the rest of my life with you."
Neil Robertson | Wife and Kids
Neil Robertson and his wife were blessed with two kids in their life. Their firstborn was a son who they named Alexander. The duo welcomed their first child on the 12th of May, 2010, two years after they met each other.
Alexander was born while Neil was playing in the World Champion finals. Robertson and Mille Fjelldal first met each other in 2008.
Mille Fjelldal was due to give birth to Alexander on the 2nd of May, but the delivery was delayed by ten days. Neil spoke about the experience of being a father enthusiastically.
He told an interview that he used to wake up early, drop off his son at school, and only then would he go for his practice session.
In December of 2017, he opened up about his wife in an interview. He stated that Mille was in depression and had been battling anxiety since 2015.
But rest assured as he also said that her mental health has improved and that he can now full-heartedly focus on his snooker career.
Fast forward a couple of years; the duo welcomed their second child and only daughter on the 17th of March, 2019. They named their daughter Penelope.
Neil Robertson | Personal Insights
When asked about what's the things that he never leaves the house without, he answered it's his beanie, "especially in the winter" he added.
He stated that sometimes when he has to cook for himself, he makes vegan wraps and pasta. Also, his school teacher always complained about him never finishing his homework on time.
Neil stated that if he weren't a snooker player, he would have been a graphic designer for game developers. He also said that he is the happiest when he is with his family.
When asked what was his unfulfillable wish was, he replied, "do what I do for a living, but in Australia."
As for his musical taste, he listens to anything except for rap. Moreover, he is also a fan of Game of Thrones.
His all-time favorite movie is The Shawshank Redemption. Among his friends, he is known to be always late.
One of his earliest memories included mixing eggs and flour on the carpet to make a cake before his mother woke up. His younger brother Marc was also his partner in crime.
His favorite sports besides snooker are Aussie Football, Soccer, Cricket, and Basketball. Neil also stated that he doesn't have a pet, but it would probably be a pug if he had one.
Neil also stated that moving away from friends and family to play snooker on the other side of the world was the hardest thing he has done in his life.
He is also a big gaming guy; he loves playing video games and watching pros play them.
Take a look at this article about the 15 greatest NFL players of all time >>
Neil Robertson Trivia
Neil Robertson used to practice at Willie Thorne's snooker club at Leicester and Cambridge Snooker Center. Still, he has changed his practice venue; now, he practices regularly at WT's Snooker and Sporting Club located in Cambridge.
The Robertson family has been vegan since 2014. And yes, he knows that his tournament footwear is not vegan but he compromises a little cause it's his breadwinner.
Robertson is a longtime Chelsea fan and has been supporting the club since his teens. He is also friends with retired English football star John Terry.
Furthermore, Neil was the ambassador for Snooker Live pro, a snooker videogame and simulator app. He became the brand ambassador in 2016 but restricted himself from playing the game in April of 2017 because he was spending way too much time playing the game.
He stated that the time he spent playing the virtual game was affecting his practice routine.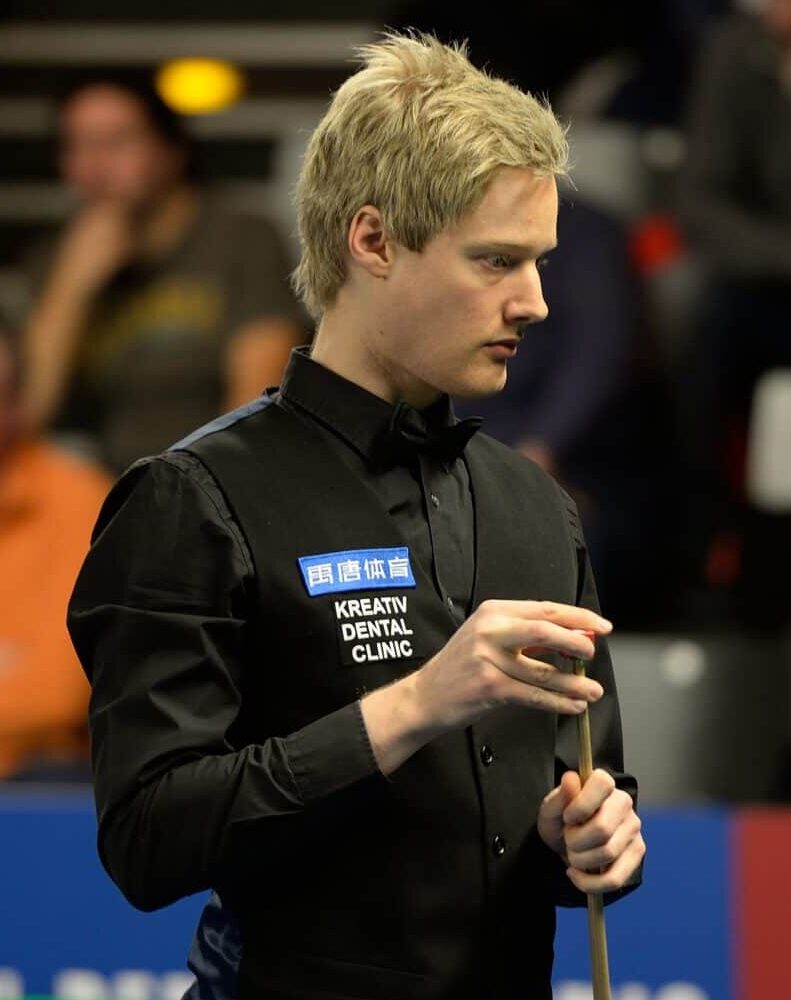 Neil appeared in the World Championship Snooker, BBC coverage of the World Snooker Championship at the Crucible Theatre in Sheffield, England. The Aussie appeared in a total of 91 episodes from 2005 to 2018.
Similarly, he appeared in the UK Championship Snooker, the Live BBC Coverage of the UK Championship at the Barbican Centre in York, England. The competition had 128 best players from around the world competing for the number one spot.
The pool prize was £170,000. Neil appeared in 23 episodes from 2013 to 2015 and also won the tournament.
Moreover, he also appeared in a quiz game show named A Question of Sport.
Speaking of TV shows, Neil is a fan of Curb Your Enthusiasm and Seinfield. He is also a fan of Larry David, a New York native actor.
Social Media Links
Twitter: 129.2k followers
Instagram: 88.7k followers
FAQs
Who is the wealthiest snooker player?
Steve Davis is the richest snooker player as of now. He has a net worth of $33.7 million, approximately six times more than Neil Robertson's.
Is Neil Robertson famous in Australia?
Neil Robertson has achieved quite a lot in the world of snooker, more than any other overseas player in the history of snooker. The Aussie is also the best player in the whole of Australia. But truth be told, most of his fans and followers are English.
Sure, he might be respected in his hometown, he must be a local celebrity, but he is not famous in other Australian cities.
Has Neil Robertson won the Triple Crown?
Yes, Neil Robertson has won the Triple Crown. In the snooker world, the Triple Crown refers to the World Championship, the invitational Masters, and the UK Championship.
He has won the UK Championship three times and the other two titles a single time.