Powerlifter and Strongman Nick Best wife, Callie Marunde, is a fitness contest competitor.
Born on November 3, 1968, in Las Vegas, Nick Best has been actively involved in Strongman competitions for more than a decade.
Due to his long-standing presence in the sport, he has earned the nickname "grandfather" of Strongman.
His exceptional talent and dedication led him to his career-best victory, winning the All-American Strongman Challenge.
In addition, he has also gained recognition through his appearances on the television series "The Strongest Men in History."
During one episode, Nick showcased his exceptional strength by surpassing his previous world record in the hip lift.
Nick Best Wife Callie Marunde-Best
Nick Best wife, Callie, was born on September 19, 1983, and is 40 years old as of September 2023.
She is a former bodybuilder and women's physique competitor. She has also competed in the Natural Bodybuilding Championships in Vancouver, Wash.
Moreover, she competed in the Emerald Cup, another competition in Bellevue, along with two of her clients, Laurie Joslin and Leticia Swanson.
Throughout her career, Callie also served as a personal trainer and even volunteers at the Boys & Girls Club in Sequim.
Nick and Callie exchanged vows in March 2010, marking the beginning of their marital journey. Their paths crossed in November 2008 during a strongman competition.
Before marrying Nick, Callie was married to a strong man Jesse Marunde.
In 2007 at the age of 27, Jesse suffered a massive heart attack during a workout and died. He was the victim of a genetic heart defect.
Callie Marunde-Best Ex-Husband Jesse Marunde
Jesse Marunde, an ex-husband of Callie, was a highly talented and accomplished American strongman athlete.
His impressive performance in the strength sports arena, particularly for his second-place finish in the prestigious 2005 World's Strongest Man competition
Jesse Marunde and Callie met after graduating from Sequim High School.
Jesse Marunde crossed paths with Callie Michney in 2002 at a competition in her home state of Ohio.
They married in 2004 and together established the MarundeMuscle website to promote effective strength routines and advocate for nutritious eating habits.
They gave birth to their daughter Jessica Joy On June 10, 2007. After six weeks after her daughter's birth, Jesse suffered a heart attack during a workout in Sequim, Washington, and died.
In an interview, she shared that her life after her husband's death was a whole struggle.
She had to take care of the finance and her small daughter at the same time, yet she didn't give up and took good care of both herself and her daughter.
Callie, even after her husband's death and remarriage, decided to keep her first husband's surname, 'Marunde.'
Nick Best Kids
Nick and Callie have two children named Dylan and Jessica. However, as a couple, they do not have any children together.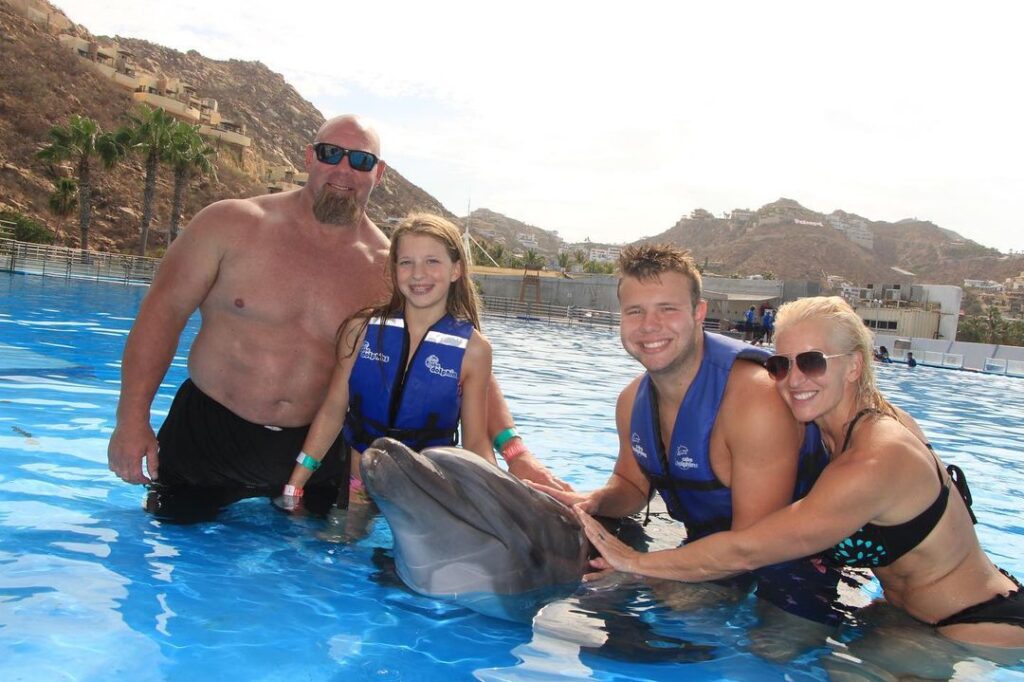 Nick's son Dylan is quite active on Instagram and has around 33K followers.
Likewise, his daughter, Jessica, is from Callie's former marriage, born on June 10, 2007.