Recently coming under the limelight for scoring back to back hattricks, Noel Acciari is slowly turning into one of the NHL's elite defensive forwards.
In just five seasons, Acciari has quickly gained a reputation for being a consistent and reliable performer. As a result, he recently signed a bumper three year $5 million deal with the Florida Panthers.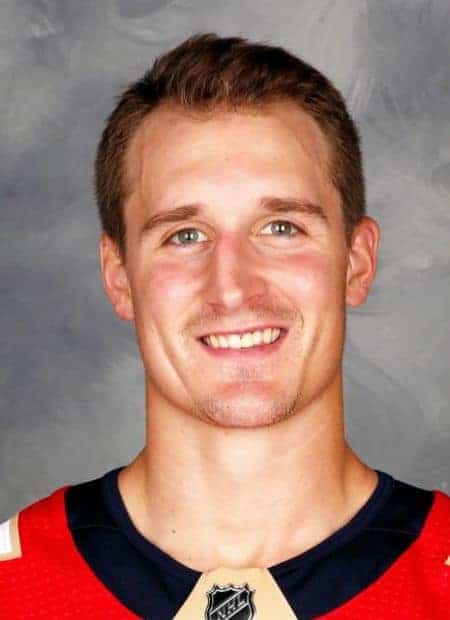 On top of that, the NHL player also announced that he would be a father in January 2020. Thus, it is fair to declare that the 28-year-old forward is having the best time of his life.
So, look at this piece about the hockey player's personal and social life. You will also find details on his contract, salary, net worth, family, age, and social media.
Quick Facts
| | |
| --- | --- |
| Full Name | Noel Acciari |
| Birth Date | December 1, 1991 |
| Birth Place | Johnstone, Rhode Island, U.S.A |
| Nick Name | Not available |
| Religion | Christian |
| Nationality | American |
| Ethnicity | White |
| Education | Providence College |
| Horoscope | Sagittarius |
| Father's Name | Michael Acciari |
| Mother's Name | Edna Acciari |
| Siblings | Not available |
| Age | 32 Years Old |
| Height | 5 feet 10 inches (1.78 m) |
| Weight | 205 lb (93 kg) |
| Shoe Size | Not available |
| Hair Color | Blonde |
| Eye Color | Blue |
| Body Measurement | Not available |
| Build | Not available |
| Married | Yes |
| Girlfriend | No |
| Wife | Kaitlyn Chisholm |
| Children | On the way |
| Profession | Hockey Player |
| Franchises | Florida Panthers (Current); Boston Bruins (Former) |
| Salary | $1.6 million per year |
| Net Worth | $2 million |
| Contract | Three-year $5 million |
| Social Media | Instagram |
| Last Update | March, 2023 |
Noel Acciari | Early Life And Family
Noel Acciari was born to parents Michael and Edna Acciari on December 1, 1991. Likewise, he grew up with his three siblings in Johnston, Rhode Island.
Aside from that, there is not much information on his family. Furthermore, the forward player likes to keep his personal life private.
Nevertheless, we could find out that the hockey player is a middle child. He has three brothers. Moreover, the siblings incited his excitement towards hockey and encouraged him to get into the NHL.
What high school did Noel Acciari go to? Early Life & Education
Talking about his high school, Noel went to Bishop Hendricken High School in Warwick, Rhode Island. There, in his freshman year, Acciari won the state championship.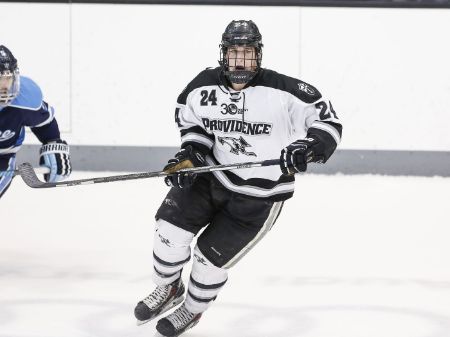 Upon graduation, Noel enrolled at Providence College, where he played three NCAA Division I hockey seasons. In that period, the Rhode Island native won the 2015 NCAA National Championship.
He also registered 32 goals, 65 points, 33 assists, and 72 penalty minutes in 113 games. Thus, for his tremendous contributions, Acciari was named Hockey East's Best Defensive Forward.
Noel Acciari | Ice Hockey Career
Early Career
Before being an exceptional player for the Bruins, the hockey player played with a minor South Shore hockey team. He also served the team in the 2004 Quebec International Pee-Wee Hockey Tournament.
Besides that, he played high school and collegiate hockey before joining the Bruins in 2015. The forward was an outstanding player for the Bishop Hendricken and the Providence Friars.
NHL Career
Boston Bruins
To begin with, Noel went undrafted in the 2015 NHL Entry Draft. However, he managed to impress the Boston Bruins after a couple of tryouts.
If you are interested in buying hockey skates, click here>>
Consequently, Acciari signed a two-year $1.1 million entry-level contract. Furthermore, Noel realized his dreams as he made his debut against the Calgary Flames on March 1, 2016.
On top of that, the former Bruins made his first-ever NHL goal against the Nashville predators. Moreover, the athlete was the star of the show.
After that, he remained with the franchise until the 2018-19 season. Acciari appeared a total of 108 times during his four seasons, scoring 18 goals, 31 points, and providing 13 assists.
Florida Panthers
After the expiration of his two-year contract with the Bruins in 2019, Noel signed a contract with the Florida Panthers. He signed a three-year deal worth $5 million.
Since then, Acciari has played 66 games in which he has scored 20 goals, 27 points, and provided seven assists. Unfortunately, the league was halted in 2020 due to Corona Virus (COVID -19) pandemic.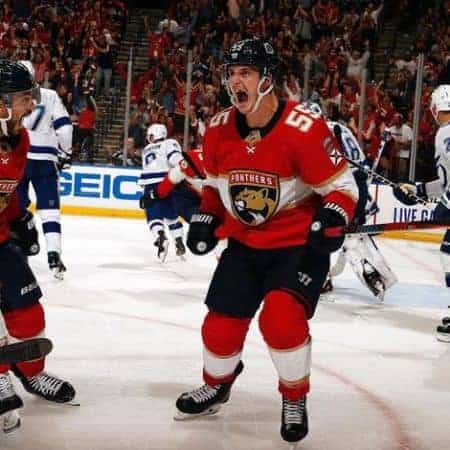 Nevertheless, the former Bruins forward played exceptionally for the Panthers after the league resumed. Currently, he is playing with the team for the 2021 NHL season.
Noel Acciari | Body And Mouth Injury
While playing for the Boston Bruins, the forward player sustained a lower-body injury. As a result of that, officials expected him to miss over four weeks of the league.
Thereafter in 2019, Acciari took a brutal hit to his mouth. The hockey player suffered the injury when San Jose Sharks' Brent Burns hit the puck in his mouth.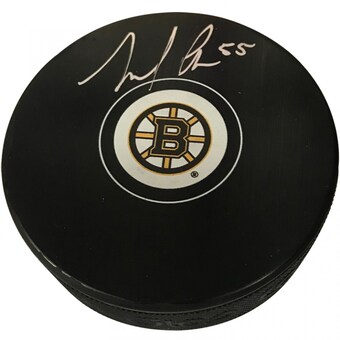 Not to mention, the Panthers' player lost two teeth, suffered uppercuts, and had his lower lip stitched up. Nevertheless, the dentists couldn't do anything until the NHL player's swelling was down.
Hence, doctors allowed the athlete to play his next game against the Tampa Bay Lightning until he could bear the pain. Recently, he suffered an upper-body injury in a game against the Philadelphia Flyers.
Noel Acciari | Stats
| | | | | | | | | | | | |
| --- | --- | --- | --- | --- | --- | --- | --- | --- | --- | --- | --- |
| YEAR | TM | GP | G | PTS | +/- | PPG | SOG | S% | TOI/G | HITS | BKS |
| 2020-21 | FLA | 6 | Zero | Zero | 2 | 0 | 5 | 0% | 15:43 | 17 | 9 |
Noel Acciari | Fights
The hockey player has been involved in multiple altercations in his NHL career. Moreover, he is particularly famous for his fight against a Florida Panther's player.
As a Boston Bruins, Noel Acciari fought Panther's defense MacKenzie Weegar during a game in 2018. However, the exact reason for the fight is unknown.
Besides that, the forward player was also in a fight with Chicago Blackhawk's defense Connor Murphy. Furthermore, Murphy hit Acciari at the rink side, where fans can be seen cheering them on.
How old is Acciari? Body Measurements, Position, And Nationality
Having been born in the year 1991 makes Acciari 29 years old currently. Likewise, he celebrates his birthday on the 1st of December.
Hence, Noel's star sign is Sagittarius. Usually, Saggitarius have traits like honesty, independence, and a lack of patience.
Moving on, the hockey player stands at 5 feet 10 inches (1.78 m) and weighs 205 lb (93 kg). Moreover, he plays in the forward position and prefers shooting from his right side.
About his nationality, the NHL player was born in Johnston, which is a town in Providence County, Rhode Island. Thus, he automatically becomes an American citizen.
What Noel Acciari's Jersey Number?
Ever since Noel started his career with Boston Bruins, he has been donning number 55 on the back of his jersey. Similarly, the hockey player is wearing the same digits for his new franchise, Florida Panthers.
Noel Acciari | Net Worth & Salary
Noel plays a forward position in the lucrative NHL. Moreover, he has been playing professionally for five years. As a result, Acciari sits on a net worth of $2 million in the year 2023.
Furthermore, Noel has earned over $4.5 million throughout his tenure in the NHL. Talking about his salary, the 28-year-old is currently making $1.6 million per year with his new team, Florida Panthers.
Noel Acciari Contract
Before signing with the Panthers, Acciari was plying his trade in the Boston Bruins.
On July 1, 2019, Noel signed a three year $5 million contract with the Florida Panthers.
However, at the end of his deal, Bruins decided against renewing the 28-year old's contract. Consequently, Noel decided to take his talents to Florida.
Sportrac
According to the Sportrac website, Acciari will take home $1.6 million per year. Also, the Panthers will be paying him a yearly signing bonus.
If you are interested in buying a hockey helmet, click here>>
Firstly, Noel will receive $1 million. Then, for his second and third year, Acciari will take home $1.5 million on top of his salary.
Noel Acciari | Girlfriend, Wife, And Kids
The hockey player married his beautiful fiancee Kaitlyn Chisholm on July 14, 2018, in Rhode Island. Talking about their wedding, the couple walked down the aisle at a venue fit for Royal ceremonies.
More than 190 guests were present at the ceremony, which was nothing short of a fairy tale. When we say a fairy tale wedding, we mean it because the event's theme was Disney.
Having said that, let's back up a bit and take some time to discuss the genesis of their love affair. It all started when the duo met each other in the first week of their freshman year.
Since then, the duo has been inseparable. Even after nine years, the husband and wife are madly in love with each other.
It is further empathized by Noel's several Instagram posts dedicated to his wife. Moreover, he frequently shares pictures of the two lovers.
Baby on the way
At the start of 2020, Noel posted a picture on Instagram with an ultrasound of his future child. Alongside was a mini-sized Panthers jersey with the no.55 and the word "daddy" written on it.
On July 7, 2020, he welcomed his first child Greyson Drew Acciari with his wife, Kaitlyn. Furthermore, the hockey player named his son in honor of his late college roommate and teammate Drew Brown.
Brown passed away in 2017 because of cancer. The NHL player was very close with Drew and recently honored him through an Instagram post.
Noel Acciari | Social Media Presence
The former Bruins player is quite active on social media platforms. Hence, he is on Instagram with 31.2 thousand followers.
You can gather that the hockey player is a family oriented person from his Instagram handle. Furthermore, the NHL player has shared beautiful photos of his family and newly born son.
Besides that, he has posted adorable pictures of his golden retriever named Thor. The hockey player also runs Thor's Instagram account, where he shares the pup's life and adventures.
Common Queries:
Where is Noel Acciari?
Currently, Acciari is with the Florida Panthers. Previously, the NHL player played for the Boston Bruins.
However, after his two-year contract with the Bruins was up, he signed a three-year-long contract with the Panthers.
Where did Noel Acciari go to high school?
The hockey player went to Bishop Hendricken High School. Furthermore, he played high school ice hockey for the Bishop Hendrcken Hawks.
Noel was an exceptional player for the school team. After graduation, he attended Providence College, where he played collegiate ice hockey for the Providence Flairs.
Who is Noel Acciari's girlfriend?
Noel does not have a girlfriend as he is married to Kaitlyn Chisholm. The pair have been married since 2018.
Recently, the husband and wife welcomed a beautiful baby boy named Greyson Drew Acciari.