Norman Powell is a professional basketball player in the National Basketball Association (NBA) League. He has already appeared for various NBA clubs since his debut in 2015.
Before Milwaukee Bucks drafted him into the NBA, he played college basketball for the University of California's basketball team. However, he began his NBA career with the Toronto Raptors.
The one-time NBA champion played as a shooting guard and was crucial in leading the Raptors to win the championship ring in 2019.
The American veteran athlete has a long experience in professional basketball and has earned numerous awards and honors. America produces many top-class basketball players each season, but Powell has always stood out among them all these years.
Just recently, in 2022, the Blazers traded him to the L.A. Clippers for the rest of the 2021-22 season. However, he has never failed to deliver for every club he has played for in the NBA to date.
However, how good would he be for the Clippers? Nobody knows for sure. That we shall soon discover.
Explore more about the popular basketball star in this article.
Quick Facts
Full Name
Norman WC Powell
Known As
Norman Powell
Date of Birth
May 25, 1993
Birth Place
San Diego, California, the USA
Nick Name
Big Shot Powell
Religion
Christianity
Nationality
American
Zodiac Sign
Gemini
Age

30

years old
Height
1.91 m (6 feet 3 inches)
Weight
215 lb (98 kg)
Hair Color
Black
Eye Color
Black
Build
Athletic
Father's Name
Norman Powell Sr.
Mother's Name
Sharon Powell
Siblings
Two sisters
Siblings' Name
Joniece Powell & Margaret Powell
Education

Abraham Lincoln High School (San Diego, California)
University of California (Westwood, Los Angeles)

Marital Status
Unmarried
Sexual Orientation
Straight
Girlfriend
None
Kid
None
Food habit
Non-vegetarian
Profession
Professional basketball player
NBA Draft
2015
Position
Wide receiver
League
National Basketball Association (NBA)
Active Years
(2015– present)
Net Worth
$8- $10 million
Currently plays for
Los Angeles Clippers
Former clubs

Toronto Raptors
Raptors 905
Portland Trail Blazers

Jersey Number (Recent)
24
Career Highlights & Awards

First-team All-Pac-12 (2015)
Pac-12 Conference All-Defensive Team (2014)
NBA champion (2019)
NBA Rookie of the Month (April 2015)

Social Media
Facebook, Instagram, Twitter
Merch of L.A. Clippers
Vinyl Stickers, Blanket, Shorts, T-shirt
Last Update

September, 2023
Early Life, Family & Education
On May 25, 1993, Norman Powell was born to his parents, Norman Powell Sr. and Sharon Powell, in San Diego, California.
Norman's Father left their family while he was still a kid. Sharon raised him and his two sisters as a single mom. They had to endure many hardships as she struggled to make ends meet.
However, Raymond Edwards, her brother, provided them with some support.
Powell spent his childhood in San Diego and attended Abraham Lincoln High School. He would not have been a basketball player had it not been for his uncle's love for the sport.
Raymond was a massive basketball fan and often took his young nephew to see basketball matches with him.
However, during the same time, his high school was just rebuilt and did not have a good number of basketball players.
So he joined the newly launched basketball program and immediately secured his place in his high school's first team.
Birth of "Big Shot Powell"
Sharon, too, did not hinder her son and let him play basketball in his spare time. However, she highly regarded academic education as someone involved in social work and youth-betterment programs.
As a result, Sharon always advised him to also focus on his studies apart from playing basketball.
As a result, Norman started performing well for his team in inter-school tournaments and stood out among the best shooters in the area.
His uncle nicknamed him "Big Shot Powell" for his incredible shooting skills.
Sadly, Raymond passed away before he could see Powell graduate from school.
After high school, Norman enrolled in the University of California for his higher education and college basketball career. He currently holds a Bachelor's degree in History.
<<< Brandon Davies: Wife, FC Barcelona & Net Worth >>>
Norman Powell | Career
High School Career
Norman played for the Lincoln High School team until 2011. He showed his abilities immediately after making rapid progress in his first year.
Norman consecutively led his team to the CIF San Diego 2A championships in 2009 and 2010.
Moreover, they won the CIF Division II Boys' State Championship in 2010.
Norman finished the 2009-10 season with extremely good stats. He averaged 19.7 points and 4.9 rebounds per game in his junior year.
He earned First-team All-State and Western League's MVP for his outstanding performance.
Norman continued his excellent performance in his senior year as well. In his senior season, he averaged 20.4 points, 3.8 rebounds, and 2.4 steals per game. As a result, his team ranked No.15 in the whole country.
Moreover, ESPN.com listed him as the four-star recruit and the 52nd-best player in 2011.
College Career
Norman joined UCLA after high school for his college career. Even as a freshman, the team entrusted him with more playing time, as he had already earned so much fame in high school.
He appeared in all games for the UCLA team that season. He averaged 4.6 points and 2.2 rebounds per game in 33 matches in the 2011-12 season. However, his stats in his first year were not good as expected.
Moving onto his second year at UCLA, the coach gave him much lesser playtime, although he played 35 matches. Powell began the season as a starter but later remained on the bench most of the time.
But Powell's third year became much more fruitful, and he improved greatly in this junior season. He started all 37 games and averaged 11.4 points per game. Moreover, he worked much harder to improve his offensive skills plus stood out as an unbeatable defender.
He received several honors that season for his gameplay, which boosted his confidence so much that he even decided to go for the NBA draft before finishing his senior season.
However, he backed off in the end and played in the senior season. He played 36 matches, averaging 16.4 points per game in the 2014-15 season.
Norman finished his college career with numerous awards and honors. Moreover, he emerged as one of the strong prospects for the 2015 NBA draft, soon to be held.
Professional Career
Toronto Raptors
Norman Powell entered the NBA league after the Milwaukee Bucks picked him in the 2015 NBA draft. However, he was soon traded to the Toronto Raptors, officially signing with them on July 15, 2015.
Norman made his NBA league debut on February 2, 2016, after James Johnson and Carroll had to rest due to injuries.
Later on, he started playing well and somehow improved his stats at the end of his rookie season. He finished the season with 5.6 points and 7.8 rebounds per game.
Moving onto his second NBA season, he had little opportunity to play for the Raptors. Even so, he would give his best and record good numbers.
Norman signed a new four-year contract with the Raptors on October 8, 2017. He played very few matches this season as the club was full of star players.
Sadly, he suffered a shoulder injury on November 5, 2018, forcing him to rest for a long time. Finally, after missing 21 matches, he returned to the court against the Indiana Pacers.
He played around 60 matches in the 2018-19 season and won his first-ever NBA championship ring with the Raptors this season.
Powell continued with the Raptors in the 2019-20 season playing miserably in the starting matches. Then, to further add up misery, he fractured his palm on January 31, 2020.
He played for the whole 2019-20 season and some matches of the 2020-21 season for the Raptors before being traded to the Blazers.
Portland Trail Blazers
Portland Trail Blazers received him on March 25, 2021. Norman made his debut for the Blazers on March 27, 2021. Against the Orlando Magic, he posted 22 points in just 36 minutes for his team.
Unexpected Trade to the Clippers
The Blazers unexpectedly traded Norman Powell to the Los Angeles Clippers on February 4, 2022. The decision came out as a shock, especially for Powell.
In August of the previous year, he had signed a massive five-year contract with the Blazers worth $90 million. The player told the media that it was quite an odd time to trade.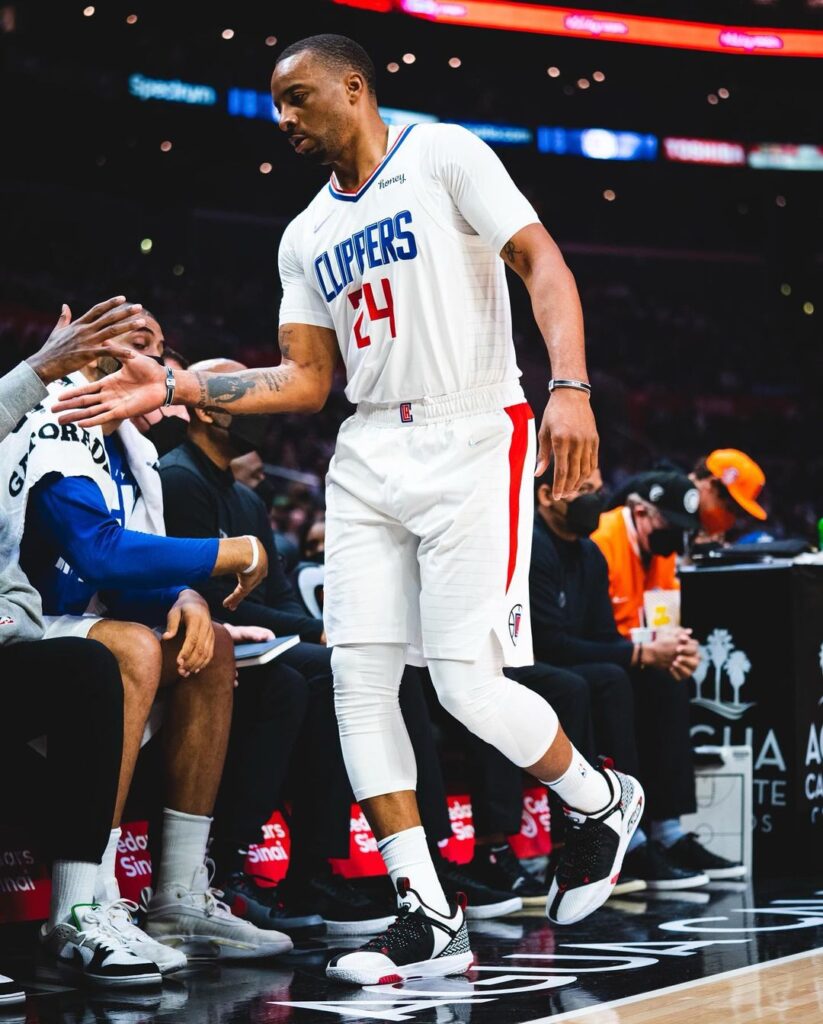 He had even bought a House recently in Portland and had intended to shift there. However, the player has already moved on. He made a debut for the L.A. Clippers on February 6, where he posted memorable 28 points and 4 assists against the Milwaukee Bucks.
Moreover, he has also expressed that he would perfectly fit in with the new teammates and do better for his new club in upcoming matches.
<<< Mason Plumlee Bio: Career, NBA & Family >>>
Net Worth, Salary & Career Earnings
According to sources, Norman Powell has an estimated net worth ranging from $8 million to $10 million.
The NBA star has accumulated a lot of wealth through his basketball career. Apart from his earnings from league games, the player has his merch brand, Understand the Grind (UTG).
Norman received an annual salary of around $0.65 million at the start of his career for the Raptors. He received around $23 million throughout his years with the Raptors.
Going into the Blazers for his 2020-21 season, the club offered him around $11 million. The player currently has an annual salary of approximately $15.5 million.
Norman Powell | Personal Life
Norman Powell, as it seems, is not in a relationship presently. Although the player is quite jolly and easy-going, he has not expressed anything about his relationship. Most probably, he does not have a girlfriend.
Moreover, it has only been around six years of his professional life. So maybe, he wants to focus more on his game rather than giving time and attention to love affairs.
As yet, nobody has any idea about his personal life in detail. However, we will give an update once we know about it.
Age, Weight & Height
As of 2023, the Clippers shooting guard is 30 years of age. He celebrates his birthday every May 25.
Moreover, he stands 1.91 meters (6 feet 3 inches) tall and weighs around 215 lb (98 kg). In addition, he has thin black-colored hair and a black beard. Furthermore, Norman has beautiful black eyes.
Norman Powell on Social Media
Norman Powell is active on all three popular social media handles. However, he has more followers on Instagram than on Facebook and Twitter.
As he mostly remains busy playing basketball, Powell posts mostly about his professional life. Similarly, the player posts a lot advertising his clothing brand, UTG.
You can follow him through the links below:
Instagram: 333k Followers
Facebook: 157k Followers
Twitter: 76.5k Followers
<<< Al-Farouq Aminu: Career, Injury & Controversy >>>
Frequently Asked Questions (FAQs)
Is Norman Powell going to play?
Yes, Norman Powell has already started playing for the L.A. Clippers. He debuted for the Clippers on February 6, 2022, just two days after his transfer to the club. He has already appeared in 2 games for his new club this season.
What kind of player is Norman Powell?
Norman Powell plays in the shooting guard position. He is a two-way player who can score from multiple levels. He can play well in a defensive position and has good stealing skills.