Mason Alexander Plumlee is a robust American basketball player for the Charlotte Hornets of the National Basketball Association (NBA). He plays at the center and power forward positions for the Hornets.
The Brooklyn Nets selected Mason Plumlee with the 22nd overall pick in the 2013 NBA draft. Additionally, he became NBA All-Rookie First Team in 2014.
Plumlee was a 2009 McDonald's All-American in High school. Moreover, with the United States National Team, he won the gold medal at the 2014 FIBA Basketball World Cup.
In brief, Mason is one of the league's smartest playmaking forward. Following that, he helped Blue Devils to win NCAA championships and earned twice First-Team All-Academic honors.
He is best known for his versatile game, winning mentality, and exceptional stability. The power forward of the Hornets earned a universal commendation from coaches, mates, and passionate NBA lovers across the globe.
This article will discover more about the professional basketball player Mason Plumlee from his career net worth to his family.
Before going any further, look at the briefly presented Quick Facts.
Quick Facts
Full Name
Mason Alexander Plumlee
Birth Date
March 5, 1990
Birth Place
Fort Wayne, Indiana
Nick Name
Mason Plumlee
Religion
Christianity
Nationality
American
Ethnicity
White
Education

Warsaw Community Warsaw,
Indiana Christ School Arden, North Carolina
Duke University

Horoscope
Pieces
Father's Name
Perky Plumlee
Mother's Name
Leslie Plumlee
Siblings
Three (Two brothers and a sister)

Miles Plumlee
Madeline Plumlee

Age

33 years old

Height
6'11" (2.11 m)
Weight
115 Kilograms (254 lbs)
League
NBA
Hair Color
Blonde
Eye Color
Blue
Body Type
Athletic
Profession
NBA Player
Professional Career Teams

Brooklyn Nets
Portland Trail Blazers
Denver Nuggets
Detroit Pistons
Charlotte Hornets

Draft In
2013 (Round:1/pick: 22nd overall)
Drafted By
Brooklyn Nets
Active Years in Basketball
2013-Present
Sexual Orientation
Straight
Marital Status
Unmarried
Girlfriend
Not available
Kids
No
Net Worth
$1 million-$3 million
Position
Center/ Power Forward
Social Media
Twitter, LinkedIn
Merch
Poster Print, Notebook
Last Update

June, 2023
Early Life & Family
Plumlee's full birth name is Mason Alexander Plumlee. Mason belongs to the white ethnicity, and he is American by nationality.
Plumlee was born on March 5, 1990; by count, he is 33 years old. When it comes to his origin, he was born in Fort Wayne, Indiana. Thus, he follows Christianity as his religion.
His Father, Perky Plumlee, is a former Tennessee Tech basketball player. In like manner, his mother, Leslie, is a former Purdue basketball player. She set the record with 25 rebounds in a single school game.
Mason's grandfather Albert Schultz played basketball at Michigan Tech. Similarly, his uncle also played basketball at Wisconsin-Eau Claire. And his other uncle Chad Schultz played basketball at Wisconsin-Oshkosh.
In the same way, his older brother Miles played for Duke and presently plays for Perth Wildcats of the Australian National Basketball League.
Similarly, his other brother Marshall played for Duke and is a former professional basketball player. He is a United States Army Ranger-Qualified infantry officer operating in the 75th ranger regiment.
Further, his sister Madeleine played volleyball for the University of Notre Dame.
Mason, Miles, and Marshall played at Duke at the same eternity. Hence, they were the third trio of brothers to simultaneously play in the same college on the same team.
Undoubtedly, the love for sports runs in Plimlee's blood.
In short, the athlete is a great believer in his religion Christianity, and he has said,
"I think that's the point of my story, that you must walk by faith, not sight. You can't see the supernatural and what God has planned."
Education
Plumlee was born and raised in Indiana; he attended Warsaw Community High School. Afterward, he shifted to Christ School in Arden, North Carolina, after his first year of study.
During this time, he actively participated in basketball and oversaw the victory of North Carolina High School in the Athletic Association State Championships.
Then, he attended Duke University from the year 2009 to 2013.
Mason Plumlee | Career
High School Career
Plumlee attended Warsaw Community High School in Warsaw, Indiana. Later, he shifted to Christ School in Arden, North Carolina, after his first year.
Likewise, he earned a silver medal with the 2008 USA U18 National Team at the FIBA Americas U-18 championship.
Furthermore, Plumlee was named a 2009 McDonald's All-American as a senior.
College Career
The 6'11" tall player and his brother, Miles, attended Duke University. Besides, he was a backup forward for the Duke Blue Devils men's basketball national championship team, playing with his older brother Miles.
During his senior season at Duke University, he played with his younger brother Marshall.
National Team Career
Mason Plumlee won the gold medal in the 2014 FIBA Basketball World Cup while playing for his national team, the United States.
Similarly, in 2008, he also won a silver medal with the U-18 team at the FIBA Americas Under-18 Championship.
Professional Career
Brooklyn Nets
Plumlee was the 22nd overall pick by the Brooklyn Nets in the 2013 NBA Draft. He signed his rookie-scale deal with the Brooklyn Nets.
The 33 year-old player recorded his second NBA double-double, averaging 22 points and 13 points in a Nets Victory.
Therefore, he earned NBA All-Rookie first-team honors and became one of the Nets since Brook Lopez (2008-2009) to make such honors.
Plumlee scored a season-high 18 points and 10 rebounds in a win against the Philadelphia 76ers during the 2014-15 season.
Subsequently, he overtook his season-high 19 points and career-high 24 points in December.
Portland Trail Blazers
After Brooklyn Nets, Mason Plumlee was traded to Portland Trail Blazers in June 2015. He also extended his rookie-scale contract through the 2016-17 season.
He scored 15 points, 13 rebounds, and career-high six assists in a win against New Orleans Pelicans.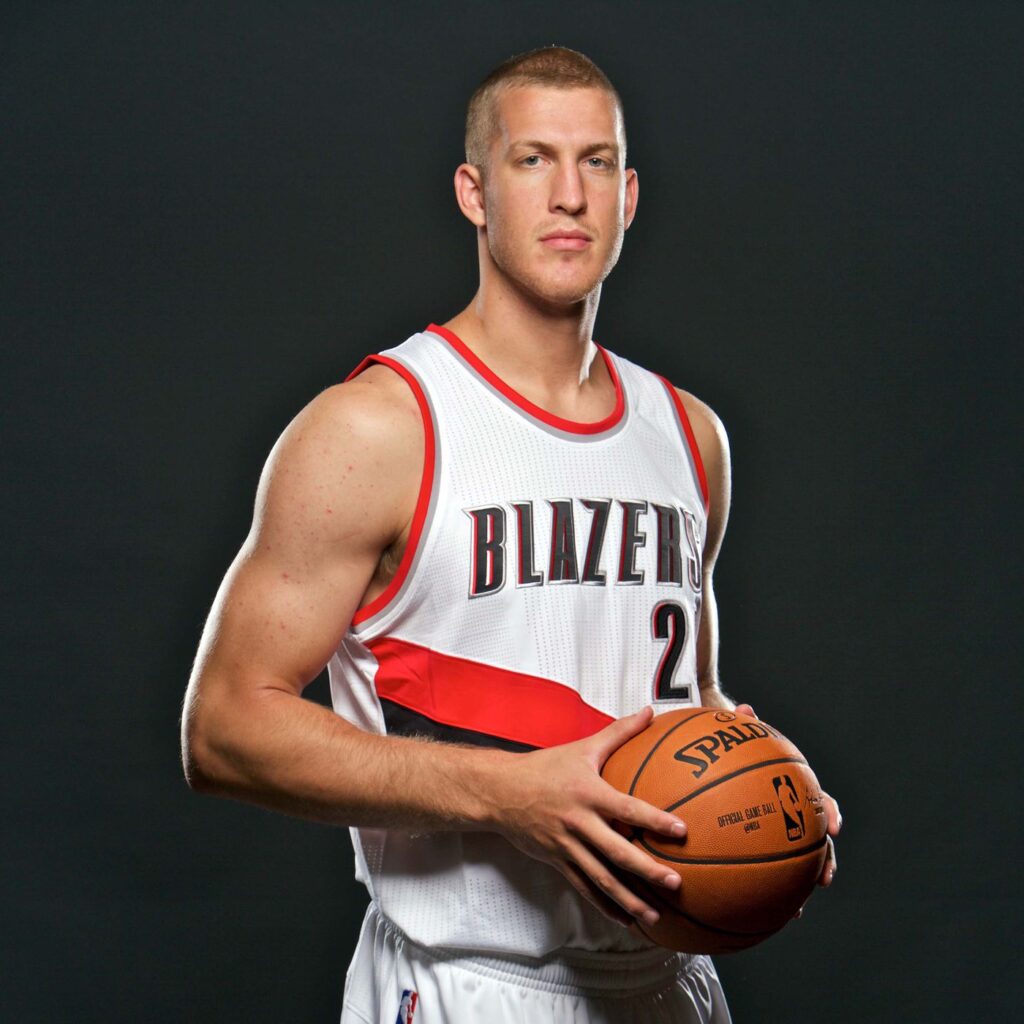 Further, he recorded his 12th double-double of the season, averaged 10 points, 11 rebounds, and a career-high seven assists in a win over the Washington Wizards.
Similarly, he recorded the 13th double-double of the season with an average of 13 points and 12 rebounds.
Plumlee became the fastest Portland player in 150 rebounds and 100 assists (in 23 games) since Scottie Pippen in 1999-2000 (in 22 games).
Denver Nuggets
Plumper was traded along with a 2018 second-round draft pick and cash considerations to Nuggets in February 2017.
In the meantime, he changed his jersey number from 24 to 7 after the death of Kobe Bryant in January 2020.
Detroit Pistons
Mason signed with the Pistons in December 2020 and recorded his first triple-double with 17 points, 10 rebounds, and 10 assists in a win against the New Orleans Pelicans.
Charlotte Hornets
Mason and the draft rights to JT Thor were traded to the Hornets in exchange for Balsa Koprivica in August 2021.
Awards & Achievements
The following are the achievements received by the power forward of Hornets:
NBA All-Rookie First Team (2014)
NCAA champion (2010)
First-team All-ACC (2013)
Third-team All-ACC (2012)
Pete Newell Big Man Award (2013)
McDonald's All-American (2009)
Third-team Parade All-American (2009)
Consensus second-team All-American(2013)
North Carolina Mr. Basketball (2009)
Medals
Men's Basketball World Cup (2014) – Gold Medal
FIBA Americas U18 Championship – Silver Medal
Personal Life
The forward and center Plumlee for Charlotte Hornets is an outstanding basketball player inside the court.
In like manner, his professional life is remarkable, but what about his personal life? Let's talk about his personal life in this section.
It is rumored that Plumlee is in a secret relationship with Genesis Maria Perez.
Genesis Maria Davila Perez is a Puerto Rican-American model who earned Miss World Puerto in 2014. In addition, she contested Miss Florida USA in 2017 and 2018.
Some reliable sources claim that, although some of his pictures have come on the internet with many girls, none of them have been singled out as his girlfriend.
Further, there is no specific information about his link-up with other ladies.
Age, Height, And Weight
Born on March 5, 1990, Mason Plumlee is 45 years old.
Likewise, he is 6'11" (2.11 m) tall, and he weighs 254 lb (115 kg). Mason stands at a gigantic height with a maintained body.
He has a sturdy body type. Additionally, he is considered one competitive player with great vitality and a super athletic demeanor.
Besides physical stats, his hair color is blonde, and his eye color is blue. His skin complexion is light skin.
Current Contract
Social Media Presence
The stunning basketball player is available on social media platforms, including Twitter and LinkedIn. He has an immense number of followers on his verified account.
Transactions
Net Worth & Salary
One of the professional basketball players, Mason Plumlee, has a net worth of $1 million-$3 million. During the 2020-21 season, his salary was around $8,000,000 with Detroit Pistons.
Likewise, in the 2021-22 season with Charlotte Hornets, his salary is around $9,248,333. He was making 15 percent more salary in 2020-21.
In sum, his basic salary for 2018-19 is recounted to be $12,917,808.
Furthermore, Plumlee had signed a three-year contract with Denver Nuggets at $41,000,000.
Plumlee is the 141st best-paid NBA player this year. Similarly, he is considered the 4th best-paid player of the Charlotte Hornets this year.
Solo Ventures
Besides being the phenom American professional basketball player, Plumlee is also a respected entrepreneur and investor in business, sports, and academia.
In addition, he is the inventor and host of various programs.
Plumlee is a partner in AIRE, an absolute state fund, and has subsidized multiple start-up enterprises.
Additionally, he has a multi-year sponsorship contract with Nike and a marketing partnership.
Likewise, Plumlee is the first NBA player to have an annual basketball camp in Dubai.
Latest stats | Mason Plumlee Gets an Unexpected Bash
Mason got entangled with Giannis Antetokounmpo beneath the basket Saturday night, and Giannis clasped an elbow that left him covered in blood.
Indeed, the Greek Freak is a humble player and soothes Plumlee that it was an accident. Similarly, Plumlee accepted his apology.
Regardless of how you make a go of it, an elbow from a player who is 6-11 and dexterous is inevitable to hurt.
Frequently Asked Questions (FAQs)
Which of the Plumlee brother is best?
Mason is the most gifted among the three Plumlee brothers; Miles, Marshall, and Mason. Therefore, he won the national championships at Duke University and is still playing in the NBA.
How many Plumlee brothers are in NBA?
Mason Plumlee has two brothers, Miles Plumlee and Marshall Plumlee. Marshall Plumlee is an American former basketball player, and now he is in United States Army Ranger Qualified infantry officer serving in the 75th ranger regiment.
In addition, his other brother Miles Plumlee is an American professional basketball player. He has last played for Perth Wildcats.