While having a tough side and fiery personality, people guess you to be a hard nut to crack.
Similarly, the same goes for the retired American professional baseball pitcher, Orel Hershiser, who starred in Major League Baseball (MLB) from 1983 to 2000.
However, little do we know about his fun and charming another half of his personality; hence, with it, we plunge you to his deeper milestone days.
The former baseballer commenced his career in his high school days, and to date, he has been featured in 18 seasons in the MLB.
Back in his days, he has achieved many feats and awards playing for various teams as Cleveland Indians, San Francisco Giants, New York Mets, and Los Angeles Dodgers.
Later, as he announced his retirement, he worked as a coach and team executive for the Texas Rangers and then became a broadcast color analyst for the ESPN and Dodgers.
Furthermore, apart from his career, he inspires us to be someone extra from our comfort zone, and indeed, we aspire to be one like him.
"I'm proof that great things can happen to ordinary people if they work hard and never give up."
-Orel Hershiser
Quick Facts
Full Name
Orel Leonard Hershiser IV
Date of Birth
September 16, 1958
Birth Place
Buffalo, New York
Nick Name
Bulldog
Religion
Christianity
Nationality
American
Ethnicity
White
Zodiac Sign
Virgo
Age
65 Years Old
Height
1.9 m (6 feet 2 inches)
Weight
87 kg (191.8 lb)
Hair Color
Grey (now)
Eye Color
Black
Build
Athletic
Father's Name
Orel Leonard Hershiser III
Mother's Name
Mildred Hershiser
Siblings
Brother, Gordie Hershiser
Education
Cherry Hill High School East

Bowling Green State University

Jersey Number
55
Wife
Jamie Byars (divorced in 2005)
Dana Deaver (married in 2010)
Kids
Two sons, Orel Leonard V (known as Quinton) and Jordan Hershiser
A daughter, Sloane Hershiser
Profession
Baseball player
Position
Pitcher
Affiliations
Los Angeles Dodgers (1983–1994)
Cleveland Indians (1995–1997)
San Francisco Giants (1998)
New York Mets (1999)
Los Angeles Dodgers (2000)
Active Years
1983-2000
Net Worth
$20 million
Social Media
Instagram, Twitter
Merch
Jersey, Books & Autographed Items
Last Update
November, 2023
Orel Hershiser | Early Life
On September 16, 1958, Hershiser was born under the Virgo's star sign to his parents Orel Leonard Hershiser III and Mildred Hershiser.
His birthplace is Buffalo, New York, and he has a brother named Gordie Hershiser. Furthermore, his father was a baseball coach and league administrator, and not to mention, his mother used to manage a snack bar they owned.
Additionally, Hershiser's family migrated from tons of places; the first they did was when he was just six as they shifted to Detroit in Michigan.
Followed by it, they again shifted to Toronto, Canada, when he was twelve, and a few years later, they moved to New Jersey.
Education and Amateur Games
Hershiser had a keen interest in the games ever since his childhood; that is why he started quite early at his school level. Hence, he competed in inter-school competitions and state level.
Therewith, we can conclude that he had a strong foundation in games as he claimed the third position in a hit, run, and throws competition held at the national level while he was an eight-year-old boy.
Before his shift at the age of twelve, he invested him in Little League Baseball, and when they moved to Canada, he commenced ice hockey.
Back then, he played for the Don Mills Flyers in the Greater Toronto Hockey League. They transferred to New Jersey as he finished his elementary school, and he went on to attend Cherry Hill School East.
Right then, he started as a Freshman member advancing to the junior varsity member, and only could make it to the varsity team after his junior years.
Hershiser maintained an image during his senior years as he posted a strikeout record in 1976 as he eliminated 15 batters from a single game.
Additionally, he starred as the main character as he posted leading strikeout rates, earned run averages, and winning percentages. Infact, he stood as an all-conference selection, thanks to his perfect records during his years.
College
However, as he enrolled in the Bowling Green State University, his academic areas were poor, making him ineligible to play baseball.
Therefore, he was up for the partial scholarship only, which made him hopeless to quit schooling.
Having said it, he did quit; instead, he took summer classes and started upgrading his studies while working for his father's paper company.
During the same interval, he improvised his game skill by adding 5 miles per hour (8.0 km/h) to his fastball as his gained weight (15 pounds / 6.8 kg) helped him.
Afterward, he commenced his gameplay against the Kent State on May 4, 1979, where he recorded a no-hitter with an all-Mid-American Conference All-Star team. He struck two batters in the whole game and won the match with a 2-0 win.
Orel Hershiser | Professional Career
Minor League Career
After getting excited for a hoax of getting into minor league, he was selected by the Los Angeles Dodgers in the 17th round of the 1979 Major League Baseball draft.
His report was questionable about his skills, which started him to have a weak fastball, incorrect curveball, and made an easy mistake.
Hereby, Hershiser made his professional debut with the Class A farm team in the Midwest League, the Clinton Dodgers.
During the tenure, he had featured in 11 games, out of which he started four of them, thus finishing the 1979 season with a 4–0 record with a 2.09 ERA.
For the next season in 1980, Orel was assigned to the San Antonio Dodgers of the Texas League in AA, where he appeared as a reliever (a pitcher).
According to Hershiser, this season came as his lowest as he had forgone 20 runs in seven innings, due to which he was feeling to quit. However, his managers were supportive enough to keep him going on.
Afterward, in 1982, he advanced to the Triple-A Albuquerque Dukes of the Pacific Coast League, and for the very season, he started seven games out of 47 and posted a 3.71 ERA.
The following year in 1983, Hershiser was titled the top rookie for the spring training and bagged the Mulvey Award.
Right after it, he was sent to Albuquerque, where he starred in a total of 49 games, starting 10 games as he recorded a 4.09 ERA for the Dukes. Additionally, he also had 16 saves that season.
Major League Career
The Year 1983
Hershiser's foremost MLB debut was on September 1, 1983, with the Dodgers against the Montreal Expos and featured 8 games.
By the end of the month, he had posted an ERA of 3.38, which came as he retired three batters out of a game.
As he ended the season, he appeared in the Dominican Republic's winter ball, where he worked under coach Dave Wallace focusing on his pitching delivery.
The Year 1984
Orel featured mostly as a long reliever as he starred as the Dodgers Opening Day roster with the start of the new season.
Along with the season came his nickname "Bulldog," as he was real timid in the ground, giving way more respect to the hitters. His first win came on April 5 in a 12-inning game against the St. Louis Cardinals that season.
After tons of verbal lashing, Orel started getting tough, only allowing one run during May's gameplay. At the same time, he became the full-fledged starter in the Dodger rotation after the injury of Jerry Reuss.
By the end of the season, he had started 20 games out of the total 45 games he played, where he maintained a 2.66 ERA.
The Year 1985
Right in the year 1985, he had his first start in the National League, where he had a big winning streak as he maintained a record of 19-3 with a 2.03 ERA.
On the one hand, Hershiser led the Dodgers to win the NL West and stood third in the Cy Young Award voting. On the other hand, he pitched for the 1985 National League Championship Series.
To summarize the year 1986 right here, he had a 16–16 record with a 3.06 ERA as he successfully appeared in his first All-Star Game. Then, right with it, Orel had an emergency appendectomy.
The Year 1988
In 1988, Hershiser had a winning streak and one of the great years where all he did was bagging titles and leaving his marl for the others.
Firstly, Orel commenced the season normally, and later since August 30, he had his endless streak for the season as he led the season with 23 wins in total, which complied 267 innings, 8 shutouts, and 15 complete games.
Secondly, he surpassed the mark of former Dodger Don Drysdale to have 59 consecutive scoreless innings as he stood third in ERA (2.26) at the same time.
Furthermore, he starred in his second All-Star game, and he was selected for the National League Cy Young Award. Third, he claimed the Glove Award and played against the New York Mets in the 1988 National League Championship Series.
Finally, during the journey, he was selected as the NLCS MVP in Game 7 as he won the World Series MVP Award in Game 5.
By the end of the season, Hershiser received The Sporting News Pitcher of the Year title alongside the Sportsman of the Year award given by Sports Illustrated.
Altogether, he became the only player to win all the Cy Young Award, the Championship Series MVP Award, and the World Series MVP Award in the same season.
The Year 1989
At the beginning of the season, the Dodgers signed a $7.9 million three-year contract with Orel, which was the most expensive contract for a three-year period at that time. For the season, he featured in 35 games, and he posted an ERA of 2.31.
However, the gameplay was not that well, due to the lack of good teammates as they were short of offense support.
The Year 1990
Hershiser had a few games this year as he had a torn labrum, and on April 27, he underwent shoulder reconstruction surgery under Dr. Frank Jobe. Thus, it was May 1991 when he made his returned and started his games.
The Year 1991
On June 9, he played against the Chicago Cubs, where he recorded his 100th career win, and for the year, he had 21 starts with a 3.46 ERA. By the end of the year, he was selected as the UPI Comeback Player of the Year.
The Year 1992 & 1993
Even until the year 1992, he impacted his surgery, which made his performance slightly different.
Adding both the year, he had played in 33 games as he recorded a 3.67 ERA and a 3.59 ERA for 1992 and 1993, respectively. Despite all his works and struggles, he claimed the Silver Slugger Award in 1993, with 83 plate appearances.
The Year 1994
Hershiser became a free agent in 1994 as his time ended with the Dodgers after partaking in the Major League Baseball Players Association.
Cleveland Indians
The Year 1995
On April 8, Cleveland Indians signed Orel with a three-year contract as Hershiser was named the "character and competitiveness" by the Indians General Manager John Hart.
Orel featured in the 1995 American League Championship Series (ALCS) for the Indians against the Seattle Mariners. During the same gameplay, he was titled the ALCS MVP.
By the end of the year, he had started 26 games with a 3.87 ERA.
The Year 1997
As he advanced to the 1997 season, he had a 14–6 record. Overall, he featured three seasons for the Indians and stood out as an inspiration (or, as you can say, a folk hero) for the Indians.
The Year 1998
At first, he had made a one-year $3.45 million contract with the San Francisco Giants in 1997. Hence, he featured in 1998 with the Giants as he posted a 4.41 ERA with 34 starts.
The Year 1999
On February 20, he signed in with the Indians to appear in the minor league games for 1999.
Following it, he signed with the New York Mets on March 25, where he made a 4.58 ERA in 32 starts. Siding with the New York Mets, he also appeared in the 1999 National League Championship Series.
The Year 2000
On December 17, 1999, he again signed a year contract with the Dodgers and commenced the year with the home opener on April 14 against the Reds. Unfortunately, the very year is known as his worst year doe his ERA as he recorded only 13.14.
Orel Hershiser | Retirement and After
On June 26, 2000, Dodgers released Hershiser after which, he remained as a player-personnel consultant.
Later, he left the position and started working as a broadcaster. During the year 2000-2001, he worked for the Little League World Series for ABC and ESPN and even featured on Wednesday Night Baseball for ESPN.
In the fall of 2001, Orel stood as a special assistant of General Manager John Hart, and On June 2, 2002, he started as a pitching coach.
Until the year 2005, he continued his role as a coach and advanced to an Executive Director of the Rangers till 2006.
Right after it, Orel made his return to ESPN as an analyst for Baseball Tonight, Sunday Night Baseball, and the Little League World Series.
In 2014, Hershiser became a television analyst for the Dodgers to represent their new regional sports network SportsNet LA.
Since 2017, he commenced his work as a primary broadcast team for Dodger baseball alongside Joe Davis. In addition, he also served as a LA Dodger announcer.
Orel Hershiser | Pitching Style & Stats
Pitching is the most important part of the game, which impacts the whole game. As for Hershiser has his own tactics to make it work, and he, himself, knows his pitching better, as he explained in 1989.
According to Hershiser, he has a sinking fastball to either side of the plate, a cutter (which changes the direction of his fastball, so it breaks instead of sinking) to either side of the plate, a curveball with three speeds and three angles, a straight change.
Additionally, his sinker looks like batting practice fastballs.
MLB Stats
| | | | | | | | | | |
| --- | --- | --- | --- | --- | --- | --- | --- | --- | --- |
| Season | Level | G | GS | IP | K% | BB% | ERA | FIP | WAR |
| Total | MLB | 510 | 466 | 3130.1 | 15.3% | 7.7% | 3.48 | 3.69 | 48.0 |
You can get more details regarding his stats on Fangraphs.
Orel Hershiser | Awards & Highlights
3× All-Star (1987–1989)
World Series champion (1988)
NL Cy Young Award (1988)
World Series MVP (1988)
2× LCS MVP (1988 & 1995)
Gold Glove Award (1988)
Silver Slugger Award (1993)
NL wins leader (1988)
MLB record 59 consecutive scoreless innings pitched
Orel Hershiser | Beyond Baseball
Poker
The baseballer has undying talents; he even started playing Poker in 2006 as he friends with the poker instructor in Summerlin, Nevada. Orel first started with the $2–$5 No-Limit Hold'em as he signed with Poker Royalty for a career in Poker.
His foremost game came in 2008 under the PokerStars banner as he defended the champions Ted Forrest, Allen Cunningham, and Freddy Deeb in the 2008 NBC National Heads-Up Poker Championship.
After it, he featured in the 2008 World Series of Poker and the 2009 PokerStars Caribbean Adventure. From his tenure here, he had earned $54,570 in 2008.
Books
Orel has led a charmed life, and throughout his journey, he has written books which are;
Orel Hershiser and Jerry B. Jenkins (Out of The Blue in 1989)
Orel Hershiser (Between The Lines: Nine Things Baseball Taught Me About Life in 2002)
Orel Hershiser | Net Worth & Earnings
As of 2023, Hershiser is reposted to have a net worth of $20 million. In 2015, he put up his two-story house in Las Vegas for sale for $1 million.
The house was built in 2004 in the Red Rock Country Club community with a golf course view.
The luxury house had an interior of stone floors, coffered ceilings with four bedrooms, a kitchen, and a dining hall alongside bathrooms. The house covered an area of 4,100 square feet.
You might want to read about Ryan Madson Bio: Baseball Career, Family, Injury, wife & Wiki>>>
Orel Hershiser | Family & Social Media
Hershiser first married Jamie Byars in 1981 while he was playing in San Antonio. They met each other for the first time at a team party, and in just an interval of six months, they were married.
With these, their early years were smooth; however, they got divorced in 2005 after they could not maintain their marriage.
In the bargain, he has two sons named Orel Leonard V (known as Quinton) and Jordan Hershiser from his first marriage.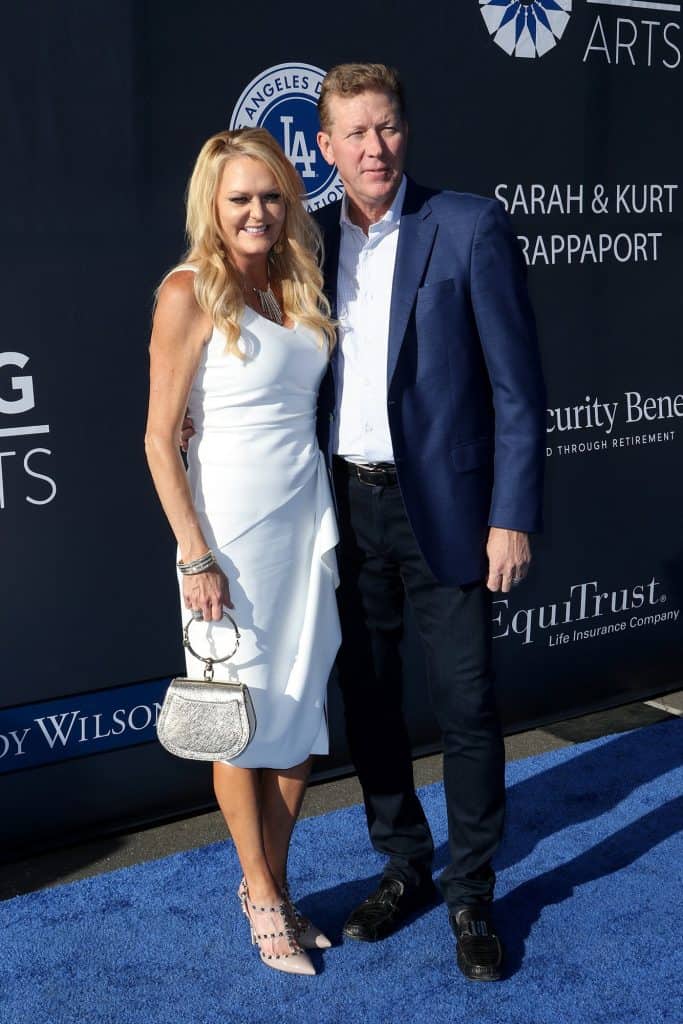 Later, he met his second wife, Dana Deaver, in 2005 in Minneapolis while Dana was on a work vacation, an educational specialist.
The duo started dating and eventually married in 2010 at Vegas in the Bellagio Fountains. They now have a daughter named Sloane Hershiser.
Orel Hershiser | FAQs
Is Orel Hershiser a Hall of Farmer?
Hershiser features in the Game Era Ballot; hence, he is on the Hall of Fame Ballot.
What was Orel Hershiser's velocity?
His velocity was over 90 miles an hour.
Did Orel Hershiser test positive for Covid?
Yes, the baseballer tested positive for Covid on his wife's birthday in January of 2021.